One September morning when we were visiting Amsterdam, I got a message from Teri Turner, the force behind the No Crumbs Left food blog.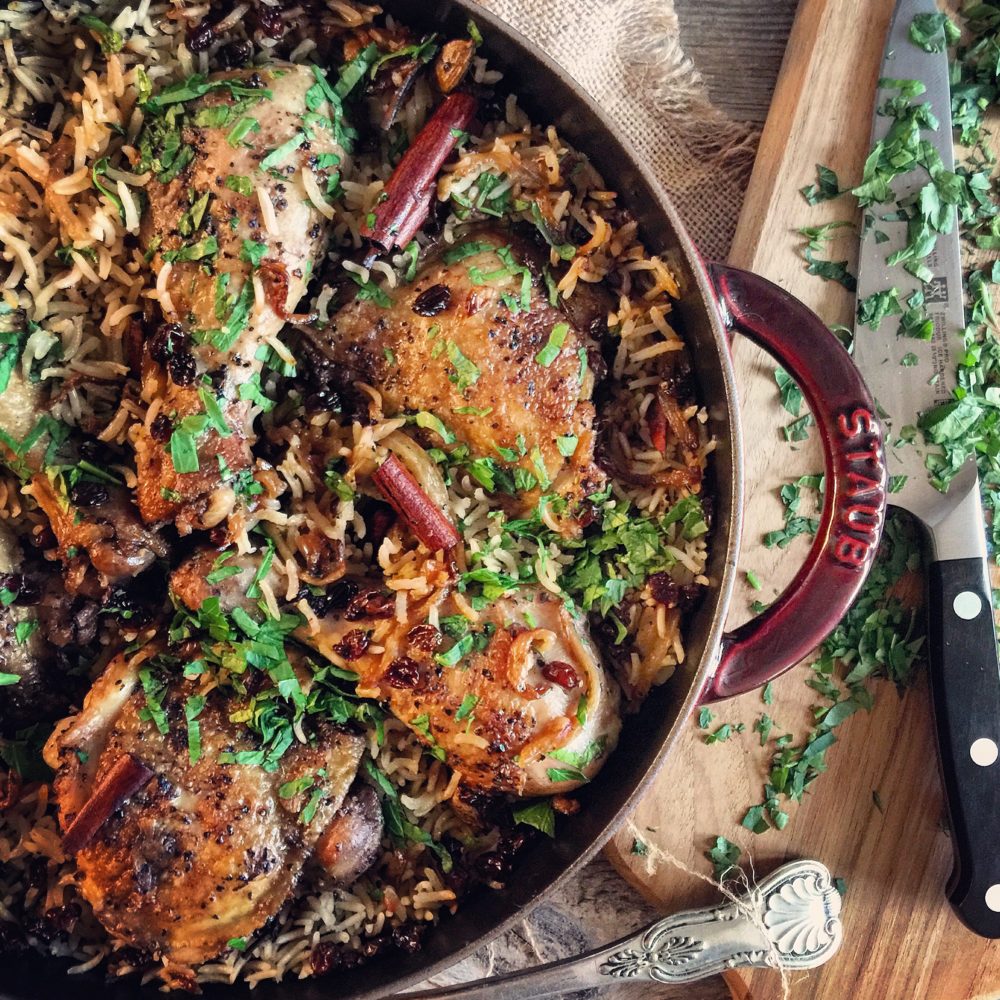 She is an amazing cook, and an enthusiastic support of all whom she comes across in the foodie world. And I am happy to say that we had met once in person, in Chicago. This time around, she was inviting me to attend a special workshop/retreat she was planning for December, in Napa, California.
It was going to be a week of cooking, exploring Napa's food scene, blogging workshops, and even a day with a renowned photographer, George Lange. There would be food bloggers from across America, many of whose work I had been admiring for quite some time. The idea that I would be able to hone my skills at the hands of so many talented people, was too good to pass up.
Fast forward to December 5th. Jim and I flew into San Francisco, a city that we have fallen in love with. We wouldn't have much time to hang out this time around. But we did sneak in a meal at Tosca Cafe. A fabulous, old school Italian bistro, with retro styling, but a modern and edgy take on traditional dishes. We loved it. Stocked up on Ghirardelli chocolate, and a more thorough visit would have to wait till next time.
The next morning, we headed north into Napa Valley. What a bucolic world Napa is. We drove past winery after winery, easily seeing ourselves living in this setting. Then we arrived at Calistoga Ranch. Nestled into the north west of the Valley, in a backdrop of gentle wilderness, our lodges awaited us. What a dreamy setting for four days of FOOD. Each lodge has private suites and a large kitchen with all the amenities you could imagine, all gathered around the umbrella of a covered redwood deck. Each deck had the pleasure of fireplaces, casual seating and dining. We were in awe.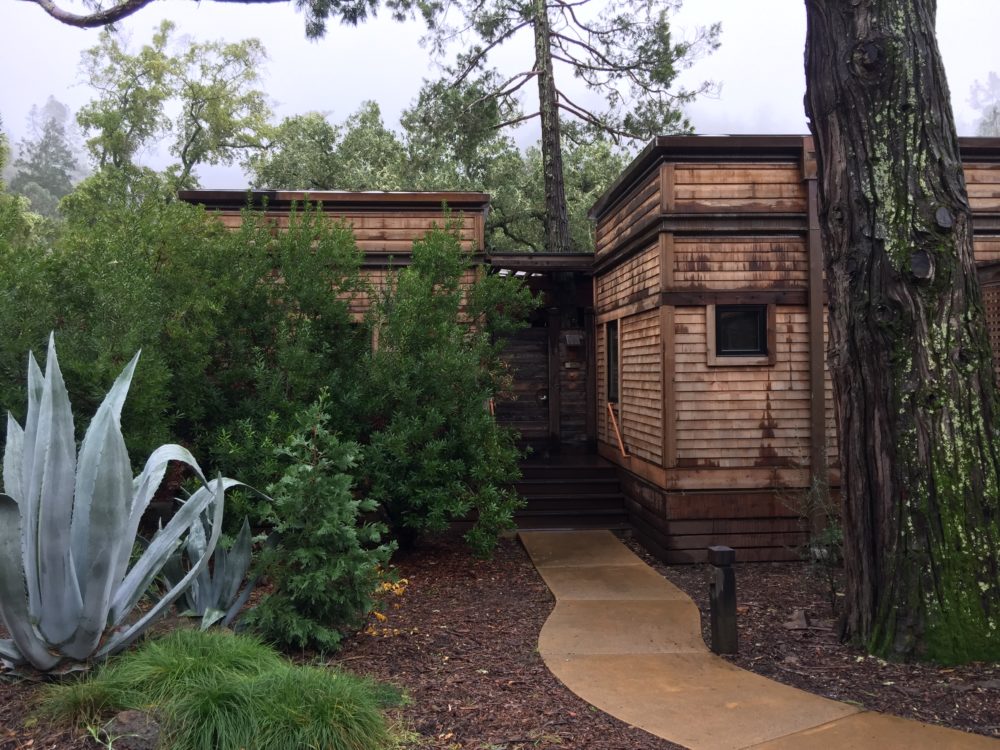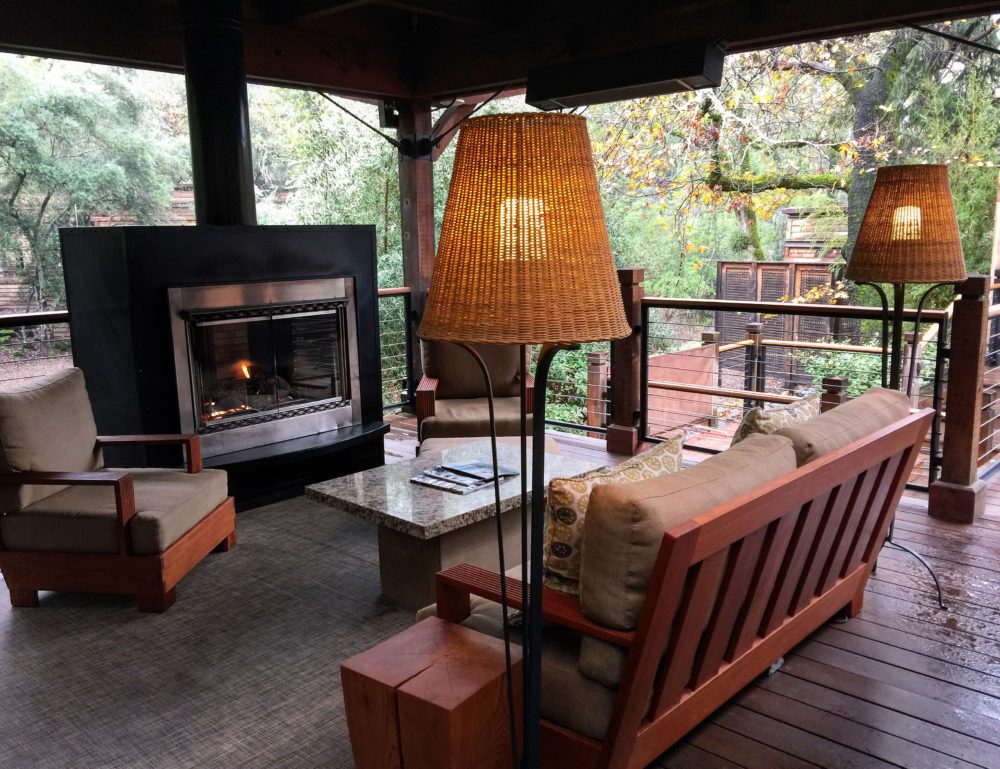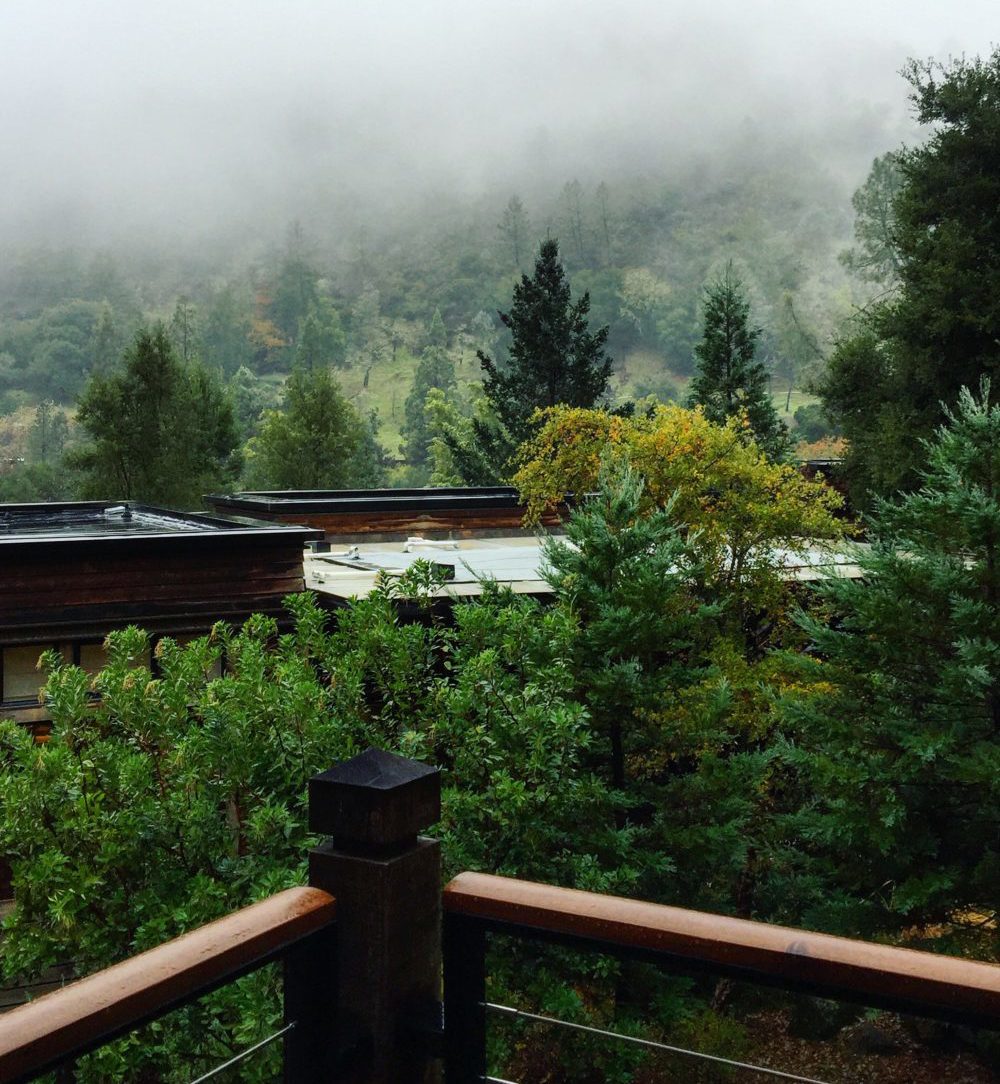 Most of us invited had never met face to face. But we had visited and drooled over each others' cooking creations on Instagram, so we already felt like we knew each other. Naturally, meeting face to face only cemented the feelings. Christi (Bazaar Lazarr) and Naomi (The Cooks in the Kitchen) both flew in from the east coast. Teri, our grand organizer, is based in Chicago but had forged ahead to Napa with her assistant Zach, getting it all set up for us. Deborah (Rainy Day Bites) flew down from Seattle. Abi (Abi's Farmhouse Kitchen and Annadel Estate Winery) is based right in Sonoma County, so she was a short drive away. And the rest of the crew: Stephanie (Cook by Color), Adam and Ryan, (Husbands That Cook), Christine (What Do You Crave?) and Rebecca (Displaced Housewife) are all based around LA, so they managed the trips in their cars. As a group, we got giddy discussing the agenda and opportunities for the week.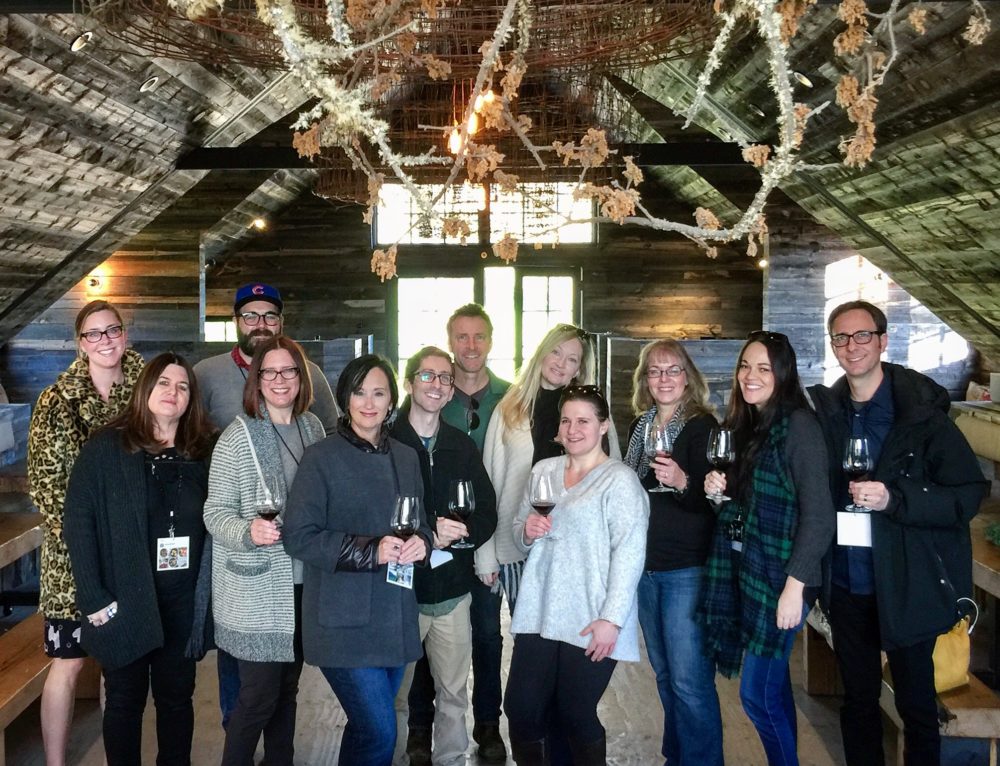 Our first mission: Explore and get to know the creative husband and wife team behind Phifer Pavitt Winery. A local boutique winery that grew out of the love that blossomed between them and the philosophy of Date Night. It's truly a family business, even her father is busy, on the testing and developing side of things. Everything about the winery reflects thoughtfulness and creativity. Their Sauvignon Blanc was my fave: chewy, flavourful, just the perfect amount of dry. A winner. That evening we ate at Gotts Roadside, a local institution. Remember going to the drive-in theatre, and picking up all the snacks for the evening, from the concession stand? Well, this is that concession stand, but without the movie! And the menu is definitely an homage to California cuisine. The dishes may have started retro, but they are fresh, with fabulous modern twists to them. My Ahi Tuna burger was fabulous, especially since they offer the option to replace the bun with lettuce!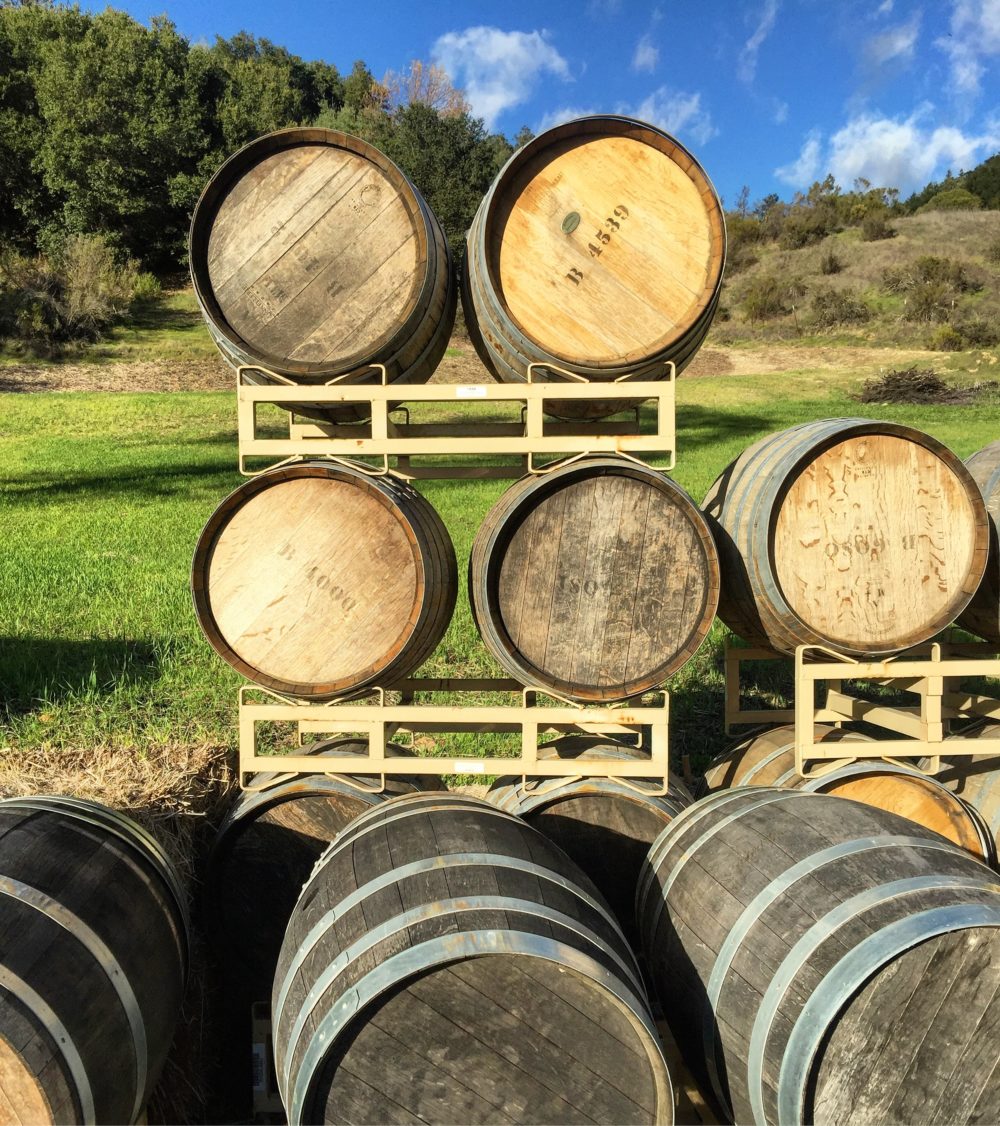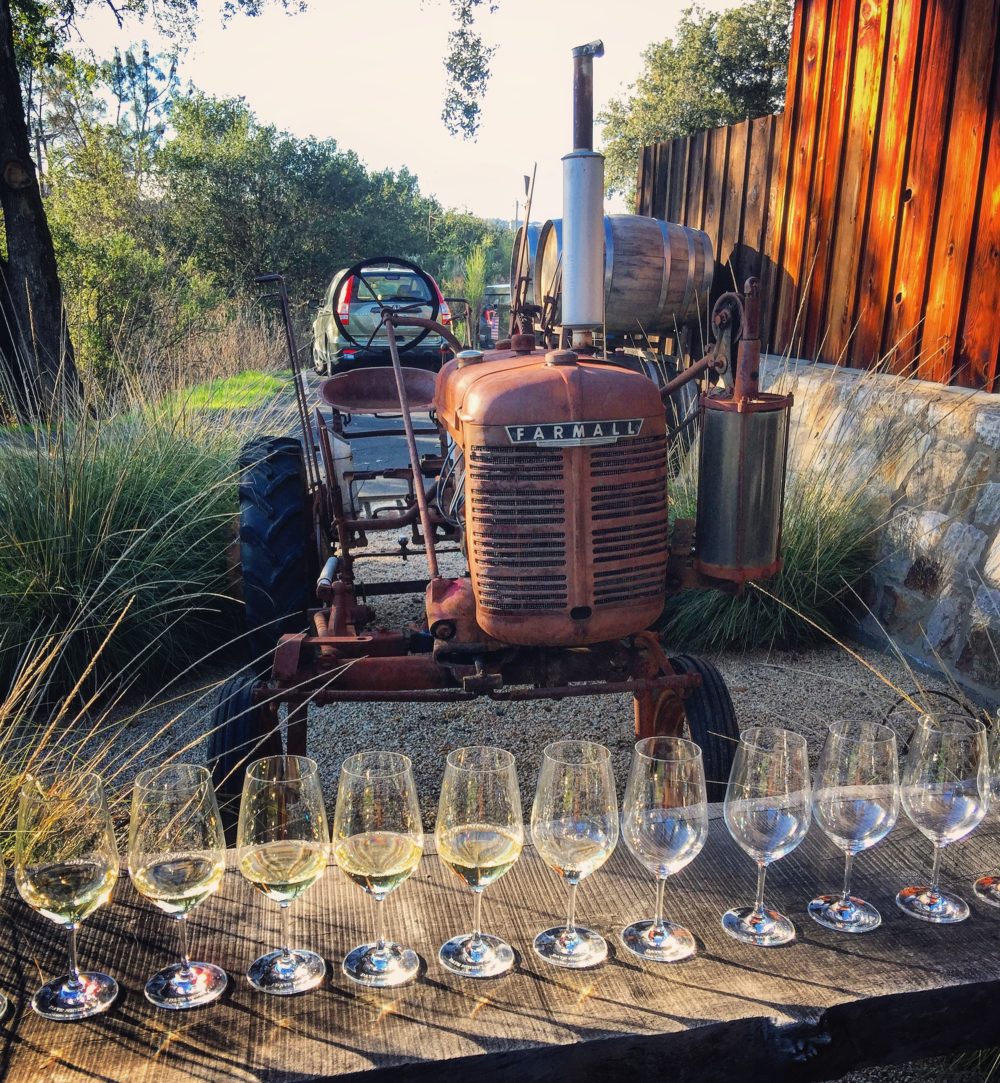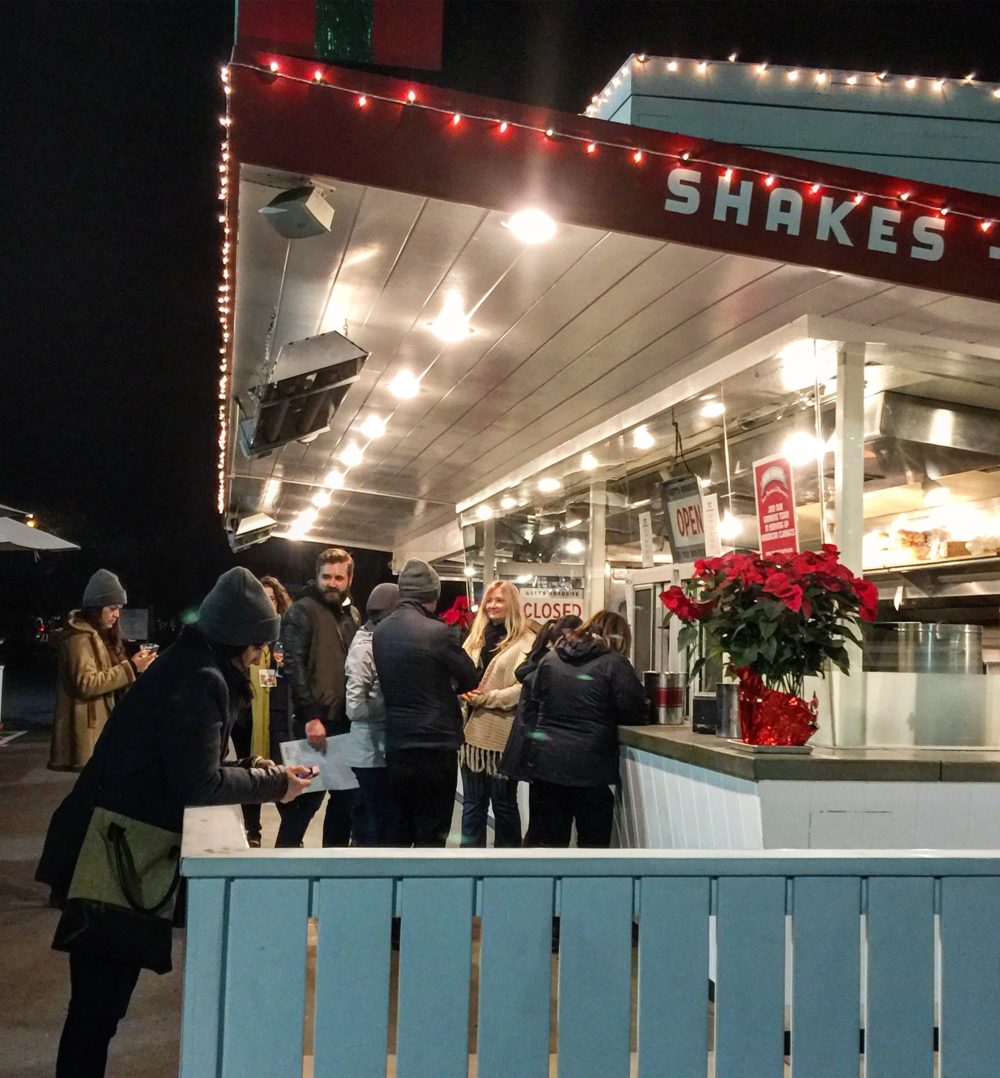 The next day was all about backdrops and cameras. We had the extreme pleasure of meeting and gleaning fresh perspective from George Lange and his wife, Stephanie. His career as a portrait photographer is second to none- he's photographed them all! Really! But his creativity shines through in some of the fabulous stop motion videos and creative pieces he has done with his family, which left us all breathless and somewhat teary eyed. His encouragement to us: Bring emotion to your photography. Step back, and create the Kiss- the reaction that compels someone to respond to our work. And then to top it all off, we all walked into the forest and he took portraits of all of us, using the storyboards that Ginny and Anne from Erickson Woodworks, a fabulous family run business that every food photographer has on speed dial, surprised us with. According to George: Anything can be a prop! And he showed us! And then we had the pleasure of using the various storyboards to practise our own photography skills. It didn't hurt that Valrhona Chocolate, Heritage Distilling, Owl's Brew, Zwilling Knives, Lagostina Cookware, All-Clad and a host of other suppliers were what we were practising with.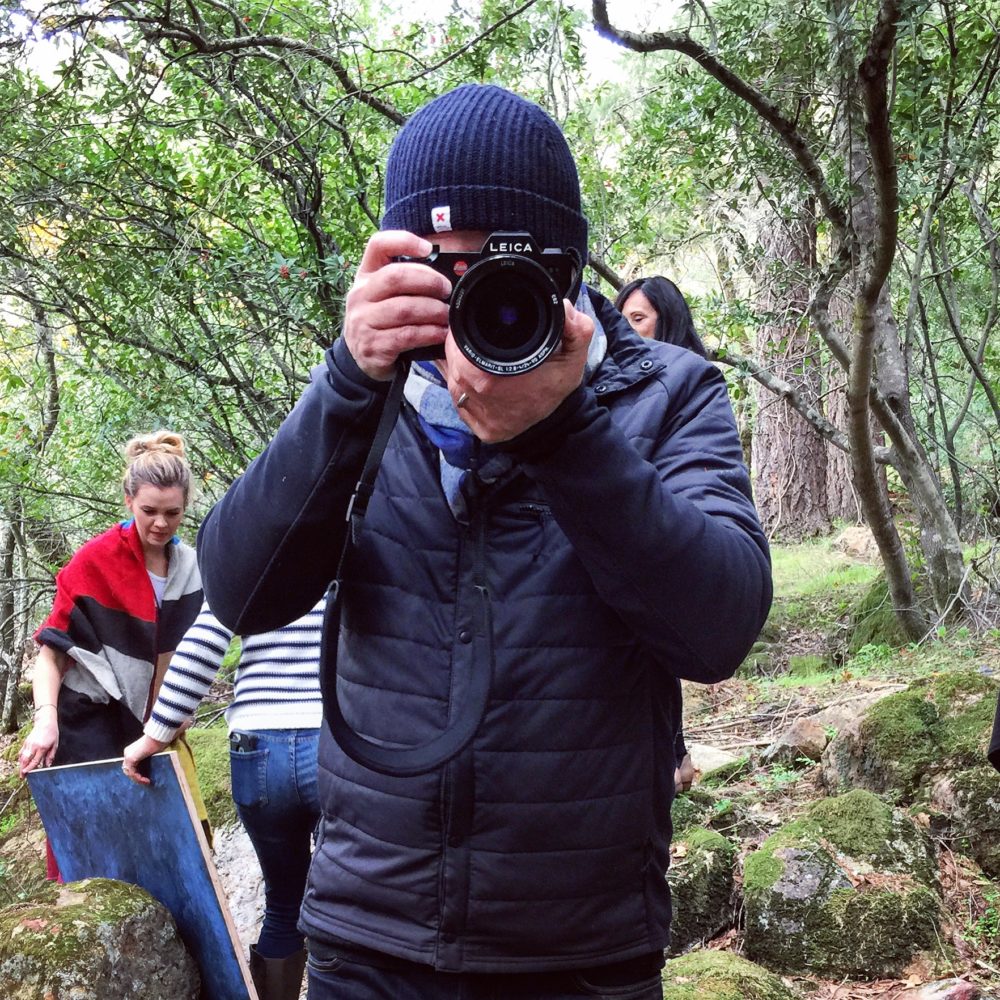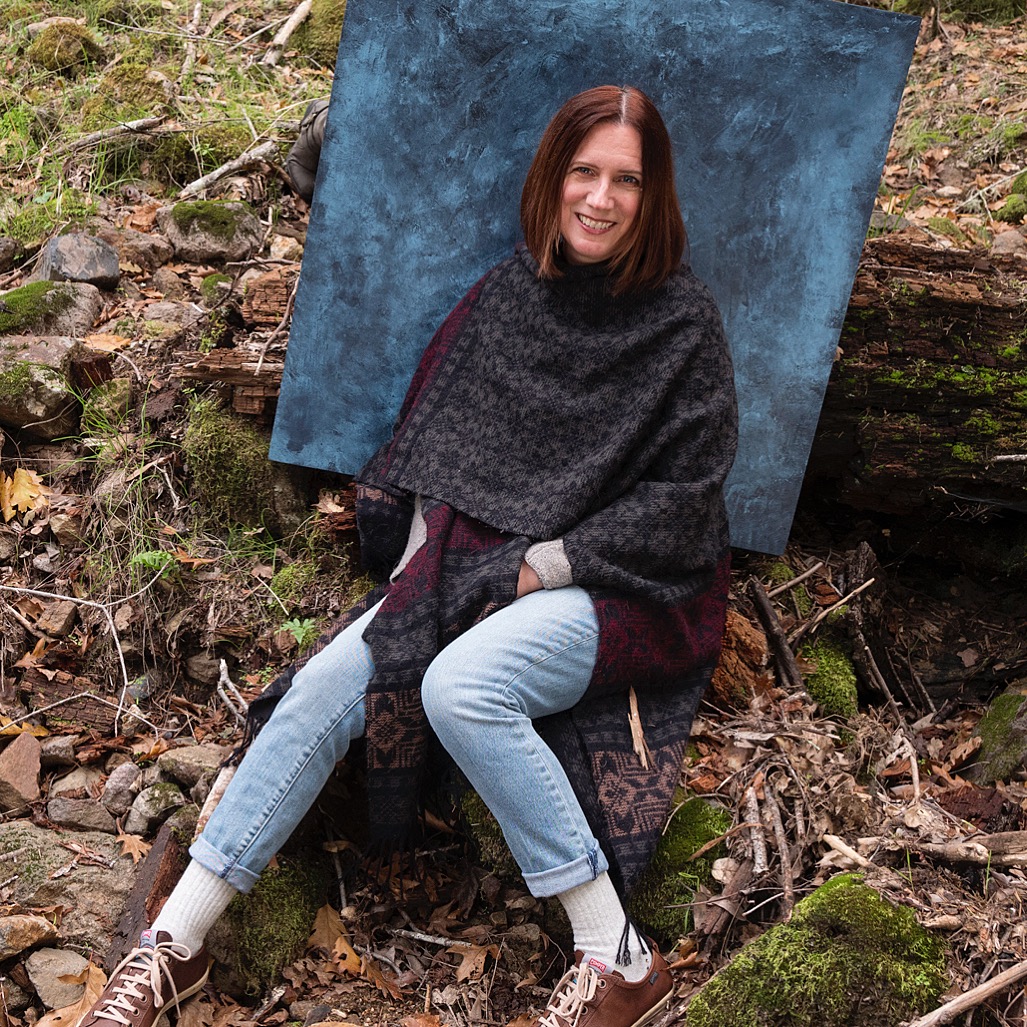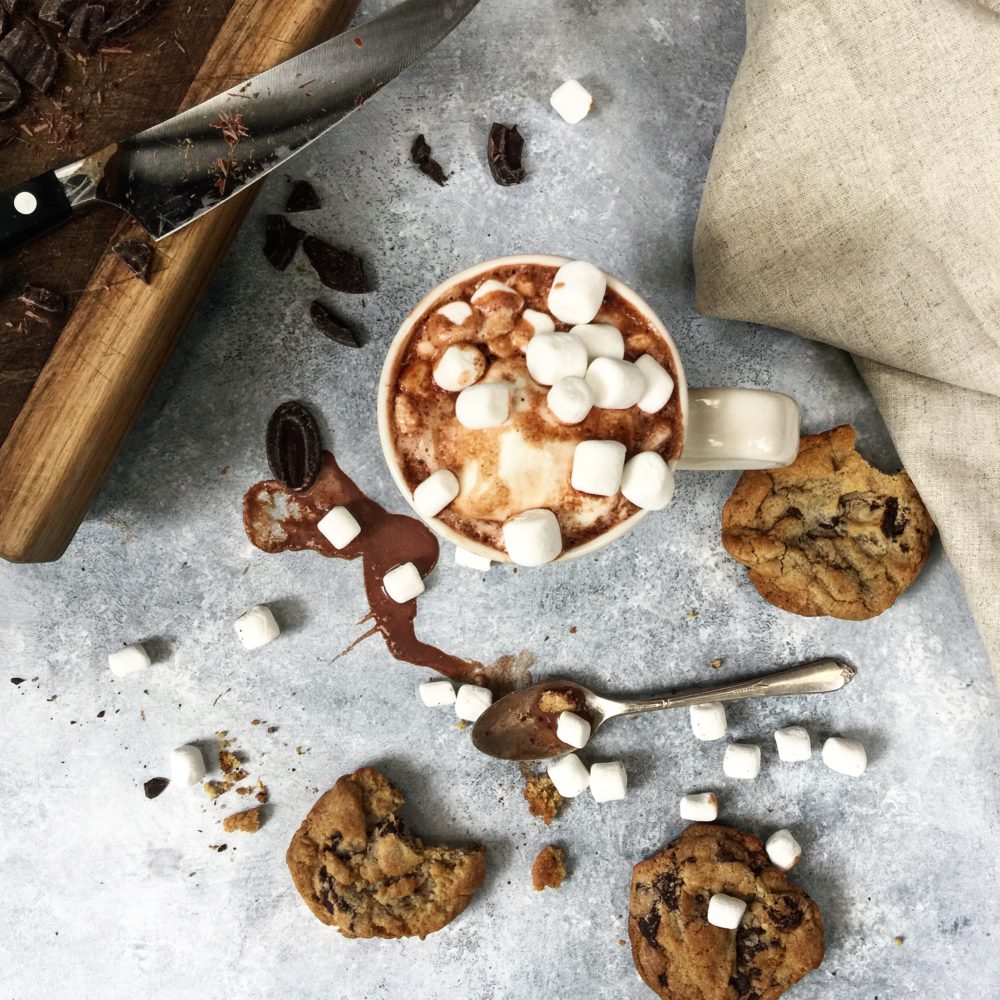 Our last evening as a group took us to Long Meadow Ranch Farmstead, a Michelin Star restaurant in St. Helena. Michelin Star, yes, but in no way pretentious. A casual, friendly setting, strewn with farm implements and a merry vibe. The staff was amazing- really knew their stuff, and accommodated us as we all spent the meal taking our dishes to the natural light of the windows for photos. Some of us even braved the cool drizzle to photograph our dishes outside. I'm sure the other patrons thought we were insane, but we had a blast.
And the dishes? Sublime. From an amazing warm burrata with whole roasted garlic, estate olive oil and grilled bread; to a stellar grass-fed steak tartare with a farm egg, capers, cornichon and toast; to potato gnocchi with mushrooms, smoked turnips and swiss chard; the list goes on and on. And most of us got to sample everything, since the plates were being passed around the table quite generously! Who else but a bunch of foodies would order desserts with appetizers? Well, aren't we glad we did: the Lemon Meringue Pie and the Scharffenberger Chocolate Cream Pie are now the standards I will compare all others to! I will definitely be returning, and bringing Jim with me- he would have loved this fantastic spot. The evening was capped off with a walk in the quiet, drizzling rain to the Goose and Gander, a pub/lounge where out-of-the-box, eclectic cocktail creations reign supreme.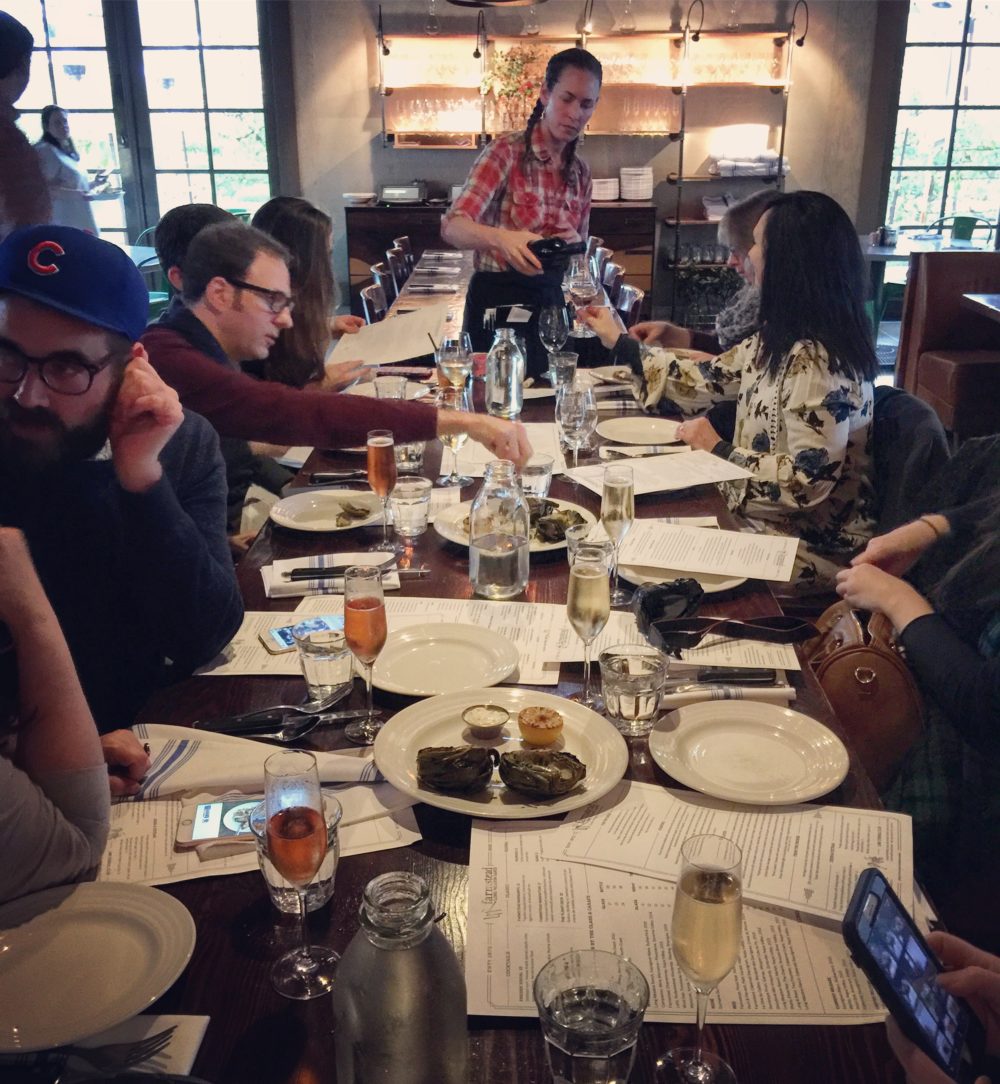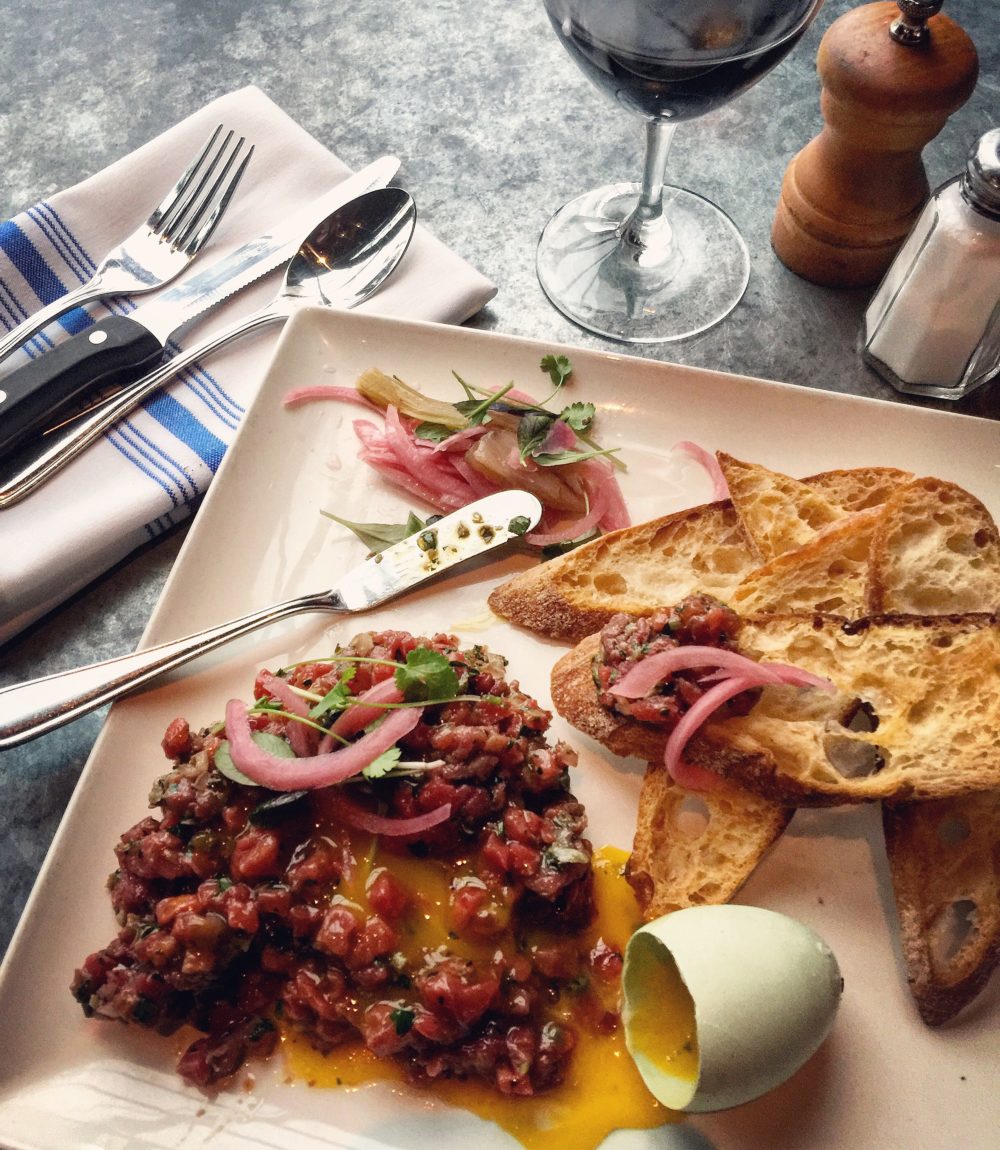 There was also some amazing cooking that we all did for each other: Deborah and Naomi's breakfast frittata, baked oatmeal and brown sugar grilled grapefruit; Teri's succulent fall apart braised short ribs and mashed potatoes; Adam and Ryan's blueberry cream cheese baked french toast; the rainbow of colours from Stephanie's roasted root veggies and quinoa; Rebecca's masterpiece of a gingerbread layer cake; Christine's spiked hot chocolate and cozy hot toddys utilizing Heritage Distilling vodka and Owl Brew tea mixers, Christi's silky smooth butternut squash soup, and a final breakfast of charcuterie, roasted potatoes and baked eggs by Christi, Rebecca and Christine were all to be savoured. I contributed my Pistachio and Feta Dip and crudités one evening, as well as the recipe below.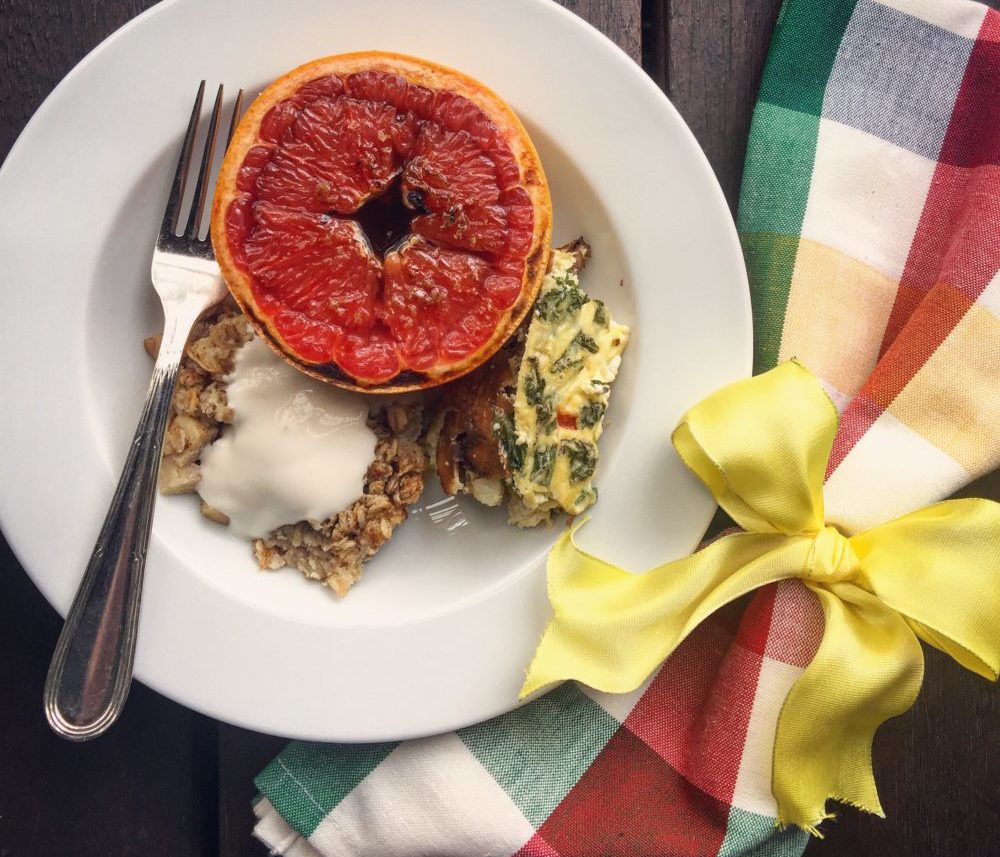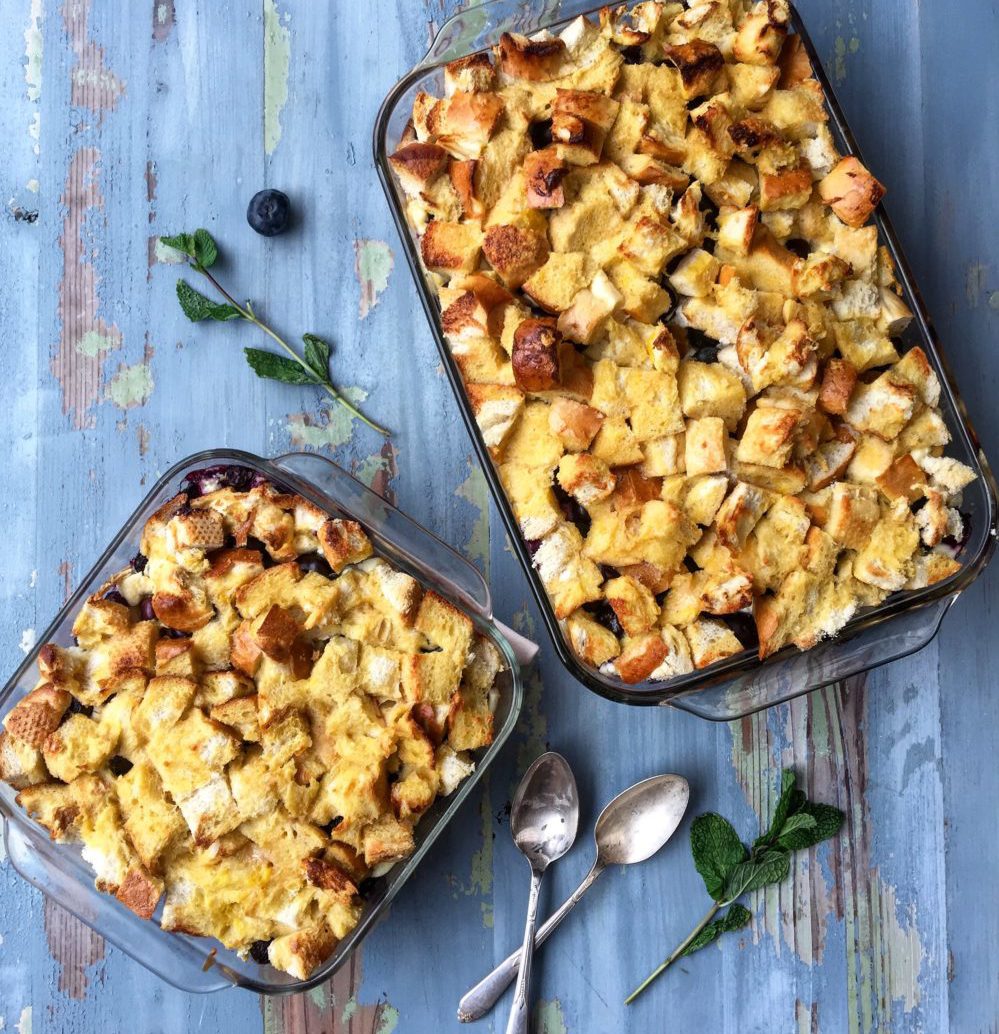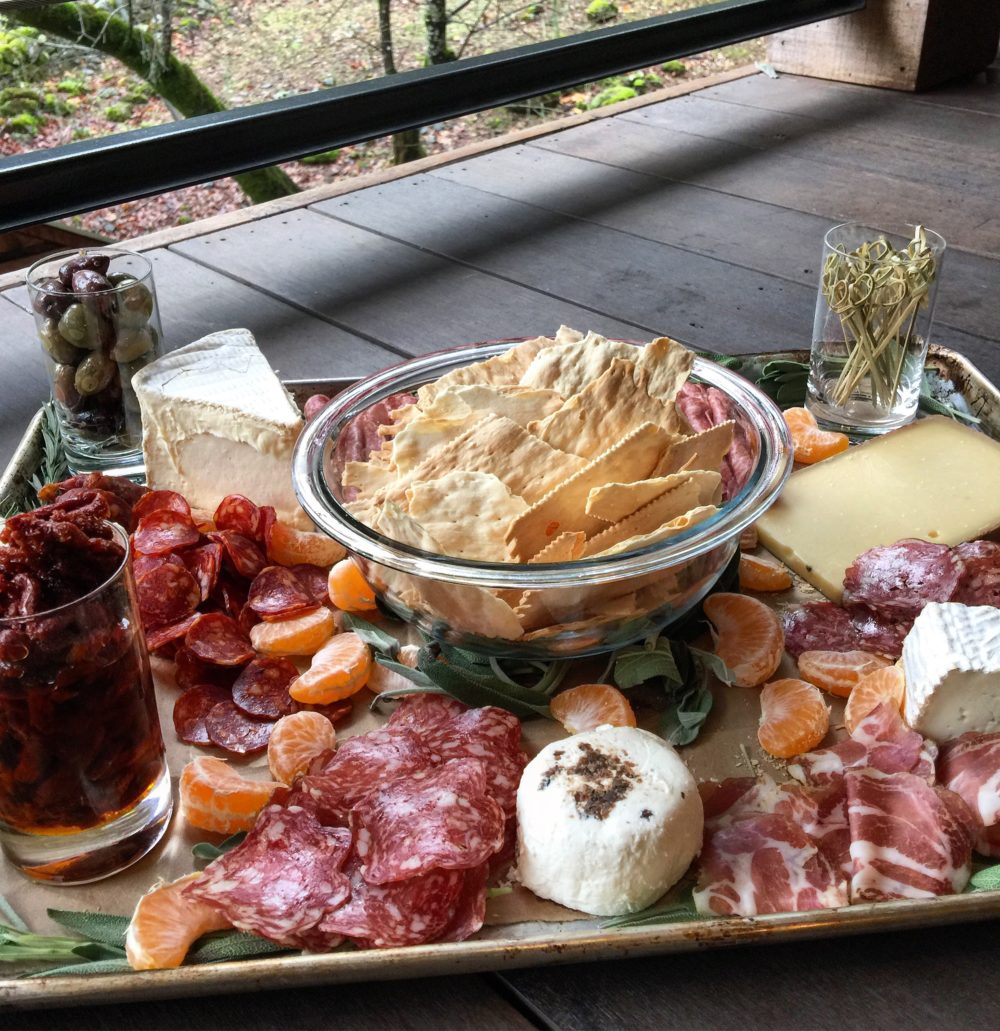 I returned home to Toronto, filled up. Both in my head and my belly, but most especially in my heart. It was a wonderful, memorable experience that I wish everyone who enjoys cooking can experience. To learn fresh skills and ideas, to be exposed to new and unforgettable people and places to eat, to meet ones who 'get me' and my thrill of cooking, is a lovely thing. We talked food non-stop for four days, and could have kept right on talking. And eating.
Below is the recipe that I shared one evening (mind you, I cooked it the same evening that Teri presented us with her braised short ribs, so I totally understand that hers won centre stage!) I call this my 'Desert Island Dish' in that, if there is only dish that I could eat on a desert island, it would be, 'Chicken with Caramelized Onions and Cardamom Rice.' The epitome of comfort food. I mean, it's chicken and rice!! Cooked together in one pot. But not just any chicken and rice.
It has the most unctuous layer of caramelized onions, and the fresh, whole Middle Eastern spices used to flavour the entire dish send me to the moon! And while the whole cardamom pods, cinnamon sticks, and whole cloves fill the kitchen with the most intoxicating aroma, it's the barberries, little tart gems (think of them as Middle Eastern currants) that totally make this dish. The rich savoury flavours are balanced perfectly by those little berries. And it all gets showered with fresh dill, parsley and cilantro. The rice is perfect. I could say that I've played with the recipe to make it my own. But why mess with perfection? I have made this dish often, just for the rice. It's from 'Jerusalem' by Yotam Ottolenghi, so that should sum it all up right there.
I get excited every time I make this, and now it holds even more memories!
Love Jen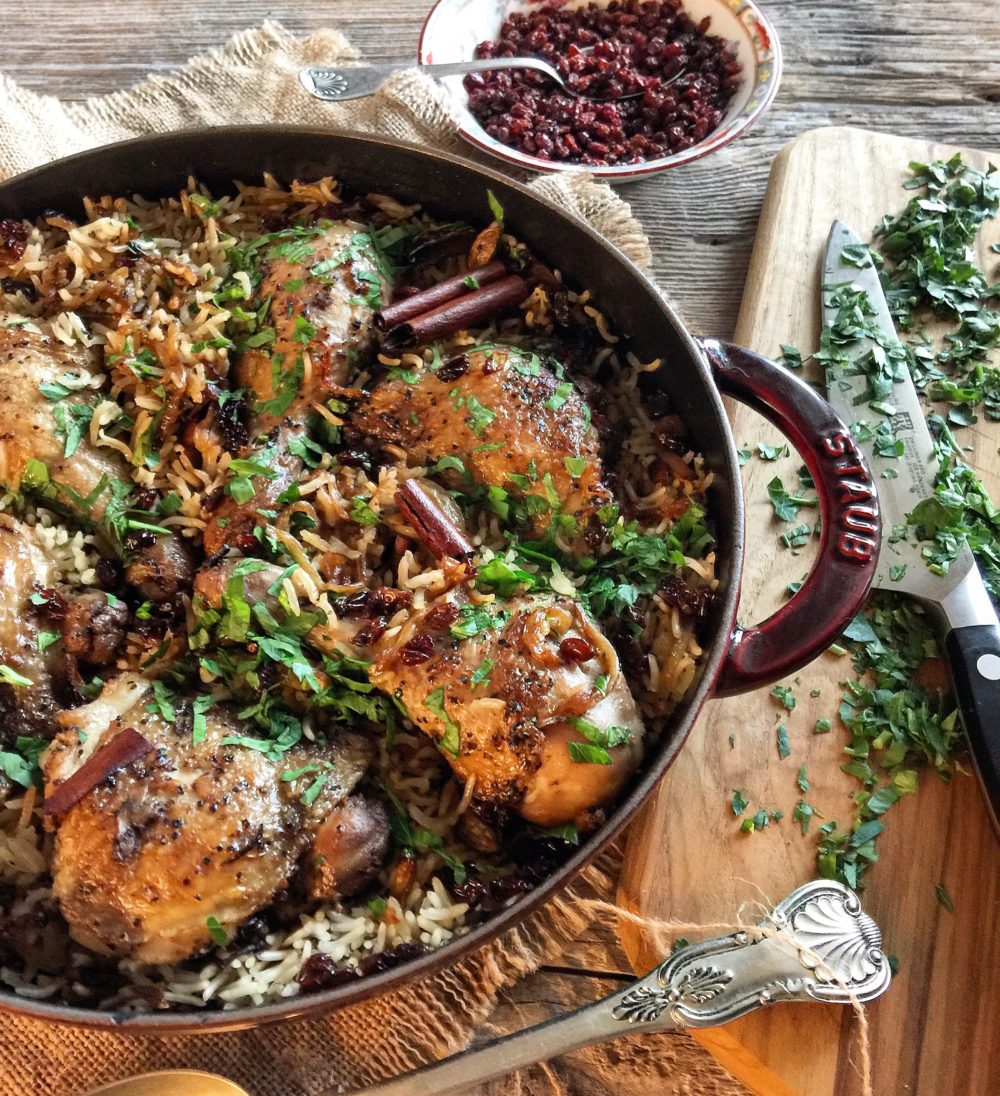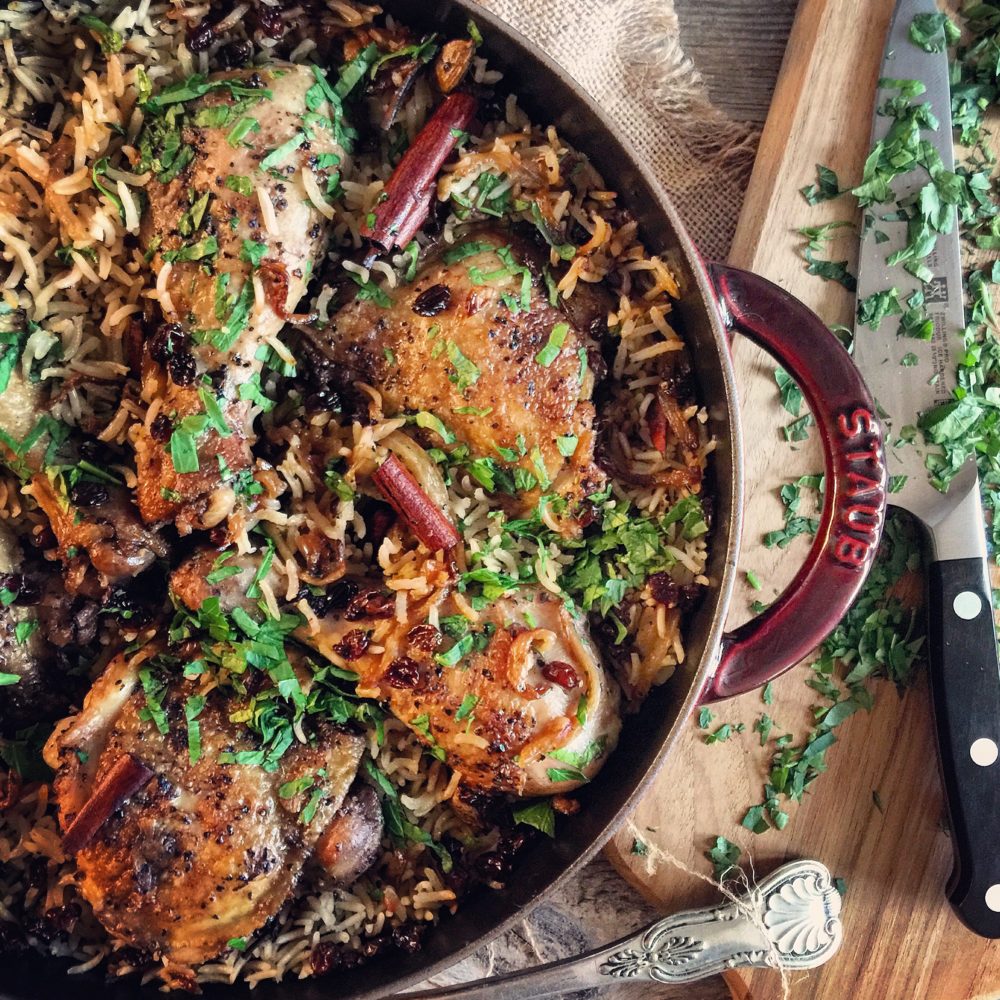 Chicken with Caramelized Onions and Cardamom Rice
A one pan wonder! The dreamiest braised chicken in the most fragrant rice with a layer of rich caramelized onions throughout. the tart barberries are the stars here, a perfect to the rich flavours. Perfect dinner party meal.
Total Time
1
hour
5
minutes
Ingredients
3

tbsp

granulated sugar (40 g)

2 1/2

tbsp

barberries or currants (925 g)

4

tbsp

olive oil

2

medium onions

thinly sliced (2 cups, or 250 g)

2 1/4

lb

skin on, bone in chicken thighs (1 k)

or one whole chicken, cut into 10 pieces (alternatively, when I shop for thighs, if they are large, I count on one per person, if small, go with 2)

kosher salt and cracked pepper

10

cardamom pods

1/2

tsp

whole cloves

2

long cinnamon sticks

broken in two

1 2/3

cups

basmati rice (300 g)

2 1/4

cups

boiling water (550 ml)

1 1/2

tbsp

flat leaf parsley

chopped

1/2

cup

dill leaves

chopped

1/4

cup

cilantro leaves

chopped

1/3

cup

greek yogurt (100 g)

mixed with 2 tbsp olive oil) Optional
Instructions
Place the sugar and scant 3 tbsp water in a small saucepan. Heat until the sugar dissolves. Remove from the heat heat, add the barberries and set aside to soak. If you are using currants, you do not need to soak them this way.

Meanwhile, heat half the olive oil in a large saute pan for which you have a lid, over medium heat. Add the onion slices and cook for 10 to 15 minutes, stirring occasionally, until the onions have turned a deep golden brown. Transfer them to a small bowl and wipe the pan clean.

Place the chicken in a large mixing bowl. Season with 1 1/2 tsp each of salt and pepper. Add the remaining olive oil, cardamom, cloves and cinnamon. Use your hands to mix everything together well.

Heat the frying pan again to medium high and place the chicken (skin side down) and spices in it. Sear the chicken for 5 minutes on each side, and then remove from the pan to a plate. The spices can stay in the pan, but don't worry if some sticks to the chicken pieces.

Remove most of the remaining oil as well, leaving just a thin film at the bottom. Add the rice, caramelized onions, 1 tsp salt and plenty of black pepper. Drain the barberries and add them as well. Stir once to even it all out in the pan.

Return the seared chicken to the pan, pushing the pieces into the rice.

Pour the boiling water over the rice and chicken, cover the pan, and cook over very low heat for 30 minutes.

Take the pan off the heat, remove the lid, quickly place a clean tea towel over the pan, and then seal again with the lid. Leave the dish undisturbed for another 10 minutes.

Finally, add the herbs and use a fork to stir them in and fluff up the rice. Taste and see if more salt or pepper are needed.

Serve hot or warm, with the yogurt mixture on the side if you like.
Recipe Notes
Originally this recipe states that it feeds 4. I have fed 6 comfortably, with leftovers. The rice is just so amazing!
Try and get the cardamom pods and cinnamon sticks out before eating. Biting into a cardamom pod isn't that pleasant.
Use a braiser or as wide a pan as possible with a tight lid.
Adapted from Jerusalem by Yotam Ottolenghi