As much as I have loved the recipes from Small Victories, I think I love Julia's titles for each of them equally.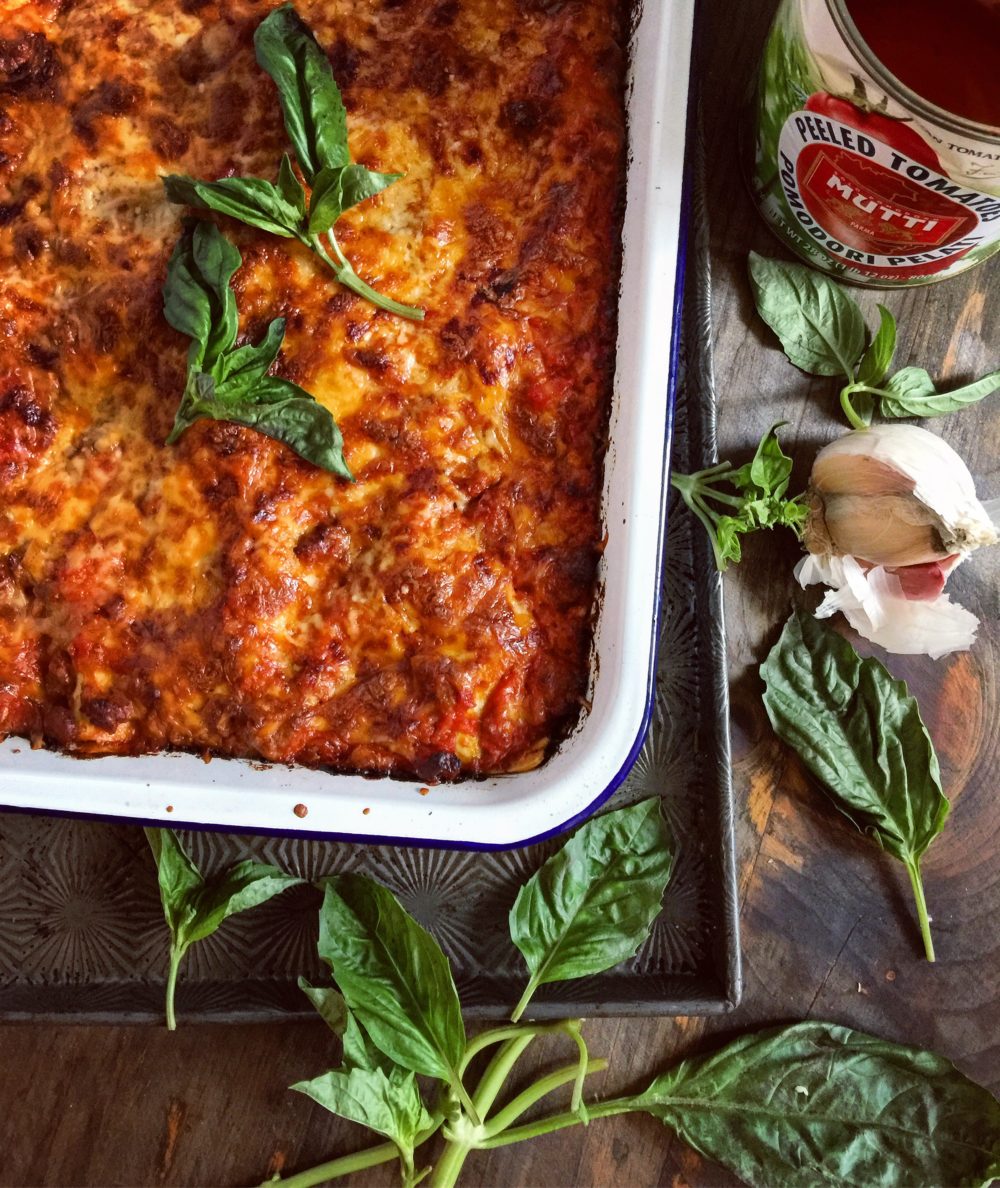 They are such a hoot. Kinda Sorta Patates Bravas, Feel-Better-Soon Cookies, Indecision Grilled Chicken, Happy Wife Happy Life Chocolate Cake, and so on. So naturally I was drawn to A Nice Lasagna. Of course lasagna is nice, even awesome in the right hands, so I just had to find out what makes this lasagna 'nicer' than the rest.
Oh wow. I was so glad that I tried this recipe. Not only does it taste out of this world, it is a breeze to pull together. There were so many tips and tricks that Julia offers with this recipe. Unlike typical recipes which include either a ricotta layer or a layer of béchamel, she has us combining the wonderful tomato sauce with creme fraiche. Love it. Lighter, creamier, not watery at all, and less dishes. And since I make my creme fraiche at home, it's always on hand (I will give you my recipe below) And while she also includes a recipe for homemade pasta, I contend that unless you have a pasta maker and room, using fresh pasta sheets from the deli section of your grocery store is just as good. In fact, I got on to using fresh pasta sheets from an Italian friend of mine, so I don't feel like I'm cheating at all!
The other trick in this recipe is the high sauce to pasta ratio. Since she doesn't have us using dry pasta that requires boiling etc (which gets a tad sticky and also uses another pot and time) the fresh pasta will absorb the sauce and get full of flavour. Because I had the sheets ready to go, and the sauce came together so easily, I was absolutely gobsmacked at how quickly a dinner for 6 came together.
Despite the simplicity, nothing is lost in this recipe. It is cheesy. It gets a magnificent crust as it finishes bubbling away. The pasta is tender. The sauce is rich and full of flavour. There is fresh basil strewn throughout, which really shines in the finished dish. The only thing I added was hot pepper flakes- because I can!
And she offers options: The original light vegetarian version;Browning ground beef and hot Italian sausage in the oil with the garlic (I used just two Italian sausages, and it was perfect) or Adding cooked spinach, broccoli rabe, mushrooms or cubes of butternut squash to each layer for a substantial veggie lasagna. I loved the meat version so much, that when I was asked to provide a lasagna that would feed 20 for a gathering, I quickly decided I'd try the veggie one. I added grated carrots and sliced onions to the tomato sauce, and cooked spinach and sautéed grated zucchini for a secondary 'green' layer. It was a hit- I didn't even get to try a finished piece- nothing was left!
What's lovely about this recipe is how easy it is to whip up, with just the most simple planning. If you make the sauce ahead of time (which comes together lickety split) even the day before, and also grate up your mozzarella, and put it in a container, then you are all set to go: the day you want to make it, get two containers of fresh pasta sheets opened up. Get your cheeses and basil out on the counter. Mix your tomato sauce with the cup of creme fraiche. And then just start layering. And in no time you are eating. Gone are the days of lasagna being a full day affair where if you're going to make one, then you might as well make two and freeze one, since you are spending so much time on the one in the first place. Truly, this has freed up my cooking life. And this will be a go-to for when company is coming over and I don't have much time to plan. And even if I did have the time, this is still such a winner!
If I am making this just for Jim and myself, I only use one can of tomatoes vs the two. And one package of pasta sheets works just fine. I reduce the amount of cheeses as well. And I use an 8×11 -ish baking pan. You'll figure it out. This gives us 6 good slices, with a salad on the side. So a couple of meals and a quick lunch.
I'm so sad to see the month with Julia and Small Victories come to an end. Of course I will be going back to this book often. And I hope that the few recipes that I shared with you all have given you the taste for more. Truly this is a book that should be on every cook's shelf. She ends the book with all sorts of tips: 7 things to do with pizza dough; 7 things to do with leftover chicken; 7 easy but memorable Bites to Have with Drinks, 7 things to do with a can of chickpeas; and so on.
Please try this lasagna. You will be blown away. It is easy, it is delicious. It's really nice.
Love Jen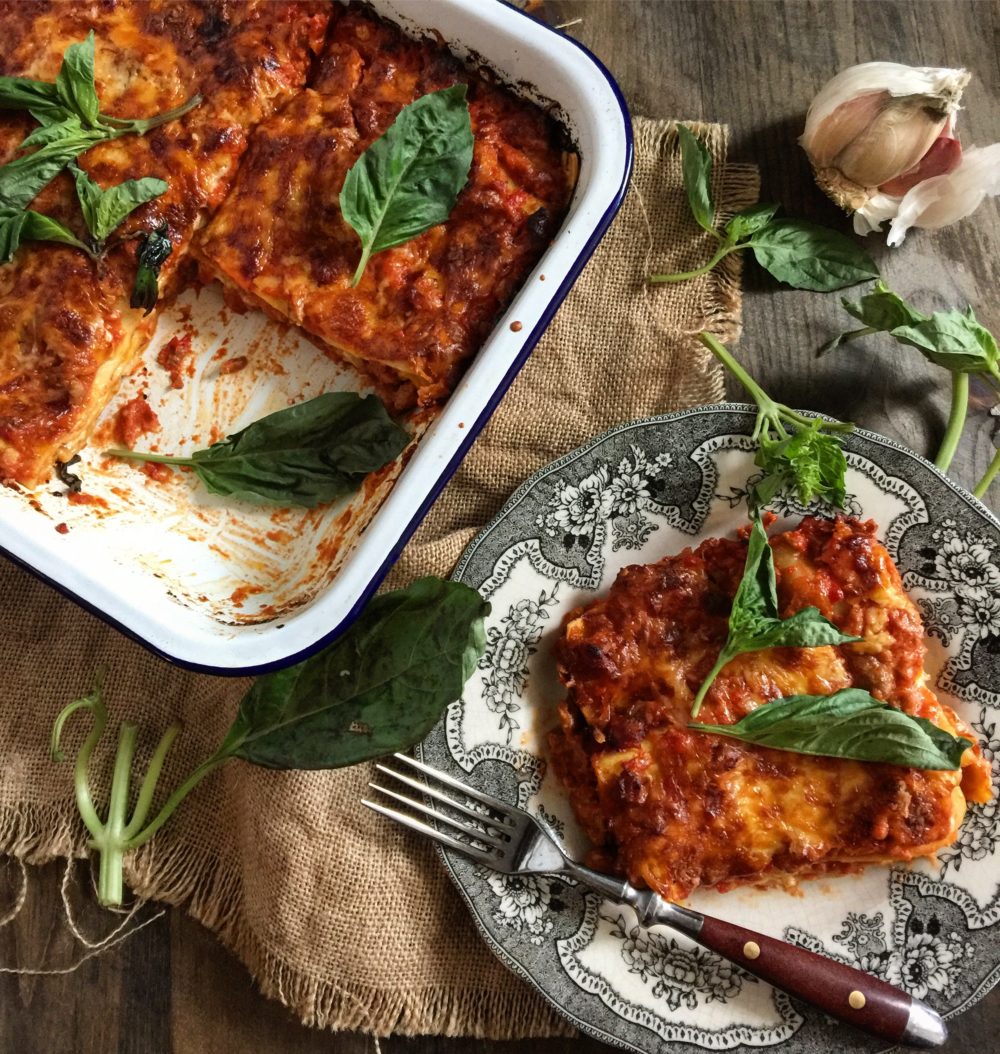 A (Really ) Nice Lasagna
Simple yes, but nothing is lost in this fabulous icon of comfort food. Tomato sauce and creme fraiche are combined for a rich, creamy layer, and the fresh pasta cuts down the prep time dramatically.
Total Time
1
hour
19
minutes
Ingredients
2

28 oz

(796 ml) cans of whole peeled tomatoes

I have used two quart (4 cup) jars of whole tomatoes many times

3

tbsp

EV olive oil

4

garlic cloves

thinly sliced

2

large hot Italian sausages (or 4 medium sized)

remove filling from the casings. This can be omitted for a light vegetarian version

kosher salt

1

tsp

hot pepper flakes

optional

1

cup

creme fraiche

see notes below

2

pkgs

fresh lasagna sheets

1

cup

(100 g) finely grated parmesan cheese

1

cup

(100 g) coarsely grated whole milk mozzarella cheese

2

large handfuls of fresh basil leaves

torn into small pieces if large
Instructions
In a large bowl crush the tomatoes with your hands (messy but so much fun!) until they are small bite size pieces

In a large sauce pan over medium high heat, warm the olive oil. Add the garlic and meat. Break up the meat into small pieces and let cook through till just getting a slight crispness to it. Omit this step if preparing a veggie version.

Add the tomatoes and 1 tsp of salt, and the hot pepper flakes. The amount you use may depend on how spicy the sausages are that you are using!

Bring to a boil and then lower the heat and let the sauce simmer, stirring every so often until it is slightly reduced, about 30 minutes.

Whisk the creme fraiche into the sauce. Re-season with salt if necessary. Set the sauce aside to cool to room temperature.

Preheat the oven to 400F

Ladle a thin layer of the sauce onto the bottom of a 9x13 (23x33 cm) baking dish sprayed with non-stick spray. Spread the sauce with a spoon to cover evenly.

Add a layer of the pasta sheets to cover in a an even layer (you shouldn't need to overlap the pasta)

Spoon over this, just enough sauce to cover the pasta. Then scatter some of all the cheeses over the sauce. Then sprinkle some basil leaves over the cheese.

Repeat the layering process until you have used up all of your components, ending with sauce and cheese on top. (you don't want naked lasagna!)

Bake the lasagna uncovered, until it is gorgeously browned and bubbling (35-40 minutes) If not crispy enough, try turning on the broiler for just a few minutes (but watch it) I didn't need to do this though.

Let it rest at room temperature for 15 minutes. This lets the pasta fully absorb the bubbling sauce, so that you don't end up with soupy slices.
Recipe Notes
To make Creme Fraiche:
Combine 1 cup of whipping cream with 2 tbsp of buttermilk or kefir in a small bowl or jar. Let this sit on the counter for at least 24 hours, with the lid just sitting gently on top. At first it will seem like nothing's happening. But then suddenly it will begin to thicken. When it is fully thickened, you can transfer it to the fridge. The cooler your kitchen is, the longer it will take to thicken up.
Vegetarian Version:
Add 1 large onion, sliced thinly when cooking the garlic. Then add 1-2 coarsely grated carrots and let them just soften in the oil. Then add the crushed tomatoes.
Gently sauté up spinach, grated zucchini or broccoli rabe, mushrooms, butternut squash (or a combo thereof) to create 1 1/2- 2 cups of veggies. Add some of this to each layer after the sauce but before the cheese.
Adapted from Small Victories by Julia Turshen
SaveSave
SaveSaveSaveSaveSaveSave