Hi, I'm Jennifer Emilson: Recipe developer, cook, baker, wife and cat servant.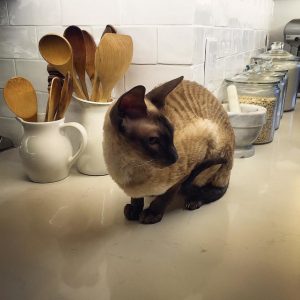 I truly believe that you can be a joyous vegetarian, and an educated omnivore, all in the same week. Cooking should be healthy, practical and above all, fun!
Motivation: To share the love of whole and real foods, fresh ingredients; and encourage all to try modern twists on traditional recipes.
Execution: Thoughtfully prepare meals that can be indulgent and healthy at the same time; recreate the meals of my German heritage for a new generation.
How I learned: My parents came from Germany, bringing their love of food and cooking with them. In southern Ontario, Canada where I grew up, our backyard was a mini farm and orchard, with row upon row of fruits and vegetables. We may have lived in suburbia, but that didn't stop my parents from having a chicken coop, making sausages, smoking fish in an outdoor smokehouse, having oak barrels of homemade wine in the basement, and keeping pantry shelves filled with glass mason jars of preserved fruit and veggies to get us through several winters. Considering that my mom made me wear a dirndl (traditional German folk dress) to school (mortifying when you are eight years old and living in a Canadian city!), the chickens were a walk in the park. They (my parents, not the chickens) went on to run a successful Bed and Breakfast, and truly, their guests were there for the food and good company!
Results: My mom taught us well- my sister went on to attend cooking school, and I cook with joy for crowds upwards of 40 or 50 every week where I volunteer. In a major part, this blog is a tribute to my mother, her skills, and the recipes and dishes of her homeland. So you will often find German and European slants to many of my recipes, as I try to ensure that her influence on us isn't forgotten.
My first apron had lemons on it, hence the name of this blog! Making a pie is my happy place. My taste in music has gotten more adulty, so now while I'm cooking, I'm serenaded by some great jazz and 40's standards in addition to the classic 80's soundtrack of my youth. If you don't find me in my kitchen I'm probably at the farmers markets, the neighbourhood fruit and veg shops, the ethnic boutiques, and even foraging in the forest for new (and yet really old) prizes to cook up. The idea of trying something brand new and foreign excites me. I have an insatiable curiosity. I can get giddy discussing or discovering a new spice, herb, or dish. Chatting with Grandmas, Nonnas, Omas, and other safe-keepers of recipes long retired is a passion.
My understanding husband tolerates me, often laughs at me, and usually asks for seconds. My cats keep me company, distract me when I'm supposed to be watching a pot not bubble over, and make us giggle daily. Through the years friends have asked for my recipes. I blush, and am flattered. So now I'm sharing with new friends. Please eat, and laugh along with us. I'll try not to spill anything on you. I'm a klutz.
I'd love to meet all of you as well. Feel free to leave your comments, questions or random thoughts.
Inspiration
As a kid I remember being enthralled by the only cooking shows we could find in Canada: Wok with Yan or the Galloping Gourmet. Boy, have cooking shows come a long way since then! But I also remember PBS and Julia Child. Smile. And then came Jaques Pepin. Smile. So, you could say, my initial inspiration came from the 4 J's: Jennifer's Mom, Julia Child, Jaques Pepin, and the Joy of Cooking.
Today that list is endless. We all have our collection of cooking magazines. Our Gourmet (still want to shed a tear for the departure of this grand journal) Bon Appetit and Saveur, are probably sitting in holders (or piles) because we don't want to part with them. But today, in a way, the food blog has become the new cooking magazine. We have our favourites. Some of them give us such an insight into the person behind the cursor. And all of them inspire us to be creative. A few of the sites that bring joy to me are:
A Brown Table America's Test Kitchen A Cup of Jo Apt 2B Baking Co
Baked- the Blog Chocolate for Basil Cravings in Amsterdam Dagmar's Kitchen David Lebovitz Dolly and Oatmeal Dorie Greenspan
FeedFeed Food52 Food Fashion Party Half Baked Harvest Joy the Baker
Local Milk Love and Lemons Marte Marie Forsberg my name is Yeh Ottolenghi
Seven Spoons Smitten Kitchen The Bojon Gourmet The Clever Carrot The Year in Food Top with Cinnamon Three Little Halves Vanilla and Bean What Katie Ate
SaveSave