Every once in a while a recipe comes along that just turns the world upside down. Okay, fine, it may not actually do this, but it can definitely be a game changer.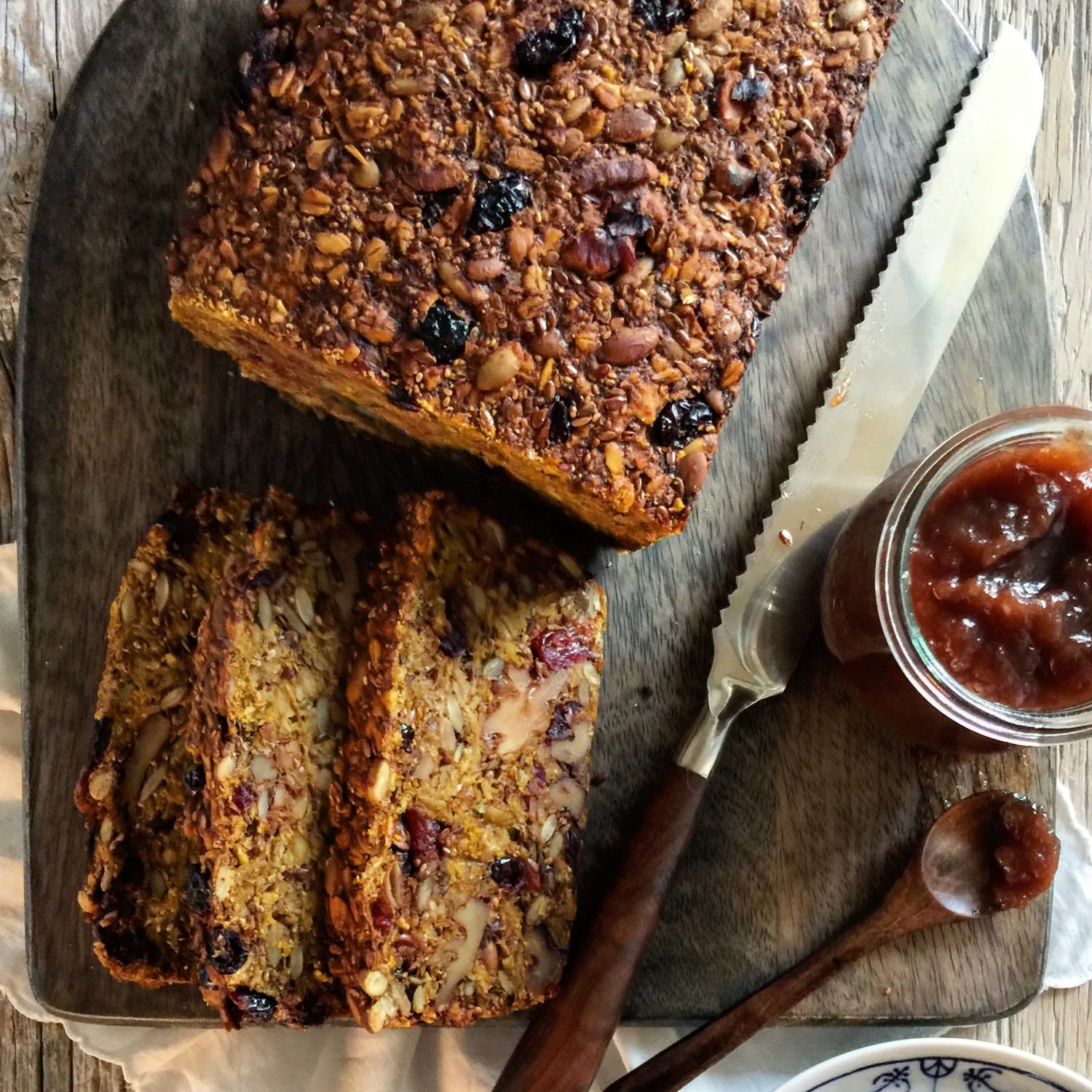 This is one of those recipes. My breakfast just got amped up a notch!
I have a lovely gluten-free Paleo Brown Bread recipe on the blog, using chestnut flour that is savoury, with just that touch of nutty sweetness. It bakes up beautifully, holds its structure, and works well as breakfast bread. I am very happy with this recipe. I will continue to bake it, with joy. But that chestnut loaf just got a buddy! The Bojon Gourmet's Pumpkin Cranberry Nut and Seed Loaf.
Alanna has managed to produce a loaf that is also gluten free, and filled with all the goodness of the season Pumpkin puree, dried cranberries, toasted walnuts and pepitas, and flax seeds. The structure basically comes from gluten free oats, chia seeds and psyllium husks. I've made breads using psyllium husks before (for 'gluten' or a way to keep it together and not fall apart) but this is the first time the final bread didn't make me think it was filled with psyllium husks!! The flavour comes from cinnamon and nutmeg and some maple syrup. But really, the end product does not scream sweet bread. It is just so balanced, with a great 'toothy' texture. It holds up under toasting in the toaster oven perfectly. The fun part of this recipe is that you are taking all the ingredients and bringing them together in a bowl. Once perfectly and evenly moistened, you transfer the 'dough' to your loaf pan. You will shape the top into a dome, to give it that 'risen' look that breads take on. But the thing is, there will be no rising once this goes into the oven. So it is up to you to create the 'rise'! Then you let it rest. Yep, for a good 2-8 hours. But then, when it goes into the oven, the top will become burnished to a lovely whiskey colour, and the insides are baked through perfectly. And it slices just so brilliantly. This is one of those recipes that you really want to follow her instructions as stated. It turns out so well, why would you want to mess with it!?
And the toppings are really where your imagination can have a field day. Ricotta with pistachios and honey. Skyr and figs. Nut butters and preserves or cocoa nibs. Whipped cream cheese with sliced bananas or granola. I'm sure you can even think of more toppings. But I have gone savoury with fabulous results. Brie, pear and Iberico ham. Blue cheese and sliced fresh fig. Yumm! I sliced it a tad thinner and cut the slices in half and served them all with a charcuterie board. Perfect with cheddar cheese and apple butter.
Or as Alanna suggests in her book, 'Alternative Baker' this bread would be perfect "wrapped around slices of leftover turkey." Yes it would!! With all those cranberries and pumpkin, just add some turkey, cranberry sauce, stuffing and gravy and call it a day!! Please check out her site, it is filled with incredible recipes using alternative flours and grains, that don't sacrifice any of the flavours. Festive desserts, cookies, pies, tarts, she really is a force to be reckoned with. She is a creative genius, and fun to follow. Her book that I am using at the moment is a wonderful one to add to your collection.
I can totally see baking this up regularly. Even if I freeze half right away (like I do with my Chestnut Bread) I will have breakfasts and lunches covered for those times I am craving bread! As much as I love rye bread, sourdough, pumpernickel, ciabatta, etc, I have just enough of a delicate stomach that I need to avoid them as well. But I love bread. A world without bread, or cheese, or wine, just doesn't cut it for me. So often I just put up with the pain or discomfort. And then I go on a detox and avoid all the bread for a few days. And then I falter. And then I want all the bread and butter again. So a bread like this one is just so welcome. I can have my bread, and eat it too!! Thanks so much Alanna!
Love Jen.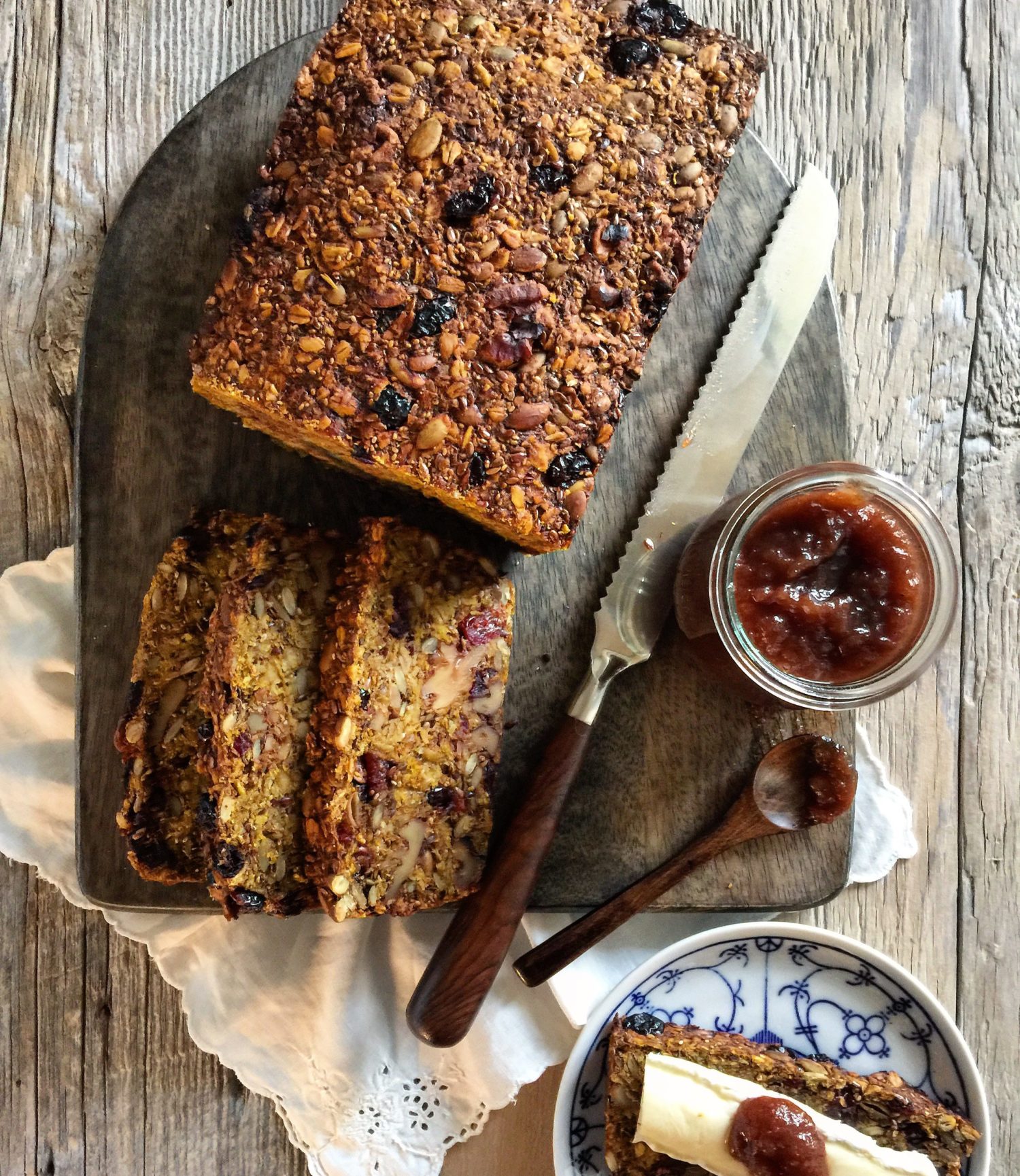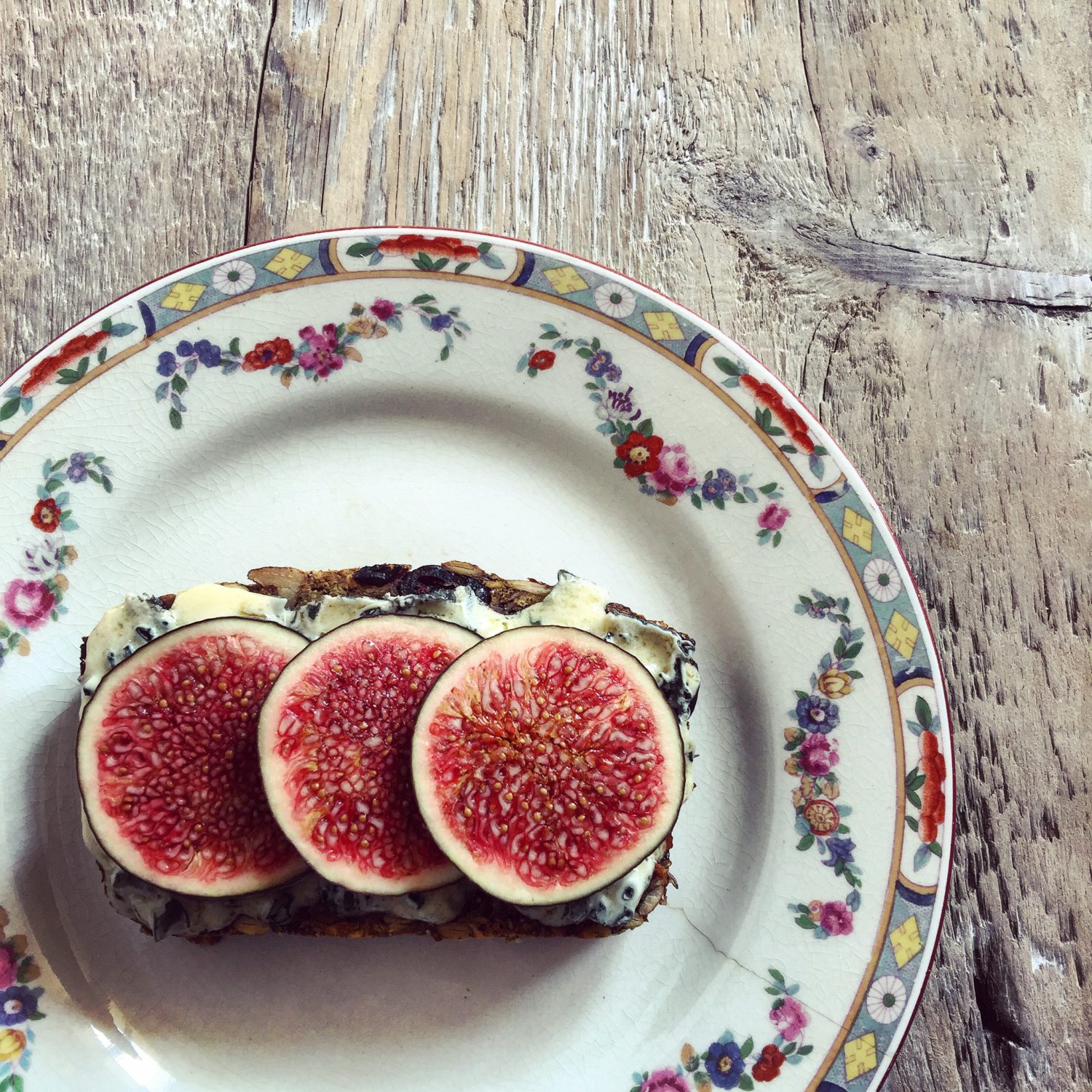 PUMPKIN CRANBERRY NUT AND SEED LOAF
A fabulous gluten free bread packed with seeds and nuts, flavoured with pumpkin, cranberries, cinnamon and nutmeg. But it isn't overly sweet- perfect with cheeses, nut butters, even with leftover turkey!
Cook Time
1
hour
15
minutes
Total Time
5
hours
15
minutes
Ingredients
1½

cups

(175 g) raw walnut halves

1

cup

(140 g) raw pumpkin seeds (pepitas)

2¾

cups

(250 g) GF old-fashioned rolled oats

1

cup

(145g) dried cranberries

½

cup

(90 g) flaxseeds

⅓

cup

(30 g) psyllium husks

¼

cup

(40 g) chia seeds

2

tsp

(9 g) fine sea salt

¾

tsp

ground cinnamon

½

tsp

freshly grated nutmeg

1

(15-oz) can unsweetened pumpkin puree

1

cup

water

(235 ml) water

¼

cup

(60 ml) maple syrup

¼

cup

(60 ml) sunflower oil (or light olive oil)
Instructions
Position a rack in the center of the oven and preheat to 325°F (165°C). Spread the walnuts and pumpkin seeds on a small, rimmed baking sheet and toast until golden and fragrant, shuffling the pan occasionally, 10-15 minutes. Remove from the oven.

Meanwhile, in a large bowl, stir together the oats, cranberries, flaxseeds, psyllium husks, chia seeds, salt, cinnamon and nutmeg to combine. Stir in the hot walnuts and pumpkin seeds. Add the pumpkin puree, water, maple syrup and sunflower oil and stir well with a sturdy wooden spoon or your hands to make sure the "dough" is moistened throughout and evenly distributed.

Line a 9 by 5-inch loaf pan on all sides with parchment paper and scrape the dough into the prepared pan, packing it in and rounding it slightly on top; it won't rise in the oven. Cover tightly with a piece of plastic wrap and let sit at room temperature for 2-8 hours.

When ready to bake, preheat the oven to 400°F. Bake the loaf for 1 hour and 15 minutes; it will be deeply bronzed on top and feel firm to the touch. (Note: the first time I made this I took it out a little early - don't do that - let it cook the whole time even thought the outside will be very dark). Let cool completely, at least 2 hours. The bread is best sliced fairly thinly and toasted well. It will keep, refrigerated airtight, for up to 2 weeks.
Recipe Notes
Alanna states that the 'dough' should rest for a good 2 to 8 hours. I got impatient, so after 3 hours the loaf went into the oven. It was perfect!
By Alanna Taylor-Tobin
Adapted from Alternative Baker
SaveSave
SaveSave