As a little girl, I got giddy for December. And yet, I also resented December.
In that my favourite flavours were only relegated to that one month. I couldn't understand that if everyone loved gingerbread and all the spices that go into it, why only use them one time of the year? What was to stop bakers from using them in November, or why are they forced to stop using them in January? One day I would grow up, and would change this.
But as that little girl, I didn't have the power or ability. So I was reduced to accompanying my mom to the German delicatessen to find all my favourite goodies. I hope you all have access to a German or any European deli where you live. It's a cacophony of colours, aromas, textures, noises, with every nook and cranny stuffed with imported goodies, cans, jars, packages and bottles. Jams, sauces, pickled and marinated fish, chocolate, cookies, anything that can be contained in the correct packaging is on shelves, in teetering mountain displays, even hanging from the rafters. Then there are the cheese and meat cases, with row upon row of every type of cheese, stinky and smooth, and all the cold cuts imaginable. The perfume is one of garlic and cherry, oregano and citrus, walnut and anise. To me it is like visiting Disney World. Really!
So, in December, as well as all those amazing goodies, are added my favourite lebkuchen, pfeffernusse, and gingerbread. Some of the cookies are stuffed with plum jam. Some are covered in a sugary glaze. Some are dipped in chocolate, Some are dusted with icing sugar. And I would labour over which bags of goodies I would carry home. To this day, I still get excited when I see a little bag of imported chocolate dipped lebkuchen (soft gingerbread cookies, filled with plum jam) or bag of pfeffernusse (round soft spice cookies with either an icing glaze or covered in icing sugar) I melt inside. And I inhale those babies!
It was only a matter of time before I decided to try my hand at baking these treasures. Because if I got it right, then I could relive those precious childhood moments in July if I so desired!! These are the flavours of my childhood, but they were not cookies my mom actually baked for us. She definitely had her repertoire of sweets that she relied on, but the little nibbles weren't high on her list of favourites to bake. Actually to be honest, she didn't have a major sweet tooth. So while Marble Cake or her German cheesecake and a few other tortes were usually pulled out, she didn't regale us with a vast assortment of pastries.
It was up to me to find those recipes that came closest to the flavours and textures that I cherished. When I found this recipe on Food 52, I couldn't resist trying it. It has a distinctive flavour addition that you won't find in most North American gingerbread: anise seed. And yet, what a wonderful addition it is. It gives the overall flavour a slight liquorice nuance. But in a good way. It isn't overpowering in the least, but my oh my, does it make me feel like I'm eight years old again. My first bite, and I was hooked. This is exactly what I remember this gingerbread tasting like. Being that it originates in the Alsatian region, it is really a marriage of French and German influence. German gingerbread or lebkuchen doesn't usually have the anise seed, but it does have the more traditional gingerbread flavours we have come to know and expect. But this recipe is a lovely change, and will elevate your gingerbread game to a new level.
It is not super dense, but it isn't light and crumbly either. This cake doesn't have a lot of rise. In fact, slicing it up, it reminds me a touch of biscotti. But without the firmest texture of biscotti. It comes together easily, and makes a lovely addition to a dessert table. The undercurrent of honey, and all those spices, makes it a most versatile and easy gingerbread to enjoy. The only addition that I made is a touch of white pepper. It makes a world of difference, trust me. My other tip, wait until completely cooled, and cut with a good knife- in a sawing motion. Less crumbling that way. 😉 Store it well in a sealed container, and it will be even better in the days ahead.
This is perfect with a cup of coffee. Or for breakfast. Or with a glass of milk. In April. And if you want to spread spiced honey butter (just mix some softened butter with a touch of gingerbread spices and some honey for sweetness and then serve it in a bowl) on it, I will applaud you!
Love Jen.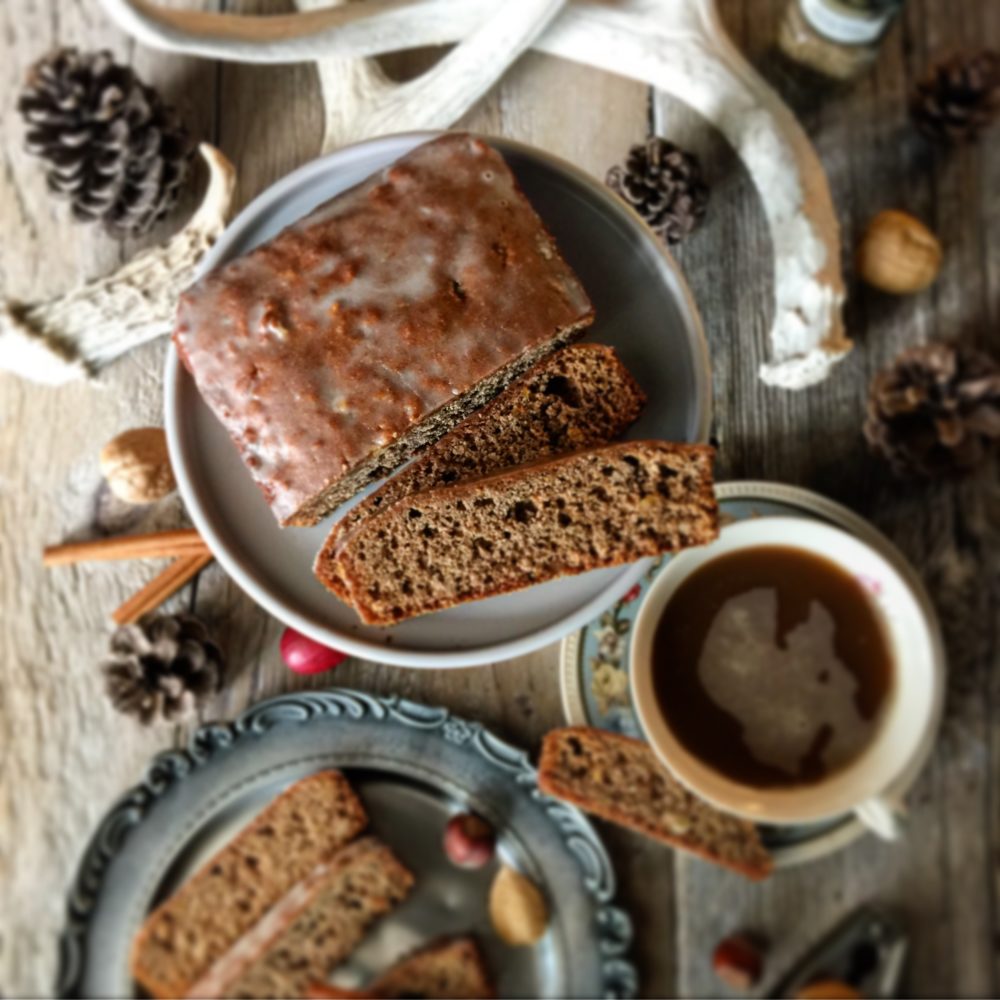 Alsatian Gingerbread
A fresh take on traditional gingerbread, with the French/German addition of anise seed. Perfect with a cup of coffee or a liqueur!
Ingredients
1/2

cup

honey

2

tbsp

brown sugar

1/2

cup

whole wheat flour

1/2

cup

rye flour

1/4

tsp

ground cinnamon

1/2

tsp

ground nutmeg

1/2

tsp

ground ginger

1/4

tsp

ground anise

you can grind whole anise seed easily in a mortar and pestle etc.

1/4

tsp

ground allspice

1/8

tsp

white pepper

1/4

tsp

kosher salt

1 1/4

tsp

baking powder

1

large egg

4

tbsp

whole milk

2

tsp

candied orange or lemon peel

finely diced
Glaze
1/4

cup

icing sugar

1

tbsp

milk

or eggnog

1/4

tsp

rum
Instructions
Preheat the oven to 350 degrees.

In a small saucepan, combine the honey and the brown sugar and heat gently, stirring, until the sugar is dissolved and the mixture is warm.

Sift together the flours, spices, salt, and baking powder into the bowl of a stand mixer.

In a small bowl, whisk together the egg and milk.

With the mixer on low and using the paddle attachment, slowly pour the milk-egg mixture into the flour mixture. Stop and scrape up any flour that's stuck to the bottom of the bowl.

Add the warm honey and brown sugar and then the diced citrus peel and mix on medium speed until well-combined.

Lightly coat with veggie spray and then line a medium loaf pan (9x5") with parchment paper so that it is hanging over the sides. Alternatively, lightly butter and flour a medium loaf pan.

Pour and then scrape the mixture into the pan. Tap the pan a couple of times to release any air bubbles, and bake for 40 to 50 minutes, until the loaf is deep brown. Cool in pan on a rack for 15 minutes.

Remove using the parchment paper as handles, since it will not have risen high up the sides.

Mix the icing sugar, milk and rum for the glaze. Make it as thick or thin as you desire (the way I remember it, it is on the thinner side) Drizzle over the cake when slightly cooled.
Recipe Notes
This will not rise greatly. It's not supposed to. But it will taste amazing.
I crush my anise seeds instead of using anise powder. I like the texture.
You may skip the citrus, or just use orange and lemon zest, if that is all you have on hand.
You can also add candied ginger to the mix.
I like it glazed, since this is how I remember it! As an option, why not replace the milk with eggnog for the glaze?! Or how about adding a touch of rum?
Store in a well sealed container- it will age wonderfully.

Adapted from Food 52
SaveSave
SaveSave
SaveSave
SaveSave