We've had a cornucopia of apples available here in the Northern Hemisphere since September.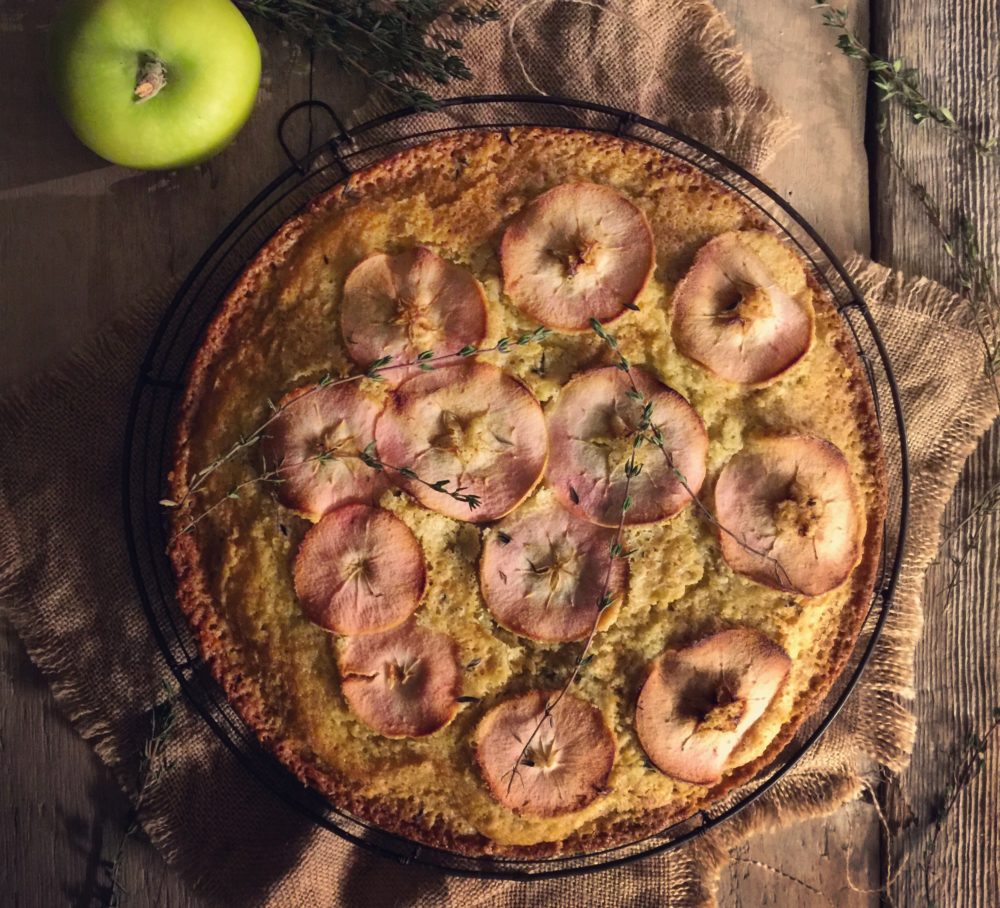 Did you know that there are 7,500 varieties of apples grown throughout the world? And yet, here in Ontario, only about 20 varieties are grown commercially. In the United States that number jumps to about 100. Still, according to that first number, we are tasting just a fraction of the potential the planet provides. Even so, we have all managed to find a favourite apple from that selection. And I've been putting them to good use. Whether it's my rich Apple Butter, my favourite Apple Pie in Cheddar and Thyme Crust, those adorable Apple and Almond Pastries or even those amazing Sausage Stuffed Heirloom Apples.
And now this cake. This is one moist cake!! Seriously, I know that olive oil cakes tend to be more moist and keep very well. This one takes the cake! (hehe- did you catch that? takes the CAKE) For November we have been cooking along with Sunday Suppers by Karen Mordecai for the Rainy Day Bites Cookbook Club on Instagram.
The book has a little bit of everything: fabulous breakfast ideas, great appetizers and snacks, and seasonal meals for gatherings or family. Like the title suggests, the idea of Sunday Supper- getting together with family around a table for a well prepared meal, which was once considered tradition, a given in most households- should be reinvigorated, embraced again. I agree.
There was a time, even in my own childhood, when everyone knew where they would be come Sunday evening: around the dinner table. Various friends or family may be added to the mix, but the idea of NOT being there wasn't an option. There may have been a formality to it that doesn't resonate as quickly today, but the concept of making time for family, not letting other mundane activities take priority, can still be upheld. It doesn't have to be a Sunday dinner of roast and mashed potatoes (but I wouldn't mind that in the least!) It can be pizza, lasagna, quesadillas. Just as long as everyone is sitting around that table, not in front of the tv. What better way to visit, discuss the week coming up, any hopes, plans, projects etc. It is a fabulous note on which to end a weekend. A good visit. And if you make enough food, you've already got leftovers covered for another meal in the week!
Having said all that, this cook book also has some wonderful desserts: chocolate challah bread pudding, spiced pumpkin creme brûlée, date cake with toffee sauce, and this apple and olive oil cake. Oh, there are other desserts as well! I still need to try so many of the choices. How does the month get away from me? All these lofty goals of trying so many of the recipes, and yet, I only scratched the surface. Part of it has to do with the fact that it's just TWO of us!! All these wonderful desserts require help to eat! And it just seemed to be one of those months where we didn't get together with friends as often as we would have liked. Maybe I can tackle the rest in December…
So yes, this wonderfully moist cake. As Karen states in her intro for this recipe, this cake is dense, moist and just the right amount of sweet. It makes a lovely dessert, but I have been known to sneak cake for breakfast. This one works as breakfast stunningly.
Karen has us using a 10 inch springform pan for this cake. After baking it, and realizing just how moist and dense it is (it took longer for me to bake it in my oven that it had called for, I am wondering how it would work it a 9×13 baking pan? It might be a touch thinner, but that might help the baking process. It would also give you a bit more surface area for the apple slices. Which are really the star of the show, as far as I'm concerned. I'm a visual person, first and foremost (of course it has to taste good) so if I can get some impact visually, before I even cut my first slice, that is such a bonus.
Speaking of the apple slices: I used one of the pink fleshed heirloom varieties that are showing up at the markets more and more often now. Look around, you may find something more unique to use! Not that a gala or fuji or pink lady wouldn't also be wonderful. And why stop at apples? Forelle pears, even thinly sliced figs or orange slices would be awesome as well. The cake stands alone in flavour- it is the perfect canvas to support a variety of fruit slices. Even grapes would be cool gently pushed into the top of this cake!
It is an easy recipe to whip up. Scary easy. But the total is truly greater than the sum of the parts in this case. I hope you can try it. It really is a cake for all seasons! And have some friends or get the family around that table next Sunday. Even if it's for takeout Chinese!
Love Jen.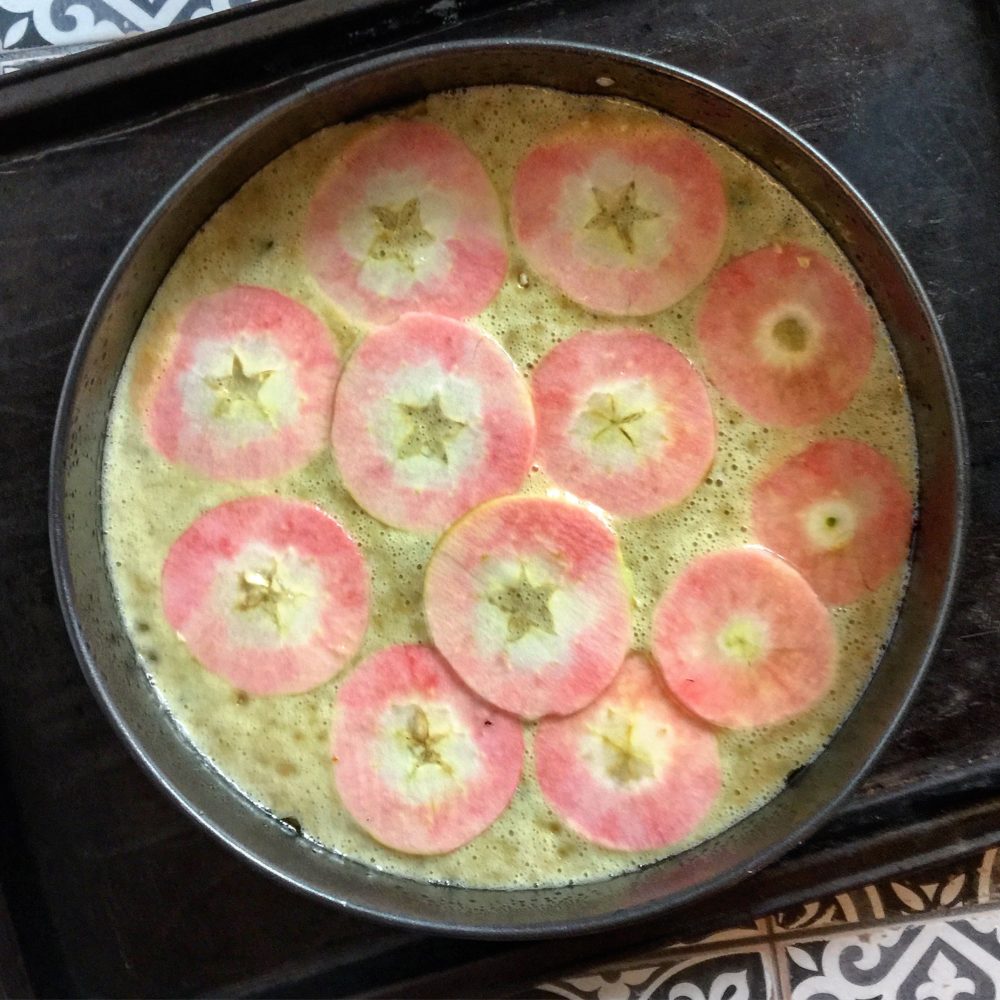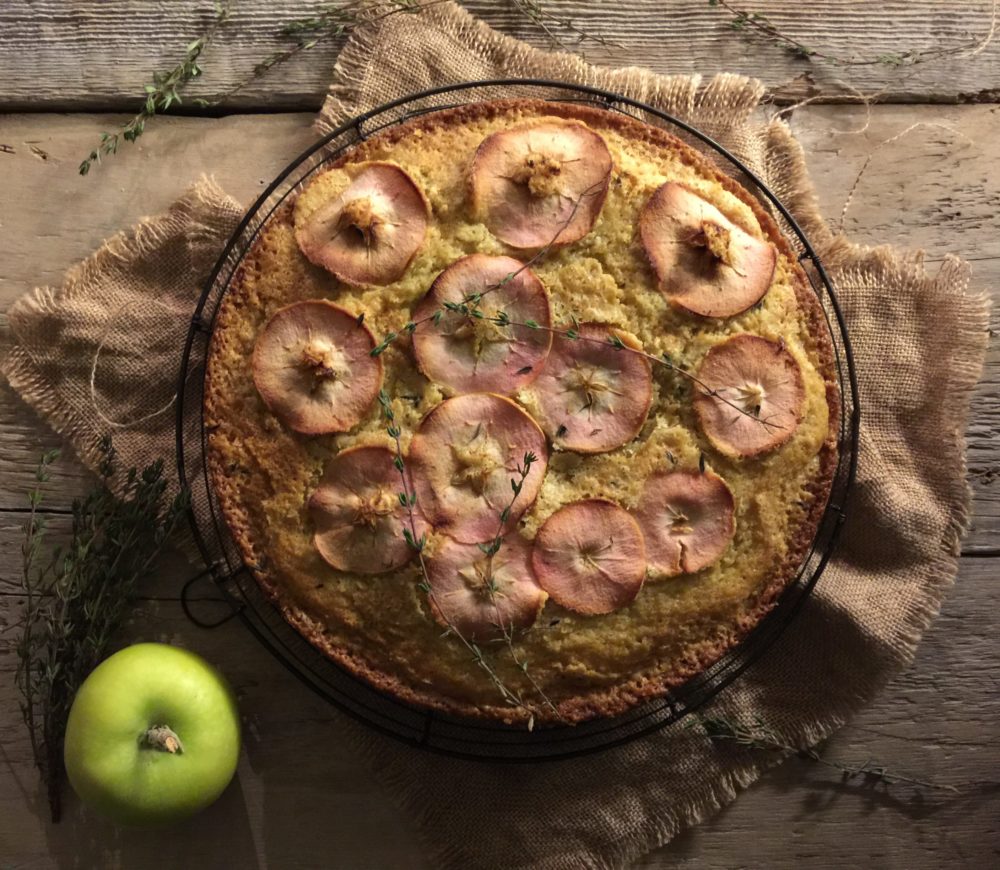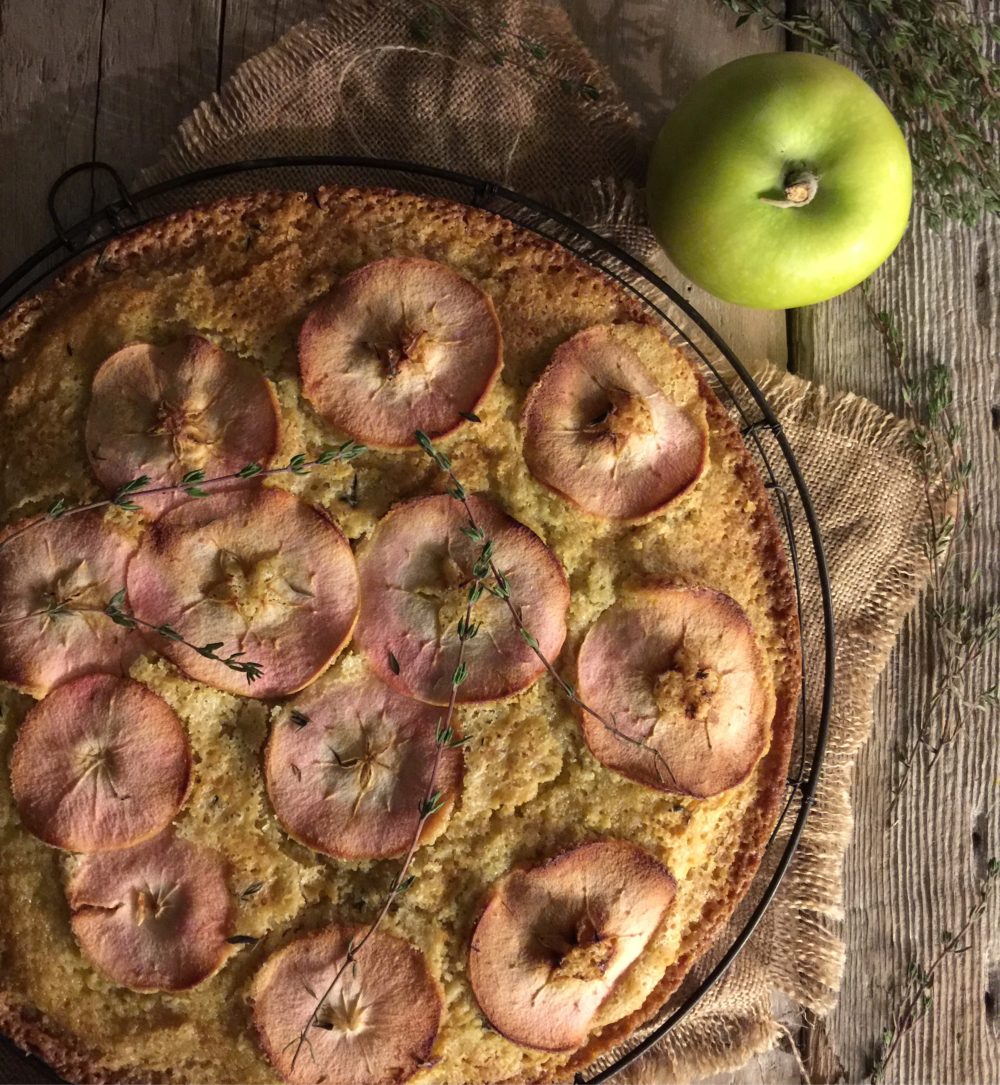 APPLE AND OLIVE OIL CAKE
A dense, moist, just sweet enough olive oil cake decorated with sliced seasonal apples. Perfect for dessert of daytime snack!
Total Time
1
hour
10
minutes
Ingredients
butter for greasing the dish

3

large eggs

2 1/2

cups

sugar

1 1/2

cups

extra virgin olive oil

(use a good quality, but not too peppery)

1 1/2

cups

whole milk

grated zest of 1/2 lemon

2

cups

AP flour

, plus extra for the baking dish

1

tsp

baking powder

1/4

tsp

salt

juice of 1/2 lemon

1

medium apple
Instructions
Preheat the oven to 350F. Butter and flour a 10 inch springform pan, or line a 10 inch round cake pan with parchment. (I also line the bottom of the springform pan with parchment)

In a large bowl, whisk together the eggs and sugar. Stir in the olive oil, milk, and lemon zest.

In another bowl, sift together the flour, baking powder, and salt. Slowly add the wet ingredients o the dry, stirring until just blended. Do not overmix. Pour the batter into the prepared pan.

Place the lemon juice in a medium bowl. Peel the apple, and using a mandolin (or slicing very thinly with a sharp knife) thinly slice the apple and then drop the slices into the lemon juice to prevent browning. Then arrange the slices over the the cake batter.

Bake for 50 to 60 minutes (I had to go WAY beyond this time, just keep checking) until the cake is golden and a toothpick inserted into the centre comes out clean. (see Notes below) The bake time will vary. If the cake needs more time but is browning too quickly, tent it with foil and continue baking.

Cool in the pan before unfolding.
Recipe Notes
As noted above, this cake took me almost 1 1/2 hours to bake off and was cooked through. A friend made it and found that it took her almost 2 hours. But following the suggestion to tent with foil totally helped. It is a very moist cake, so even if the skewer or toothpick comes out with a few bits on it, I would be content with this- you don't want the edges to totally dry out waiting for a clean toothpick. I found that the cake settled and the moist bits in the centre were just fine!
Having said this, I may try this in a 9x13 baking pan next time- the batter will have a bit more room to spread out, making it a tad thinner, but making it quicker to bake up. And more surface area for decorative apple slices. As to the apple slices: why not try a pear, figs, or even an orange sliced thinly? Or what about grapes? Not sliced of course! This cake lasted a good week for us! All that olive oil really keeps it safe!
Adapted from Sunday Suppers by Karen Mordechai
SaveSave
SaveSave