With Autumn comes harvesting. With harvesting comes trips to the orchards. What is it about orchards that is so appealing?
What is it about grabbing family, friends, or both, and heading out to the Pick Your Own apple orchard? There's something so nostalgic about this event for me. Growing up in Southern Ontario, we had access to amazing farmland and orchards. For a time, once a year, on a Saturday afternoon, a whole whack of our family and friends would fill up the various cars and vans and head out to the apple orchards near Kingsville, Ontario.
The younger ones would run directly over to the hay bale maze or the petting zoo (okay, us older kids did too!) while the parents (minus a few adults to supervise the kids to make sure they weren't tormenting the goats and donkeys) wandered over to the rows upon rows of apples, all the varieties imaginable at that time.
Baskets were filled, and if they got too heavy, you just had to wait for a truck pulling a flatbed to pass by, that you could jump on to and catch a ride back to the main barn. Ooh- that barn! Filled with all sorts of goodies: hot apple cider, candied apples, apple fritters, freshly baked pies, bags of apples (if you really didn't feel like reaching up and picking your own), cornbread… I could just hang out in the barn!
The day always ended with everyone streaming to one of our homes or farms, and having a bon fire. And the guys all cooked. It was the men who would each try to outdo each other with their 'Mine's the Hottest Chilli Ever' contest. A few of us may have had tears welling up from the crazy amounts of cayenne and dried chillies, but it was so worth it. We'd each grab a bowl and head out to the bon fire, crackling away. Bliss. The best time with friends etched in my mind forever.
The next weekend it was the girls' turn. We'd all converge in a few kitchens and bake. It was the best assembly line work imaginable. The ones who loved making crusts got to work on the counter, making batches and batches of dough. The rest were relegated to apple peeling and slicing. Then we'd put the pies together, some with lattices, some with rounds of pastry on top, and others with streusel toppings. Ovens were working overtime. But by the end of that day, everyone went home with a backseat full of pies ready for the freezer (and one to eat right away).
Apple pie is glorious. So is pumpkin pie. There is something so earthy, and slightly savoury about a pumpkin pie. But this year, I had to try something new. I had cooked off some apple butter, and realized how thick it really was once cooled. Could this not be a substitute for pumpkin puree? An apple pie in the shape of a pumpkin pie? Was this going against all that was right? I went to my trusty Pinterest, and found out that I alas, wasn't the first to think radically. I compared various recipes, gleaning input as I went along. In the end, I decided to pull out my old pumpkin pie recipe and play with it. And this is the result. A silky, velvety apple custard pie. All the spices you expect, but in the smoothest texture. Have a piece. Remember, an apple a day keeps the doctor away.
This recipe will vary depending on the apple butter you are using. I like my butter very thick and rich, dark and spicy. So I make my own, here. But if you chose to purchase your apple butter, you may need to adjust the spices and stabilizing cornstarch in the recipe. If you have ever made a pumpkin pie, you know the texture of the filling you are looking for. If not, you don't want the filling too thin. It should still pourable, but not runny at all.
I've played with it and I think even improved it. By adding a touch of spice. There's pink peppercorns ground in the batter, and the finished pie is sprinkled with Maldon Sea Salt. The perfect contrast to the velvety richness of the filling. Enjoy!
Love Jen.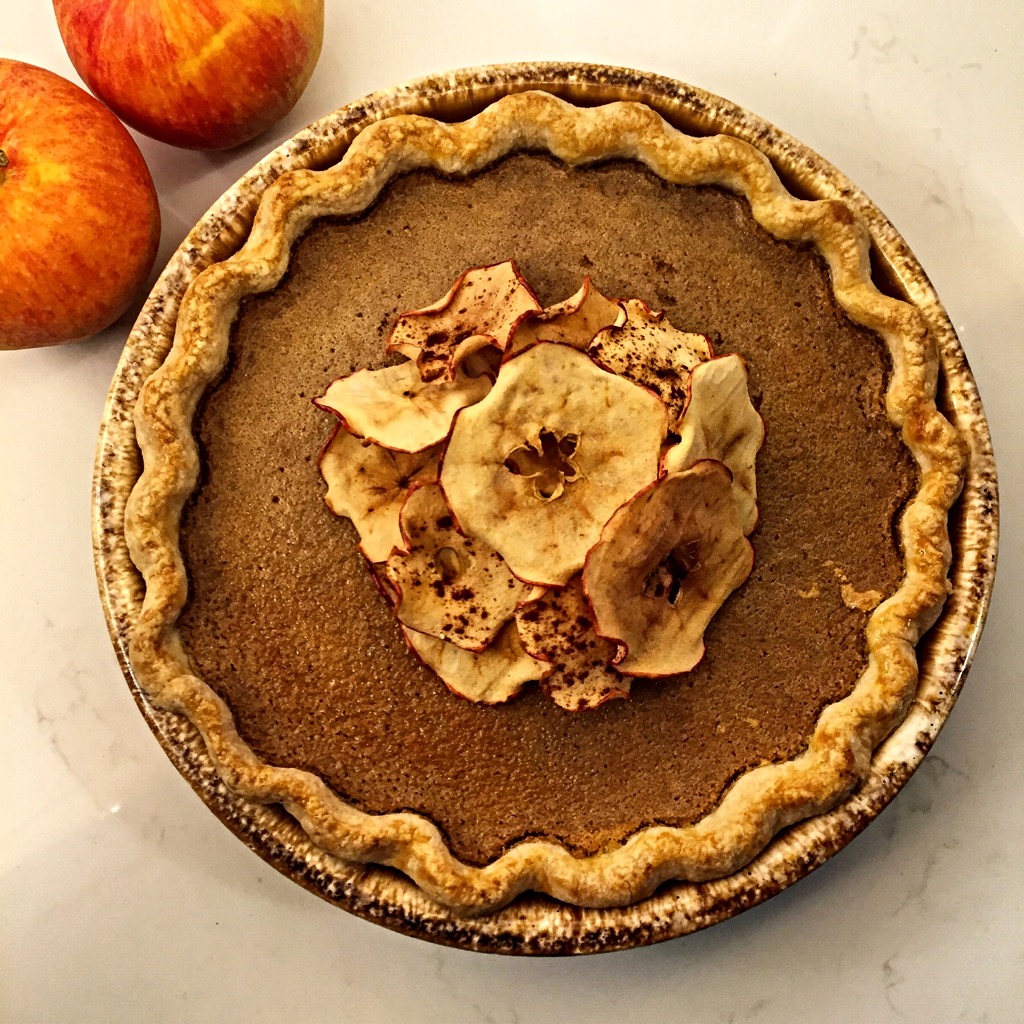 APPLE BUTTER CUSTARD PIE
Not your average apple pie. Silky, rich and velvety, a custard pie.
Total Time
1
hour
5
minutes
Ingredients
Pastry for a 9" pie

can use my recipe (see Pantry)

1

cup

apple butter

(see my apple butter recipe post)

1/2

cup

sugar

3

eggs

1.5-2

tbsp

of cornstarch

(see note below)

1 1/2

tsp

cinnamon

1/4

tsp

ground ginger

pinch of salt

pinch of nutmeg

5

shakes of angostura bitters

1/8

tsp

crushed pink peppercorns

1

cup

whipping cream

Maldon Salt for garnish
Instructions
Prepare your pastry shell. Crimp as desired. Freeze till for 20 minutes, and filling is completed.

Preheat the oven to 375 F.

Take all of the filling ingredients (except the cream) and mix in a bowl, until well blended. Add cream last and blend well.

Remove pie shell from the freezer. Brush the edge with an egg wash (one egg beaten with a tsp of water) Sprinkle edge with turbinado sugar. Pour the filling into the shell.

Bake in centre of oven, on a baking sheet, for 45-50 minutes, rotating 180 degrees as the edges start to set, at around 30-35 minutes.

Bake until the centre still jiggles very slightly, but the outside edges are completely set.

Set onto a cooling rack. Sprinkle with 1 to 2 tsp Maldon salt.

Cool on a rack until completely cooled.

Serve at room temperature.
Recipe Notes
The flavour and consistency of this pie will change depending on the apple butter you use. My butter is pretty thick and highly flavoured. So really, the spices you are adding to the pie are to flavour the custard portion. I like my butter thick, so I only need 1 1/2 tbsp cornstarch. If you are using a store bought butter, the filling may be a tad thinner. In this case I would add an 1/2 tbsp cornstarch or so. Bottom line, if you have made a pumpkin pie before, you know the consistency you usually get. Aim for the same with this filling.
If you have too much filling for your pie crust, take remainder and put into a ramekin or two and bake off. A lovely little custard!