It's September. I don't care what the weather forecast is, it is time to start thinking about Autumn baking!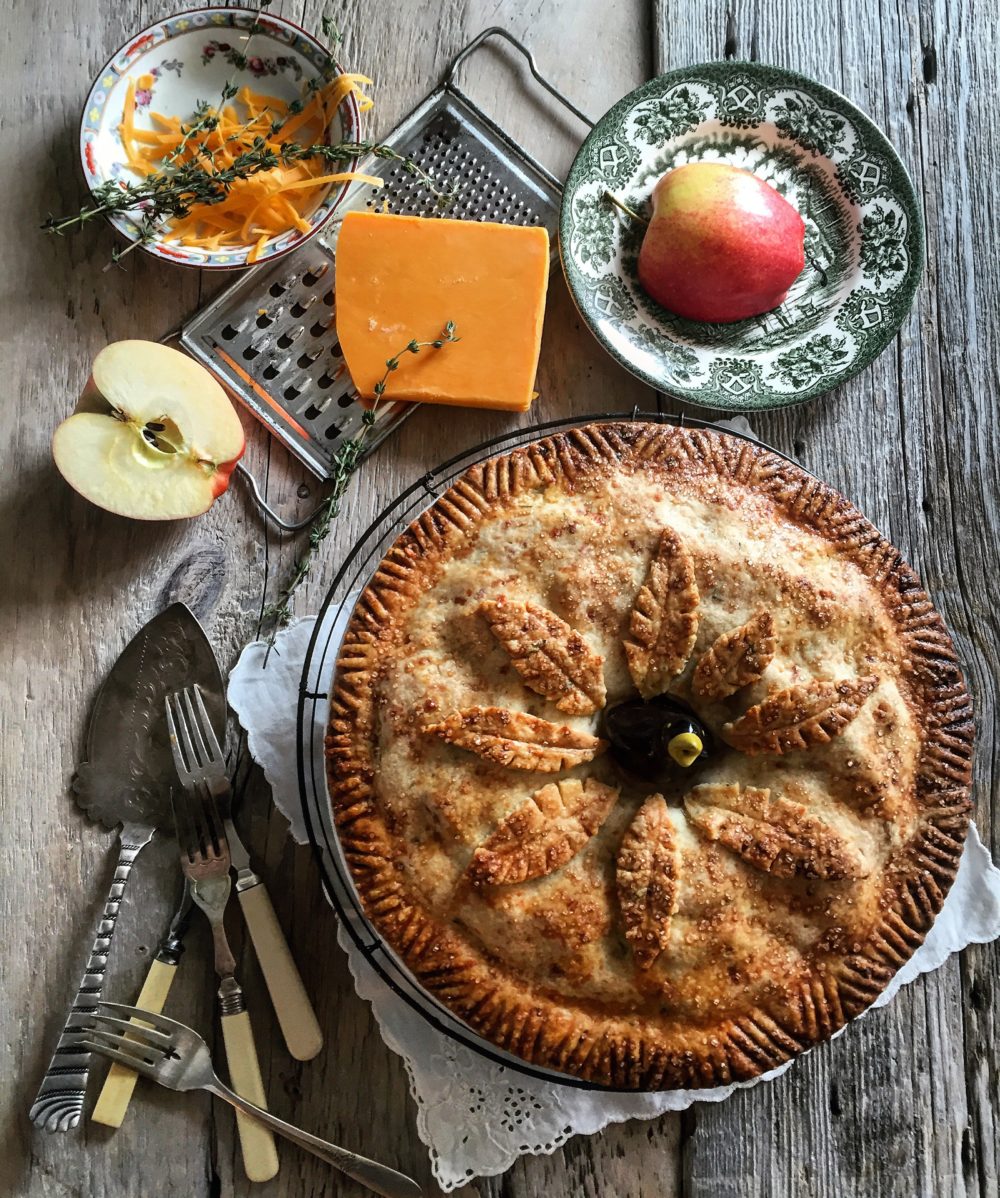 Yes, I know we have still been enduring some sweltering days. Yes, I know everyone still wants to drink margaritas poolside and wear shorts or sundresses. Yes, I know that the idea of packing away the flip flops and beach towels is depressing. Me… I've moved on!
I get downright excited to think that the evenings are cooling down (I don't sleep well in the heat), that there will be a crispness in the air that has been missing for about 10 months. The combo of crisp air, sunny days, blue skies, and still warm days is just so invigorating. I feel re-engerized. And another thing about September and most of October: the flowers. Yes, the flowers seem to get a second wind, and even seem brighter than they were in June. All around, the perfect time of year. You can still go out and sit on a patio to enjoy dinner or drinks, you can still spend time at the cottage. You can still wear sandals. Even…white ones…you rebels!
For me it means that I really start to think about cooking in a fresh, enthusiastic way again. Of course I cooked throughout the summer. I mean, we had to eat, right?! But often they were dishes where you did the least amount of manipulation- raw fruit and veg platters, salads etc, grilled meats, ice cream filled cones. All totally satisfying. And none that required hours of braising or simmering on a stove (wouldn't that have been unbearable this past summer?!) But now I get to think about all the fresh produce and how I will prepare them in new ways that translates into stews and casseroles, and bakes, and all sorts of other ways to make the flavours melt and become intense. And the baking!!! The spices get to come back out. So, I thought I would introduce you to my apple pie.
Apple Pie. That quintessential pie of the season. For some of us it may be the first pie we learned how to bake. I actually think it was for me. Apple Pie with ice cream. Is there a better dessert? Really? The way to almost any guy's heart is with this pie. You know me, I will bake almost anything up as a pie. And add some pretty bizarre ingredients along the way. For this pie, I am keeping it totally honest and simple, a traditional filling. But maybe not a traditional crust. Come on, you know I had to switch it up some how.
The first time I had even heard of cheddar and apple pie together being a thing, I was waiting on tables back in the town I grew up in. All the desserts on the menu were Granny Smith apple based. Apple dumplings, apple pie, and with all the peelings, a really cool battered fritter type of dessert. All of them were drizzled with vanilla sauce. And of course ice cream on the side. And for the pie, there was a huge wedge of cheddar as an alternative to the ice cream. When I was learning the menu, this last one stumped me. I had never seen this before. Then again, being raised in a German home, there were a lot of things that were normal to the world around me that I had no idea existed. But still, it did seem strange to add a savoury piece of dairy to a sweet dessert. And then I tried it. The chef even suggested taking the wedge of cheese, placing it on top and warming the pie this way, so that the cheese would start to melt on the crust. REALLY? Guess what… it was good! While we enjoyed our apple desserts at home (think strudel!!), my mother did stop us from allowing cheese to be included in any of the dessert baking. So it would be a few more years before I could do it, for just me!!
But now, instead of the intensity of a thick wedge of cheese on top or the side, I bake it right into the crust. I simply remove 1 tablespoon of butter that goes into my pastry, and replace it with about a 1/3 cup of freshly grated old cheddar. And why stop there? I take fresh thyme and chop up a tablespoonful and add it as well. I do this before I add the egg. lemon and ice water. They both get incorporated throughout the dough, and the final result is a lovely flecked pastry with a sweet and savoury flavour that perfectly balances the apples and cinnamon that it will encase.
With such a flavour-infused pastry, I keep the filling simple: a couple of varieties of apples (Gala, Cortland, Spy etc), sliced, tossed with a tbsp of lemon, and flavoured with sugar, cinnamon and cloves. That's it. No bitters (one of my signatures for a pie filling) no more herbs or spices. I just want the apple to be the star of the filling. All those other ingredients I can add if I'm doing a crumble etc. The reason I suggest using a variety of apples in one pie is this: use just one apple type that breaks down too easily, and you'll have applesauce pie. Use too firm an apple variety, and it may never taste cooked through, they'll remain crisp. But if you combine, then you'll get the best of all worlds, the apples will work together to make a fabulous filling. Honestly, sometimes I will use whatever apples are in the bowl, not even remembering what varieties they are! And it always works.
I baked one up the other day. The house smelled dreamy. A lovely way to welcome and shake Autumn's hand. Why fight it, you know it's coming.
Love Jen.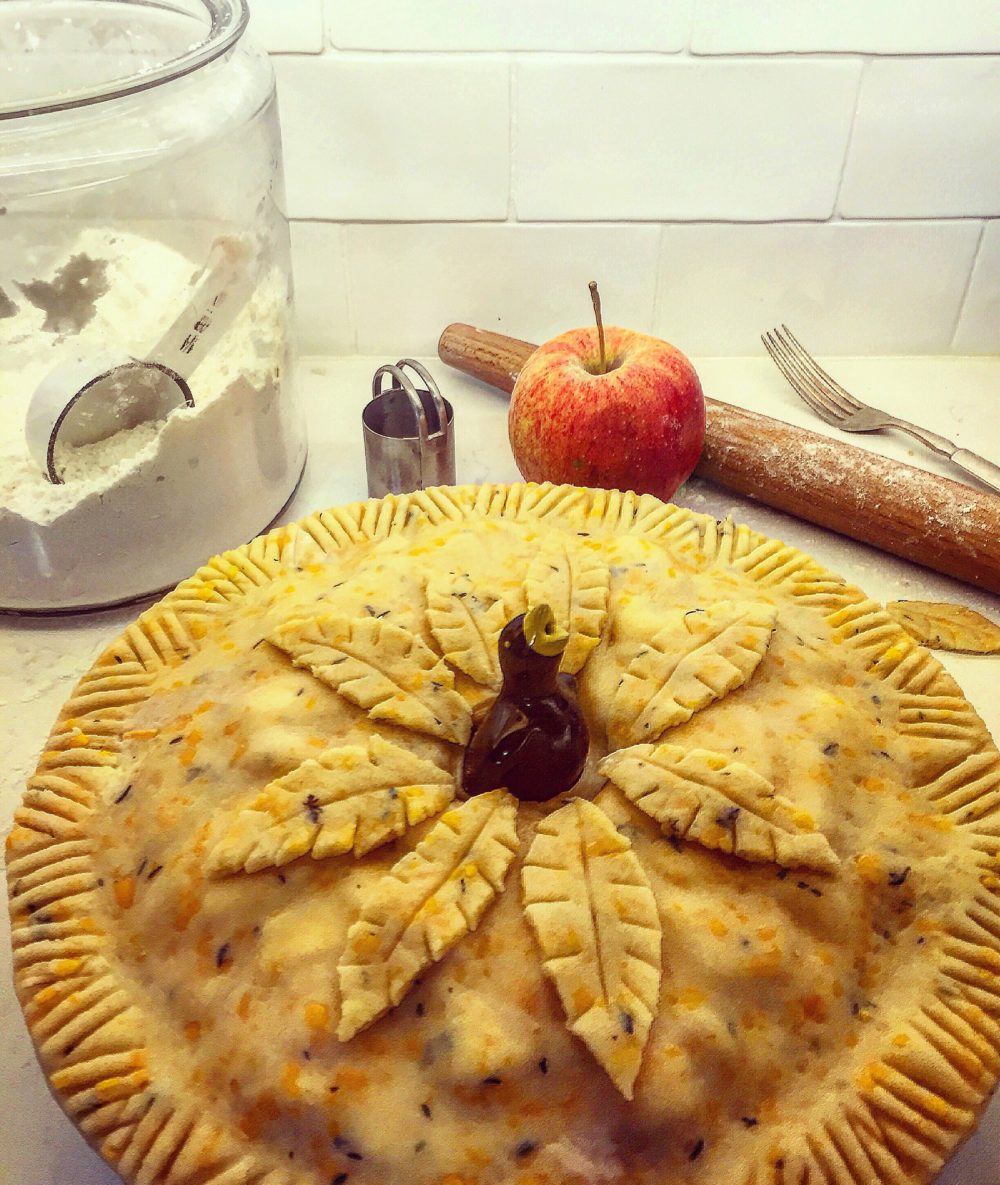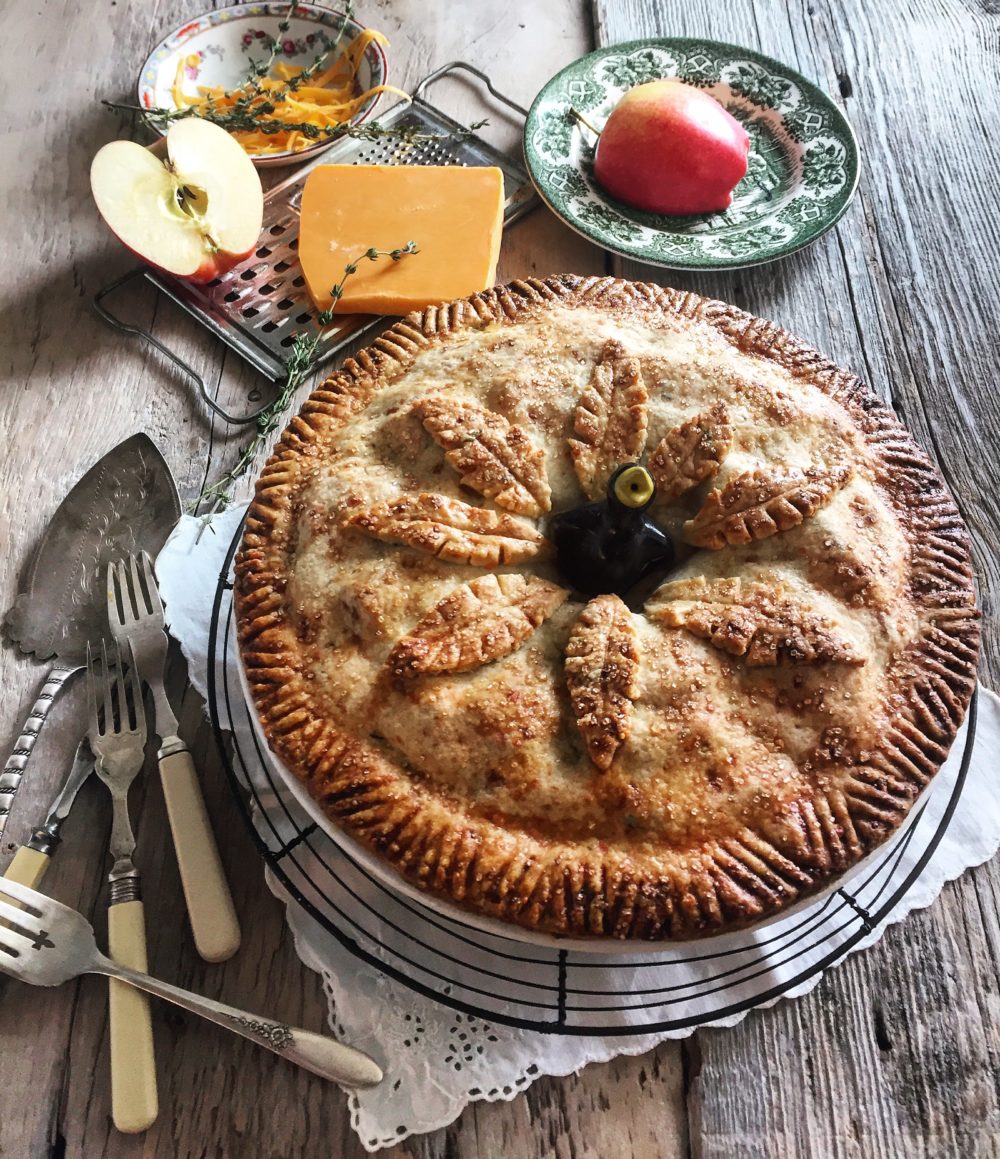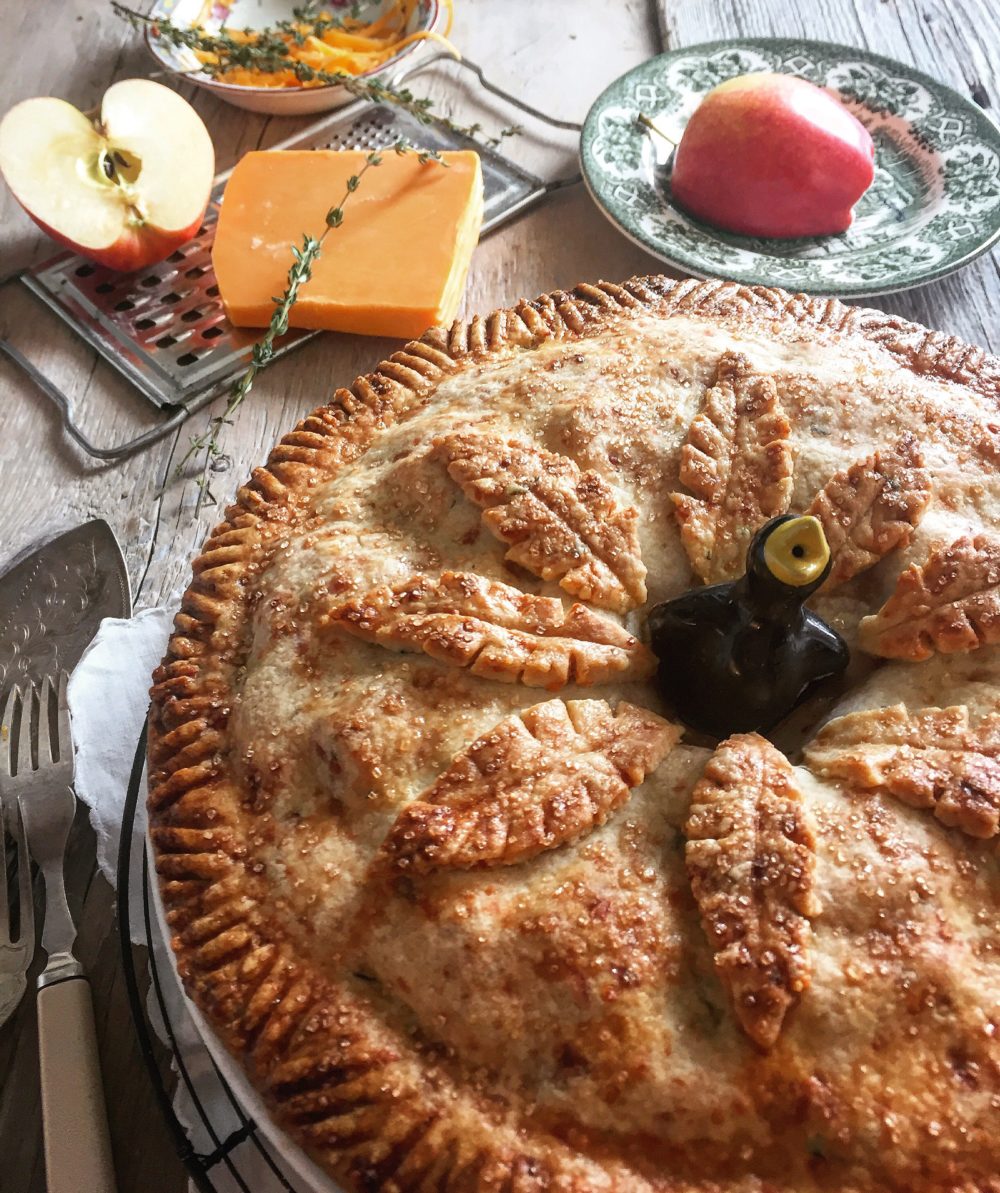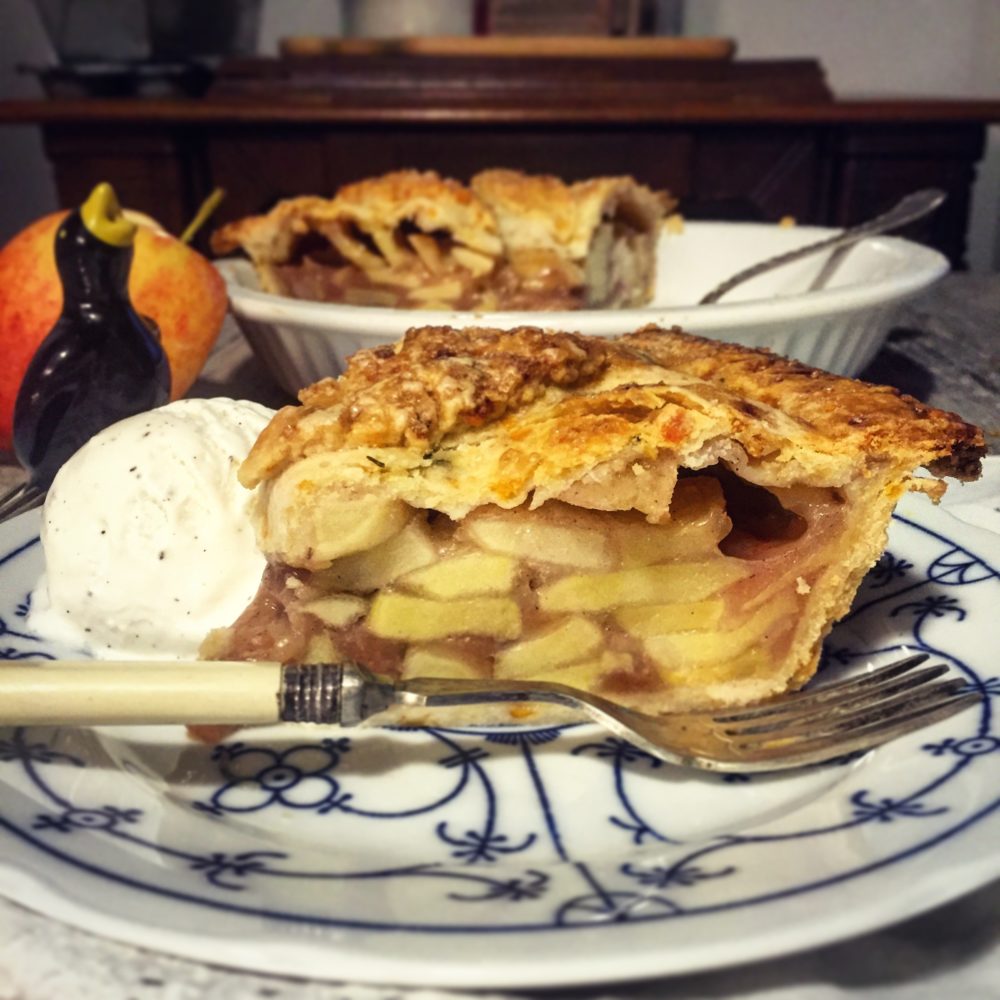 Apple Pie with Cheddar and Thyme Crust
A classic apple pie inside a flakey, tender crusted enhanced with cheddar cheese and fresh chopped thyme. Autumn glorified!
Prep Time
1
hour
10
minutes
Cook Time
1
hour
5
minutes
Total Time
2
hours
15
minutes
Ingredients
Recipe for Perfect Pie Crust

1/3

cup

firmly packed shredded cheddar cheese

1

tbsp

fresh chopped thyme leaves

6-7

mix of medium large Gala, Mactintosh, Honeycrisp, Golden Delicious apples (about 2 lbs)

or other favourite baking apple that won't fall apart in the baking)

1

tbsp

fresh lemon juice

3/4

cup

granulated sugar

or coconut palm sugar

1

tbsp

cinnamon

1/4

tsp

ground cloves

3

tbsp

cornstarch or arrowroot starch

3

tbsp

AP flour

1/4

tsp

kosher salt

2

tbsp

almond meal

or graham cracker crumbs

2

tbsp

butter

1

egg

for egg wash

1

tbsp

turbinado or demerara sugar

for garnishing the crust
Instructions
PREPARE THE PERFECT PIE CRUST, ADJUSTING WITH THE FOLLOWING STEP

When adding the shortening and butter, use 1 tbsp less of the butter. (5 tbsp total instead of the 6 tbsp or 1/3 cup)

Replace this butter with the grated cheddar cheese and fresh thyme.

Continue with pastry recipe as is. See Notes below.

Divide into two disks, one slightly larger than the other. Wrap in plastic wrap and chill for at least 30 minutes.


Take out the larger disk and place on a well floured surface. Let it warm up a little bit (around 10 minutes) Flouring your rolling pin, roll the disk out. Decrease pressure as you reach the edges. After each roll, spin the dough 1/4 turn. Keep flouring the surfaces to keep from sticking. Roll to 2-3 inches larger than the pie plate you are using (should be around 1/8" thick.

Either roll the disk up around the rolling pin and release it over the pie plate; or fold it in half loosely and lay across the pie plate and then open it up. Allow the sides to fall in just a little, so that there are no gaps between the dough and the pie plate. This will ensure that the dough will not pull up from the base, or shrink during baking. Trim it, allowing enough of an edge to work with the type of crimp you wish to use. Place it all back into the fridge to chill for about 15 minutes.

PREPARE THE FILLING

Preheat the oven to 425F.

Peel, core and slice the apples and put into a large bowl. Sprinkle with lemon juice.

Place the sugar, cinnamon, cloves, corn starch, flour, and salt in a small bowl and mix thoroughly. Pour over the apple slices.

Using a rubber spatula, stir gently to coat the apples. Wait about 5 minutes, and then give it another good stir to move the juices around that are being released. Let the apple mixture sit at least 15 minutes to release more juices. This will make it easier for them to all fit in the pie shell, with less worry of shrinkage later.

Remove the remaining disk of dough, as well as the pie plate with the prepared shell.

Sprinkle the bottom of the prepared pie shell with the almond meal. This is there to catch and help thicken any excess liquids. Don't worry, you won't taste it at all.

Fill with the apple mixture. I like to do this by hand, arranging the apples in even layers, filling in all the gaps. Mound higher in the middles. Press down gently on all the apples. This will make sure it bakes compactly, and will lessen the chances of air holes forming during the baking.

Pour any juices at the bottom of the bowl over the apples.

Take the tbsp of butter and divide into small cubes. Dot these evenly over the filling.

Roll out the remaining disk to 1/8" circle at least 2" wider than your pie plate, following the method above (if you want to have a covered top) Lay this over the apples. Press gently over the apple filling. Fold the top layer edge under the bottom layer of dough. Press and crimp as desired.

Alternatively, you can do a lattice, cut out pattern, or even a streusel topping (similar to a crisp or crumble topping of oats, flour, brown sugar, butter and spices)

Put finished pie back into the fridge for 10 minutes.

Remove from fridge and place onto a baking sheet. Prepare the egg wash by mixing the egg with a dash of water in a small bowl. Brush some of this all over the pie crust (unless your using a streusel topping!) Sprinkle the turbinado sugar evenly over the top of the pie.

Bake the pie in the bottom third of the oven for 30 minutes, or until just starting to brown.

Reduce heat to 375 and continue baking another 30-35 minutes, or until the juices are bubbling.

If the crust is getting too brown, cover with tin foil, or pie guard.

Remove from the oven and set on a cooling rack. Cool completely.

Serve with vanilla ice cream (why mess with a good thing!?)
Recipe Notes
I keep the sugar in the recipe for the dough for this pie. Ultimately this is a sweet pie (unlike a turkey pot pie etc) so I want the crust to agree with the filling. The addition of the cheese is just a playful addition, not meant to turn the dough into a savoury one.
It is best that you bake most pies the morning of, or the day before you wish to serve them. You want any juices and liquids in the filling to firm up and set completely.
When I bake this pie, I like it cooling by 1:30 or 2 pm so that I can serve it at 7pm (this should give you an indication of the minimum of time it should set for.
Adapted from The Perfect Pie Crust
SaveSave
SaveSave
SaveSave