San Francisco has always intrigued me. Those winding, steep streets, the Golden Gate bridge,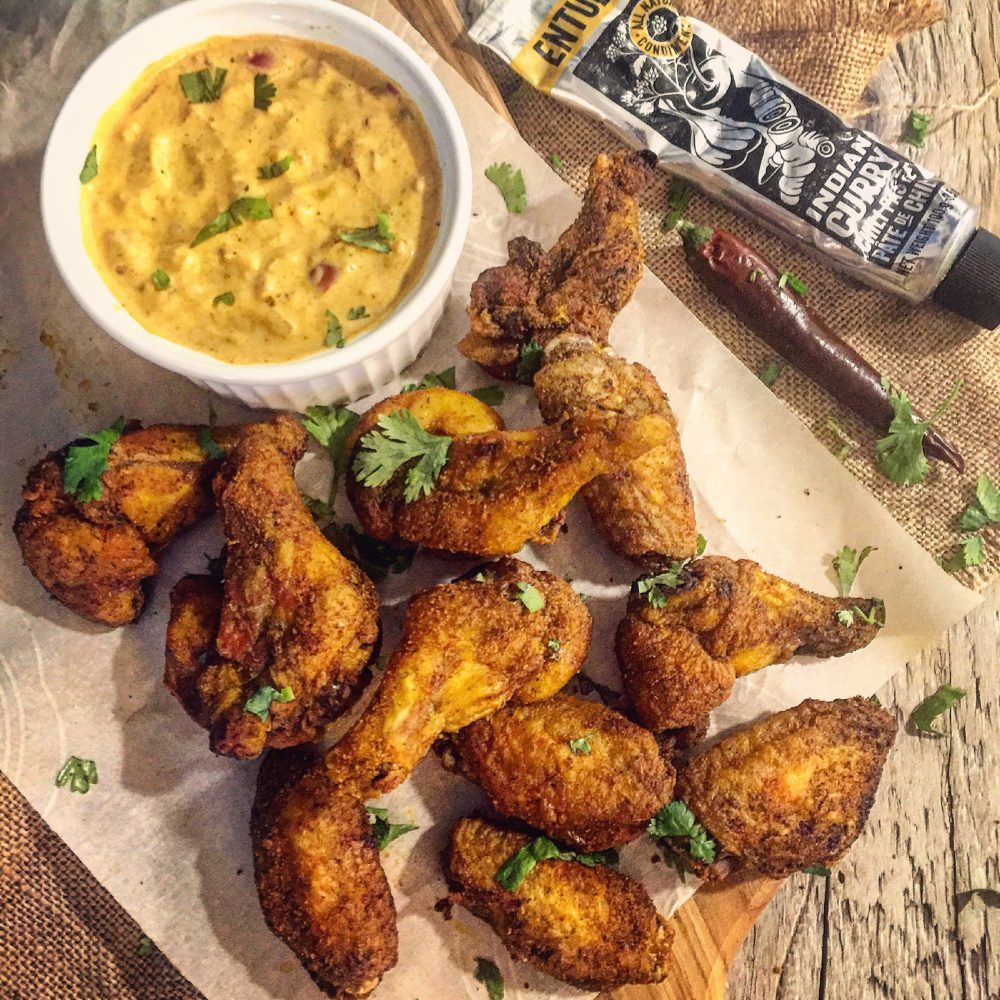 the gorgeous coast, the painted Victorian Ladies, and the cable cars. Remember 'Rice a Roni'? The San Fransisco Treat??! Okay, I've probably really dated myself right now!! It was a series of tv commercials for a rice and spice blend in a box, ready to cook up at home. As a kid I never picked up on WHY it was a just a San Fransisco treat? Maybe a reference to San Fran's famous Chinatown? But I always remember the commercial ending with the cable car passing by with the sound of the bells from the car. Funny how some things always stay with you?!
Anyway, I'm really excited. We're heading to San Fran this morning! There are so many places to explore and visit. I definitely want to ride a cable car, and head into Chinatown for dim sum and check out a fortune cookie factory that allows visitors. Union Square, North Beach and Sausalito for window shopping, some world class museums, and a plethora of stellar restaurants. It will be so hard to narrow down the options. And I'm hoping to find some quirky neighbourhoods for some vintage and retro kitchen gadget shopping. And then we're heading north of the city to see some Redwoods face to face; and to explore Sonoma Valley, wine country and home of the original Williams Sonoma!! It's a museum where vintage pieces are even for sale! Ooooh 😀 And we're even staying at Annadel Estate Winery in Sonoma, thanks to a lovely invite from the owners! I'll have so much to report back to you all with!
So, in getting ready to leave, I've been trying to use up food in the fridge/freezer. I'm sure you guys do the same. Nothing worse than to come home to spoilt milk or yogurt, or veggies way past their prime. Just not pretty. So I've been coming up with some pretty strange combinations for salads etc. I did pretty darn good! My reward would be chicken wings! I love wings. Jim not so much. He figures they're more work than they're worth. I get it. You do need to be a tad tenacious to work those little guys, getting every bit of chicken meat of all those bones. But that's half the fun!
These wings would be a fresh flavour combo for me. I am a firm believer that the spicier a wing, the better. They should deliver a kick. But, I also wanted to stray from the typical BBQ style of suicide wing. So, out came my trusty tube of Curry Paste. As well as some Kashmiri chili powder. Added it to the baking powder which would help form a crust by absorbing excess moisture from the meat, wouldn't these flavours rock?! And then I thought up a fabulous dipping sauce: yogurt, chopped tomatoes, curry paste, garlic, kashmiri powder. In the end, it had the feel of a Tikka Masala sauce. Perfection.
Jim was busy for the day, so I didn't have to share my wings! Which is fine, he would have gnawed on them, and then asked where the real food was!
Well, the luggage is packed, the cats have been hugged, and the house is clean. Hopefully those two felines don't throw too many wild parties. See you all soon 🙂
Love Jen.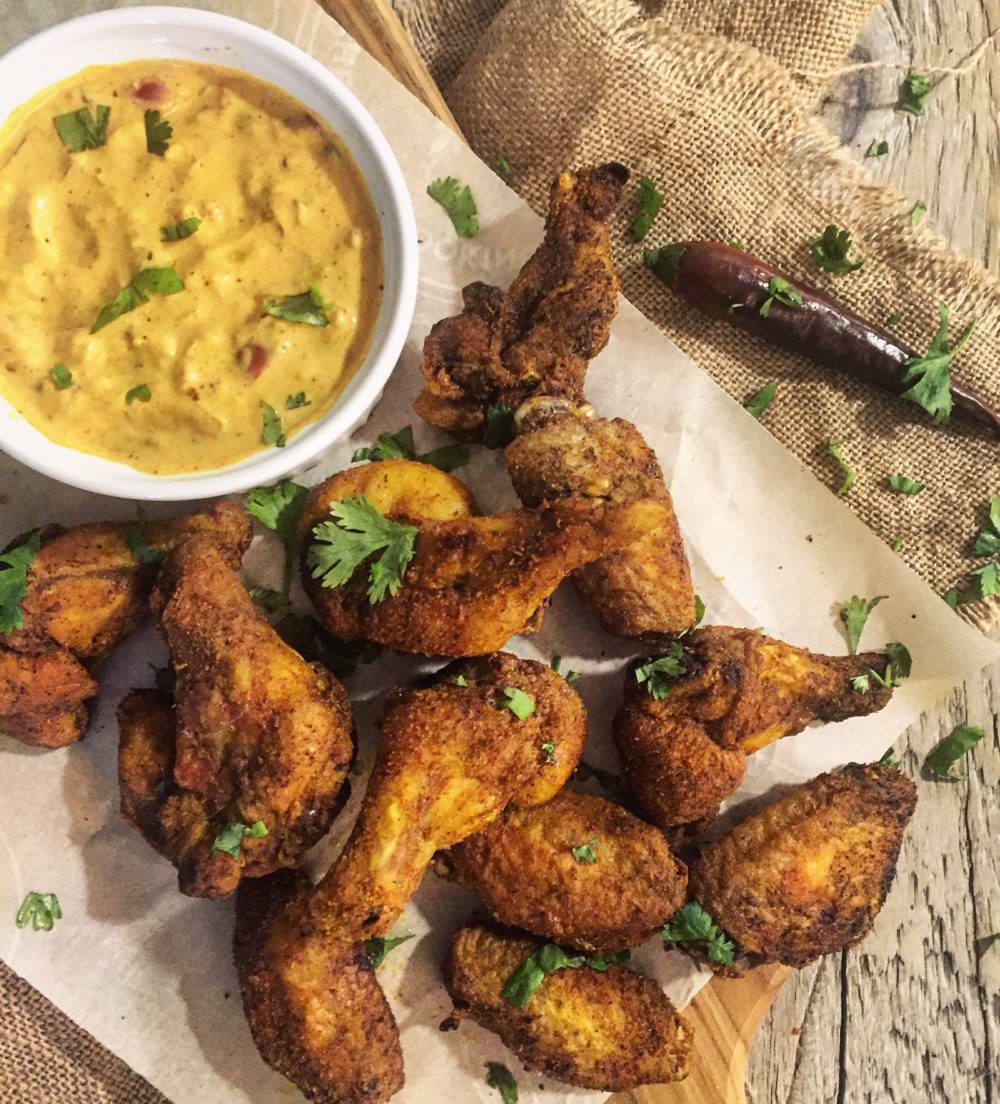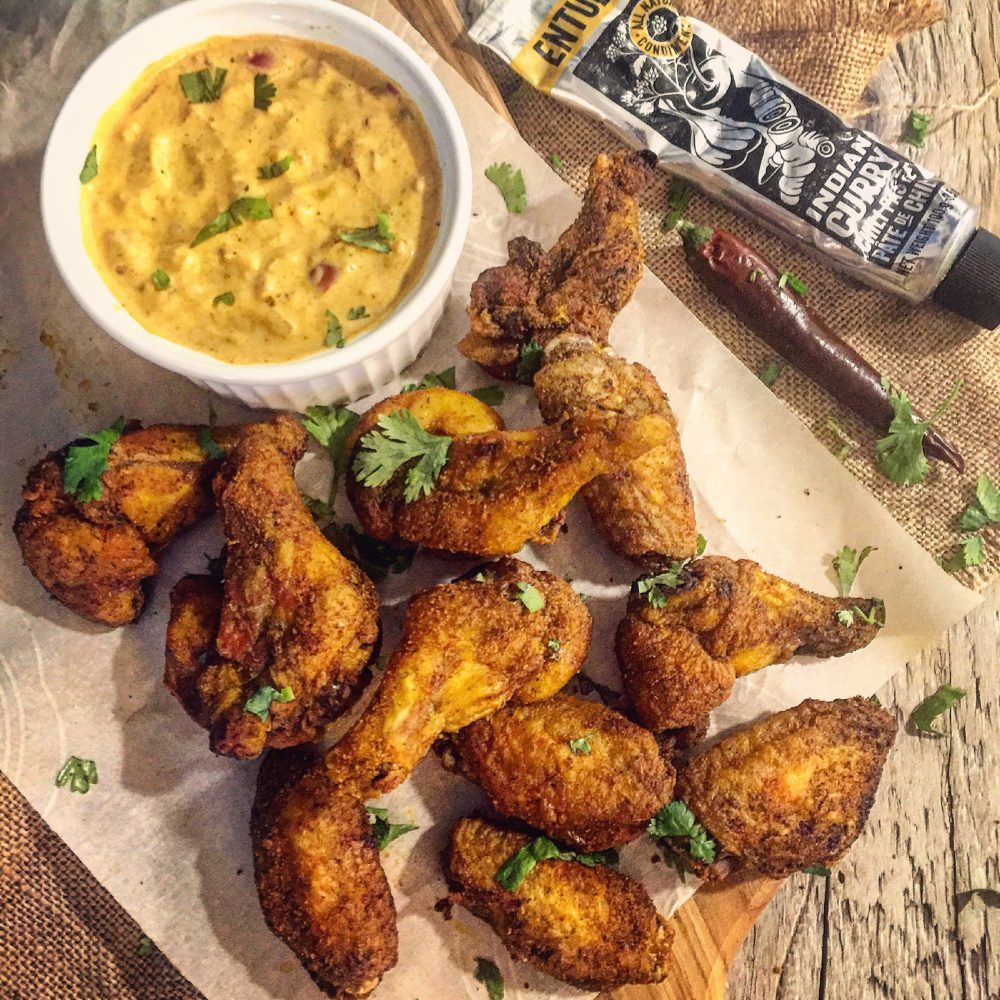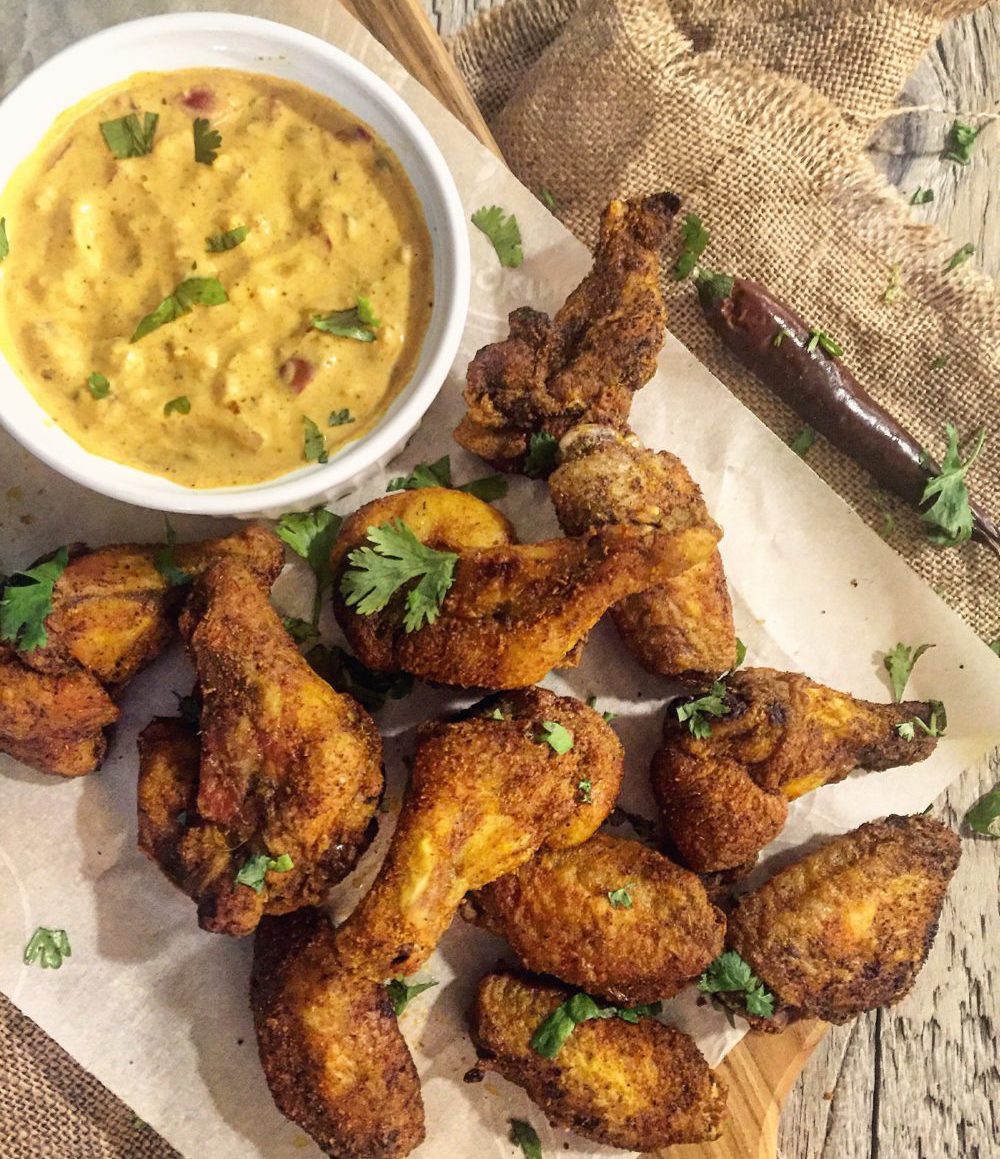 BAKED CURRY CHICKEN WINGS WITH KASHMIRI CURRY DIP
A crispy wing, with a kicky, spicy, curry yogurt and tomato dipping sauce. Perfect as a snack or appetizer.
Total Time
1
hour
5
minutes
Ingredients
4

pounds

of chicken wings

, split

3

tbsp

baking powder

2

tbsp

curry powder

2

tsp

kashmiri chili powder

1/2

tsp

garlic powder

1.5

tsp

kosher salt

3/4

tsp

cracked pepper
KASHMIRI CURRY DIPPING SAUCE
1/2

cup

Greek yogurt

1

large roma tomato

, finely chopped

2

cloves

garlic

, minced

1

tbsp

Entube Curry Paste

1

tsp

kashmiri chili powder

, or to taste

1

tsp

kosher salt

1/2

tsp

cracked pepper

chopped cilantro for garnish
Instructions
Preheat the oven to 250F. Adjust the racks so that one is in the lower middle, and the other is in the middle. Line a baking sheet with tinfoil. Place a cooling rack over it. Spray the cooling rack with a non-stick spray (olive oil or avocado oil)

Take the wings and place in a large ziplock bag (or a plastic container with a lid)

Add the baking powder, curry powder, kashmiri powder, garlic powder, salt and pepper. Seal and shake well till all pieces are coated completely.

Place each piece onto the baking sheet, skin side up. Place the sheet onto the lower rack and bake for 25 minutes.

Move baking sheet to the middle rack and increase heat to 400F. Bake another 30-40 minutes until cooked through.

In the meantime, combine all the dipping sauce ingredients in a bowl. Taste and adjust seasonings.

Garnish with chopped cilantro.
Recipe Notes
This will feed four as a meal, or more as an appetizer.
Feel free to kick up the heat with more kashmiri powder.
Instead of the usual carrot and celery sticks, serve with cauliflower florets, pepper slices and snap peas for a more Indian vibe! They would taste great dipped in the dipping sauce as well.
SaveSave
SaveSave