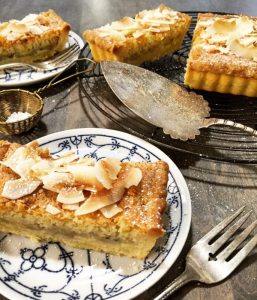 I'm such a klutz. More on that later.
As the weather warms, our inspirations head south. To the tropics. There is something wonderfully exotic about tropical destinations, vacations, beaches, surf, sand, palm trees, glorious sunsets, and colourful florals and birds that make our hearts take flight. So many of us plan tropical trips during the dismal months of winter, just to create a paradise-like break in what seems a never-ending season.
And when it gets warmer up here, we want to feel like we're back in the tropics. So our decorating styles suddenly become Tikki Bar meets Moroccan tent meets Bali Bali hut on stilts. Fun, in a totally kooky way. But that's all right, it's summer, and it will be gone soon enough, so why show some whimsy, and have a hoot!?
I still want to bake, even though the temperature is rising. Sadly, I need to put my gingerbread molasses cakes and heavy black forest torte aside for the time being. I get it, we want to eat lighter, the ingredients at their peak in summer are lighter and fruitier, and we want our creations to evoke the season we are basking in. So vibrant colours and warmth= tropics, check. Bananas and coconut= tropical, check. And put these in a tart with a frangipani (also a warmer climate flower= tropical, check) filling, we have a winner. The perfect tart to whip up for company (or for the family, just as special a reason!)
I discovered this recipe in the Spring 2016 Food and Drink magazine. The Tiny Tomato Cobbler I featured a few weeks back came from the same issue. The tart pastry has a consistency of really tender shortbread. And like I mentioned, the filling totally reminds me of frangipani, made with coconut instead of ground almonds. A layer of bananas, beneath the filling, and you have a gorgeous little tart. I baked mine in a rectangular tart pan with removable bottom. The recipe calls for rolling out the prepared pastry to fit the pan, but I found that it didn't stay together to transport over to the tart pan, so I ended up just piecing it together in the pan itself. No worries, it didn't affect the flavour or texture of the pastry at all. Still light and tender. The filling over the layer of bananas puffs up nicely as it is baking. When it's cooled, a dusting of icing sugar, and garnishing with large coconut flakes makes it presentable beyond words. The flavours meld perfectly. You can serve ice cream or whipped cream on the side. The Ginger Gelato recipe I posted a week or so back would be amazing with this!!
Enjoy, and do let me know what you think of it. I love to hear if my interpretation of recipes is at all close to what you come up with!
So with the warmer weather, I've been trying to get out and walk the city more. There is so much more to explore on foot, than you would ever discover from a car. Toronto has so many nooks and crannies, filled with all sorts of creative and quirky shops and boutiques, bakeries and delis. And in my eagerness to spend an entire day walking, I am now typing this while enduring a stress fracture on my foot! Aaaghhh! Told you guys I was a klutz! I foolishly thought that my leather Dansko's, which are totally comfy, could handle what I put them through. Or rather what they put my foot through. So now I am stuck with a swollen, very sore foot, and no where to walk. Just as it's finally nice enough to get out of the condo, and I'm banished again till it heals. Life.
Banana Coconut Tart
Tropical Tart for us here in the Northern Hemisphere!
Total Time
1
hour
30
minutes
Ingredients
1 1/2

cups

(375 ml) AP flour

1/4

cup

(60 ml) sugar

pinch of kosher salt

1/2

cup

(125 ml) cold, unsalted butter

2

tbsp

(30 ml) whipping cream

1

egg yolk

1/2

cup

(125 ml) unsalted butter

2

large eggs

1/2

cup

plus 2 tbsp ((125 ml plus 30 ml) sugar

2

tbsp

(30 ml) AP flour

1

cup

(250 ml) finely grated, unsweetened coconut

fresh or frozen and thawed. I didn't have either, so I used 1 cup grated unsweetened coconut and put it in a small bowl and added 2 tsp water. I stirred it well and let it sit, so that it slightly reconstituted. It perfectly imitated freshly grated coconut!

2

small

bananas

large coconut flakes

toasted

icing sugar

for dusting on top
Instructions
PASTRY

Put the flour, sugar and salt in the bowl of an electric mixer fitted with the paddle attachment.

Using the large holes on a box grater, grate the butter into the bowl. Mix on low until the flour has reached rough meal consistency.


Lightly mix the cream and egg yolk together and add it to the flour mixture. Mix till just blended and coming together.

Form the dough into a flat disk, wrap in plastic film and refrigerate for 1 hour


On a lightly floured surface, roll out the dough after it has sat outside again for 10 minutes or so. Roll it to fit a 4 x 13 inch (10 x 33 cm) tart pan with a removable bottom. For maximum volume, work dough slightly up above the edges of the pan.

Prick the bottom and sides with a fork and place the tart shell into the freezer for 20 minutes or until firm.

Preheat oven to 350F (180C)

Line the whole interior of the shell with foil and fill with baking beans or pie weights.

Bake for 15 minutes or until the edges of the pastry are dry and set. Remove the beans and foil and continue baking another 15-20 minutes or just until the pastry is golden brown. Transfer to a wire rack and cool completely.

FILLING

Put the butter in a small saucepan on medium heat. Melt until it turns golden brown and has a nutty aroma (this will occur just after the foam subsides) Cool slightly.

In the bowl of a stand mixer, with the whisk attachment, beat the eggs and sugar until thick and light in colour.

Add the warm butter and whip till combined. Add the flour and mix until the batter is smooth. Add the coconut and mix just to combine.

Peel the bananas and cut into 1/4 inch thick (5mm) slices. Place in a single layer across the bottom of the tart shell, filling in as many gaps as possible. Pour the filling over the bananas.

Bake the tart until golden brown and slightly puffed, about 1/2 hour.

Cool on a wire rack.

Remove the sides of the tart pan.

Place on a serving platter, garnish with coconut shavings and icing sugar.
Recipe Notes
Serve this with a lovely vanilla, caramel or ginger ice cream. Or whipping cream!
This could easily be baked up in a round tart pan as well, if that is what you have. I would not go larger than a 9" though.
Adapted from Food and Drink magazine, Spring 2016