I thought long and hard about what recipe I would share for my second 'Bloggiversary'. Yep, two whole years on the www.!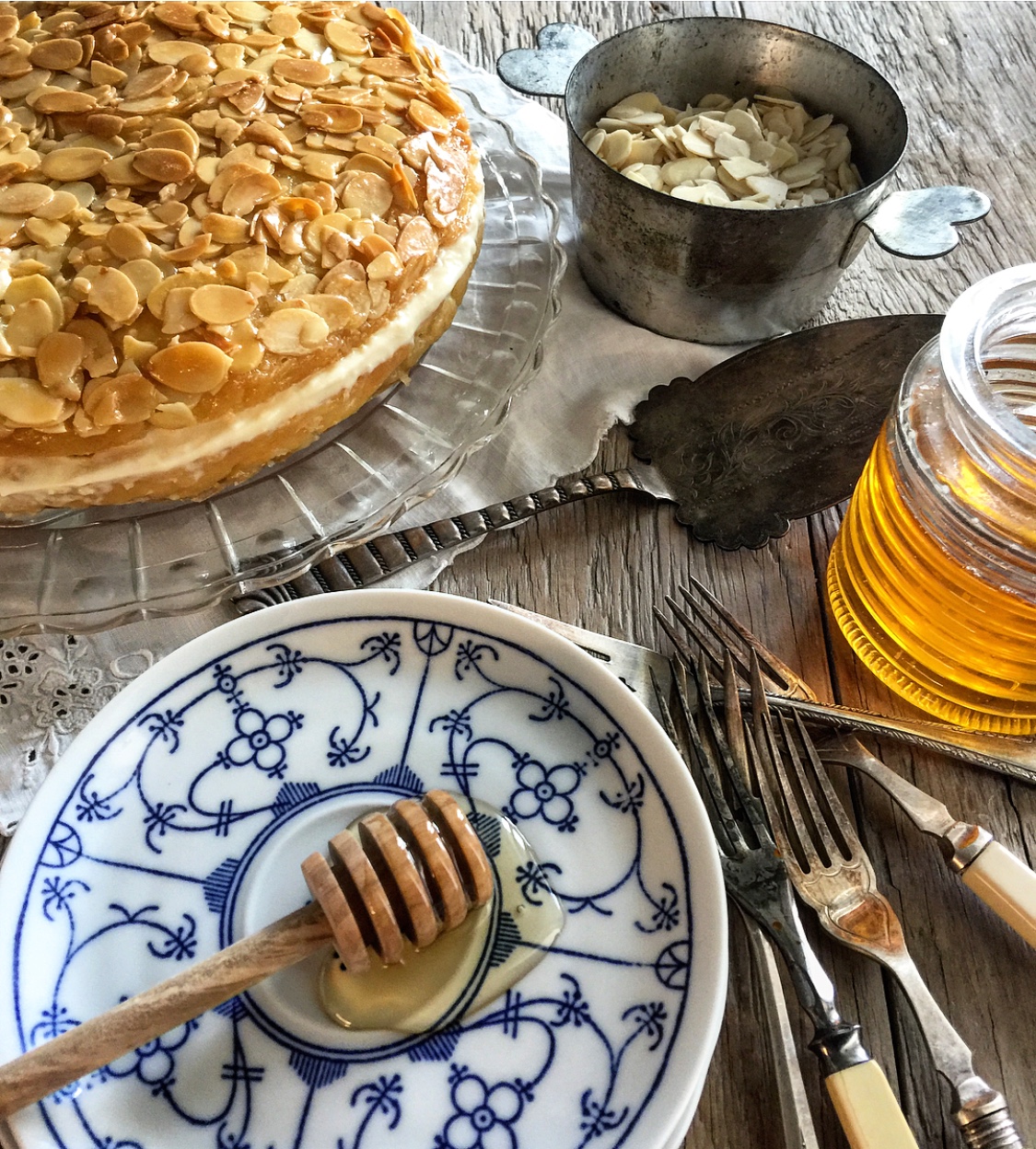 I knew it must be something 'Mama' related. Something my mom made, or something my mom loved, or something that totally reminds me of my mom. Last year I shared my mom's recipe for Sauerbraten, that perfectly brined German version of a pot roast, with the tangy jus, and served with spätzle or knödel. When I shared some with my in-law's, my father-in-law was still commenting on it weeks later. It's really a special recipe, especially since I had to follow my mom around, looking over her shoulder and writing down every little detail of what she did to prepare this dish. It was all in her head, even the amounts of the herbs and seasonings she used. But eventually I was able to take all the scribbled notes and combine them all into one final recipe that tastes exactly like the dish I grew up on.
So this year. A whole other year has gone by. My, the time just evaporates! I can't believe that I'm starting my third year of sharing my love of cooking and eating with you all out there! This blog started out as a way to collect all the recipes we love eating, the ones I learned from years of working in restaurants and sharing a kitchen with my mom and sis (fine, I was usually doing the dishes when they were cooking!), the recipes that I've discovered via magazines and Pinterest and fellow bloggers, and most especially, the recipes that remind me of my mom and our German heritage. And along the way, I've been able to share tidbits about Jim, the cats, and myself. I hope you don't find us too boring!!
I toyed with the idea of making sültze (despite the crazy English name of head cheese, it is really the most amazing dish of jellied bone broth with pieces of cooked meat and veggies in it, and served cold with vinegar) the way mum made it for us. I still adore this dish, and the health benefits of it are through the roof. One day I will try and explain the history of it and dispel any negative rumours regarding this classic dish.
Then I thought I'd share mum's cabbage roll recipe. I can still see her fingers oh so clearly as she would roll up the leaves over the filling she made, and then transfer them to the baking dish, getting ready to braise them. Jim adores these cabbage rolls, and there is something so comforting about them, that I will definitely share them one day soon.
But then I thought a little longer, and decided that my mom deserved something sweet. She didn't have a huge sweet tooth (desserts weren't a constant in our house growing up, more reserved for when company was coming). But she did have her favourites. And one at the top was Bienenstich. Translation: Bee Sting (cake). This is a classic German dessert. Not too sweet. Whipped cream is involved. And the light, brioche style cake should have a light airy texture. What makes this cake stand out is the honey involved, hence the bee reference. The caramel topping of honey, cream and almonds that gets baked onto the cake is where the initial sweetness comes from.
But for me (and my mom) it is the filling that can make or break this cake. Some recipes call for a basic vanilla pudding filling. Eeee gad! Noooo! This is not the time for instant pudding. And it shouldn't be just vanilla flavoured. This is where honey can and should also make an appearance. And while some recipes call for just a pudding or custard filling, (and I've made these versions, with satisfactory results) the best ones have firmly whipped cream folded in. Taking pastry cream to the next level. This is the portion of the recipe that I have played with the most, to make sure it is what you would find in the very best cafés across Germany. When it is done right, there is no other cake quite like it. And a hint of liquor in it doesn't hurt! 🙂
This recipe needs just a touch of prep work. In fact, start the day before you actually want to serve it. The pastry cream filling can be prepared and stored in the fridge for up to three days. The cake itself requires proofing for several hours, so it is best started the evening before and let to sit in the fridge for the initial rising. The next morning you can continue with the prep and baking of the cake. Once cooled, it will be sliced in half and the filling will be sandwiched between them. It really does need to cool completely for the knife to cut through with the least amount of crumbling. The recipe for the cake that I have had the most success with is the one that my sister and I used the last time we actually made this cake for my mom, before her passing. Other recipes just don't have the same texture. But I have played with the filling and the topping to make them a touch more intense.
Here's a trick to baking with a springform pan: Layer a piece of parchment paper over the bottom before you secure the side ring around it. It will make removing the cake later on much easier- you can lift it up using the paper onto the cooking rack.
To keep the finished cake intact while letting it set with the filling sandwiched in between, use the springform pan you baked it in. The bottom layer of the cake will be placed back into the pan, then the filling will be spooned on top. Then add the top layer. Cover and place in the fridge to let the filling completely set again. Take it out about 10 minutes before you are ready to serve it, and remove the sides of the pan. Then the slice with a good serrated knife to get through the top layer of almonds. A sawing back and forth motion is better than pushing down and through this type of cake. All you need now is a really good espresso to wash it down with!
So, cheers to more cooking from my whacky kitchen to yours! And if any of you really are curious about the 'head cheese' recipe, I would looooove to hear from you (just to know that I'm not alone!)
Love Jen.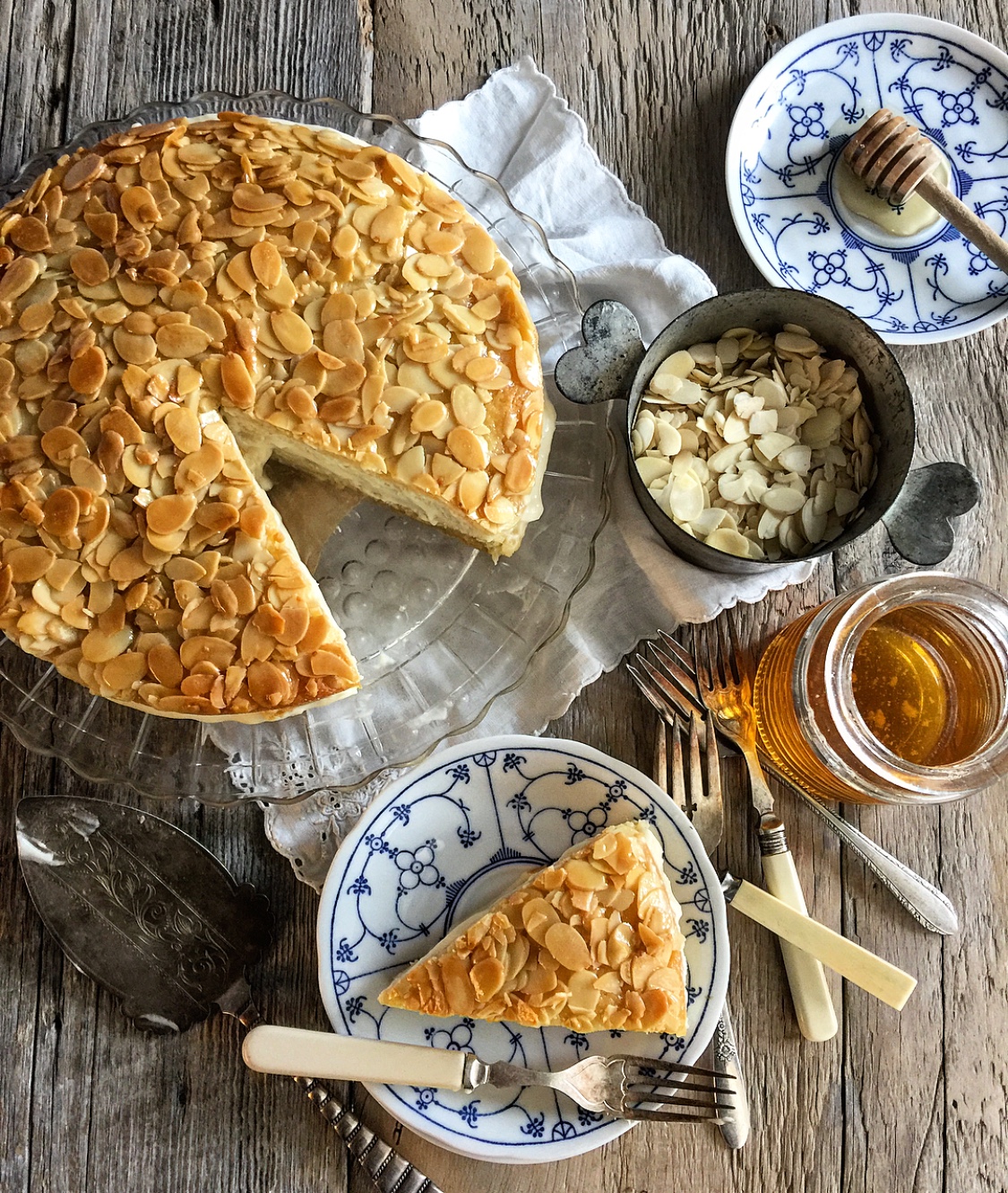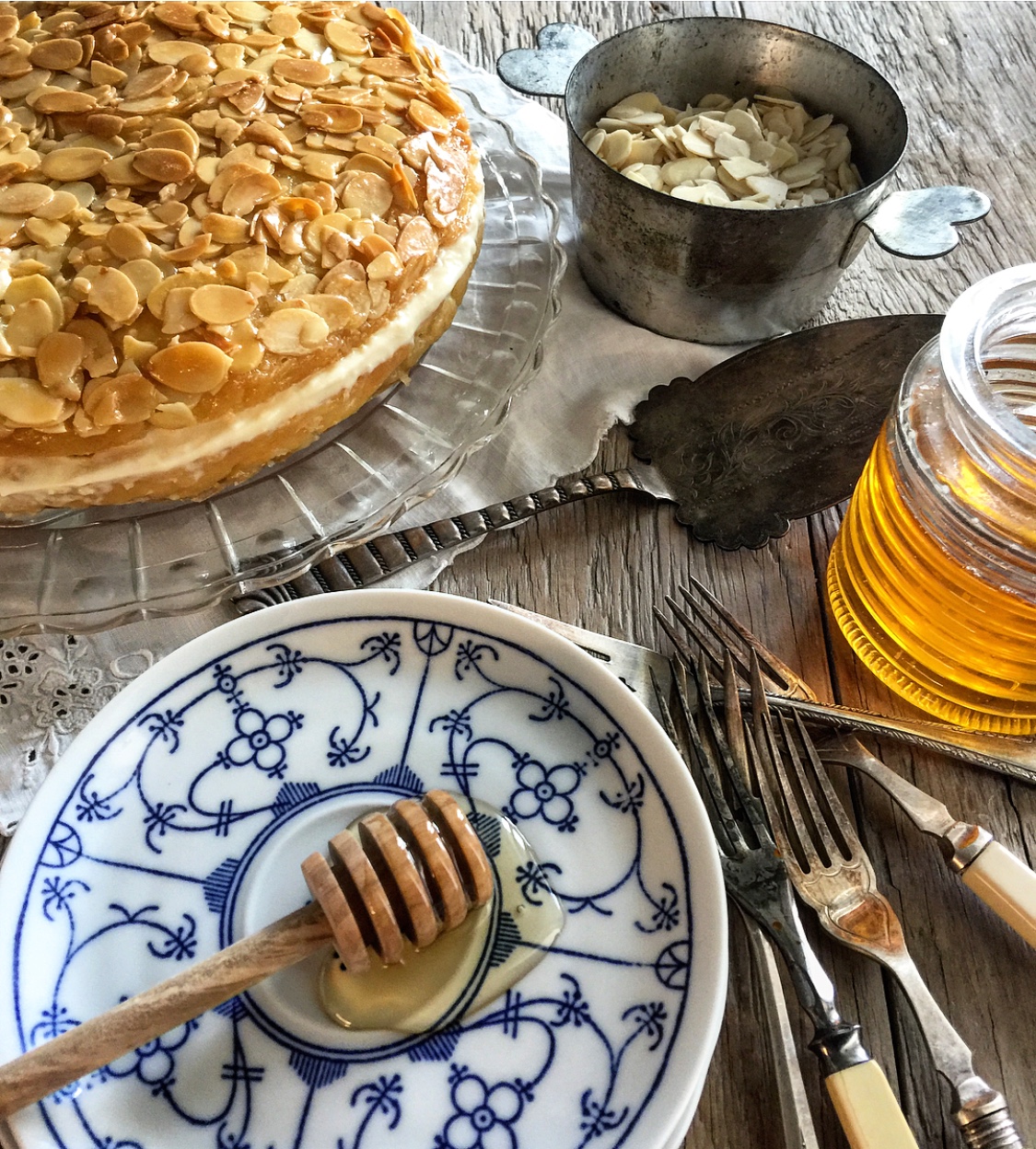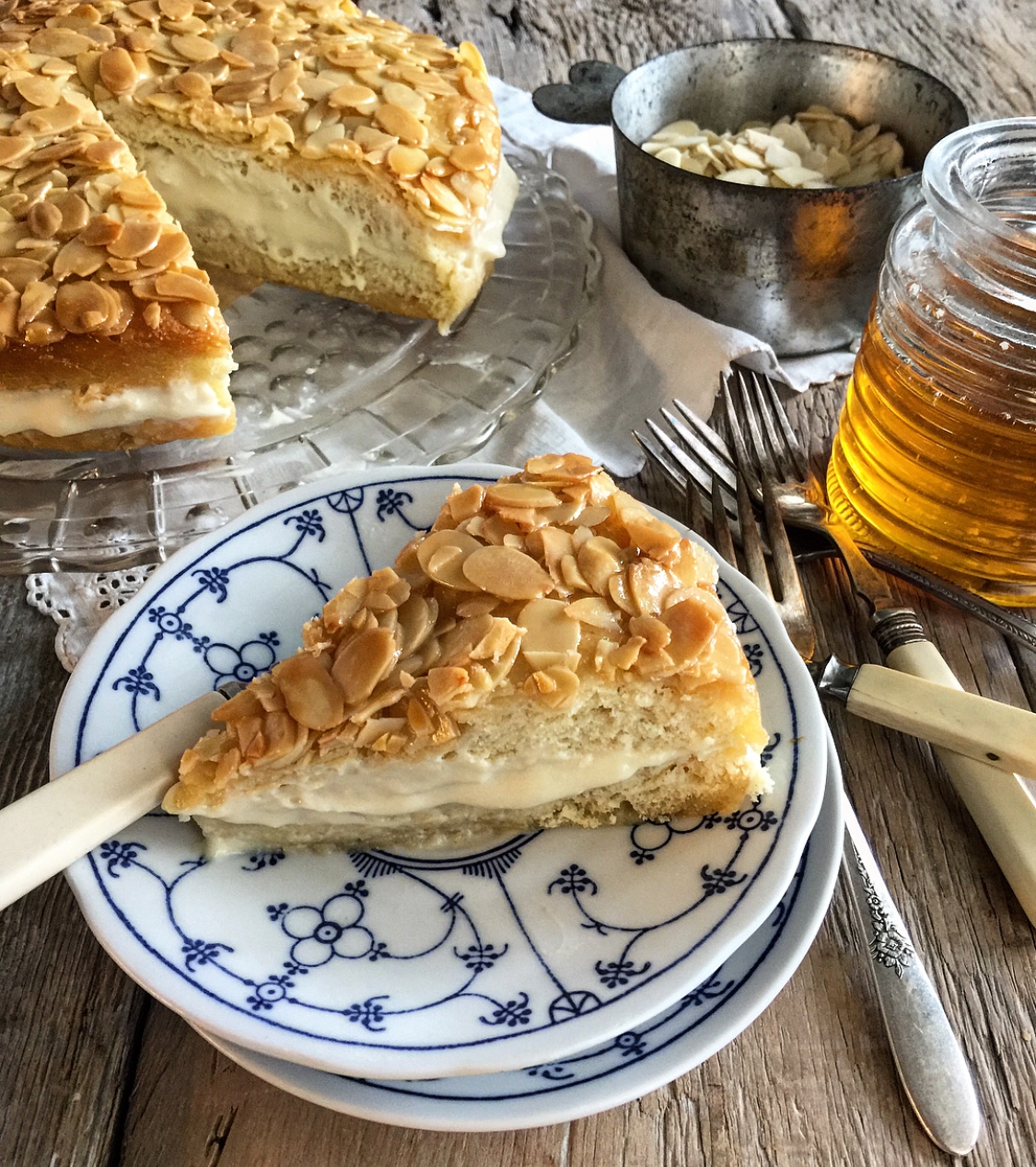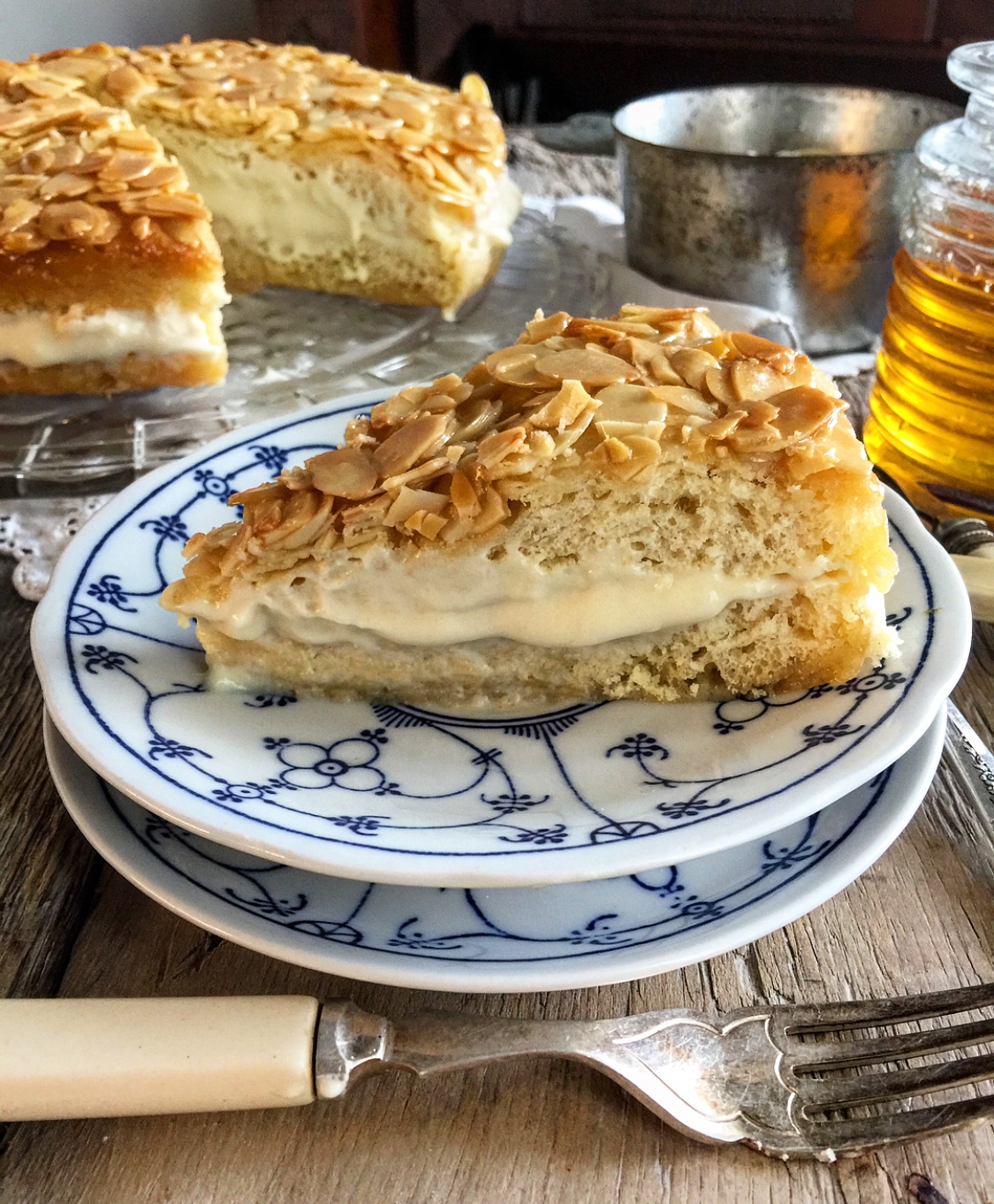 Bienenstich, aka Bee Sting Cake
A classic German dessert of butter, almonds and honey found in the caramel topping and in the pastry cream layer between a light brioche cake. All you need is a cup of coffee to wash it down with!
Ingredients
PASTRY CREAM
1 ¼

cups

whole milk

1/2

cup

honey

3

tbsp

cornstarch

2

tbsp

AP flour

1/4

tsp

salt

3

large egg yolks

2

tbsp

cold butter

1/2

tablespoon

liqueur

(Grand Marnier Brandy, Kirsch or Amaretto, or even bourbon) (optional)

1/4

cup

whipping cream
BRIOCHE DOUGH:
¼

cup

whole milk

1

tablespoon

honey

1 ½

teaspoons

active dry yeast

2

large eggs at room temperature

, lightly beaten

¾

cup

all-purpose flour

2

tablespoons

granulated sugar

½

teaspoon

salt

1

cup

plus 2 tablespoons bread flour divided

½

cup

unsalted butter at room temperature
HONEY-ALMOND TOPPING:
¼

cup

unsalted butter

(4 tablespoons)

¼

cup

sugar

¼

cup

honey

pinch of salt

1

tbsp

heavy cream

¾

cup

sliced almonds

2

tsp

liquor of choice

see above
Instructions
PASTRY CREAM:
In a medium saucepan, whisk together the milk, honey, cornstarch, flour and salt till smooth.

Heat over medium heat until simmering.

In a medium bowl lightly whisk the egg yolks till smooth. Slowly pour the milk mixture over the eggs whisking all the while.

Reduce the heat to low. Pour the egg mixture back into the saucepan and cook, whisking constantly until it thickens and comes together. Remove from heat.

Whisk in the butter, vanilla and liquor (if using)

Pour into a bowl and let cool slightly. Cover the surface with plastic film and store in the fridge till needed. It can be there overnight or longer. Don't worry, the whipping cream will show up later, I haven't forgotten it!
BRIOCHE DOUGH:
In a small saucepan (or a small cup if you want to use the microwave), combine milk and 1 tablespoon honey and heat until it registers between 110 degrees F to 115 degrees F on an instant-read thermometer.

Pour the mixture into bowl of an electric mixer and sprinkle over yeast. Let mixture stand for 10 minutes, until yeast is creamy/foamy.

Transfer bowl to mixer stand and attach paddle (or hook) attachment. While mixing at low speed, gradually add eggs, all-purpose flour, sugar, and salt, and mix until blended.

Gradually add all but 2 tablespoons of bread flour. Mix at medium speed until dough is smooth and elastic, about 5 minutes. Dough should not stick to sides of bowl; if it does, add some of all of remaining 2 tablespoons of bread flour until dough cleans sides of bowl.

Add butter 1 tablespoon at a time, mixing at medium speed until it is blended into dough. (Dough will be very soft. This can take around 15 minutes) Transfer dough to a work surface and knead with floured hands a few times to ensure that butter is completely incorporated into dough.

Shape dough into a ball and transfer it to a medium buttered bowl. Cover bowl with plastic wrap and set aside in a warm place for 1 1/2 to 2 hours, until it has doubled in volume.

Punch dough down to deflate it, and knead it a few times. Return dough to bowl, cover, and refrigerate for at least 4 hours (or up to 12 hours). Dough should have doubled in volume. If it hasn't, let it stand at room temperature until it has. (NOTE: I made the dough the night before.)

Prepare a 9" springform pan. I lay a piece of parchment over the bottom before securing the ring around it. This makes for easy removal to cool later on.

Butter bottom and sides of the pan.

Shape dough into a ball and arrange it, smooth side up, in center of pan. Flatten ball gently with your palm until it covers bottom of pan. Cover pan and let dough rise until it is puffed, about 1 hour.

Preheat the oven to 350 F.
HONEY-ALMOND TOPPING:
Combine the butter, sugar, honey, salt and cream in a small saucepan, and bring to a gentle boil on the stovetop.

Remove from the heat, and stir in the almonds and liquor if using. Evenly spread over the dough and place the pan on a parchment (or foil) covered baking sheet.

Bake on a rack in the centre of the oven for about 23-25 minutes, until golden brown and bubbly.

Place on a cooling rack, and allow to cool four 10 minutes. Remove from the springform pan using the parchment paper and allow to cool completely.
ASSEMBLY:
While cake is cooling, take the 1/4 cup whipping cream and whip it to stiff peaks using a hand or stand mixer. Take the custard from the fridge. Fold a small portion of the whipped cream into the custard. Continue to add the whipped cream till it is all incorporated, gently folding it until smooth. Return to the fridge to set.

Wash the springform pan pieces.

Gently remove the cake from the parchment paper. Using a serrated knife, cut the cake in half by rotating the cake and creating a cut line midway through the cake. Continue rotating, gently allowing the knife to cut deeper until the cake is completely sliced in half. Remove the top half with a spatula to a waiting plate.

Place the bottom of the cake back onto the springform bottom. Secure the ring around the cake.

Spread the pastry cream over the bottom of the cake. Gently slide the top off of the plate over the pastry cream. Return the cake to the fridge to allow the pastry cream to set. About 10 minutes. Then take out of the fridge about 10 minutes you want to serve.

When ready to serve, remove the sides of the pan and place the cake on a serving plate. Use a serrated knife to gently cut through the top- a slicing motions vs a pushing down motion is key here.

Serve with coffee or tea!
Recipe Notes
The custard portion of the pastry cream, as well as the cake can be made in advance.
The brioche cake recipe originally came from here. Ask Chef Dennis has quite an authentic version on the site. I especially like the cake recipe.
The pastry cream and caramel topping were inspired by a recipe found in the Bake From Scratch magazine. I found the filing too runny, so I adjusted it, reducing the milk and increasing the cornstarch. And both the filling and the topping just needed that oomph of liquor!
SaveSave
SaveSave
SaveSave
SaveSave
SaveSave