Lazy mornings call for a dish beyond a fried egg and toast. Well, no, actually I'll take a great sunny side up egg and toast any day!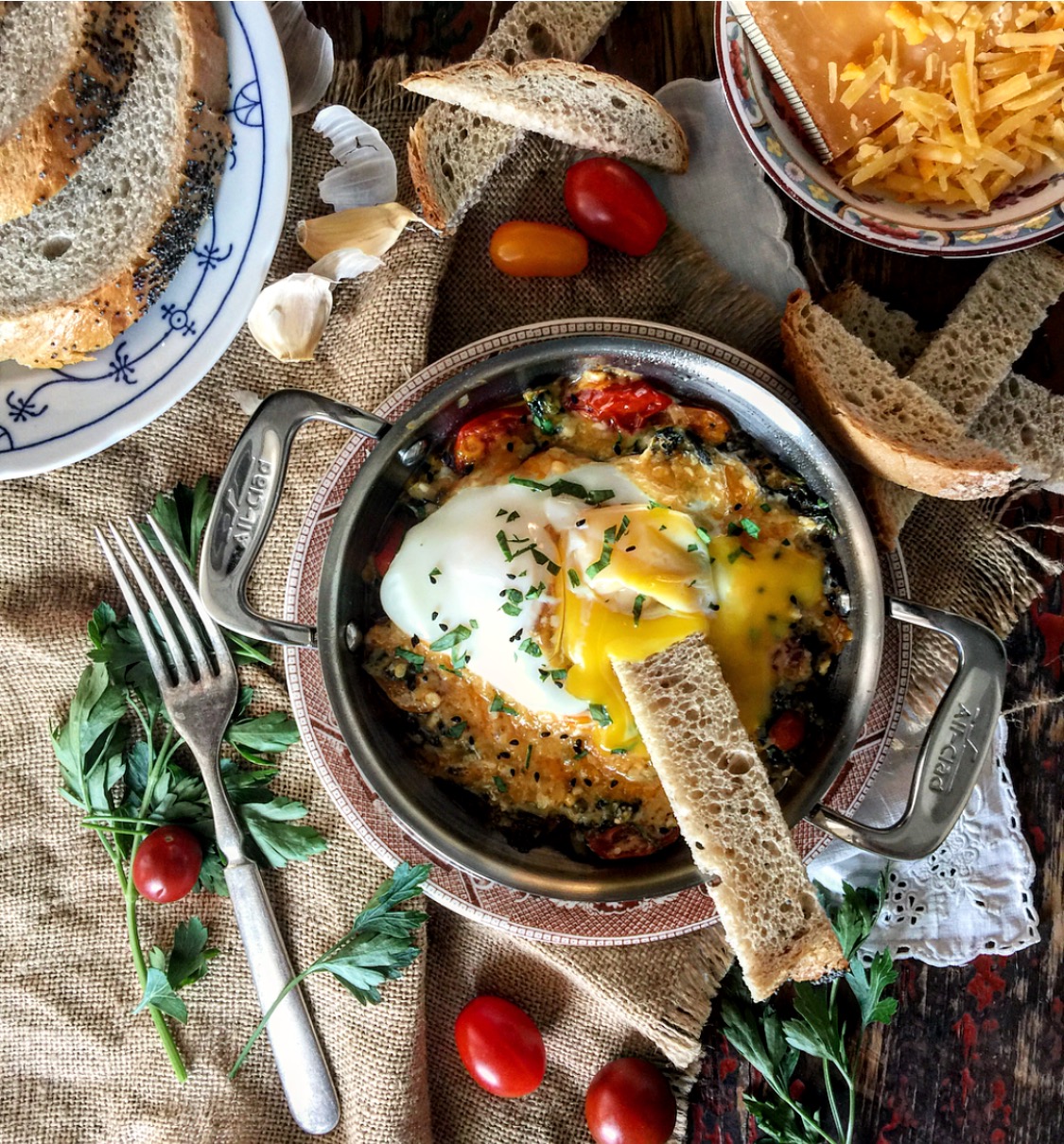 There is something so joyful about dunking that piece of crispy bread into the golden goodness that is a soft, barely cooked egg yolk. I'm sure there is a camp of folks out there that would vehemently disagree with me, including Jim. Runny yolks aren't his thing.
This is a recipe that takes the runny yolk to a higher level. It is captured in the most blissful combination of quickly sautéed kale and tomatoes, a touch of creme fraiche, and then a goodly amount of shredded cheese. You may laugh, but just as I sit here typing this, I want to make this recipe right now! Talk about living what I write!
This is a fabulous recipe for brunch or company. You can saute the greens and tomatoes in advance, keep a lid on them to keep them warm, and then only add the creme fraiche, prepare the ramekins and bake when you hear everyone making their way towards the table and the coffee is ready to pour.
It's funny, as much as I love cooking it, one of our favourite meals to go out for is breakfast. We love sitting in a greasy spoon diner, Jim with the paper, dividing it up and giving me the sections I like to read, and waiting for the server to bring us our first steaming cup of java. There is something so satisfying about being handed a plate of eggs, bacon, sausages, grits, home fries or even better, shredded crispy hash browns, with the obligatory slice of orange on the side. If it's an especially decadent breakfast, Jim will even order pancakes on the side. We are not talking health food here. If we wanted health food, we would have stayed home and Jim would have made his oatmeal and I would have had a turmeric smoothie. Thankfully we don't do eat this kind of brekkie often. But it is tradition that every road trip starts with this meal. Dubiously, if we can't find a 'mom and pop' diner, then at Cracker Barrel. Don't shoot us!
And as much as we love diner breakfasts, there is something so wonderfully decadent about a fancy Sunday Brunch Eggs Benedict as well, don't you think? I'll take it with spinach, smoked salmon, on a croissant, salad on the side, in whatever manner you wish to serve me the meal, the soft poached eggs covered in a blanket of hollandaise is just so amazing.
Yes, breakfast. Or brunch ('cuz both involve eggs in some manner). Way more fun to plan for than dinner, in my opinion. At home there are just so many options, including this delightful baked egg. Now I'm off to toast some sourdough, and chop up some kale! Oh, and why stop at a lazy morning breakfast, these would be brilliant on a Meatless Monday dinner!
And while I prepare these in ramekins, if you are serving a family, you could prepare the appropriate amount of tomatoes and kale and cheese, and then crack the eggs right on top in the skillet you sautéed the veggies in. But if this is what you want to do, ensure that it can go in the oven (appropriate handle), therefore a cast iron skillet would be my choice. Or if you don't have the appropriate skillet, and not enough ramekins, than transfer the veggies to an appropriate sized baking pan or pie plate. Then top with cheese and the eggs. But there is something rather endearing about receiving your very own little ramekin, isn't there!? Personalized meal action!
Love Jen.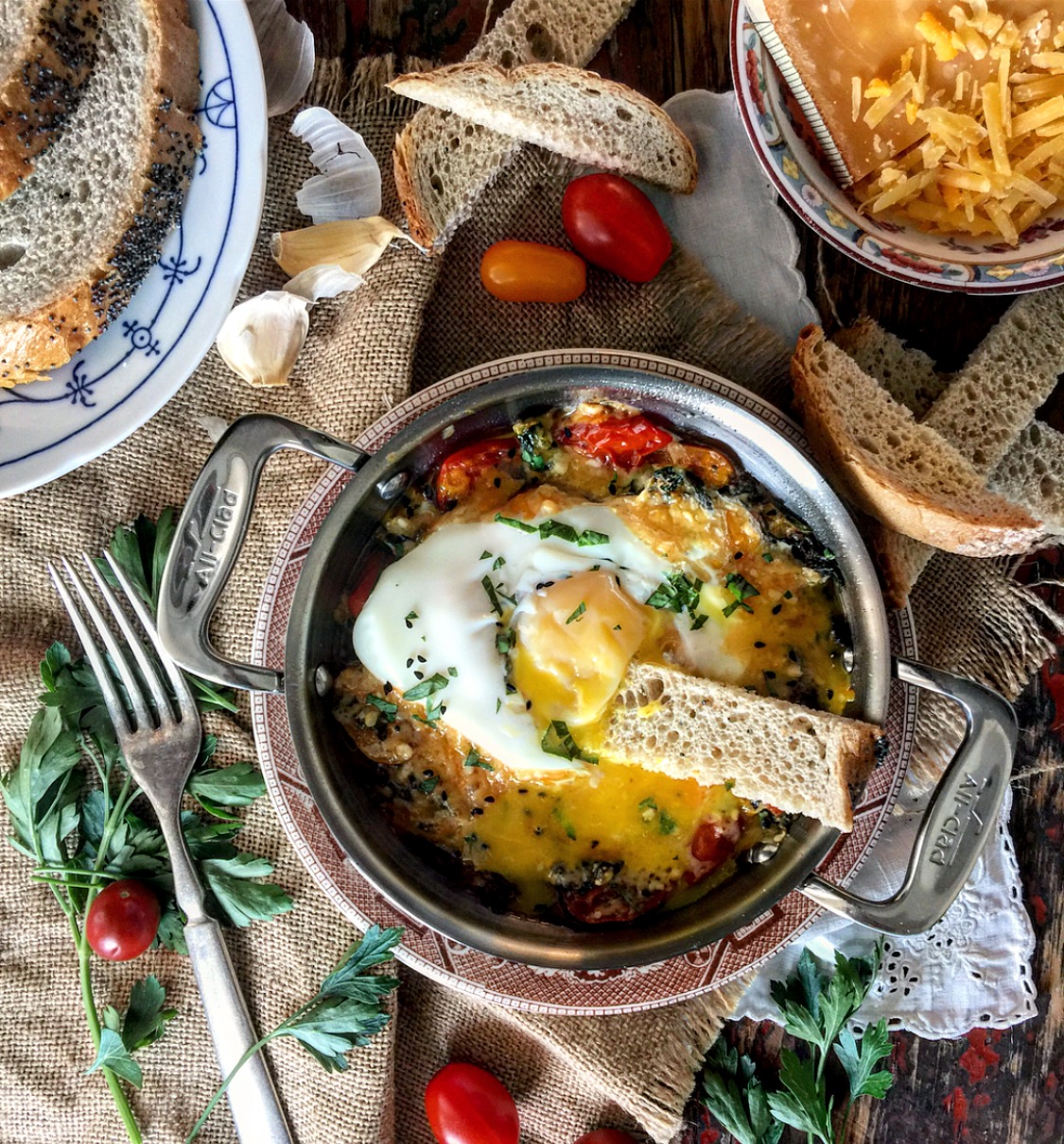 Blissful Baked Eggs with Smoked Cheddar, Kale, and Harissa Cherry Tomatoes
A fun way to have your morning (or evening) egg. Veggies and cheese make the perfect bed to crack an egg on, which is then baked until the whites are set and the yolk is beautifully runny.
Ingredients
1

tbsp

olive oil

6-8

cherry tomatoes

halved, enough to make 1/2 cup (you can also use 1 roma tomato, seeded and chopped)

1/2-3/4

tsp

Entube Harissa paste

depending on your heat tolerance

1

garlic clove

minced

1/2

tsp

za'atar or dried thyme

1/4

tsp

kosher salt

1

cup

lacinato or black kale

centre rib removed, and then chopped

1/4

tsp

ras-el-hanout

optional

1

tsp

creme fraiche

or whipping cream

1/4

cup

smoked cheddar cheese

shredded, or a combo of cheddar and mozzarella

1

large egg
Instructions
Prepare oven: Place the rack about 6 inches below the broiler. Heat broiler.

Grease a 4 ounce ramekin with a bit of the olive oil, or use veggie spray. Place on a baking sheet.

Heat rest of the olive oil a small sauté pan over medium heat.

Add the tomatoes, Harissa paste, garlic, za'atar and salt. Stir until softened, about 3 minutes

Add the kale and sauté another 1 minute or so until wilted.

Add the creme fraiche and ras-el-hanout (if using). Stir to combine and remove from heat.

Place the mixture into the greased ramekin.

Add the shredded cheese, and then top this by cracking an egg gently over the cheese. Sprinkle with cracked pepper.

Place baking sheet into the oven and broil for about 3-5 minutes, until white is set but yolk is still runny. Watch it carefully. You don't want the yolk to overcook. It really depends on your broiler, so start checking after 3 minutes, but don't be worried if you need to go longer)

Remove and let set for 3 minutes, the egg will continue to cook in the residual heat.

Garnish with za'atar, thyme or even black sesame seeds, and serve with toast soldiers!
Recipe Notes
This recipe is for one, because sometimes you just want to treat yourself!
It is easily doubled or quadrupled!
Switch up your cheese if you want: gouda, emmenthal, gruyere are all fabulous. Switch up your greens to chard or spinach if you want as well.
This can be breakfast, dinner, lunch or dinner!!
SaveSave