Summer is in full swing here in Ontario. And it's about time!! We had such a dismal Spring, that we thought Summer would never get here. But it has, and life is good!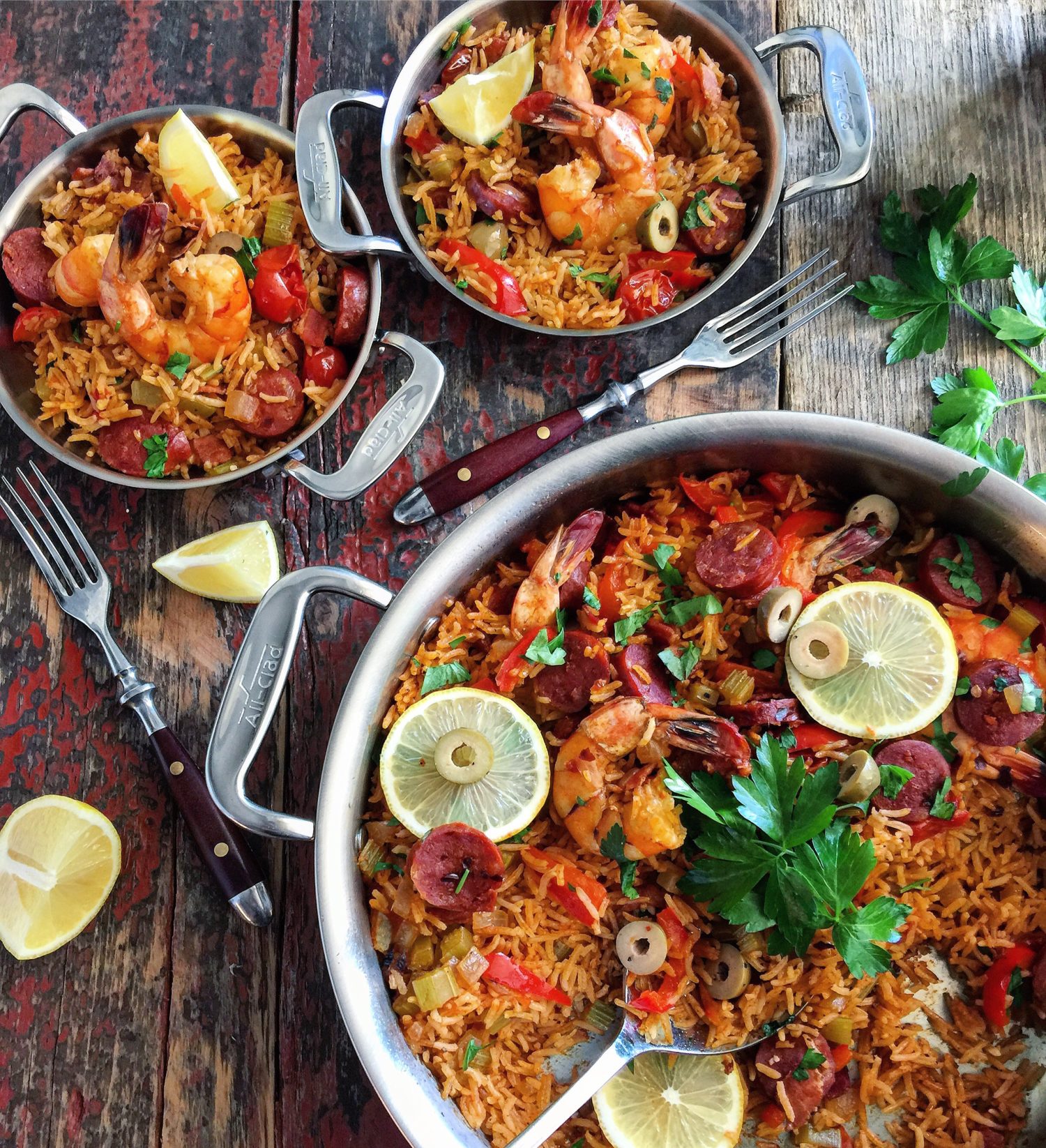 With summer comes all the fresh produce that grows so well around Toronto. We have access to some of the best produce in the country. Between the Holland Marsh and the Niagara region, we are surrounded by amazing farms, orchards, and vineyards. And thankfully, the farmers lovingly bring their wares down to almost every neighbourhood farmers market for us all to enjoy.
It's really hard to go to the market and not come home with more than we need. I mean, there are only two of us, and it's not like I have a cold cellar or walk in freezer. So why can't I just purchase what I need for the week? I'll tell you why. It all looks so GOOD! It's hard to stop with just the tomatoes and kale we may use this week, when the peppers, radishes, carrots and herbs all looks so tempting. I'm getting better at it though. Self discipline is an ongoing project.
It's the beginning of July and we're now at the official start of summer- Canada's long weekend! I started thinking about how I could take all our Canadian produce and create an twist on an iconic Canadian cocktail: the Bloody Caesar. Yes, that misunderstood drink (as far as the rest of the world goes) but most beloved here in our land. I've given you the recipe for a classic Caesar here, but this time I wanted to take it out of it's comfort zone. This would be a shrimp, chorizo and rice dish. But with the classic Caesar flavours. Kind of like a paella, but instead of plain stock, Clamato juice or Caesar mix would help fluff out the rice. The seasonings would be all the spices and heat that we have come to expect from our Bloody Caesar. And instead of a stalk of celery sticking up in the glass, celery, olives and onions would be in the pilaf itself. Add some spicy meat ('cuz life is better with some spicy meat in it!) and it's a great dish for the family or for entertaining. Perfect for a Canadian summer's eve, or even later in the year when we start to think of getting cozy.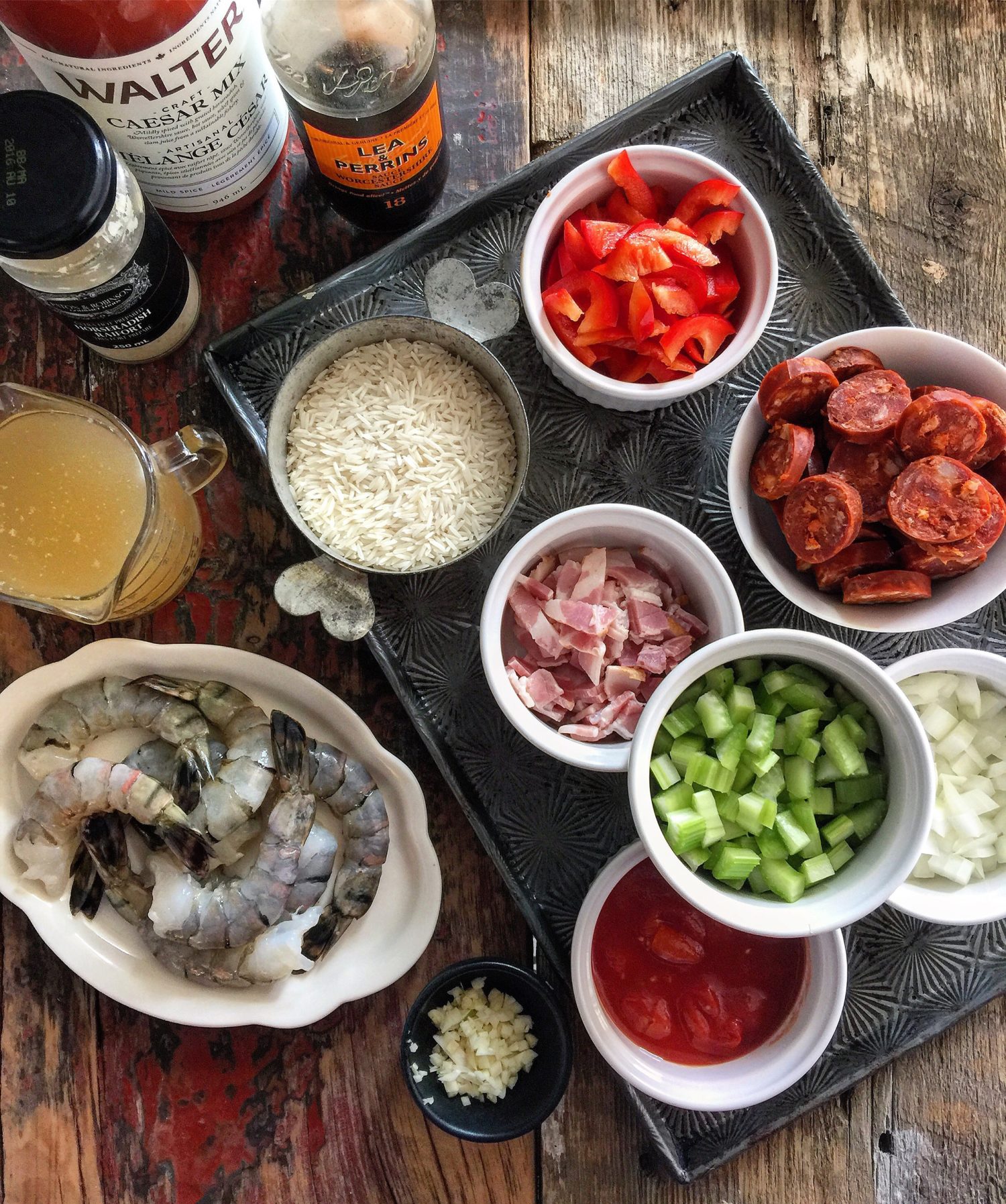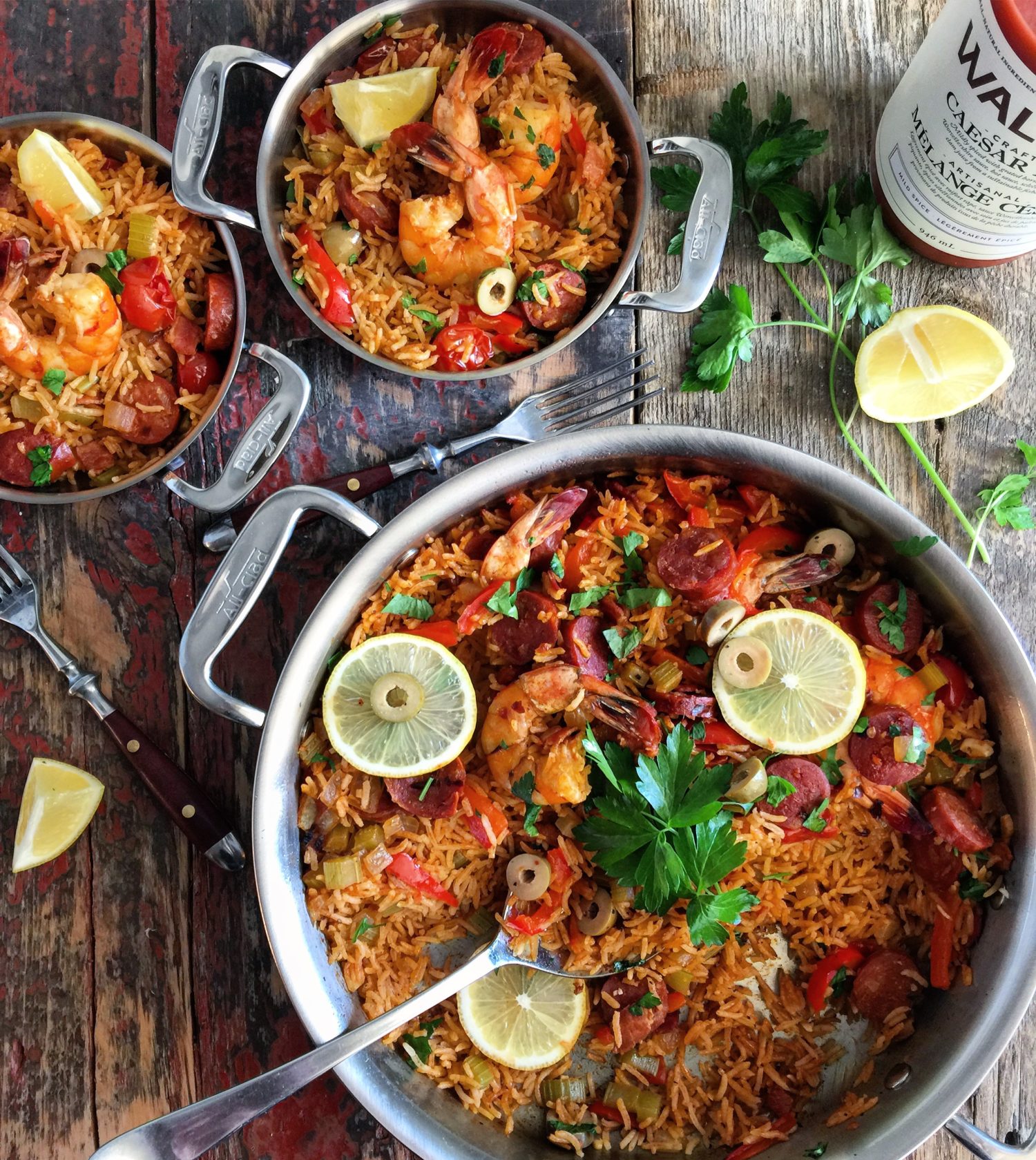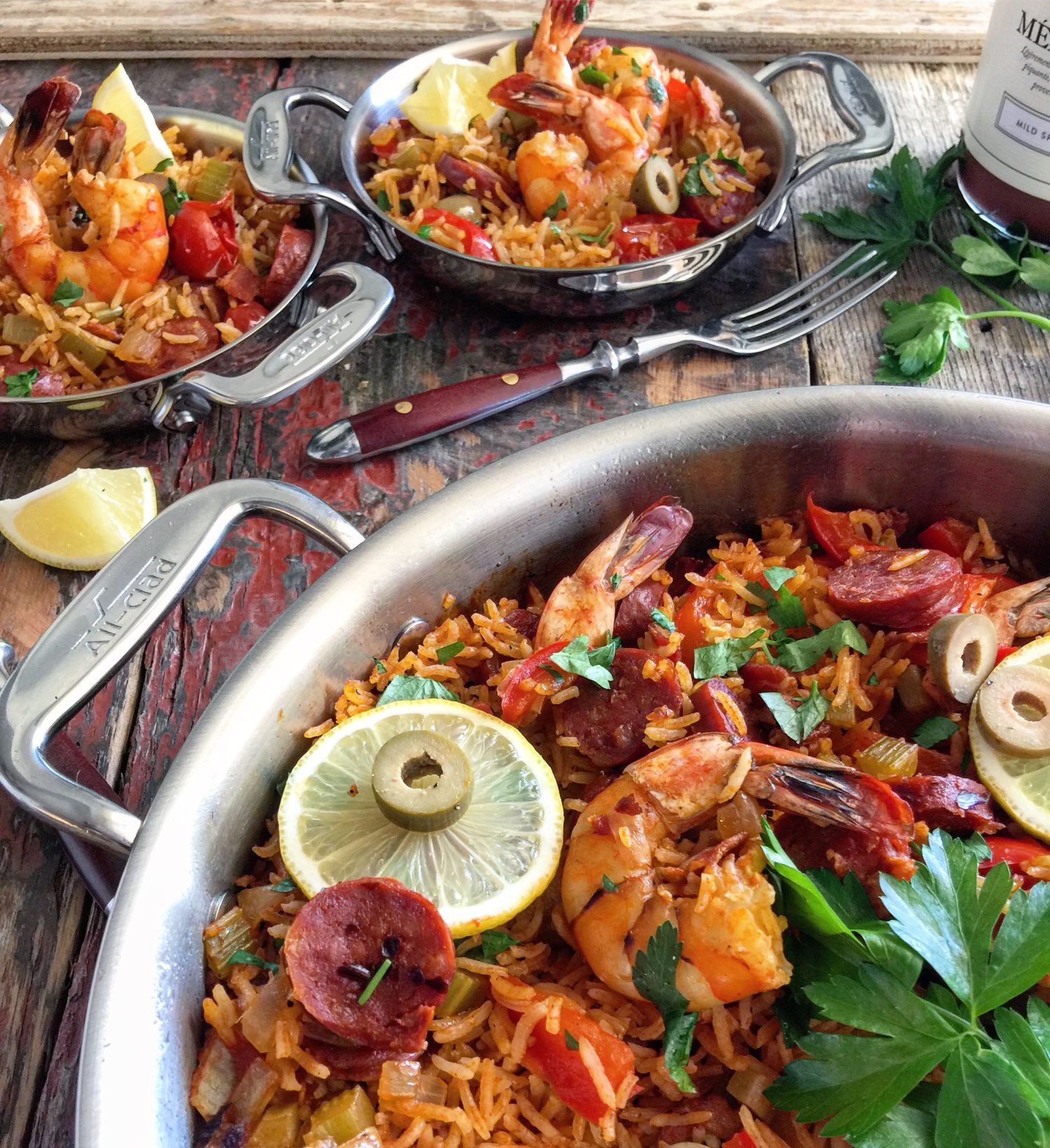 Since this dish is almost like a paella, then why not pull out your paella pan, dust it off and put it to good use. What, you don't have a paella pan or braiser? Well, thankfully, if you're in Canada, you can actually win the perfect pan right now!! I've partnered with All-Clad to share their stunning 3 quart Copper Core Sauteuse with Domed Lid with one of my lucky Instagram followers.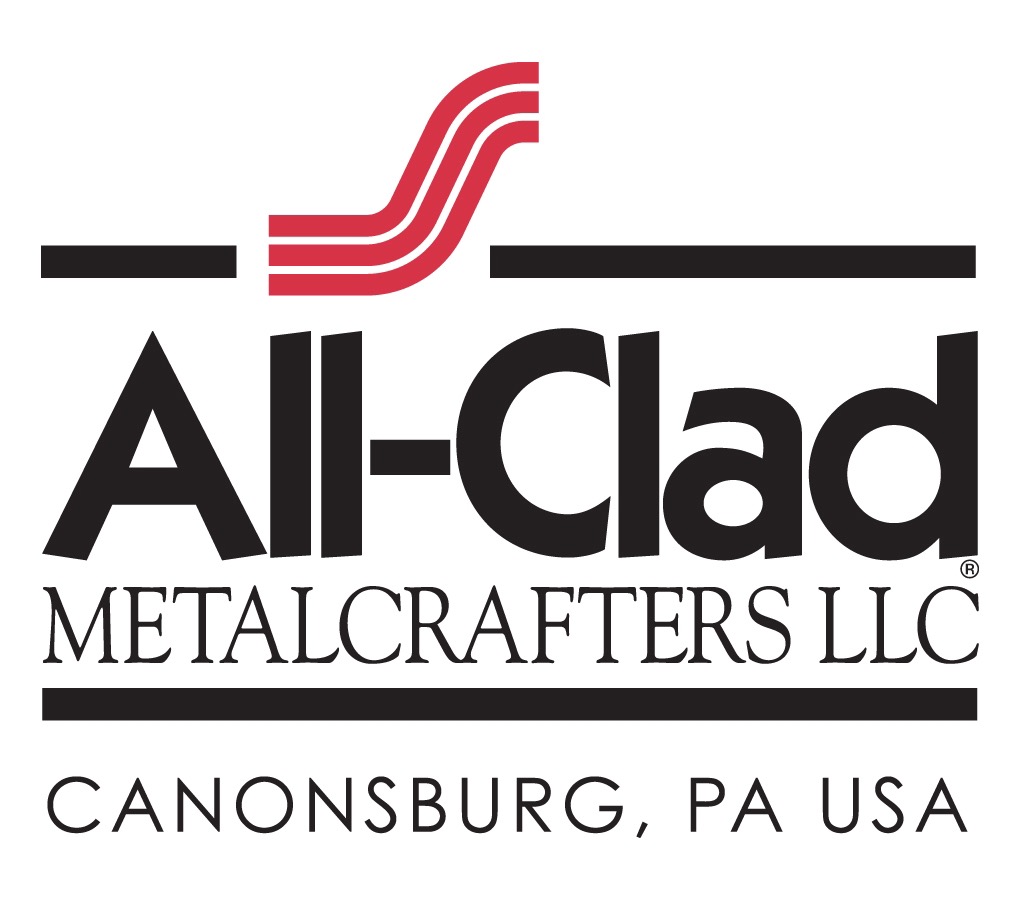 All-Clad has outdone themselves with this superior product line. With the copper core, you are getting superior cooking, and even heat retention. This pan's shape is perfect for all sorts of things. It can be used for sautéing, braising, simmering, stewing etc. It is wide and shallow, giving more surface area to work with. I personally like this shape better than your typical stock pot or dutch oven. Especially if you are browning meat and then settling it in liquid to cook. If the pot is too narrow, then the pieces of meat end up getting piled on top of each other, causing the ones at the bottom to cook differently from the ones at the top which may not get covered with the liquid properly. And what makes this pan even better? It looks gorgeous, with sturdy, comfortable handles at either end- so it's perfect to bring right to the table. You want this pan!! Go to my Instagram account to see how you too could have a gorgeous pan that is great not just for Bloody Caesar Shrimp and Rice, but for braising or stewing all sorts of yummy dishes. Hope you win!!
Love Jen
Below are the Terms and Conditions of the Giveaway:
The promoter is: All-Clad

The contest is in no way sponsored, endorsed or administered by, or associated with Instagram
Closing date for entry will be Thursday July 6, 2017 at 5:00PM EST. No responsibility can be accepted for entries not received for whatever reason.
Contest open to person 18 years of age and older.
Contest limited to Canada residents only.
The prize is as follows: one All-Clad 3 quart Copper Core Sauteuse Pan with Domed Lid.
Winner will be chosen at random, notified by DM on Instagram and announced on Instagram on Friday, July 7, 2017.
If the winner cannot be contacted or does not claim the prize within 14 days of​
notification, All-Clad reserves the right to withdraw the prize from the winner and pick a replacement winner.
The winner will inform the promoter when and where the prize can be delivered to a Canadian address.
By entering this competition, an entrant is indicating his/her agreement to be bound by these terms and conditions.
The winner's name will be available 28 days after closing date by emailing the following address: jenniferemilson@rogers.com
All entries must have open and public Instagram accounts for verification of following terms.
Entry into the competition will be deemed as acceptance of these terms and conditions.
Bloody Caesar Shrimp and Chorizo Pilaf
All the classic flavours of Canada's cocktail in a zesty pilaf of shrimp, chorizo, veggies and spices. Perfect for a crowd!
Ingredients
1

tbsp

olive oil

2

strips bacon

, diced

3/4

cup

diced onion

2

garlic cloves

, minced

3/4

cup

diced celery

3/4

cup

diced pepper

, green or red

3/4

cup

diced tomatoes and liquids

2

tsp

prepared horseradish

(or more to taste, depending on if your Caesar mix is spiced or not)

1

tsp

Worcestershire sauce

1/2

tsp

kosher salt

1/2

tsp

fresh cracked pepper

1/2

tsp

cayenne pepper

1 2/3

cups

long grain rice

1 1/4

cups

chicken stock

1

cup

Clamato juice or Caesar Mix

1

lb

dry cured spicy or hot chorizo

, sliced

12

extra large Tiger shrimp

, shelled and deveined

1

tsp

of hot pepper flakes

1/2

lemon

, juiced

2

tbsp

fresh parsley

, chopped

1/4

cup

sliced green or kalamata olives
Instructions
Heat 1 tsp of the olive oil in a wide shallow pan (with a lid) at medium heat. Add the bacon and stir until just crispy.

Raise the heat to medium high. Add the onions and sauté until just tender.

Add the garlic and stir for 30 seconds.

Add the celery and pepper. Stir for about 5 minutes until just tender. Add the extra 2 tsp of oil at this time as well.

Add the tomato and juices, the horseradish, Worcestershire sauce and salt, pepper and cayenne pepper, and stir to blend.

Add the rice and stir to coat evenly.

Add the chicken stock and the Caesar mix or Clamato juice. Bring to a boil.

Once the liquids are bubbling, nestle the shrimp into the rice, and toss the chorizo around the rice.

Cover and reduce the heat to minimum. Let it simmer away for 30 minutes.

Uncover and check to see if the liquid has all been incorporated into the rice. If not, conitnue to cook for another few minutes, uncovered.

Before serving, fluff with a fork, sprinkle with the hot pepper flakes, lemon juice and parsley. Toss sliced olives over the entire dish.
Recipe Notes
Please get extra large shrimp. Any smaller, and you run the risk over overcooking them before the rice is finished cooking.
If you can't find Clamato Juice or Caesar mix, you can use clam juice, seafood stock, or even Bloody Mary mix. If any of these are unseasoned, you may want to increase the horseradish, Worcestershire sauce and hot pepper flakes.
This will serve six most comfortably.
SaveSave
SaveSave
SaveSave
SaveSave
SaveSave
SaveSave
SaveSave
SaveSave
SaveSave
SaveSave
SaveSave
SaveSave
SaveSave
SaveSave
SaveSave
SaveSave
SaveSave
SaveSave