One of our favourite diners in NYC is the Square Diner in Tribeca. It's long and narrow, like a railway car,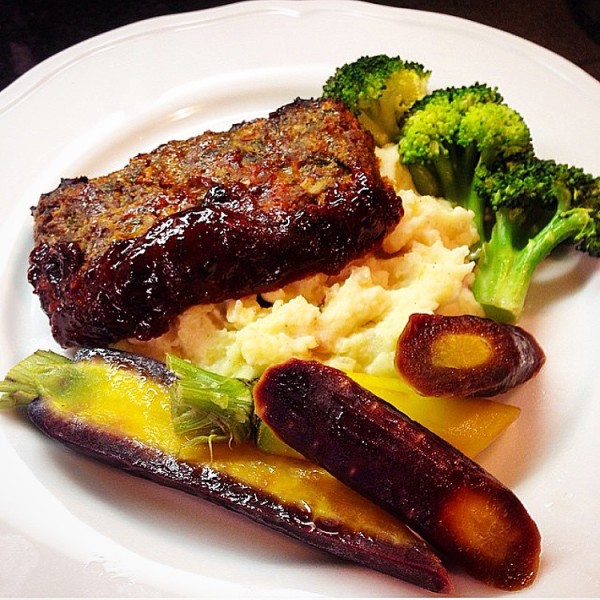 with bolted down stools facing the long counter holding cake stands laden down with donuts, muffins and pies. You can see the cooks working hard, through the door looking into the kitchen. And all the booths have a window view. Right out of a movie.
Like those old train dining cars turned into diners, still dotting the landscape in some towns and cities throughout the US. Such an iconic image. Art Deco, vinyl bench seating, mini juke boxes at each table, and the boisterous, happy servers, calling everyone 'Hon', bringing customers plates of fried chicken, turkey pot pie, tuna casserole, liver and onion, and… meatloaf!
What is it about meatloaf that just sends me back in time?? It's such a staple in most home kitchens, and every once in a while gets a quick resurgence in cafes and restaurants as well. But it never feels 'current'. It seems like a dish that hit its stride in the 50's and just 'stayed there'! Even now, when I make it, and put a thick slab of the the flavourful, crusted, tangy glazed meat and accoutrements onto a plate with mashed potatoes and broccoli, and walk to the table with it to give to Jim, I feel like my name should be Flo, and that I'm in one of those classic diners, delivering the blue plate special! It's old-fashioned, tried and true comfort food.
These days, I'm probably making meatloaf a tad healthier than back in the day. There's a whole whack of veggies hidden in mine. And I try to use a lean, 'happy' meat, like bison or venison or elk, as part of the main ingredients. Of course, to use such lean, healthy cuts of meat, I try to balance them with less lean ground sirloin or beef, since a bit of fat is necessary to keep the loaf from being on the dry side.
Germans have a version of meatloaf that they call 'Falscher Hase' or 'False Hare'. Sounds rather funny, eh? During the rough economic times, when they wanted to put a roast on the table, but couldn't afford to do so, German cooks, would create a roast- forming ground meats and seasonings into the shape of hare or rabbit, a prized meat back in the day. But the bonus of their dish: hard boiled eggs layered inside, across the loaf. So that as you sliced into the 'rabbit', you would get a lovely cross section of egg. I love this. But I've never prepared it this way for Jim- not sure how he would react to it. I'll have to try it next time. I'll let you know!
When I am ready to pop my loaf into the oven, I line a loaf pan with parchment before I stuff it with the filling. I do this so that part way through the baking, I can remove the loaf from the pan and place it on a cookie sheet to finish baking. I do this so that the loaf is 'set' and won't lose its shape for the rest of the baking. And I want it freeform for the rest of the baking, so that more edges can get a crunchy crust, with a bit of glaze dripping down the sides!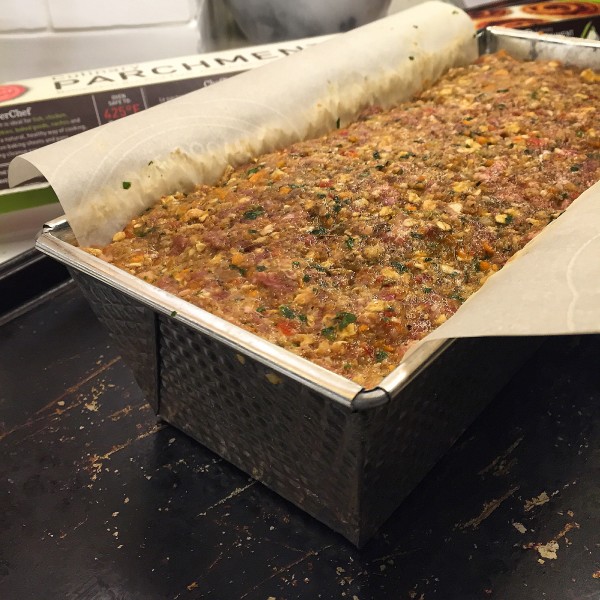 Jim is always excited when meatloaf is on the menu. So is his dad! If I know we're getting together for a dinner, I will often make this for him, just to see his eyes light up. Comfort food spans the generations.
So, enjoy this healthified version of classic meatloaf. It's rich, flavourful, with a kick in the glaze. Serve it with mashed potatoes, and veg. Or it would be great with roasted potatoes and red cabbage slaw. Or how about with parsley egg noodles and beet salad?! Yumm!! And with a thick slice of cheddar and shredded lettuce, it makes a killer sandwich the next day! And think of me, Flo, your friendly, wise-cracking, bouffant-haired waitress. And put a nickel in the jukebox. Any doo-wop song will work!
Love Jen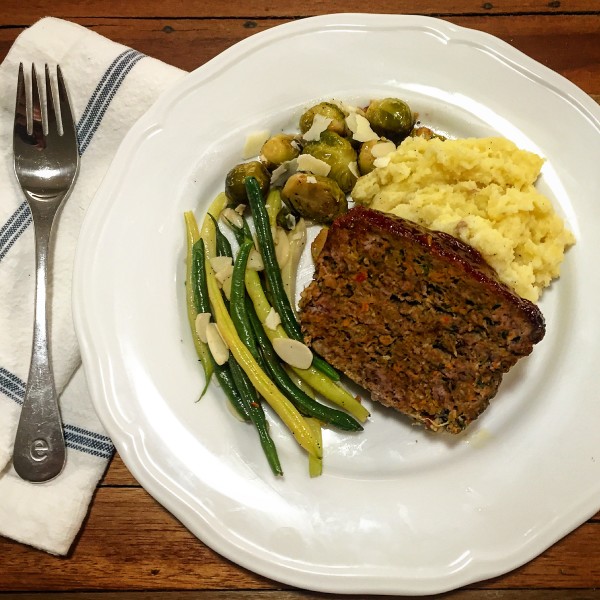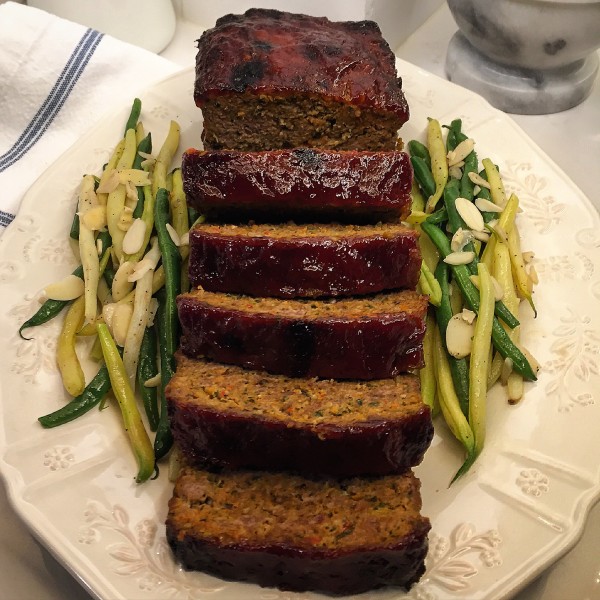 Blue Plate Special Meatloaf
A healthier version of down home comfort food, this meatloaf is packed with veggies and spice. And makes a killer sandwich the next day! You won't need another recipe after this one.
Cook Time
1
hour
30
minutes
Total Time
1
hour
45
minutes
Ingredients
1

lb

ground bison, elk, venison

or other very lean meat. Use sirloin if this is all that you can find

1

lb

lean ground beef or sirloin

do not use extra lean, as there is not enough fat with the extra lean- you need some fat to keep the loaf moist

1/2

cup

panko breadcrumbs

1/2

cup

quick cook oats

1/2

large

red onion

rough chopped

1/2

medium

red pepper

rough chopped

1

large

carrot

rough chopped

2

celery stalks

rough chopped

4

garlic cloves

rough chopped

2/3

cup

parsley leaves

2

tsp

kosher salt

2

tsp

dried thyme

or 1 tbsp fresh thyme leaves

1

tsp

black pepper

1

tsp

cayenne pepper

1/4

tsp

nutmeg

2

eggs

lightly beaten

1/2

cup

ketchup

2

tsp

Worcestershire Sauce

2

tsp

ground cumin

1/8-1/4

tsp

cayenne pepper

1

tbsp

maple syrup or liquid honey
Instructions
Preheat oven to 350F.

In a large bowl, place the two meats, bread crumbs and oatmeal.

In a food processor, mix till fine, the onion through the parsley. Add to the meat.

Add the spices. Then add the eggs.

Mix with your hands gently, till well blended. Do not overmix or it will result in a tough loaf.

Heat a frying pan with a little bit of oil at medium high. Take a small amount of the mixture and form a small patty the size of a quarter or so.

Saute on both sides till cooked through, about 5 minutes or less. Taste.

If you are happy with the seasonings, continue with the recipe. If not, adjust your seasonings now.

Prepare a 9x5 loaf pan with spray and parchment cut to fit across and overhanging a little. Stuff the filling into it, making sure to get rid of any air holes etc.

Bake for 1/2 hour.

While it is baking, prepare your glaze: Combine all glaze ingredients (ketchup through maple syrup) in a small bowl. Taste for flavour and re-season if necessary.

Remove the loaf from the oven. Using the parchment, and a knife to loosen the ends, pull the loaf up and place onto a parchment lined baking sheet.

Using a spoon or silicone brush, glaze the top of the loaf, allowing some to make its way to the edges, dripping down the sides.

Return to oven and bake for another 60-70 minutes or until the internal temperature is 160F.

If the glaze is not burnished enough for your liking, turn on the broiler and broil for a few minutes till it becomes a crusty and gorgeous mahogany colour. Just watch it.

Remove and let stand for 10 minutes before cutting.
Recipe Notes
I like removing the loaf from the pan after the first half hour in the oven. It has set enough to be able to stand on it's own on the baking sheet. This way the glaze gets to drip down, and the outside edges become crispy. That crust is such a prize to enjoy!
SaveSave
SaveSave
SaveSave