Bread. I love it. I'm not sure about it's feelings for me though. Somewhat ambivalent, I'd imagine.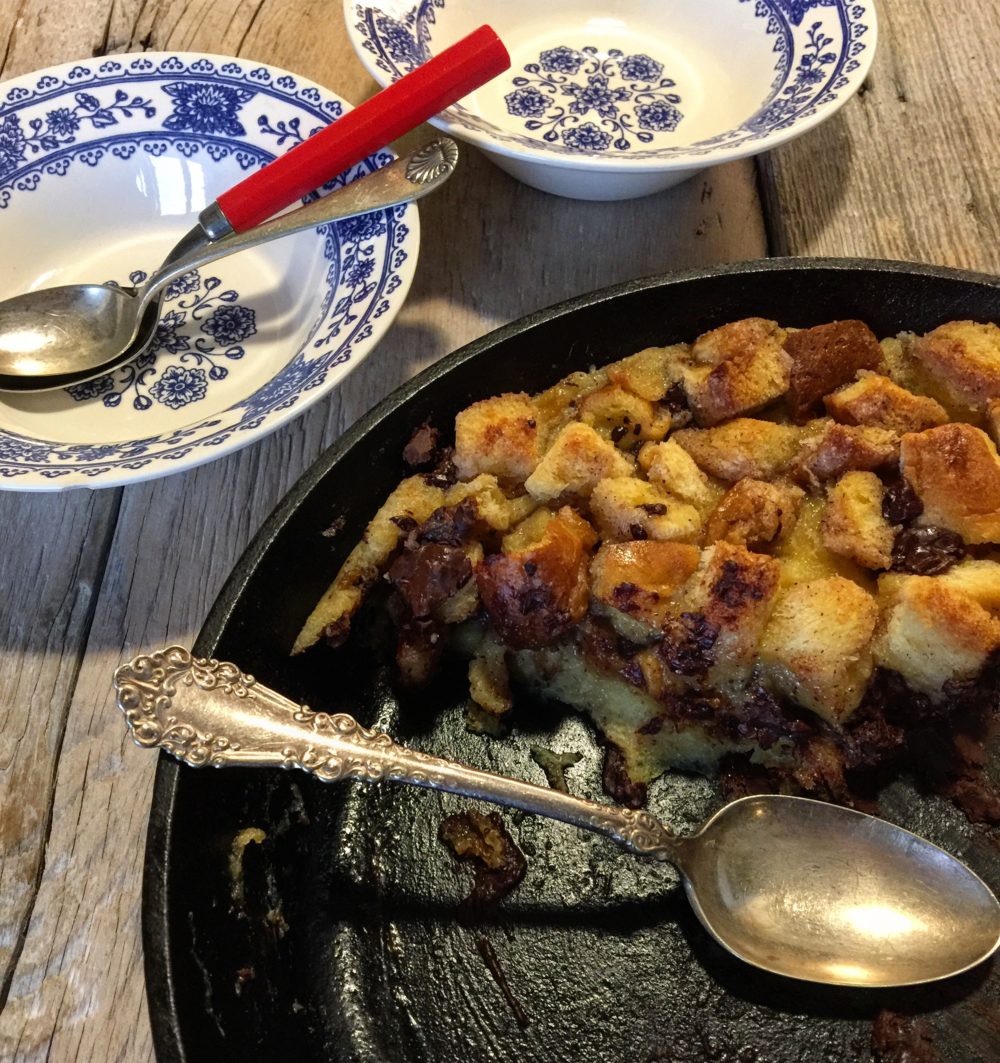 But that doesn't stop me from pursuing this relationship. I have accepted that there will be times that I will pay for indulging my bread cravings. But thus far, I've accepted the consequences. And for the most part, the side effects are momentary and bearable. So no gluten free for me!
Bread Pudding. Bread as the main component of dessert? Of course, you can count me in! The idea of bread cubes soaking up custard (another weakness for me) with added flavours like chocolate, nutella, pumpkin, cranberry, rum soaked raisins etc…the list of ideas goes on and on, is just pure comfort food at it's best.
I already love stuffing. Bread cubes. I think stratas are kinda neat. Bread cubes. So of course, bread pudding for dessert is a natural.
Bread pudding is also comfort food because it's been around for SO long. It can be traced back to even the 11th century in England. Instead of letting stale bread go to waste, frugal cooks would soak and bake it up. It became known as Poor Man's Pudding among the lower classes, since the filler was bread instead of more expensive ingredients. And really, this is similar to how french toast got started.
Back then any lowly bread was considered fair game for a pudding. Today, because we have the luxury of using gourmet breads, bread pudding has climbed the status ladder from Poor Man's Pudding to trendy, elegant, even hipster dish.
This recipe is really evidence of this attitude change towards the humble bread pudding. The recipe comes from Sunday Suppers by Karen Mordechai. She includes a recipe for her homemade challah bread. Well, I just wasn't up to baking a loaf of bread just to turn it into bread pudding this time around, so I opted for purchased. I picked up a brioche loaf at Carousel Bakery at St Lawrence Market, let it sit out for a couple of hours, and then cubed it up.
The bourbon is my addition. 'Nuff said. But if you don't want it, you can leave it out. We may not be able to be friends though! (just joshin!) The custard base is easy to whip up. And the chunks of chocolate hidden in there are the most amazing source of decadence in this dish. Don't skimp on the chocolate. I used 63% Valrhona Chocolate. It made all the difference. What sets this recipe apart, is that Karen has us keep some bread cubes aside for the topping. In a small pan you will melt butter and add swish in some sugar and cinnamon. The bread cubes get tossed into this mixture, and then they all get pressed on to the top of the custard and chocolate soaked bread already in the baking dish. This top layer bakes up to a lovely crispness without being dry. And it is this crust that just makes this an unbelievable bread pudding. This will be my bread pudding recipe going forward. Thanks Karen!!
I will say, it is rich. In a good way. But don't expect that you can polish off a huge portion. Unless you're famished. But not being able to eat it all at once just means that there will be leftovers for breakfast the next day! And while we think bread pudding for the colder months, really, this is a year round treat. Having admitted that this is a wonderful, but rich dessert, feel free to cut the recipe in half, if this is more manageable for you. Just adjust your baking dish size.
Love Jen.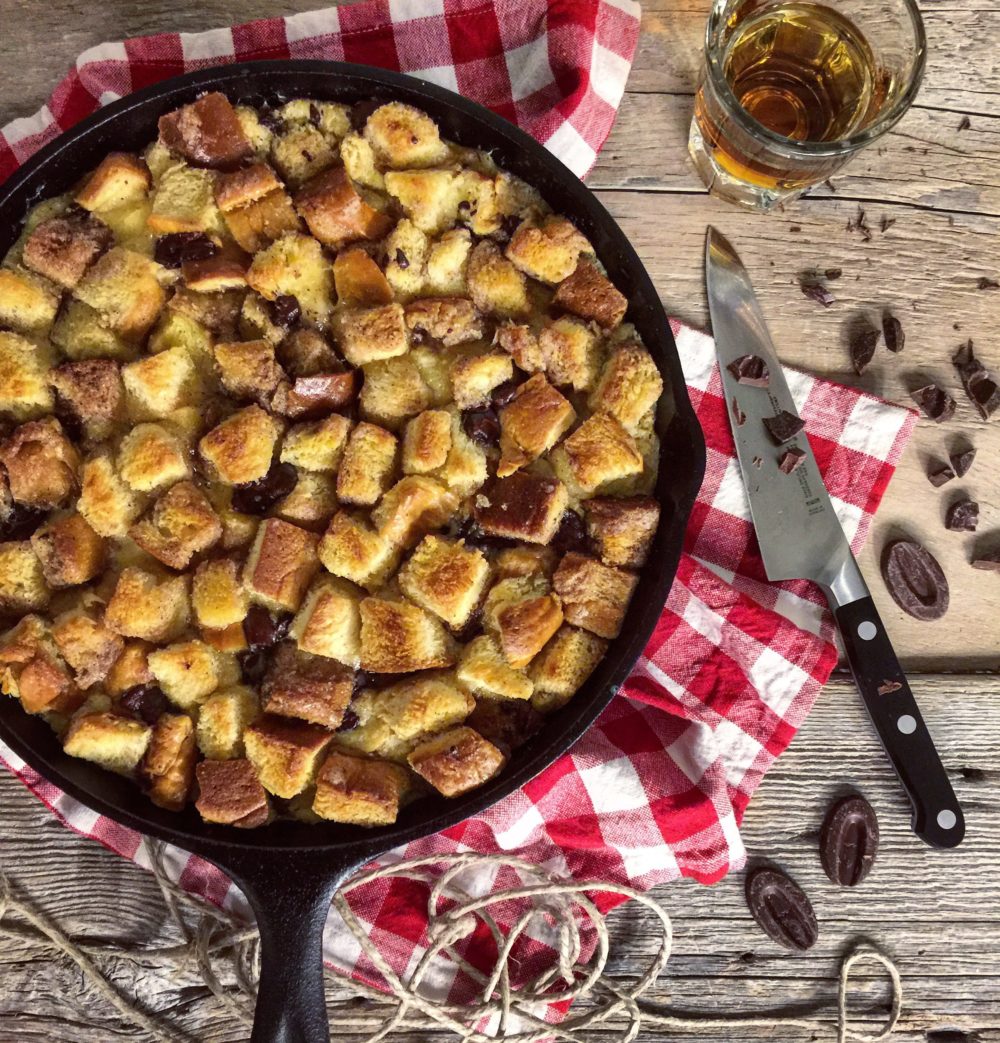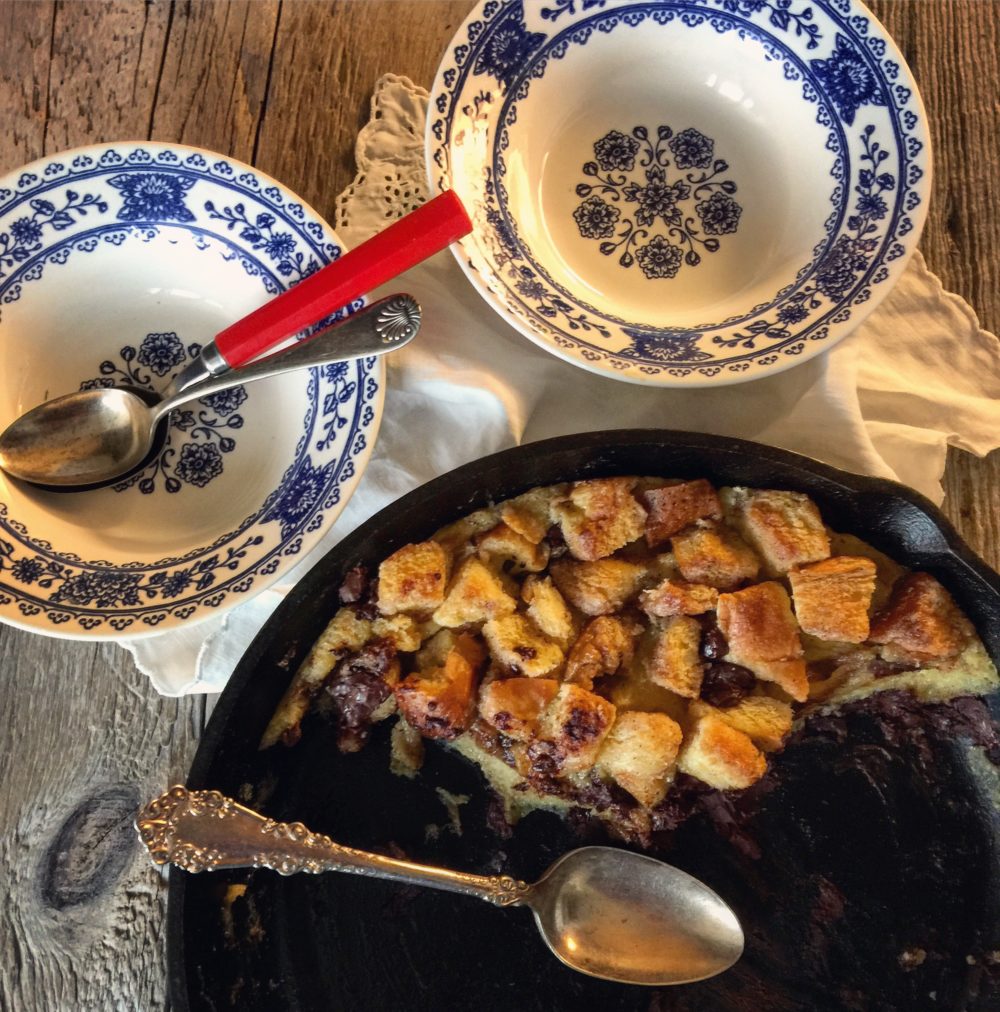 BOURBON BRIOCHE CHOCOLATE BREAD PUDDING
Decadent, custardy, chocolatey, with a touch of bourbon, and the most amazing top crust. Dig in!
Total Time
1
hour
20
minutes
Ingredients
5

large eggs

3/4

cup

sugar

2

cups

whole milk

2 1/2

cups

heavy cream

4

tbsp

(1/2 stick) unsalted butter, melted

1/4

tsp

salt

2

tbsp

bourbon

1

tsp

pure vanilla extract

6

oz

bittersweet chocolate

, cut into chunks

12

cups

1 inch cubes of brioche

(challah as per the original recipe)
TOPPING
4

tbsp

(1/2 stick) unsalted butter, melted

1

tsp

cinnamon

3

tbsp

sugar
Instructions
PREPARE THE PUDDING
In a large bowl, whisk together the eggs and sugar. Add the milk, cream,milted butter, salt, bourbon, vanilla and chocolate chunks.

Toss 8 cups of the bread cubes in with the custard, making sure all the cubes are well coated. Transfer the cubes to a 12" cast iron skillet (alternatively you can use a baking pan that will hold the 12 plus cups of this recipe) Cover with tightly with plastic wrap and allow it to sit for 20 minutes.

Preheat the oven to 325F
MAKE THE TOPPING
Combine the melted butter, cinnamon and sugar in a medium sauce pan over medium heat. Mix in the remaining 4 cups of bread cubes. Stir to coat well. Press these down on top of the pudding, to partially submerge the bread.

Bake for 50 minutes or until set. Serve warm, straight from the skillet.

A side of vanilla ice cream would be perfect here.
Recipe Notes
It's a no brainer that this can be served with vanilla ice cream. But what about a drizzle of salted caramel sauce over it all? 'Cuz it can always be a touch more decadent!!
Having shown that the original recipe feeds 10, and that I found it rich (in a good way), this recipe is easily cut in half and placed in the appropriat baking dish.
Adapted from Sunday Suppers by Karen Mordechai
SaveSave
SaveSave