This is a recipe that grew out of that dreaded detox I undertook last summer. I had learned to substitute vegetables for traditional carbs like pasta and rice. There was the now classic Zoodle (the zucchini noodle) and then of course, cauliflower was reinvented as rice or couscous. I even used cauliflower to make 'shrimp' cocktail! I used a bed of cooked quinoa to replace bread for my scrambled eggs or omelettes. And I used an onion in the classic carbonara dish. By the end of the 'DD' I had cheated and used a little grated parmesan, since you can't have carbonara without it. I know, cheaters never prosper. But my tastebuds did that night!
And then I started thinking. If a big Vidalia onion could make a great substitute for pasta in carbonara, why not cabbage? It loves bacon, pancetta, or really, any pork product. It loves garlic. And it softens beautifully in a saute pan, so it will wrap up in a most lovely way, capturing pieces of bacon as you wind it around your fork.
So I tried it. I actually got out all the typical ingredients for a carbonara: pancetta, garlic, parmesan cheese, cracked pepper, chopped parsley, and an egg yolk. Instead of preparing the cabbage separately, the way we would with pasta, I added it after I had sautéed the pancetta and garlic. Then I threw in a good amount of shredded cabbage into the pan. Stirred it around, added a splash of water, and put a lid on it. In a few minutes I returned to the pan, lifted the lid, and the aroma was mouthwatering. The cabbage was perfectly softened, so I added the shredded cheese, parsley, tasted it for salt, and then took it off the heat. Added the egg yolk, and stirred. It looked, smelled, and most importantly, tasted just like Spaghetti Carbonara!
I had done it. A perfect meal or side dish with no gluten, but all the flavours. It is wondrous with a pork roast or piled high on a plate to be enjoyed with a piece of garlic bread ('cuz more garlic is a good thing) and a salad. And it's almost vegetarian. But of course there's the bacon… Now, there's is an amazing shiitaki mushroom bacon recipe that is floating around. I'm going to try it. If I like it, and I think you guys will as well, I'll get it up on the blog. Then you could make this a completely vegetarian dish. Wouldn't that be great? You're welcome!!
Love Jen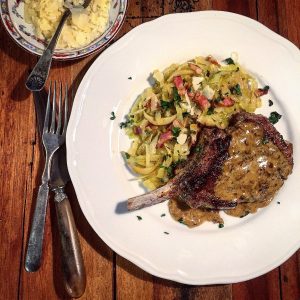 CABBAGE ALLA CARBONARA
A fresh and fabulous way to use shredded cabbage- as the base for a yummy carbonara! Gluten free, but not flavour free. Try it as a side for a pork roast, or even for a brunch main!
Ingredients
5

cups

hand shredded cabbage

(make sure the cups are packed, not loose, as the cabbage will shrink as it cooks down; don't use a food processor to shred- the slice will be too small, you want a rough, hand shred)

1-2

tbsp

olive oil

8

slices

double smoked bacon

, or packed 1/2 cup diced pancetta

4

cloves

of garlic

, minced

1/4

cup

dry white wine

(optional)

1/5

cup

peeled

, sliced firm apple (roughly the same width as the cabbage slices)

4

egg yolks

1/2

cup

shredded parmesan cheese

kosher salt and cracked pepper to taste

2

tbsp

chopped parsley

2

tbsp

shaved parmesan cheese
Instructions
In a large skillet, cook bacon or pancetta until slightly crisp; remove and drain onto paper towels. Reserve 2 tablespoons of bacon fat; (if using pancetta, there may not be 2 tbsp of fat, so make up for it with 2 tbsp of olive oil, and heat in reused large skillet. Add chopped garlic, and cook over medium heat for 1 minute. Add wine if desired; cook one more minute.

Return cooked bacon to pan; add shredded cabbage. Toss to coat and heat through, and then add 2 tbsp of water. (if not using the wine you may need to add 2-3 more tbsp of water) Cover and cook over medium heat until cabbage has softened, about 8-10 minutes. Add sliced apple and cover. Cook another 5 minutes. Reduce heat to low.

Immediately add the beaten eggs and cook, tossing constantly with tongs or large fork until eggs are barely set. Remove from the heat. Quickly add 1/2 cup Parmesan cheese, and toss again. Add salt and pepper to taste (remember that bacon and Parmesan are very salty). If you find the dish a little 'sticky', loosen it with a touch of hot water.

To serve, garnish with parsley and extra parmesan cheese
Recipe Notes
I added the apple on a whim. But I loved the contrast of crunch and sweetness against the creamy saltiness of the bacon and cheese. If you'd rather leave it out, the dish will just taste that much more like traditional carbonara. But try it once, you may like it!