The first day of 2017! And it's a lazy day. Tomorrow I will plow full steam ahead with healthy dishes. But today, being a Sunday, it's the last chance to relax the rules a touch. Time for Brunch.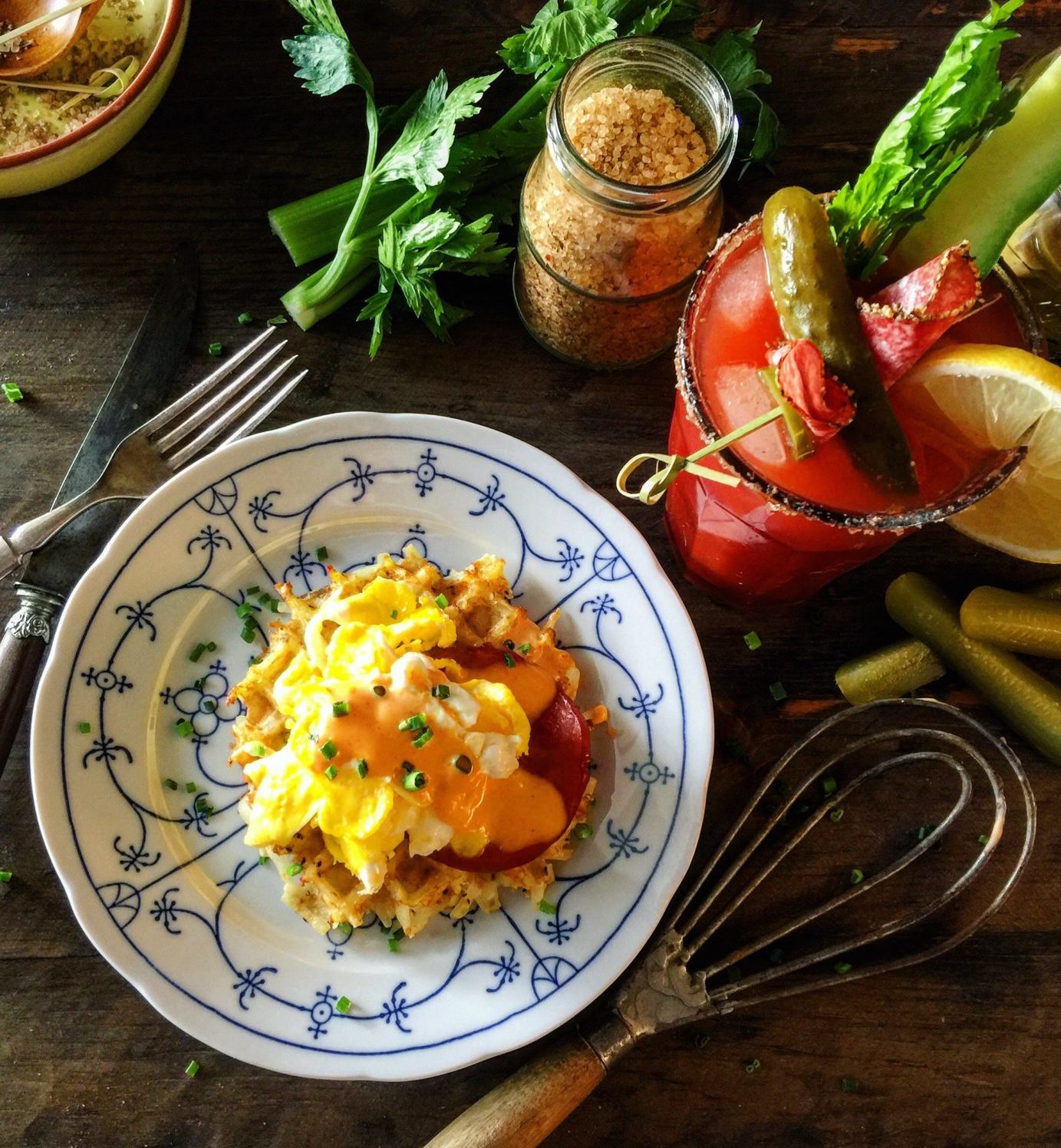 So I present, The Bloody Caesar. Like the Bloody Mary, only better! And uniquely Canadian. So unique, that for the most part, if Canadians are visiting the States, and try to order one in a restaurant, they will be hard pressed to find a bartender who can make one.
First of all the bartender will think you want a salad, with bacon, cheese and romaine lettuce. Not that these libation creators don't have the skills. For some reason, Clamato Juice, while invented in New York State back in the late sixties, by Motts employees who were trying to imitate the flavours of Manhattan clam chowder and therefore mixed clam broth and tomato juice together, has never really caught on in mixologist circles. So most restaurants, lounges, pubs and bars just don't carry Clamato as a drink mixer.
So, leave it to Canadians (a Calgarian, to be exact) to come up with a classic cocktail using these flavours. Story goes, the mixologist in question took inspiration from the flavours of Spaghetti Vongole (spaghetti with clams) and combined sweet tomato juice, salty clam nectar, lime juice, and the spices from Worcestershire Sauce and celery salt. Of course, there's vodka in there somewhere! This happened about the same time that Clamato Juice was being developed in NY. And thanks to him, we are still drinking Bloody Caesars today!
And to this day, it is practically the national drink (some would insist it still ranks second to a cold brewski) Apparently enough Clamato juice is sold in Canada to make over 350 million Caesars per year. That's pretty good, considering our of-age drinking population (we are a small country population wise!) Most Canadians will tell you that the appeal is the consistency of the blend. Straight Tomato juice or V8 Juice is thicker and stronger in flavour. Despite the name, the clam portion of the drink does not overpower. It adds a mild tang, and thins out the tomato pulp perfectly. I have been known to drink it straight. These days you can find Clamato Juice sold pre spiced up with extra heat, or even with the lime juice added. I like to purchase the good ole fashioned original Clamato Juice. That way I can spice and spike as I please.
The second aspect of this drink is the garnishes. There is probably no other drink that allows for a whole charcuterie board to show up as a garnish these days! :)) Traditionally a celery spear and some olives, lime or lemon etc were quite acceptable. I've now seen glasses garnished with spears of pickle, salami and pickled onion; cucumber spears; shrimp; even hot peppers and chicharon or grilled cheese garnishes!! I used to say, it's a meal, look, salad comes with it!
But try and order one in the States. While you can find Clamato Juice in many decent grocery stores, most bars and restaurants just haven't caught on to the Caesar. Canadians have even been known to smuggle their own Clamato Juice onto cruise ships etc, just so that they don't have to give up their drink for too long. So don't wait for a bartender to make you one. Make one yourself!
When I was in my 20's, Tuesdays was called "$2.50 Tuesday" down in southern Ontario. That's how much the price of a movie ticket was back then. And at the Keg, a Canadian Steak house chain, you could also order a great Bloody Caesar for &2.50. So, with $5.00 and change in my wallet, Tuesdays were a great evening out for me and my friends! We were on a budget you know!
Today, I'm spicing up my Caesar with Entube Harissa sauce. Do you blame me?! A perfect place for this condiment. You will mix it in with the liquids, muddling it to break it down. And the garnishes: well, whatever happens to be in your crisper will work just fine.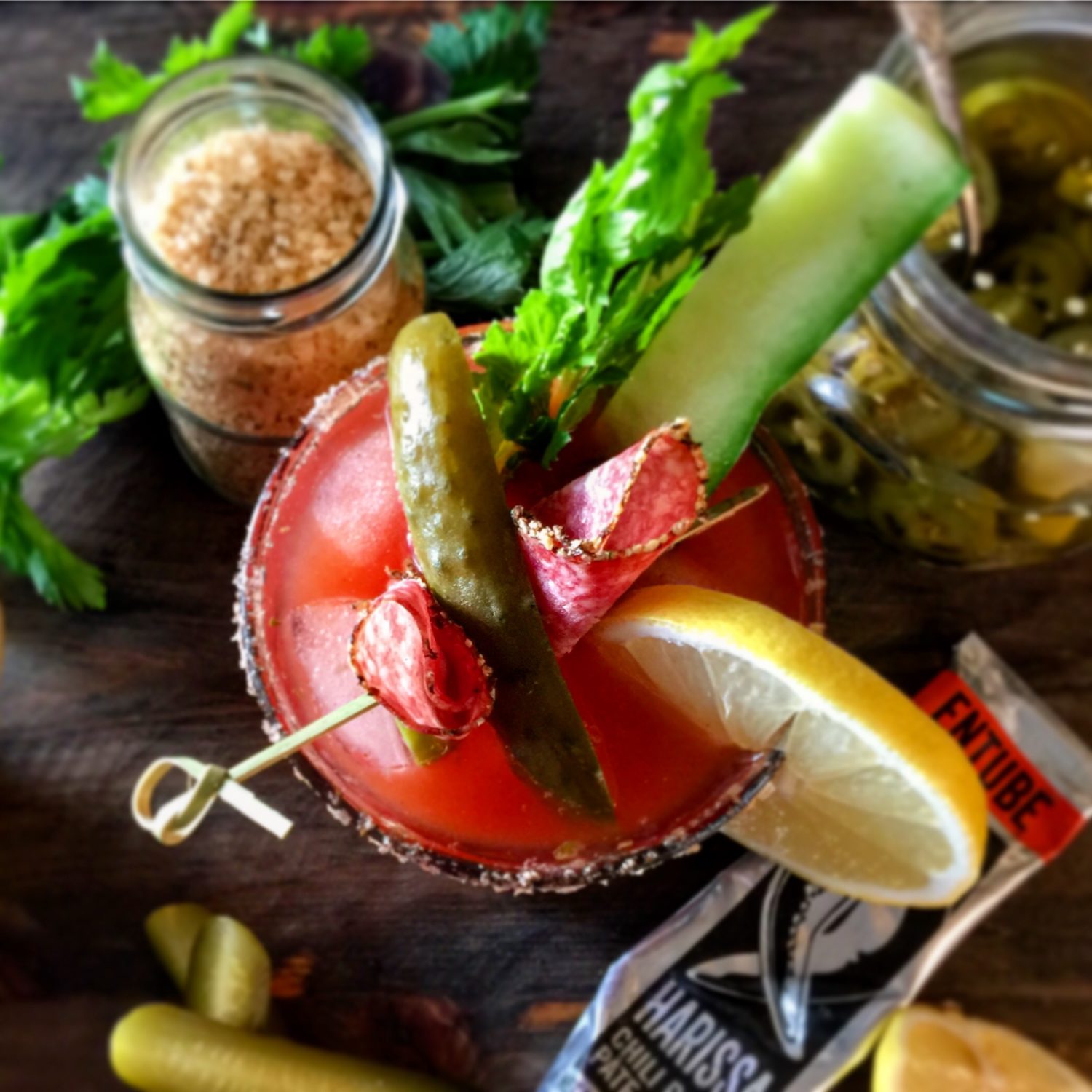 While the Bloody Caesar is a great drink, morning or night, it makes for lovely brunch drink. But I won't go so far as to say that it will suffice as Brunch! A little bit of food is a good thing to wash down this drink! Since the veggies are taken care of, thanks to the Caesar, let's move on to the carbs and protein. I'm thinking that a classic would be eggs and toast. But then I thought, I can do better than toast. So hash brown waffles instead, it is.
But this is a brunch for a lazy day, so don't go shredding up some potatoes like some over-achiever. Just open up a bag of frozen hash browns you have in the freezer. Whole Foods 365 brand does a great one. So easy to open up the night before, let them thaw, drain well and mix with an egg and seasonings. Mound into your waffle maker. You will spread out the potatoes in a reasonably thick (not too thick) amount in the shape you want- remember, they won't really spread during the cooking, so the shape you start with will be the shape you end up with. Make up a few and keep them warm on a baking sheet in a 175F oven.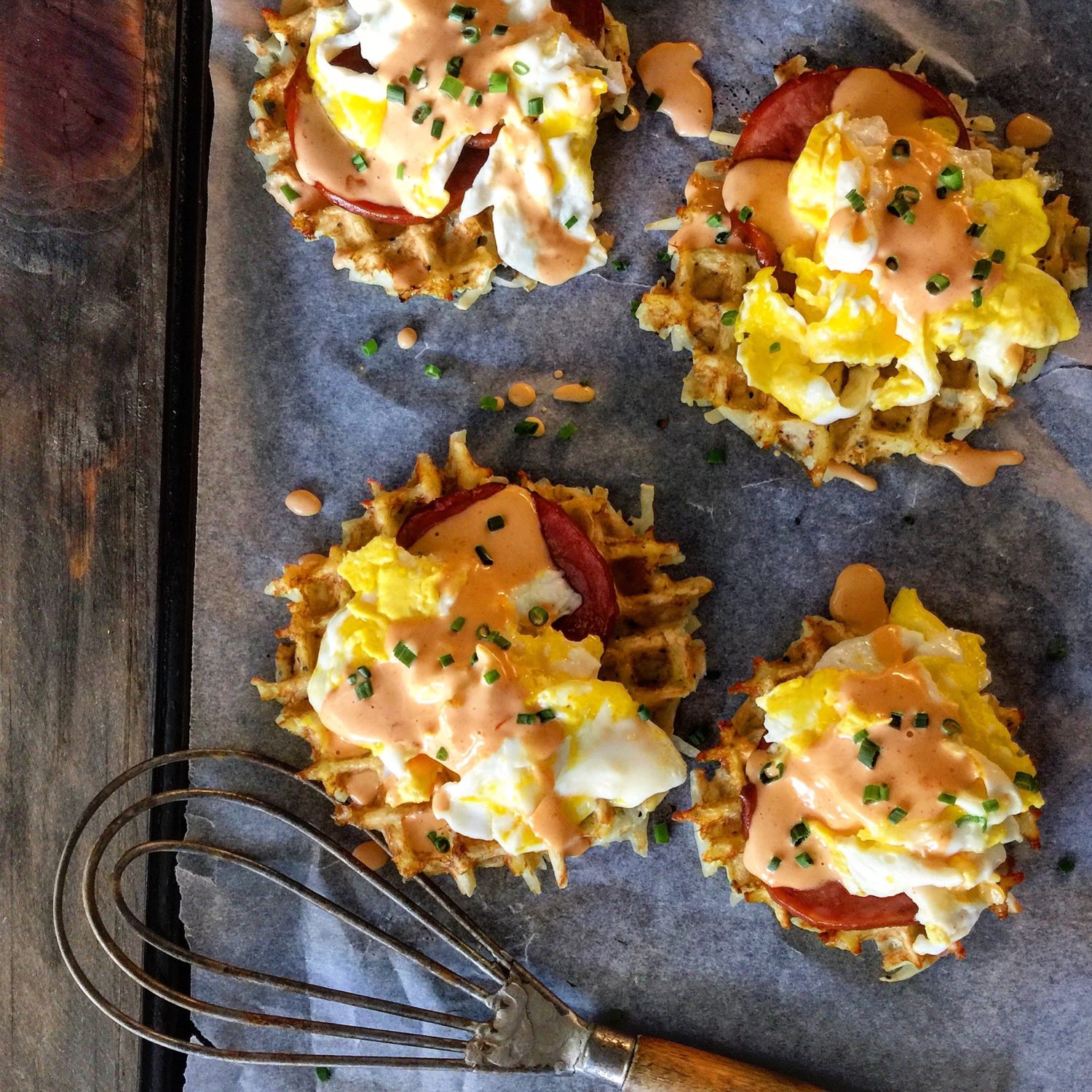 Then comes some peameal bacon (sticking with the Canadian theme!) on top of that glorious crispy golden waffle. You can make these first, in the skillet you'll use for the eggs, and then keep them warm with the waffles. And to top it all off: the frambled egg. Yes, you read correctly, the frambled egg. It's the lovely cross of fried and scrambled all in one. You know when you start off desiring a lovely sunny side up egg, but the yolk breaks when you crack it into the skillet, and you sadly watch it ooze into the glistening white? Well, this time around, you WANT that to happen. So you will actually poke that yoke, and a lovely striated effect takes place. Add a bit more Harissa sauce or tabasco sauce on top (I've included a quick, cheaters hollandaise- mayo, lemon juice and Franks Red Hot sauce!), and you have a Canadian brunch to be proud of. And no apologies needed. 'Cuz Canadians apologize a lot.
Love Jen, and drink responsibly.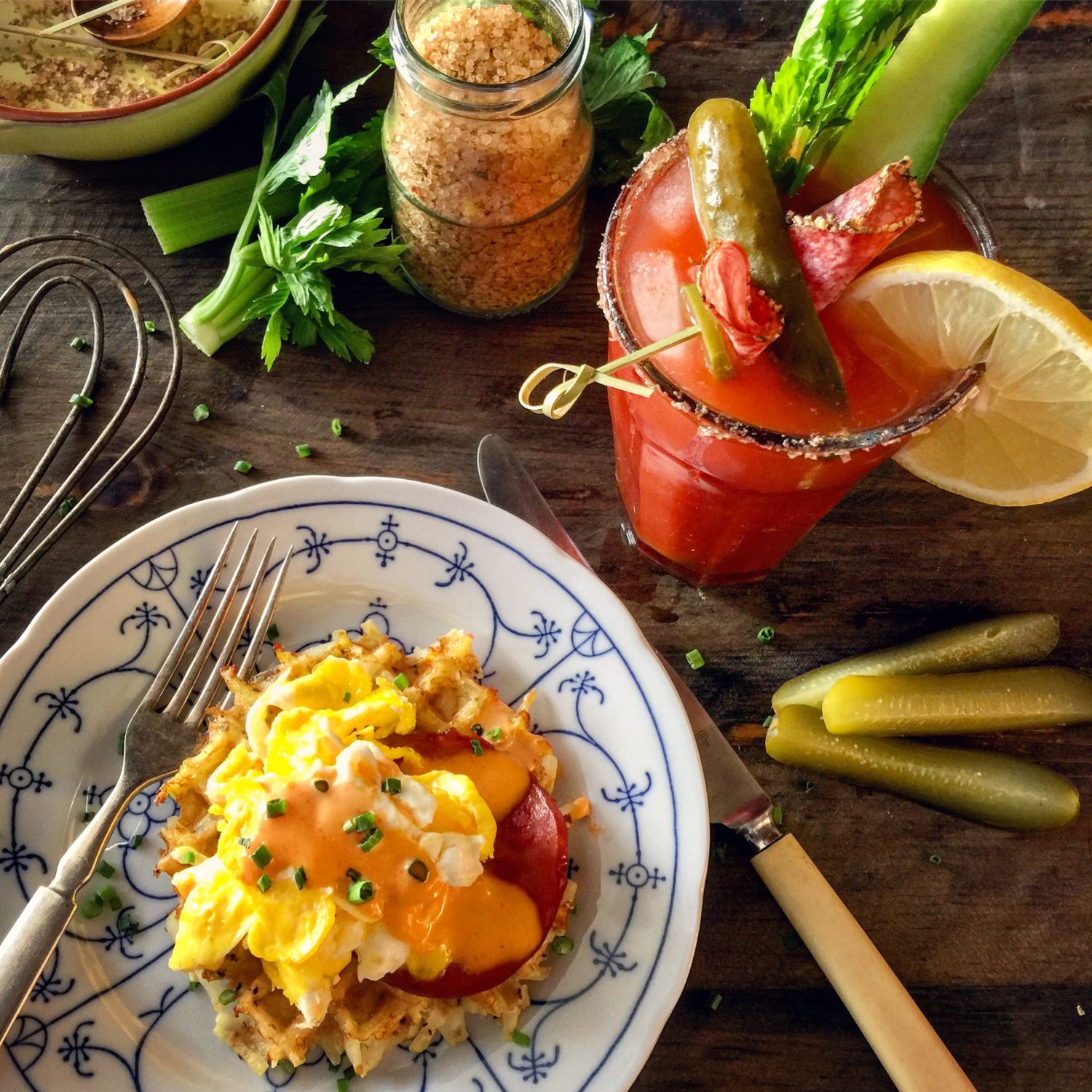 CANADIANA BLOODY CAESAR WITH FRAMBLED EGGS & PEAMEAL BACON ON HASHBROWN WAFFLES
The classic Canadian cocktail turns this brunch dish to beyond basic!!
Ingredients
CAESAR (PER INDIVIDUAL DRINK)
1

tbsp

celery salt

, with the addition of smoked salt and coarse ground pepper if desired

1

lime or lemon cut into wedges

ice

tumbler or rock glass

1/4

tsp

Entube Harissa Sauce

4-5

dashes Worcestershire Sauce

1/4

tsp

prepared horseradish

1

oz

Vodka

8

oz

Clamato Juice

GARNISHES

celery stalk

cucumber spear

olives

, pickle, salami slice
WAFFLES AND FRAMBLED EGGS
1/2

bag of shredded hash browns

, (remove at least 1/2-2/3 cup of shredded hash browns per person from the bag) Thaw and drain well

1

egg

1

tsp

kosher salt

1

tsp

cracked pepper

1/4

tsp

garlic powder

8

slices

of peameal bacon

6

large eggs

(or 8 medium)

1/4

cup

mayonnaise

1

tbsp

hot sauce

(like Franks)

juice from 1/2 lemon
Instructions
CAESAR
Place the celery seasoned salt in a shallow dish.

Take one wedge of lemon or lime and press onto the rim of the glass, coat the entire rim with the juice. Press the rim of the glass down into the celery salt, coating the entire rim well.

Fill the glass 1/2 way with ice cubes.

Add the juice from one lemon or lime wedge. Then add the worcestershire sauce, horseradish and harissa sauce. Stir with a long spoon to mix well, being careful not to disturb the rim of the glass.

Add the vodka to the glass. Top up the rest of the glass with the Clamato Juice, stopping 1/2" or a bit more from the top.

Garnish with the celery spear, cucumber spear, toothpick skewered with olives, salami and pickle. Or any other combination you would like. Feel free to be creative. I've even seen them garnished with shrimp, chicharon, grilled cheese cubes etc!
WAFFLES AND FRAMBLED EGGS
Mix the drained hash browns with the egg, salt, pepper, and garlic powder well.

Prepare your waffle iron as per the directions. Spray with a non-stick spray on both sides.

Using a 1/3 cup, spoon amount into the waffle iron. It will not spread like a typical batter, so spoon it into the shape you would like. Cook until golden. You may want to cook a bit longer, after checking the colour, just to get it more golden.

Set aside onto a baking sheet. Repeat with the remaining hash brown batter. Place the entire baking sheet into a warming oven (175F)

Using a medium sized skillet, sauté the peameal bacon at medium high till just crispy on both sides. Add to the waffles in the oven.

Clean out the skillet, and set heat to medium. Melt 2 tbsp butter. Break the eggs into the skillet. Using a knife, gently break the yolks till they start spreading into the whites. Allow to set for a few moments. Then slowly move everything around, more gently than for typical scrambled eggs. You are trying to keep the separation of white and egg intact as they cook together. Continue till the whites are set, and the yolks are perfectly golden. Do not over cook. Remove from the heat.

In a small bowl mix the mayonnaise, hot sauce and 1/2 of the lemon juice. Adjust the consistency by adding the rest of lemon juice if you want a runnier sauce.

Place waffles on a serving platter. Top with two slices of crispy peameal bacon. Top with a portion of the frambled eggs. Drizzle some of the hot sauce spread over the eggs. Garnish with chopped chives.

Serve with a Bloody Caesar!
SaveSave
SaveSave
SaveSave
SaveSave