Scones are that wonderful baked good that you turn to when you want something fun, fancy, and fast. It's the non-yeast alternative to so many other yummy options.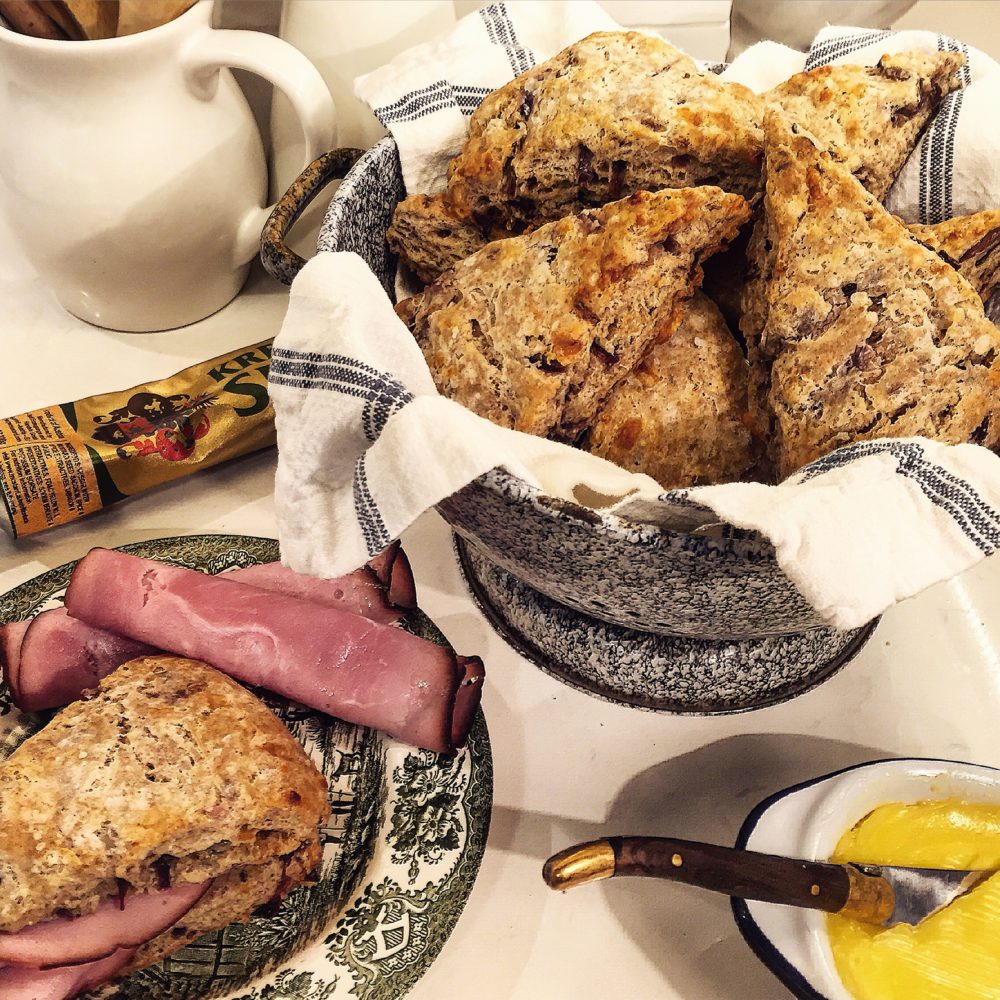 I love that once you have the basic dough nailed down, the world is your oyster as far as fillings go (hmm, oysters…?) They can be sweet or savoury, they are perfect for girls' tea or breakfast. For these savoury ones, slicing them in half and stuffing them with cold cuts, and lunch is done!
I guess I had my first scone when I was travelling in London, England. I was on my own, in my early twenties, and was trekking through southern England for a couple of months. Coming from Canada, a country with only a couple hundred years of history, I could not wrap my head around the history that surrounded me when I arrived. Suddenly I was staring at buildings that were built 900, 1000 years ago! I remember walking into a pub that was built in 1020. The ceiling was low, the floor was crooked, there was a dog sleeping ON the bar with a beer towel draped over him, and the chap behind the bar was the friendliest fellow ever. We ordered our pints, sat down, and when he brought them over, he included a deck of cards. 'Cuz that's what they do!
And I did a pub crawl with my uncle in Nottingham. We started off on bicycles and got to the first pub around 9:30 am, enjoyed a pint with some of his buddies, and then repeated the process 3 more times. Apparently he had friends scattered throughout the village who each favour a certain pub, so he just made the rounds. At each pub, the owner graciously let me leave with a beer towel to bring home as a memento. At the last pub we stopped and grabbed lunch, and my aunt met us there- she knew the routine! What a hoot, and great memory to carry with me all these years later.
Anyway, back to that first scone. I had a couple of weeks in London proper, to explore and shop. Even though I was on my own, it just seemed right that I have high tea somewhere. High Tea is such an iconic event, one that I had only read about in novels, or maybe seen on 'Upstairs, Downstairs'! I was so enthralled with the genteel process involved. So where to go? Options were aplenty. I concluded that I just had to enjoy the meal (because it really is a meal) at Harrods. Back in the 80's, Harrod's was so over-the-top astounding. Jam-packed with a cornucopia of goods and services, from the ridiculous to the sublime. Exotic animals, china, clothing, it was a department store on steroids. And on one floor was a gorgeous cafe/restaurant. I hoped I was dressed appropriately. I walked into the room, and was just mesmerized with the elegance of it all.
And I ordered High Tea for one. I sat by a window, watched the goings-on below, and took in every morsel of every course of the Tea. And when it came to the scones, clotted cream and strawberry preserves, I was dumbfounded. Clotted cream, you became my new best friend. Until of course my metabolism slowed down, and I couldn't indulge so effortlessly. The scone was simple, delicate, tender, and oh so yummy. So scones will always remind me of that singular event, taken in by a single girl, totally at bliss in her solitude.
For years, I relied on the sweet scone. They take to berries or dried fruit equally well. Play with the spices. And go for a grand glaze to dress them up. But lately, I'm liking the savoury even more. They can be whipped up for breakfast without having to get up hours in advance. They can replace bread or buns, but with a bit more flavour, depending on how much I wanted to embellish. I think this one though is my absolute favourite savoury. It has the flavours of my German heritage, with a touch of sweetness from the onions, and the pleasant tang from the gruyere cheese. They come together beautifully, stay in the fridge for a few days and reheated in a toaster oven easily. And freeze the ones you won't use right away. They reheat from the freezer beautifully as well.
I hope you enjoy these scones as much as I do. They may not show up on a High Tea tray or stand, but that's alright. High Tea is an occasion. These are everyday, and make everyday oh so yummy 🙂 If Germans made scones, they would make these!
Love Jen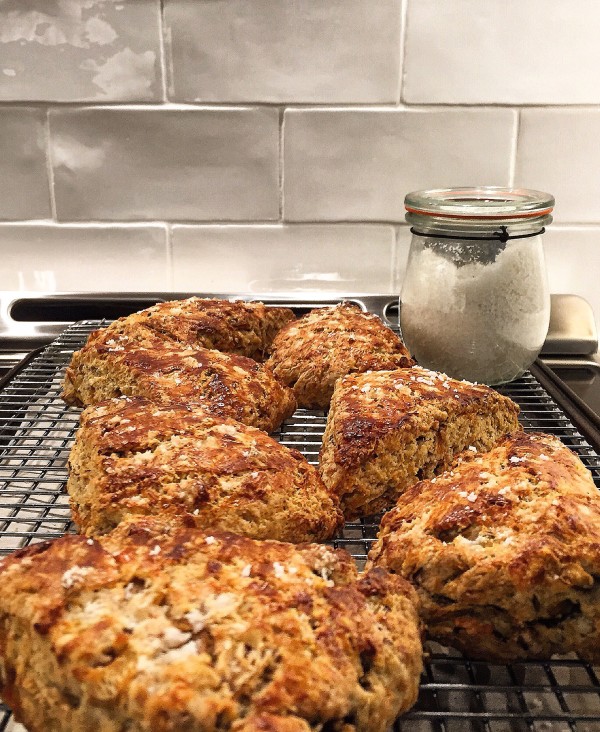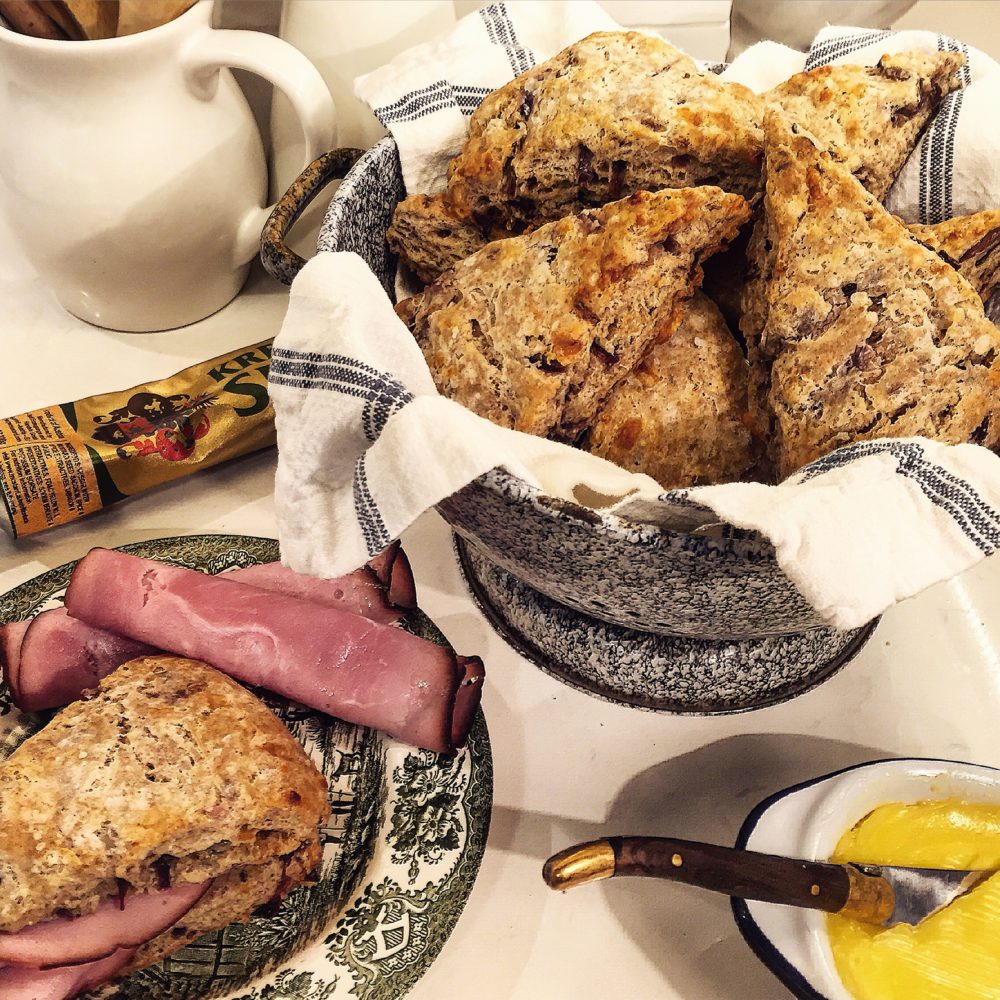 Caraway Rye Scones with Caramelized Onions and Gruyere
A lovely, tender, flakey savoury scone with rye and caraway seeds, harkening to European breads. Even better, they are filled with caramelized red onions and gruyere cheese. The best!
Ingredients
8

tbsp

(1 stick) unsalted butter

chilled or even frozen

1 1/2

tbsp

caraway seeds

1

large

red onion

peeled, trimmed and thinly sliced (north to south poles)

1

tbsp

olive oil

kosher salt

1

cup

(130 g) rye flour

1

cup

(130 g) AP flour

1

tsp

baking powder

1/4

tsp

baking soda

1/2

cup

plain kefir

or sour cream or even Greek yogurt, plus a bit extra for brushing the tops of the scones

1

large

egg

1

tsp

honey

8

tbsp

(1 stick) unsalted butter

chilled (even just from the freezer)

1/3

cup

shredded Gruyere cheese

Maldon salt

for garnishing
Instructions
In a large dry skillet over medium heat, toast the caraway seeds until fragrant, about 1 minute. Transfer to a small bowl.

Add the onions and the olive oil to the skillet and increase the heat to med-high. Cook until they begin to brown and turn somewhat soft, about 5 minutes.

Add a pinch of sea salt. Continue cooking until they are soft and caramelized, about 5 minutes longer. Cool completely.

Heat the oven to 400F. Line a baking sheet with parchment paper.

In a small bowl, whisk together the flours, baking powder, baking soda, 1/2 tsp of sea salt, and the caraway seeds.

In a separate bowl beat the kefir (or sour cream), egg, and honey.

Using the large holes on a grater, grate about a quarter of the stick of the cold butter (2 tbsp) into the flour mixture. Toss around lightly. Repeat the same way with the remaining 3/4 of the stick.

Stir in the wet mixture into the flour-butter mix.

Stir in the onions. Stir in the cheese. Mix lightly until the dough just comes together.

On a lightly floured surface, pat the dough into a round, about 3/4" thick.

Cut the circle into 8 wedges. Transfer to the prepared baking sheet. You may want to use a bench scraper or spatula to ensure they come off the counter easily. Allow for 1" space between each wedge.

Brush the tops of the scones with extra kefir or sour cream. Sprinkle each with the finishing salt.

Bake until the undersides are golden brown, and the tops are golden but still a tad soft. This should take about 15-17 minutes, depending on your oven.

Cool about 10 minutes. They are best served warm.
Recipe Notes
These keep well in the fridge for a couple of days. Reheat in a toaster oven (not a microwave)
You can also freeze any you don't plan on using right away. Again, they defrost wonderfully, and can be rewarmed in a toaster oven or conventional oven.
These were adapted from NY Times Savoury Scones with Onions, Currants and Caraway
SaveSave