It's that time again. Bananas are turning. And while I could add them to the bag of frozen bananas in the freezer,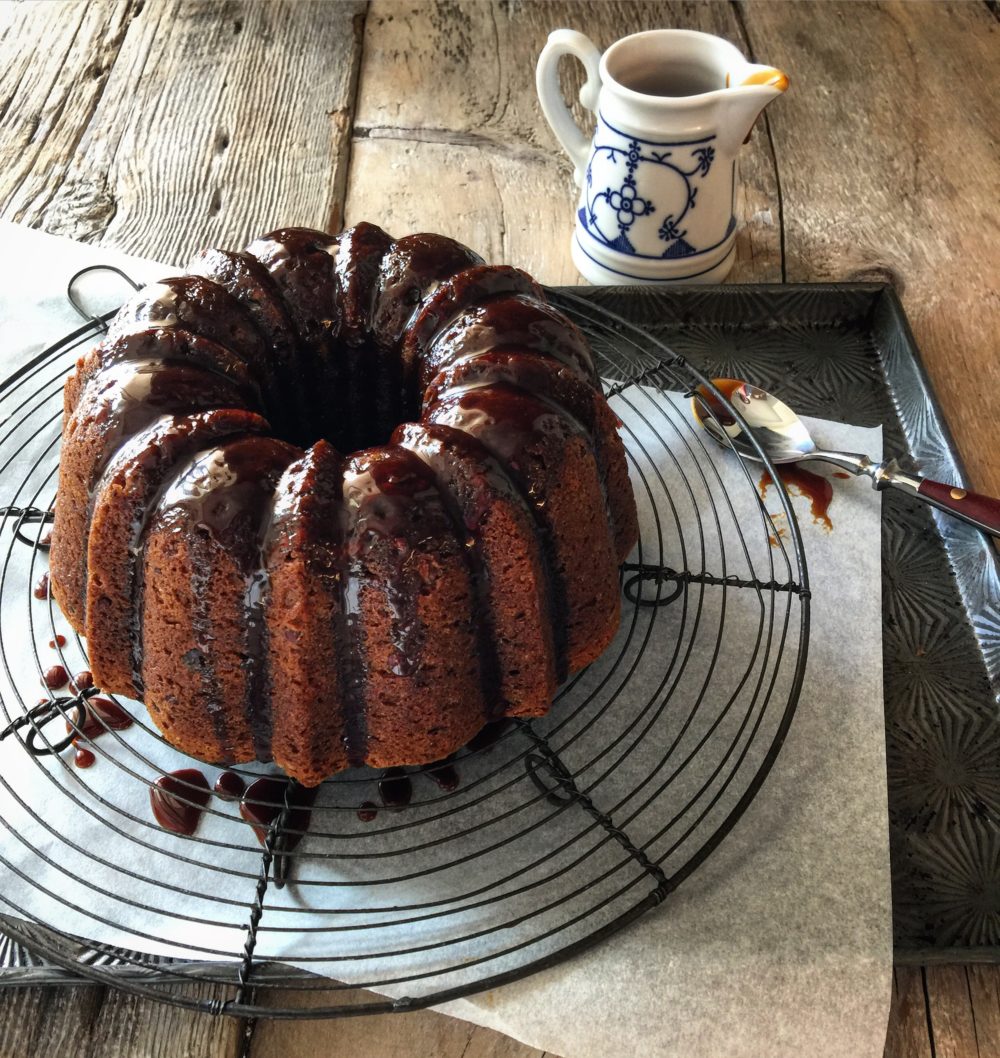 I decided that these ones would get used right away. It was a gorgeous, sunny, above normal temperature day here in Toronto yesterday. I had the door open to the balcony, to let the fresh air come through the screen door to keep me company in the kitchen. And it just seemed that part of my morning deserved to be spent baking. So I baked up this cake.
I could have made banana bread. I do love my banana bread recipe. It's moist, full of walnuts and chocolate, and perfect warm with a slather of butter. But instead of a loaf, I decided I would do something a little lighter, but still moist and even worthy for company (not that we expected any). So I made a cake. I did take some of my favourite aspects of the loaf recipe to this one as well. I would caramelize the bananas, and add the cocoa nibs. But it is lighter and smoother from the addition of sour cream. And the cardamom and cinnamon added depth. And of course, the crowning glory- the bourbon caramel sauce drizzled over the warm cake. Dang! Even though it is lighter than a banana bread, this cake has a ton of depth- it is pretty rich, even without the glaze.
It's really an easy batter to whip up. Caramelizing the bananas and mashing them up is just fun. And it smells divine! The hardest part of this recipe is to remember to take the butter out, to get it to room temperature before you are ready to bake. I often get the urge to bake on a whim, only to realize that the butter for the recipe needs to be softened already. But I store my butter in the freezer, in sticks and half-sticks. Which is fine if the butter is to be melted. But when it needs to be softened to room temperature, it needs to come out the night before. This time around I put the stick of butter into a ceramic dish and into the toaster oven to defrost. Well, of course you know how that works. Bits start to melt before the insides are even thawed. I had to keep breaking it up to help the process out. In the end it did work, but not in the classic, cooking school way. But it was fine. And it whipped up perfectly with the sugar till nice and fluffy.
And of course, after the customary time cooling in the pan, I flipped it out onto a cooling rack and decided it needed to be wearing something. A little touch of the decadent. So naturally, my Bourbon Caramel Sauce was the perfect choice. I warmed up about 1/2-2/3 of a cup gently in a little pot (use more, if you really want it coated in glaze!), and then once it had cooled slightly, I drizzled it over the cake. It ran down the edges and crevices, slowing to a meandering syrup, till some eventually pooled under the rack. That lovely pool of excess caramel looked as good as the stuff on the cake, so I won't lie, after I moved the cake, I did take a spoon and scoop it all up and inhaled it. Sublime.
This cake soaks up the bourbon glaze, till it permeates into the cake itself in the most delightful way. If you serve this cake warm with a side of vanilla ice cream or slightly sweetened creme fraiche, it becomes a dessert worthy of any company gathering.
This recipe is for a smaller bundt pan (I used a 6 cup capacity bundt pan) But if you have an 11-12 cup bundt pan, you can easily double this recipe. I find that unless I am feeding a crowd, our house is fine with the smaller pan. Even then I can probably cut the cake in half and freeze it. Probably it's because it is a pretty rich cake, flavour wise. I could easily serve 10 with the smaller version. But if I was bringing it to a pot luck or feeding a large crowd etc, then I can totally see making the larger version.
So, like most banana bread/cakes, this tastes even better on day two. I had it for breakfast this morning. I'm sure I convinced my self that it is healthy (the banana and cocoa nibs) and it's not like I have cake for brekkie every day. Really.
Love Jen.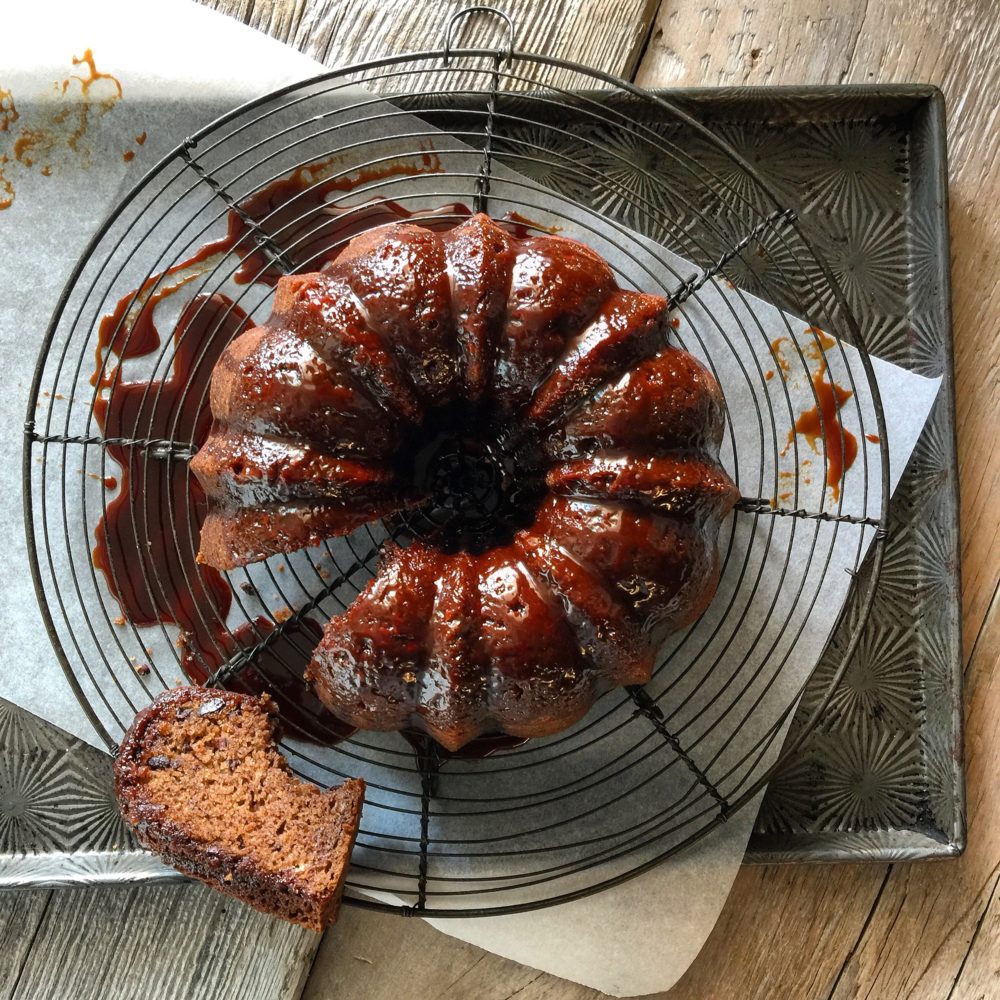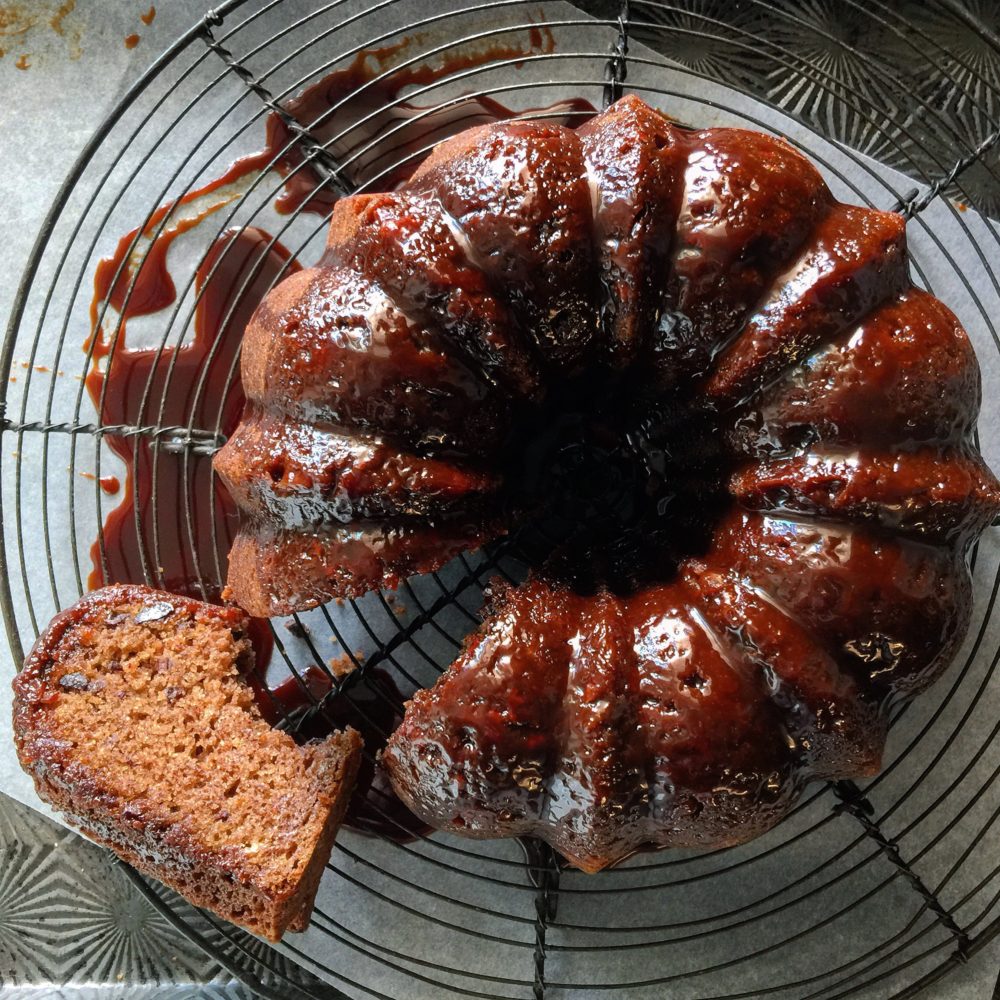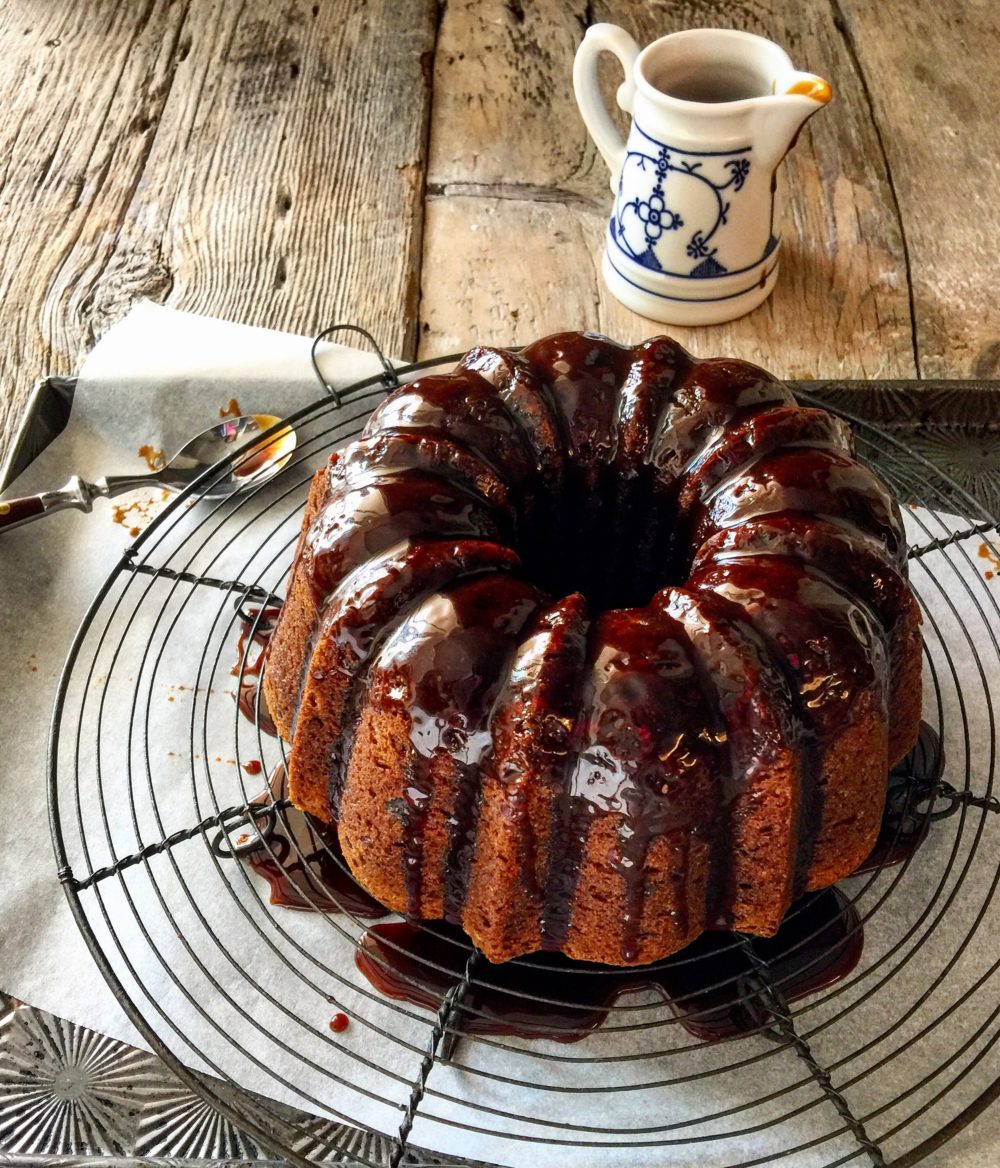 Cardamom Banana Cake with Bourbon Caramel Glaze
Total Time
1
hour
15
minutes
Ingredients
1

tbsp

butter

2

ripe bananas

cut lengthwise and then into 2 inch pieces

1 1/2

cups

AP flour

1

tsp

baking soda

1

tbsp

cardamom

1/4

tsp

salt

1

stick

butter, softened

or 8 tbsp

1

cup

granulated sugar

1

large egg

1/2

cup

sour cream

1/2

cup

cocoa nibs

1/2-2/3

cup

of my Bourbon Caramel Sauce

see archives
Instructions
Preheat the oven to 350F.

Grease and flour (if needed) a 6 cup capacity bundt pan. Set pan onto a baking sheet.

In a skillet set over medium heat, melt the butter.

Add the pieces of banana and caramelize in the butter, cooking till turning golden with a touch of brown on each side. Remove to a bowl and mash finely. Set aside.

Mix the flour, baking soda, cardamom, cinnamon and salt together in a small bowl. Set aside.

Place the softened butter and sugar into a stand mixer bowl (or use a hand mixer) Using the paddle attachment, whip until fluffy, about 5 minutes.

Add the egg and blend well. Fold in the flour mixture and blend to just combine, no further.

Add the sour cream and mashed bananas. Mix to just combined. Do not overmix.

Fold in cocoa nibs.

Pour the batter into the bundt pan and smooth the top. Tap the pan lightly to release any air pockets.

Bake in the lower third of the oven for 60 minutes. Or until golden on top and a skewer comes out clean. This cake gets a pretty good rise. If you find that the batter has risen and the top is starting to turn a tad too brown, feel free to cover with some tin foil, lightly.

Place the bundt pan onto a cooling rack. After 10-15 minutes you should be able to turn the cake over to release from the bundt pan.

In the meantime, take the Bourbon Caramel Sauce and reheat in a small pot set over medium low heat, till just runny. Let cool slightly.

Drizzle the cake with the caramel sauce. I leave the cake on the cooling rack, and place it over a parchment lined baking sheet. Makes for easy cleanup.
Recipe Notes
This cake can be baked up in any 6-7 cup capacity baking pan. If it is wider etc, it may affect baking time, so check accordingly.
This cake will taste even better the next day. Keep in a sealed container, for a few days. Or refrigerate for up to one week. But really, will it last the week?
SaveSave
SaveSave