Jim is watching the Grey Cup right now. This is Canada's version of the NFL's Superbowl.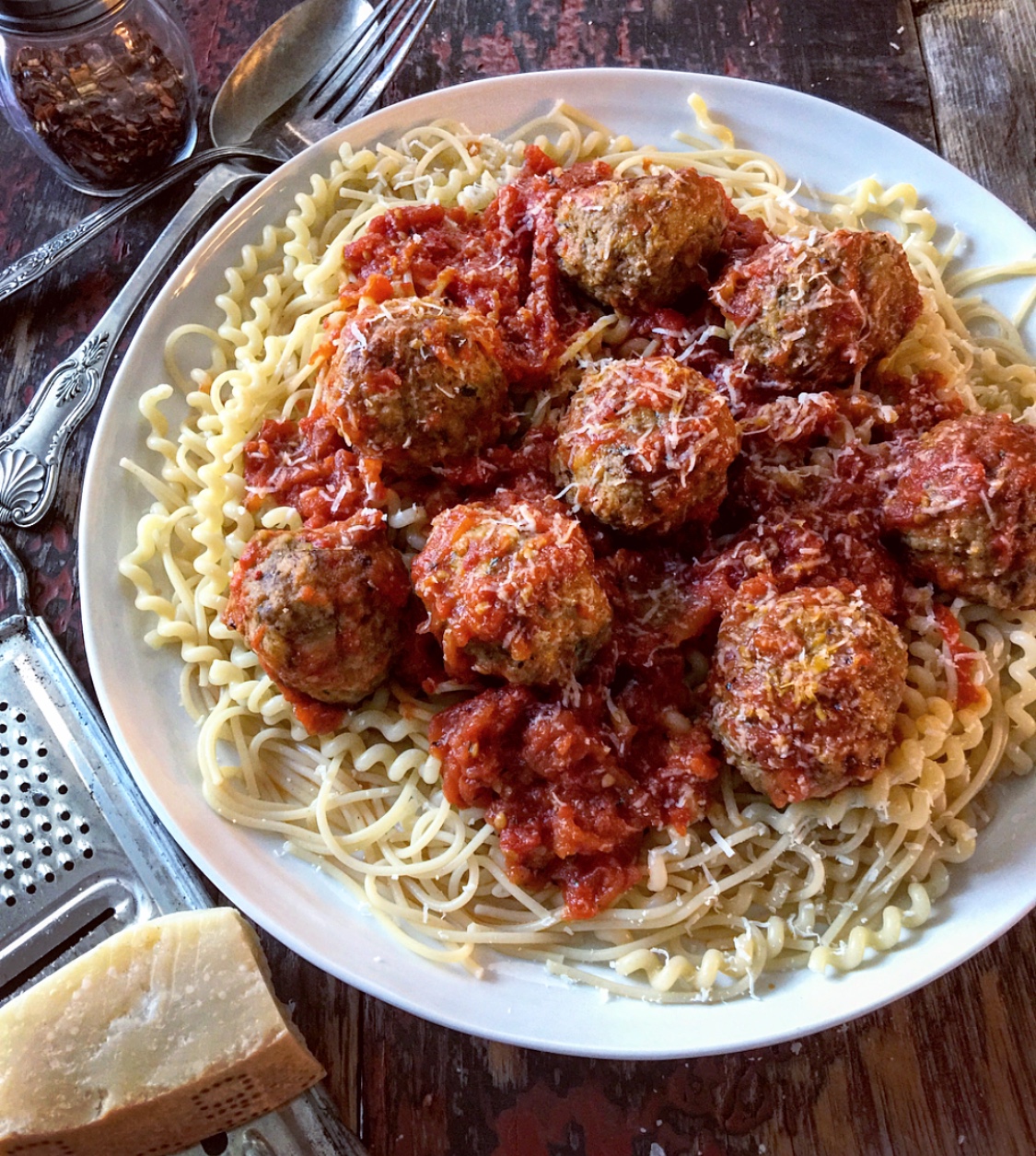 Little known fact: the first recorded game of football (the North American version of British rugby) happened in Canada, Eh?! And the Grey Cup is the oldest sports trophy awarded to a professional team in North America. But we are definitely the NFL's little cousin, having way fewer teams. Nine to be exact!
But that didn't stop us from having two teams with the same name: the Saskatchewan Rough Riders and the Ottawa Rough Riders. Really, in a country so vast we couldn't muster up the imagination to come up with the Chomping Beavers, Towering Pines or Bellowing Moose? So, this year Ottawa made the magnanimous move and changed their name, to the Ottawa Red Black. What. Does. That. Mean?
Anyway, like any good final football game, it really is all about the food. And if you're in the host city, it's also about getting all painted up in your team's colours, grabbing those big foamy fingers and your parka for a party. But for everyone else, it means getting together in front of tvs (at home or in sports bars) and chowing down. I really do love all the foods that go along with the experience of sharing an evening where there may be yelling at the tv, cheering when a touchdown is made, and laughing if the half-time show is more cheesy than entertaining.
You gotta love a Canadian half-time show. Rarely would we have to worry about a 'wardrobe malfunction', since most entertainers are in plaid shirts, jeans, parkas, or at least scarves and ear-flappy hats. It's a big country hoedown, complete with a couple of bales of hay strategically placed on stage. All joking aside, we are the home of the some fantastic rock and pop and country musicians and performers. But thankfully, as in most other scenarios, we don't take ourselves too seriously. It seems for the most part, our music success stories are more 'kid next door' vs 'head too big to fit through the door divas'. So while we may not put on the light and pyro shows that the Superbowl is known for, we can sit back and sing along with some pretty decent musicians and vocalists.
Back to the food. Nachos, chicken wings, 7-Layer dips, pizza, chips, all the foods that make you grin…and reach for a Tums later on! I used to be able to eat all of the above (even in one sitting) with no repercussions. Not so anymore. In fact, all of those greasy, fried, carb-loaded, spicy foods don't like me after a certain hour. So I may make all of them, if we have friends joining us for the eve, but I enjoy sparingly. This year is not one of those eves. Just the way things worked out, we were doing good to get home to watch the game. And we had a pretty decent lunch, so that even Jim said, "I'm not that hungry at all." Well, we have to eat something, and I'm not going to start cooking him a meal at 7pm. If I'm sitting all relaxed on the couch under a blanket, the idea of getting back up to start cooking just isn't appealing, no matter how much I love being in the kitchen. So this year, it was leftovers: the Cheesy Baked Meatballs from last night.
This is a wonderfully rich meal, but in a good way. The fact that it says cheesy implies oozy, gooey cheese, which is always a good thing. My meatballs are the result of trying all sorts of recipes through the years, and stopping when I created the One. Moist, just spicy enough, tender, and yet a lovely crust on the outside. The perfect meatball. These are made with a combination of lean to extra lean beef (or bison), spicy Italian sausages, parmesan cheese, seasonings, homemade fresh breadcrumbs (more like torn bread) and milk. They are super moist, therefore oiled hands are a necessity to form them. They are not bland, but have a wonderful kick. As per the instructions below, why not make up a big batch and freeze some? You'll thank me, I promise!
In fact, on a rainy day, meatball prep is one of my favourite pass-times. Get the music going, and have some fun. You will find that my mixture turns out REALLY moist and sticky. It's supposed to be this way. This ensures that you won't have a tough dry meatball. Another key: don't overwork the meat. Just mix with your fingers till ingredients are incorporated. And then stop. As for the moist part: you will be adding milk in stages. Do let it soak in before adding more. You will be surprised by how much gets absorbed by the breadcrumbs. Of course, the type of breadcrumbs you use will also affect how much milk you will need. Using fresh will mean more milk, but will be far more tender. Dry old breadcrumbs will only absorb so much. Really, just don't use dry old breadcrumbs, okay?! Just whiz up some day old bread in your food processor till fluffy bits are left. If you don't want to do that, even cutting or tearing them into smallish bits (like the size of rolled oats) will be great.
My other tip which is crucial is this: Do not roll up one meatball until you have tested the mixture. Take a small bit and create a mini hamburger (the size of a quarter) and sauté in a skillet, till just cooked through. This will take only a few minutes. Let it cool and then taste it. Do you like how much seasoning is there? The type of Italian sausage you used will affect this. If it requires more, now is the time to add more to the bowl and mix it throughout. This way you will know that the meatballs you are about to roll up are to your liking.
You should get about 20-24 meatballs, depending on how big you roll them.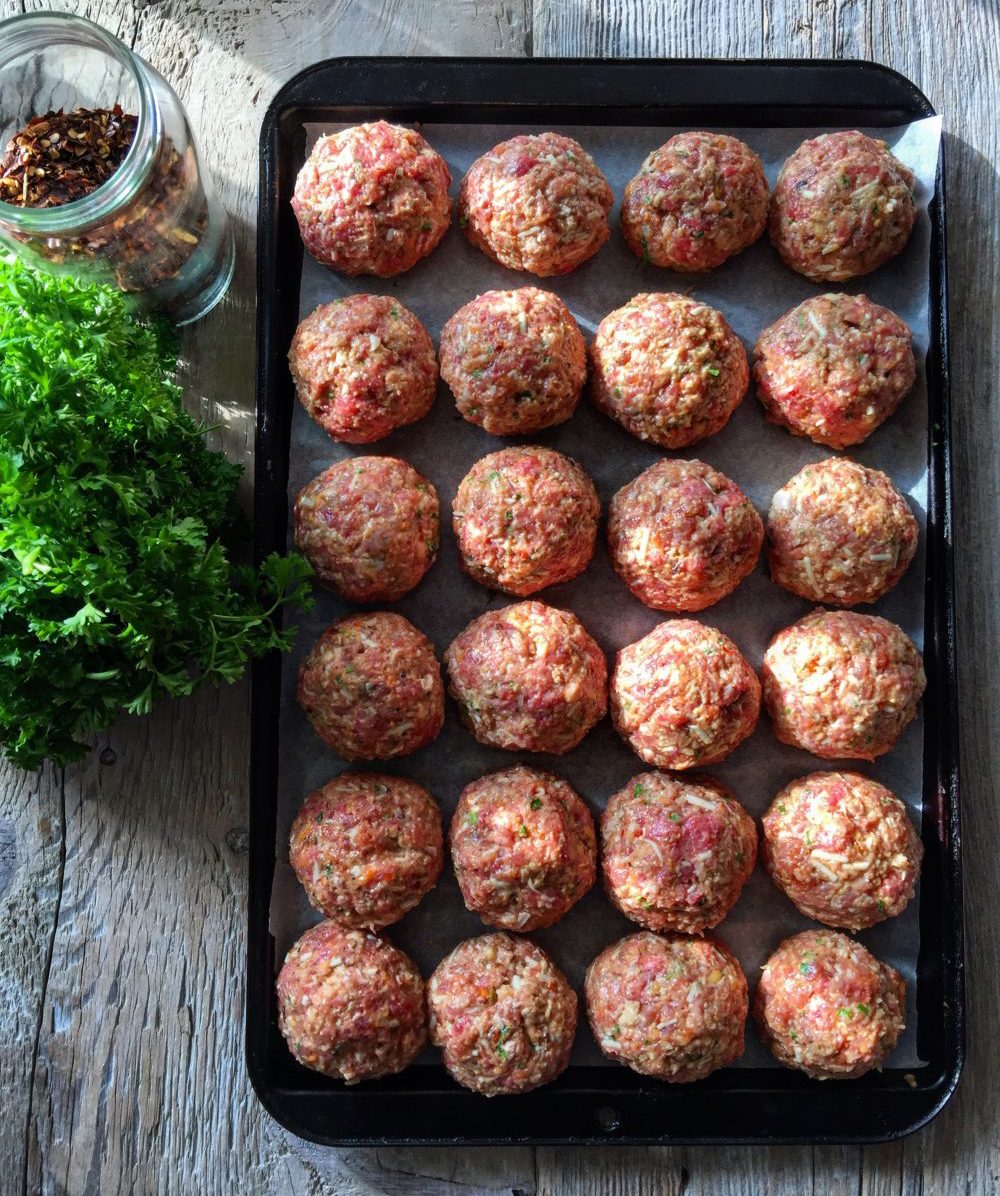 When it comes to a good tomato sauce, I'll be the first to admit, that once I found Marcella Hazan's Tomato Sauce, I was hooked. It is scary how so few ingredients come together to make the best tomato sauce I've ever had. Deceptively easy, and yet packed with flavour. So with my meatballs, her's is my go-to sauce. I could stop there and have a brilliant meal that comes together scary easy. Especially if you've made a batch of meatballs that are waiting in the freezer that you can just tap into. The sauce is ready in no time. Dinner is done. But…the idea for baking them together with layers of the most decadent cheese came from Tieghan Gerard's Half-Baked Harvest blog. This takes those meatballs and sauce to a whole new level. New galaxy!! I borrowed her idea shamelessly here. Thank you Teighan!
And if you don't have the time or desire to complete all three steps, just make the sauce and the meatballs and call it a night. It's the perfect meal, any day of the week. I probably make it once or twice a month. Making a full batch of meatballs and freezing them means that this meal is literally less that an hour away. (of course you do need to pull out some meatballs and thaw them first. But this can be done in the morning, and left in the fridge to thaw throughout the day) The sauce is brilliantly easy, so even when you get home, you can whip it up- everyone will thank you.
I know this isn't typical game day food. But it is total comfort food. I can make wings tomorrow night! What do you guys eat when a gang is over for a movie or game? Your fave group munchies?! Would love to hear!
Love Jen.
Baked Cheesy Meatballs
The perfect tender, flavourful meatballs nestled in a scandalously easy sauce and layers of oozy cheese!
Total Time
1
hour
25
minutes
Ingredients
Meatballs
1

lb

spicy Italian sausage

(casings removed)

1

lb

extra lean ground beef

1

cup

grated parmesan or romano cheese

2

tbsp

fresh chopped parsley

1

large or 2 medium garlic cloves

(minced)

2

tsp

each kosher salt and cracked pepper

(or to taste)

1-2

tsp

cayenne pepper

(to taste, depending on how spicy your sausages are)

2

large eggs

(beaten)

2

cups

fresh breadcrumbs

(don't use old dried ones, better to tear bread into small pieces)

1 1/4

to 2 cups milk

olive oil
Sauce
1 28

oz

(796 ml) can of San Marzano tomatoes

1

medium onion

(cut in half, or for the baked meatballs, sliced thinly)

Salt to taste
Baked Cheesy Meatballs
8

oz

(225 g) grated provolone cheese

4

oz

(115 g) fresh mozzarella cheese (sliced)

2

tbsp

fresh oregano

(chopped)

Pasta

(the type you want to use, spaghetti, penne, rigatoni etc)
Instructions
TO MAKE THE MEATBALLS
This recipe makes 20-24 meatballs. You may only be using 8 (to feed 4) of them for the baked meatball recipe. You can freeze the rest of the unmade meatballs for your next dinner.

Combine the sausage and beef in a large bowl. Using only your fingers (remove any rings!), break up and mix sausage meat into the beef until gently combined (don't overwork, or the meat will become tough when cooking them)

Add the grated cheese, parsley and garlic. Season with salt, pepper and cayenne. Better to add less and adjust later- you don't know how seasoned the sausages are. Add the beaten eggs. Next add the breadcrumbs and mix everything well (using only your fingers).

Add one cup of the milk, mix. Let sit for a minute to soak up the milk. Continue to add milk, 1/4 cup at a time, until the mixture has achieved the a sticky, moist consistency. The amount of milk you will need will depend on the breadcrumbs. And the mixture should be very moist and sticky!

Break off a small piece, form it into a small patty about the size of a quarter and sauté it in lightly oiled sauté pan. Taste this. Adjust your seasonings to the rest in the bowl at this point if needed. This way you haven't formed the meatballs in vain!

Pat down the mixture in the bowl, and gently use the side of your hand to visually divide the mixture in half. This way you'll know how many meatballs you are creating (you want 10-12 from each half)

Using lightly oiled or wet hands, shape the mixture into 2-2.5″ balls. (If you see the photos above, you will see that this size means about 4 across, and 6 rows of them, fit onto the average sized baking sheet).Place onto a baking sheet. You can either bake them all off as stated below, only bake off what you need and freeze the rest, or freeze them all and then take out what you need when the mood strikes. Freezing directions are below.

For Baked Meatballs:

Take the amount of meatballs you need and put into a lightly oiled baking dish or casserole dish. The size of the dish will depend on the amount of meatballs you want to bake off. To feed four people you may only need 8-12 meatballs. Just leave room for approx 2.5 cups of sauce.

Preheat the oven to 450F

Bake for the meatballs for 15 minutes uncovered, until the meatballs are crisping up on the outside, but not done on the inside. Remove from the oven.

In the meantime, prepare your sauce.
FOR THE Baked version of the SAUCE
Take the can of tomatoes, as well as all juices and blend using a blender or food processor. Alternatively, you can squish the tomatoes in a bowl to a small chunk using your fingers.

For the baked meatball sauce, add the onion slices and seasonings to the blended tomatoes in the blender.

Pour the tomato mixture over the par-baked meatballs, and dot with 4 tbsp of softened butter. Cover with foil.

Bake for another 25 minutes or until meatballs are cooked through.

While meatballs are baking, prepare your pasta of choice and drain well.

Remove the meatballs and sauce from the oven. Sprinkle the entire dish with the provolone cheese and then layer the fresh mozzarella over this. Do not replace the foil. Bake uncovered for another 10 minutes till the cheese is melted and golden.

Sprinkle the entire dish with fresh, chopped oregano. Serve over favourite pasta (which you prepared while the cheese was melting).
SAUCE
If just wanting to make the sauce without the baking part of the recipe, feel free to use a large jar of homemade tomatoes: 1litre (4 cup) Mason jar.

You will just need to cook the sauce down longer till you get the consistency you like.

The sauce is wonderful on its own, a very flavourful and yet light sauce. If just making a pot of sauce, pour the crushed tomatoes into a pot, add salt, cut the onion in half and lay cut side down into the sauce.

Add 5 tbsp of butter (for baked recipe above I cut down the amount butter, since there was already olive oil in the baking pan).

Simmer, partially covered for 45 minutes to 1 hour, stirring occasionally. Remove the onion, which will have imparted all its goodness into the sauce (unless of course you want to eat those softened pieces on velvety onion!

Season with salt and pepper.

If you just want to prepare the meatballs and sauce, take the amount of meatballs you want, place them on a baking sheet and bake for 15 minutes at 450F. Remove from the oven.The sauce should be started at the same time on the stove top.

When the sauce is about half way through cooking, add the meatballs and let them simmer in the sauce until everything is ready.
Recipe Notes
This is really 3 recipes in one. The meatballs can be made anytime. Place uncooked ones onto a parchment lined baking sheet and put the baking sheet into the freezer. Once frozen you can place them into a freezer bag and store until needed.
You can also make the sauce in advance.
By combining the meatballs, sauce and cheese, you have achieved a case of where the total is greater than the sum of the parts. Enjoy!
SaveSave
SaveSave
SaveSave
SaveSave
SaveSave
SaveSave
SaveSave