I know, I know, I've really lived for cherries this season! I just don't want the season to end. Cherries hold a special place in my heart, for so many reasons.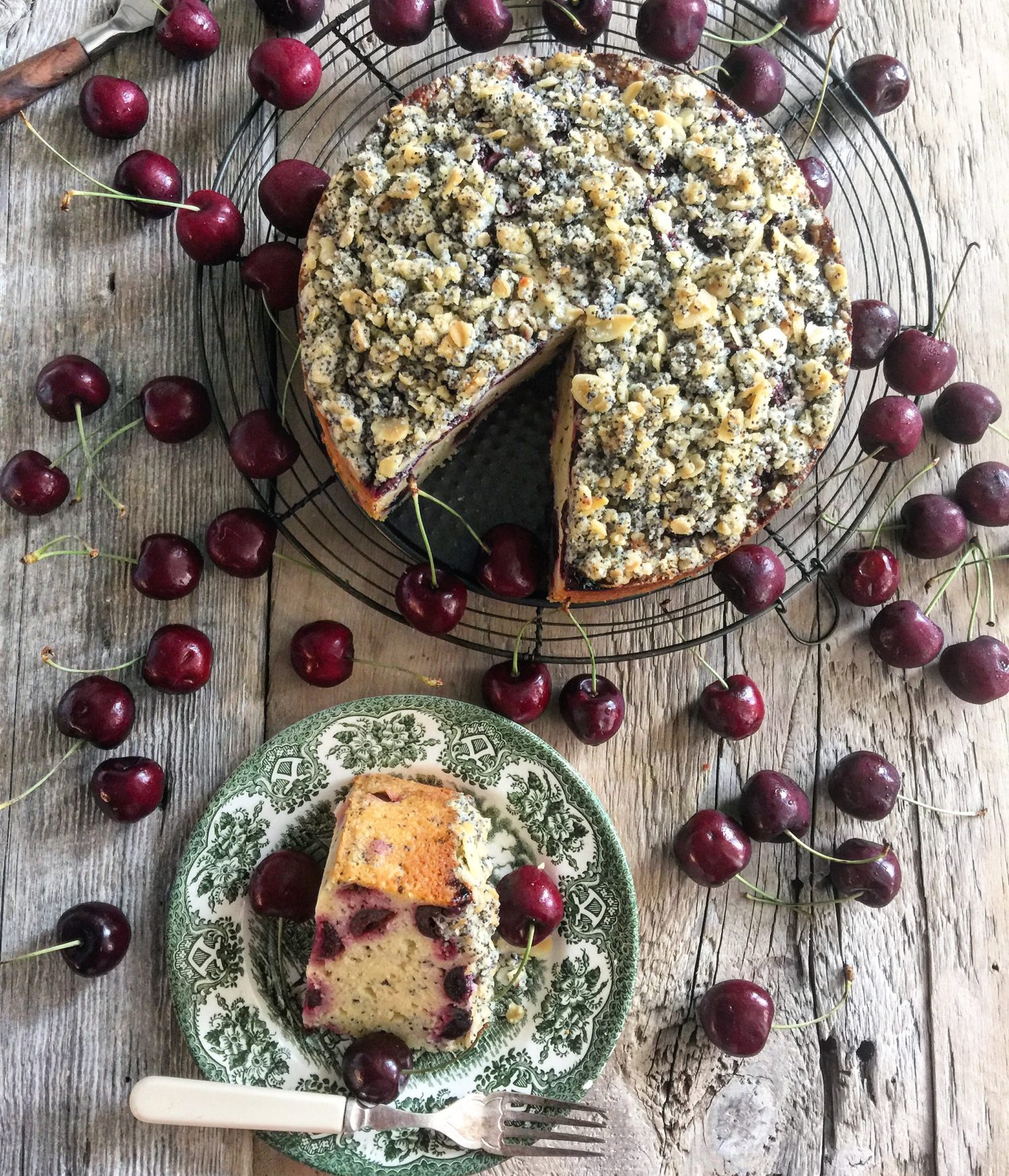 We had cherry trees growing up, that I looked forward to climbing every year. They were small enough for an 10 year old girl to navigate, but strong enough to hold said girl as she filled her belly eating the ripe cherries right then and there.
When I was about 9 or 10, I was devouring every book I could get my little hands on. The Bobbsey Twins were a personal favourite at that age (anyone else out there read these bigs as a youngster?) Anyway, Nan, the elder female twin, received a cherry coloured twin set one year. I suddenly decided that this sweater set must have been the most beautiful garment ever worn! That rich cherry colour of the top and cardigan must have been so special. So I made it my mission to one day have a cherry twin set of my very own! I did achieve that goal a few decades later, thanks to J Crew!!
I loved the name Cherry, thanks to another series of books I read as a girl: Cherry Ames.
Cherry desserts are completely delectable. Cherry ice cream is beyond yummy. Chocolate covered cherries. It's even cherries that make their way into Black Forest Torte.
So, I wait impatiently for cherry season each year, and then panic that it will end before I have had my fill. This year was no different. I put cherries in pies (Cherry Rhubarb Pie), in a vinegar Shrub (Cherry Shrub with Juniper Berries) I made a version of Marion Burros' cake like torte with cherries instead of plums (Cherry Torte with Fresh Rosemary) and now I've made the most delightful Cherry, Poppy Seed and Yogurt Cake, thanks to 'Sweeter off the Vine' by Yossy Arefi. An amazing book that celebrates fruit desserts, using them in all sorts of fresh ways. Every season is covered, with something for everyone in this beautiful book.
I knew I had to try her dessert for several reasons. First of all cherries, duh. Second, poppy seeds, they add such a lovely texture to the moist cake. And then that wonderful streusel topping of oatmeal, flour, poppy seeds, sweetener and butter. The poppy seeds not only add crunch, but they add a dramatically dark hue to the topping. All those little black flecks really have an impact.
I decided to adjust it just a touch. Instead of the cup of yogurt that Yossy calls for, I used 1/2 skyr, and 1/2 cup kefir. Because that is what was in the fridge. I also increased the amount of lime zest in the batter. There is something so refreshingly fresh about using lime as the background flavour instead of the usual lemon (not that I mind lemon!) And I added sliced blanched almonds to the streusel topping. Cuz I love the look of sliced almonds! And almonds go so well with cherries. All in all, they are additions that I will always use going forward, for this cake. It came together perfectly. Instead of using a loaf pan as she suggests, I used an 8 inch springform pan- I just love the way the pan releases so easily, leaving behind a perfect edge, making it wonderful for dessert for company. The batter creates a moist, tender crumb, where cherries rule as king.
You can slice as is for breakfast. Or add some creme anglaise drizzled over, and it will make a stunning and yummy dessert.
I have a few cherries left. And I am now off to pit them. So that I can freeze them. And have cherries in January, when I am suffering from cherry withdrawal!
Love Jen.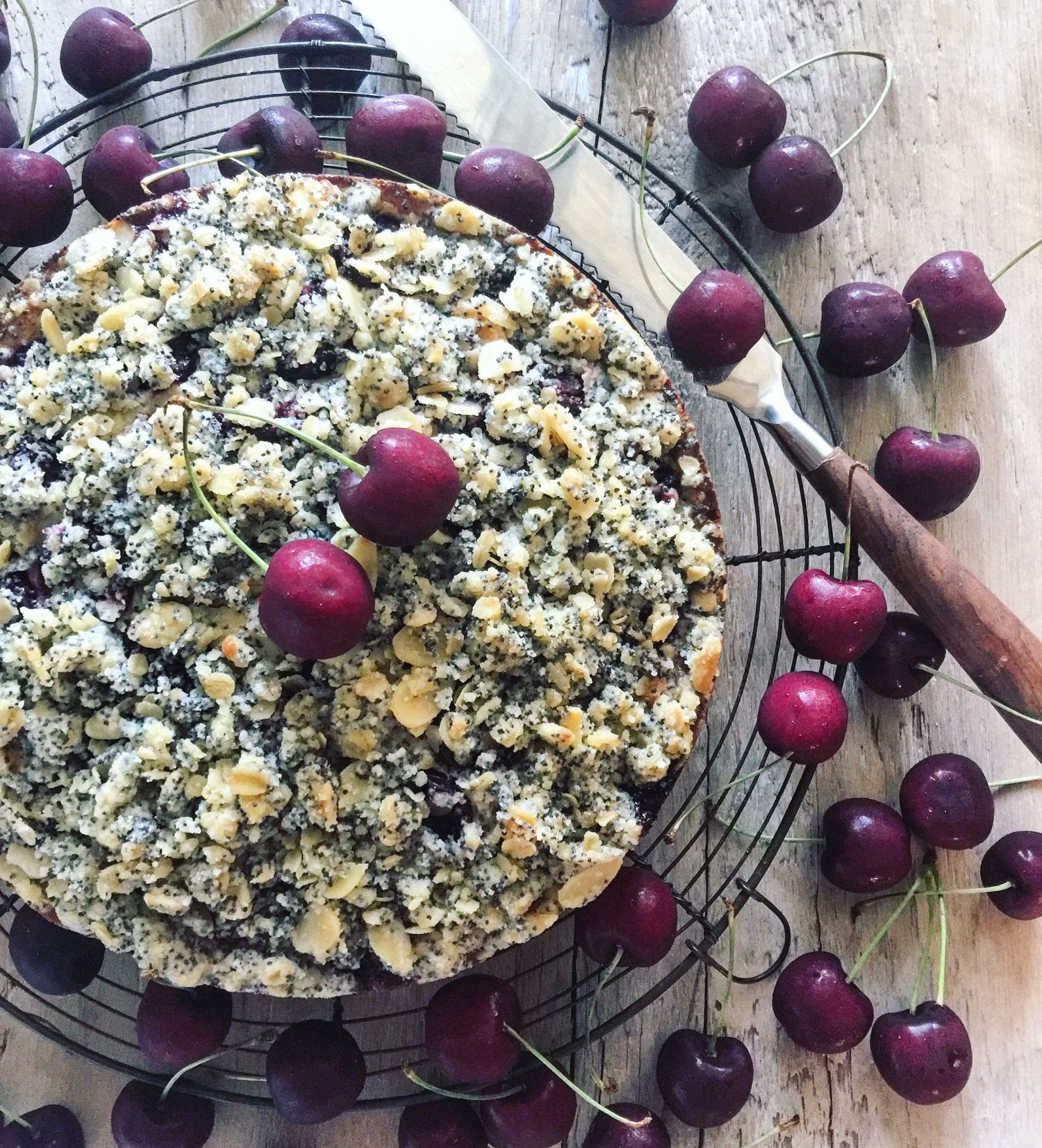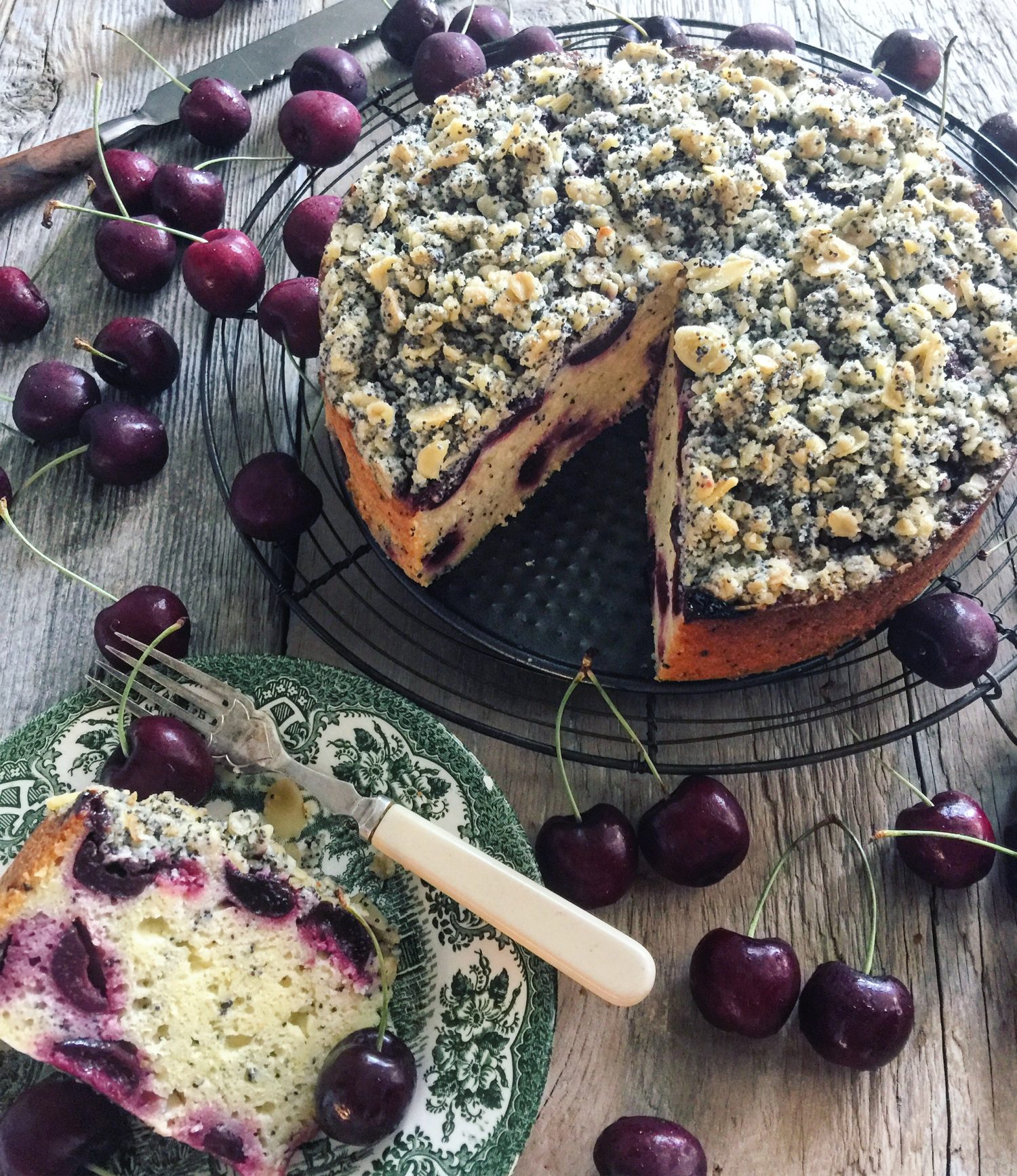 Cherry Poppy Seed Yogurt Cake
A tender moist cake filled with fresh cherries and topped with a wonder streusel mix of oats, poppyseeds, sliced almonds and butter. Perfect for breakfast or dessert.
Ingredients
Streusel
1/4

cup

(35 g) AP flour

2

tbsp

old fashioned oats

2

tbsp

granulated sugar

2

tbsp

poppy seeds

2

tbsp

sliced almonds

pinch salt

2

tbsp

unsalted butter

, softened
Cake
1 1/2

cups

AP flour

1 1/2

tsp

baking powder

2

tbsp

poppy seeds

1/2

tsp

salt

3/4

cup

(150 g) granulated sugar

1/2

cup

(120 ml) canola or grapeseed oil

3

large eggs

, room temperature

1

cup

(225 g) plain yogurt, or 1/2 cup skyr and 1/2 cup kefir

1/4

cup

(60 ml) freshly squeezed lime juice

You should use about 3 limes. Zest them first. Use 1 tbsp of the zest in sugar direction below. Any remaining zest can be added to the batter with the juice.

1 1/2

cups

(210 g) pitted cherries, sweet or sour
Instructions
Position a rack in the centre of the oven and preheat to 350 F (180 C)

Butter and flour a 9x5x3 inch loaf pan (I used an 8 inch springform pan)
Streusel:
In a small bowl, stir the flour, oats, sugar, poppy seeds, almonds and salt together. Add in the butter and use your fingertips to mix until small crumbs form. Set aside while you prepare the cake.
Cake:
Whisk the flour, baking powder, poppyseeds and salt together in a small bowl.

Add the sugar to a large bowl and grate about 1 tbsp of lime zest directly into the sugar. Use your fingers to rub the zest into the sugar until evenly distributed.

Add the oil, eggs, yogurt and lime juice and remaining lime zest, and whisk to combine.

Add the flour mixture all at once, switch to a rubber spatula, and stir until just combined.

Fold in half of the cherries.

Pour the batter into the prepared pan and scatter the remaining cherries over the batter. Sprinkle the streusel in an even layer over the cherries.

Bake the cake until puffed and golden, and a cake tester inserted into the centre comes out clean, 45-50 minutes.

Let cool completely before slicing.

This will keep in an airtight container for about 3 days at room temperature. Longer in the fridge.
Recipe Notes
If using a springform pan, line the bottom with parchment, and spray the sides with non-stick spray. I used an 8 inch pan, and it took about 55-60 minutes before the cake was ready. Just start checking at 45 minutes and keep baking till all the criteria are met.
You can replace the cherries with any berry or chopped stone fruit in season. You can also sub lemon for the lime juice and zest.
SaveSave
SaveSave