Isn't Madeleine a pretty name? It was always on my list of girls' names, if we ever had a girl.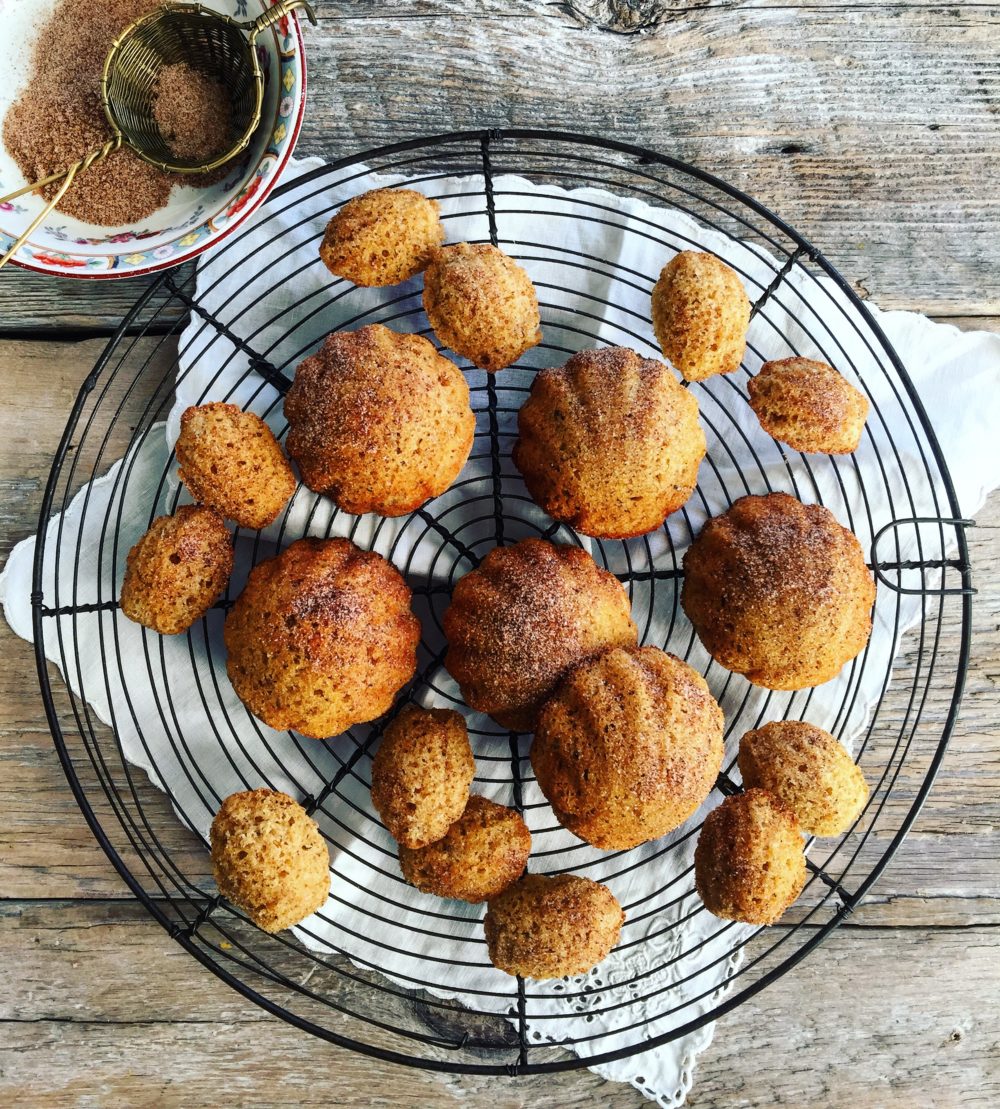 But that never happened. We have had cats through the years though. So I've used some of my girl names choices on them instead: Guinevere, Zelda. Maybe it's a good thing we only had cats. I have a feeling that my kids would have been shooting me daggers for the names I would have saddled them with.
Since I don't have a daughter named Madeleine, I keep the name alive by baking them. I remember the first time I baked madeleines. We may have been married about a year. I had picked up Simply French, by Patricia Wells, presenting the cuisine of Joel Robuchon. Classic French cooking, and really, my first introduction, after Julia Child of course. I learned so so much from that book. My first gougeres came from that book. My first beet and walnut salad came from that book. My first clafoutis came from that book. My first chocolate mousse came from that book. And my first madeleines came from that book. They, like all the other recipes, were a wonderful new treat that would become staples in my cooking repertoire. Little cake-like cookies, perfect with a cup of tea.
Yes, I have added many (MANY) cookbooks to keep Simply French company through the years. But I will always have a soft spot for this book. In recent years, David Lebovitz and Dorie Greenspan have stepped up to the plate to hang out with Patricia these days. They have such a fresh take on French classics. And really have their finger on the pulse of what's ticking in Paris and France these days, and how we can incorporate French sensibilities into our own little kitchens.
Madeleines are those adorable little cake-like goodies, baked in beautiful tins (although in a pinch a mini muffin tin will work just fine) They have a tender, fine grained crumb texture (like a genoise) that is best enjoyed fresh out of the oven (as opposed to any traditional cake which shines once it has cooled completely) The name can be traced back 250 years to a Polish king who loved the little treats so much, made for him by Madeleine, a home baker who lived in the french village of Commercy, where the Polish king was visiting.
Traditional Madeleines are usually lemon, often chocolate, and sometimes pistachio or hazelnut. And then there is the classic honey madeleine. This recipe is Dorie Greenspan's take on the honey madeleine. She has upped it by adding the spices, making it a wintery dream of a madeleine. And the other addition that I adore is all the orange zest. It adds the perfect tartness and faint texture to the finished cakelet. But I decided that I would play with the honey. So I use chestnut honey in this recipe. I find that its intense (almost bitter, but in a good way) flavour and colour adds to the whole experience. So head over to your favourite specialty food boutique and pick up some amazing honey (usually from Europe or Turkey etc)
The trick to a good madeleine is similar to a good canelé: a chilled madeleine tin. Making the batter and chilling it before use is already recommended. Another great step is to chill the baking tin in the freezer before buttering it. The butter will immediately harden. At this point you could add the batter and bake. The cooled butter will actually create a better crust for easy removal from the tins.
And instead of dusting these little tea time beauties with icing sugar, I went the cinnamon sugar route. To me, it just seems to work. Between the honey and the spices, this is borderline gingerbread. And since you all know me by now, I adore gingerbread. So I'm in my happy place baking these goodies. But in no way do I feel that these should be relegated to cold weather baking. These are a year round treat.
Love Jen.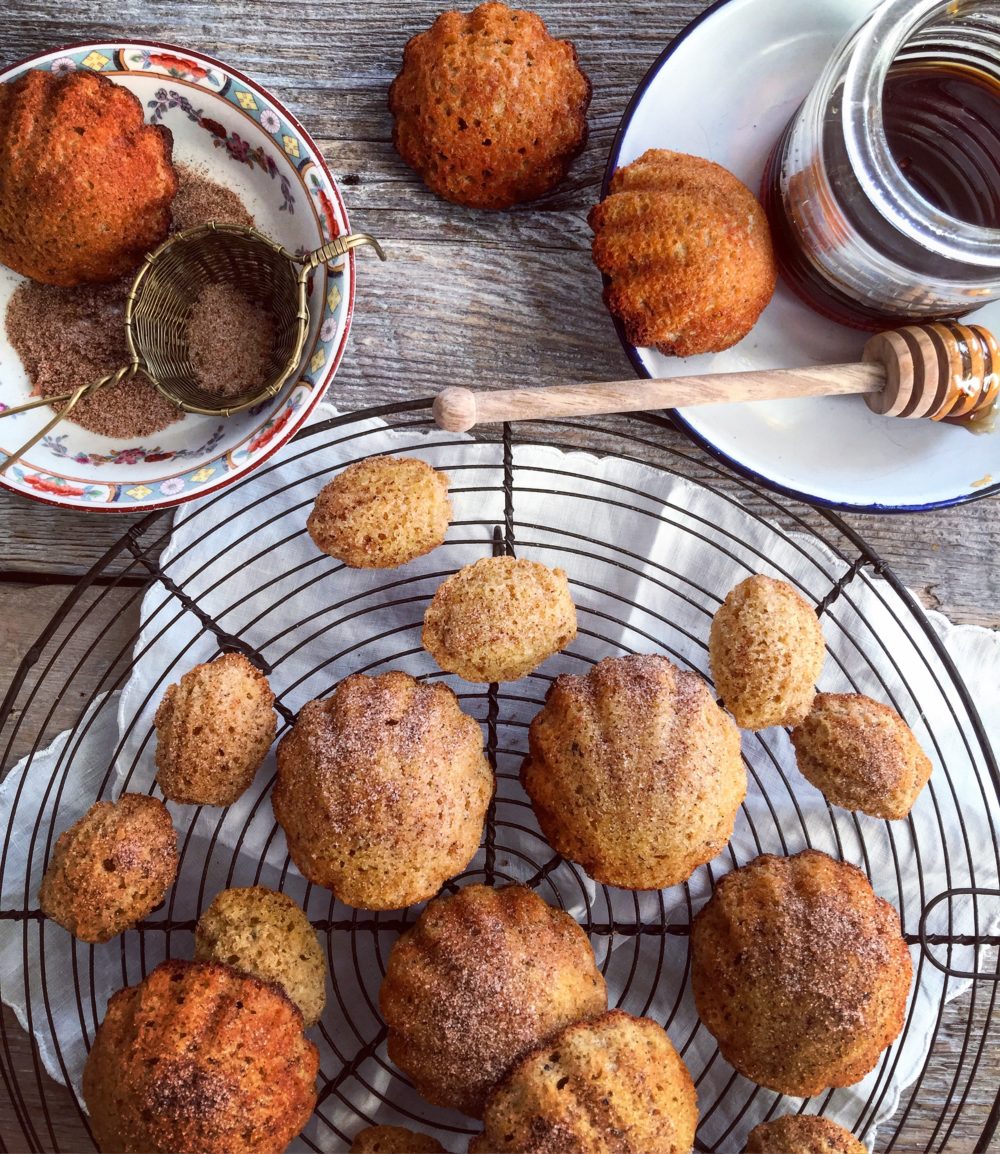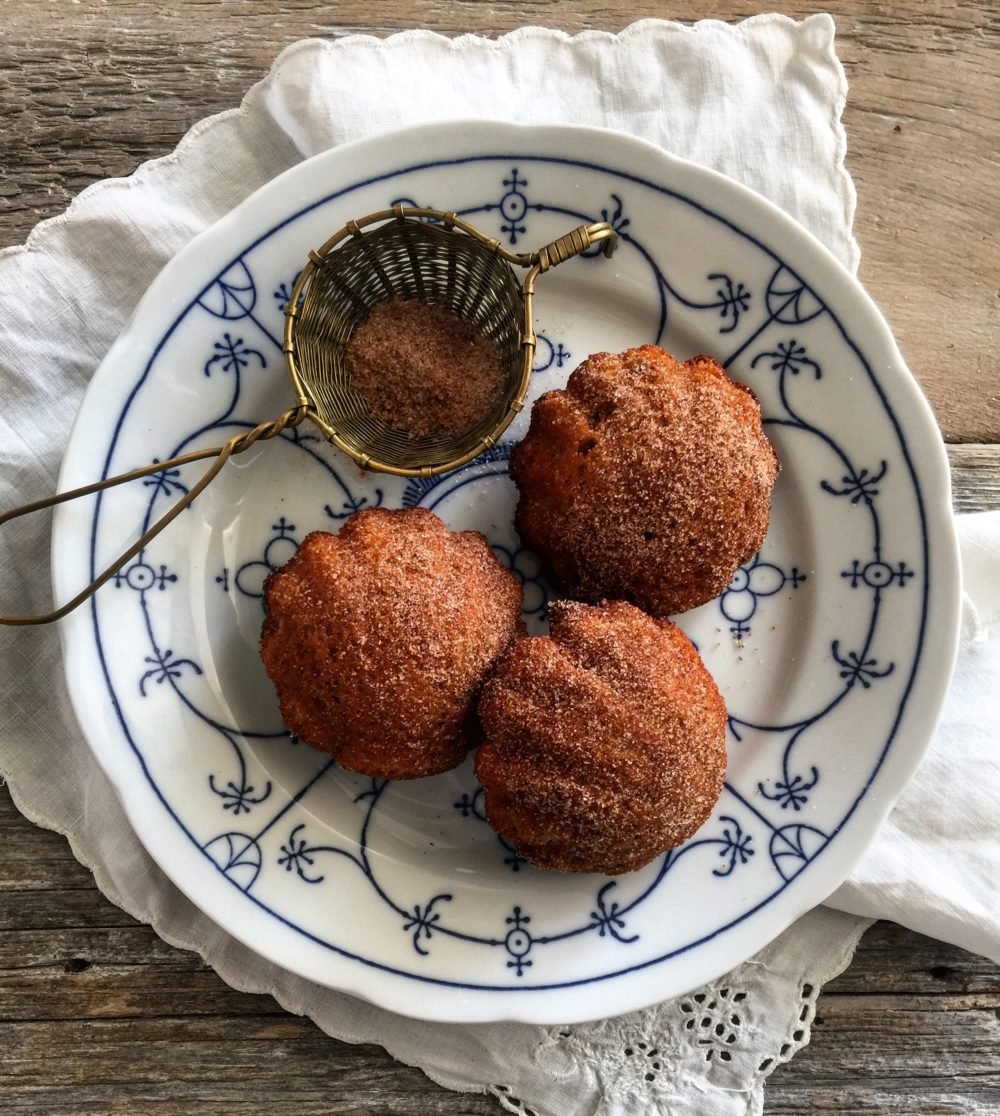 CHESTNUT HONEY SPICE MADELEINES
A tender, cakelet, perfectly spiced and sweetened with chestnut honey. Perfect for your next coffee break. Or even breakfast!
Total Time
3
hours
12
minutes
Ingredients
3/4

cup

(90 g) all-purpose flour

1/2

teaspoon

baking powder

1/2

teaspoon

ginger

1/4

teaspoon

cinnamon

1/8

teaspoon

ground cloves

1/8

teaspoon

ground nutmeg

pinch of salt

pinch of freshly ground black pepper

1/3

cup

(75 g) sugar

grated zest of 1 small orange

(or zest of 1/2 plus of a larger one)

2

large eggs

, at room temperature

2

tablespoons

Chestnut honey

(please go this extra step- this honey will take the recipe to the next level!)

1

teaspoon

pure vanilla extract

6

tablespoons

(90 g) unsalted butter, melted and cooled
Instructions
Whisk together the flour, baking powder, spices, salt and pepper and set aside.

Working in a mixer bowl, stir the sugar and orange zest together. Fit the mixer with the whisk attachment, add the eggs to the bowl and beat for about 2 minutes, until the mixture is light, fluffy and thickened.

Add in the honey, then the vanilla. Switch to a rubber spatula and gently fold in the dry ingredients followed by the melted butter. Ensure that the butter has cooled down.

You can use the batter now, but Dorie Greenspan says it's better if you can give it a little rest. Press a piece of plastic wrap against the surface of the batter and chill for 3 hours or, if you have the time, overnight. Making the batter in advance also means you can have madeleines that are fresh from the oven and still warm if you're serving them for breakfast, or prepare them in the morning and bake them for teatime in the afternoon.

When you're ready to bake them, centre a rack in the oven and preheat the oven to 400°F (200°C). Butter 12 full-size madeleine molds (or 36 mini-molds), dust the insides with flour and tap out the excess. If you have a non-stick madeleine mold, butter and flour it anyway or give it a light coating of vegetable cooking spray. (If your pan is silicone, you can leave it as is.) Place the pan on a baking sheet. I actually chill my molds in the freezer and then butter them. See the Notes below.

Spoon the batter into the molds, filling each one three-quarters full (if you overfill the molds, they'll spill out over the sides a bit and won't be quite as pretty when they're done).

Bake the large madeleines for 11 to 13 minutes and the minis for 8 to 10 minutes, or until the madeleines are golden and the tops spring back when prodded gently. Do not overtake.

Remove the pan from the oven and release the madeleines from the molds by rapping the edge of the pan against the counter. Gently pry any stuck madeleines from the pan using your fingers or a butter knife. Transfer the cookies to a rack to cool to just-warm or room temperature.
Recipe Notes
This batter works better after chilling it in the fridge for at least 3 hours. You can have the batter rest in the bowl, or do as outlined below.
Chilling your madeleine pans is also a great trick. Once you are ready to use them, pull them out of the freezer and brush with butter. The butter will immediately harden once hitting the cold surface. Then quickly fill them and if you have the patience, return them to the fridge to set for 3 hours. Then move ahead with the baking.
Adapted from Around My French Table by Dorie Greenspan