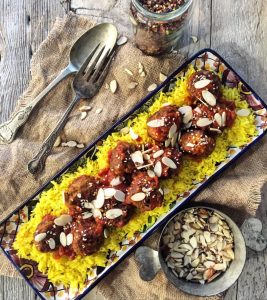 For my latest recipe from Zahav, I'm sharing his grandmother's family recipe for Chicken Albondigas. They are light but slightly dense chicken meatballs that are flavoured with zippy cinnamon and smoked paprika, and have almond slices in the mix. This exotic meatball actually has its origins in Spain, and I quite liked the slight detour that the book made by including these.
What's great about this recipe, is that it is fast, and is made with ingredients you probably already have on hand. They come together so easily. And they cook up quickly. Perfect for a busy weekday, but festive enough that you could proudly serve this to company on the weekend.
Michael mentions that his grandmother would sometimes include these in soup. I could totally see this working. Even if you had a simple tomato soup or veggie soup with rice, these meatballs would be the perfect addition. I think if I were going to do this, I would roll them a tad smaller.
As it is, this recipe makes about 24 meatballs. Michael encourages serving them with a quick tomato sauce and rice. We found that 5 or six was perfect as a meal, served over saffron rice and salad. So we had leftovers. The meatballs and the rice kept well, and I got another meal out them no probs. But if you know you only need half, then go ahead and freeze the rest before cooking. You will definitely want more on hand for a crazy busy, 'brain dead' dinner night.
Really, you will be thrilled at how easy these come together. And you'll be equally thrilled by the flavour. Exotic, comforting, everything you want in a meatball and a cozy meal. Spot on, and perfect for all occasions. I'm actually heating the last few for lunch as I type this. No lie!! 🙂
Love Jen
Chicken Albondigas
A festive, exotic chicken meatball that comes together in a snap, and is perfect for a busy night, but fancy enough for company.
Ingredients
1/4

cup

olive oil

plus more for frying

2

medium onions

finely diced

2

celery ribs

finely diced

5

garlic cloves

minced

2

lbs

ground chicken

1

cup

sliced almonds

plus more for garnish

2

tbsp

smoked paprika

1

tsp

ground cinnamon

1

tbsp

kosher salt

1 1/2

cups

basic tomato sauce

see below (or more if you like more sauce!)

Cooked rice

for serving

5

tbsp

olive oil

1

cup

diced onion

2

garlic cloves

minced

2

tbsp

ground coriander

1 1/2

tsp

kosher salt
Instructions
MEATBALLS

Warm the oil in a large skillet over medium heat and add the onions, celery and garlic. Cook, stirring until the vegetables have softened but not browned, about 8 minutes. Let cool.

In a large bowl combine the cooled onion mixture, chicken, almonds, paprika, cinnamon and salt. Mix well with clean hands and shape into golf ball sized balls.

Film the bottom of a large skillet with oil and heat over medium-high until shimmering but not smoking.

Working in batches to avoid overcrowding, add the meatballs in a single layer and let cook undisturbed until they've browned on the bottom and can be easily turned over, 3-5 minutes. Continue cooking until browned on all sides, about 8 minutes total.

Return all the albondigas to the skillet, add the tomato sauce (you may want an extra 1/2 cup of sauce on hand if you would like some sauce to serve with the meatballs)and stir gently to coat. Continue cooking over medium heat just until the sauce is hot and the meatballs are cooked through, about 5 minutes more.

Serve over rice topped with additional almonds.

TOMATO SAUCE

Warm 2 tbsp of oil in a pot over medium heat.

Add the onion and garlic and cook until they are softened but not browned, about 8 minutes.

Add the tomatoes, coriander, salt and 1 cup of water.

Cook until the sauce has thickened and concentrated, about 15-20 minutes.


Off the heat, whisk in the remaining 3 tbsp of olive oil.

The sauce will keep 1 week in the fridge and 3 months frozen.
Recipe Notes
I served these over saffron rice. I made my rice by sautéing 1/2 small minced onion in 1 tbsp of butter right in my rice cooker. Then I stirred in 1 tsp of saffron, 1/2 tsp of turmeric, and 1/2 tsp salt. Stirred it up and then added the rice (enough to feed two, according to the rice cooker directions) I stirred the rice to coat with the onion spice mixture. Then I added the water and covered and let the rice cooker take over! If you are making enough rice to feed four, then adjust the onion, saffron, turmeric and salt. Cook as per your rice cooker directions.
By Michael Solomonov
Adapted from Zahav, a World of Israeli Cooking