Even on the darkest, gloomiest day in January, the colour yellow can change my mood. There is something just so welcoming, reassuring, and uplifting about yellow.
Even as a little girl, yellow was my go-to colour. All the other girls in my class were painting their bedrooms rooms pink or purple or pink and purple. Not me. Ever the non-conformist kid who lived outside the box, my room had to be yellow and green. Then again, I was the also the 10 year old girl who, when our school choir was invited to sing at the city performing arts centre, insisted on wearing a pink dress when everyone else was in a white top and black skirt or trousers. And looking back, it's not because I loved that pink dress (which I did). It was because I didn't want to follow the crowd (or apparently the instructions!) Would I be as 'difficult' today? I don't think so- I realize that there is a place for individual expression, but on such occasions, perhaps being supportive of the director's vision is worthy of support!
Back to the colour yellow. It's really hard to be down, or angry, when confronted with something as happy as lemon curd, lemon pie, or even a sunny side up egg. Yellow is sunshine trapped in our food- it can truly cheer us up! And I'm pretty sure that this is what Nigella thought, when she was coming up with the name for her soup, the jumping off point for my soup.
Nigella's 'Forever Summer' is a book that I have relied on since I first picked it up, back around 2004. The premise of the book is that you can enjoy the flavours and feelings of summer, even on the bleakest winter days. Almost any recipe can be made in November or February, since the ingredients aren't dependant on a summer garden showering us with it's bounty.
This soup is the perfect example. We can get lemons year round. Turmeric is a constant in our spice cupboard. Yellow squash or zucchini is readily available at the markets. Just add some olive oil, chicken stock and basmati rice. See- easy peasy. So making this soup in December is just as easy as summer Sunday morning.
And I love it just as it is. But to make it more of a meal and thus placate Jim who is always worried that soup won't fill him up, I used Nigella's Happiness Soup as the inspiration for my soup. First thing I had to do was add a protein: chicken. You can used leftover roast chicken, rotisserie chicken, or do as I do, and just broil, sauté or poach a chicken breast. To feed four, one large breast will be fine. I also start the soup with sautéed onion and garlic. If you want, you can add the garlic at the end, to protect most of it's health benefits. Cooking it too long will diminish it's medicinal properties, so add it towards the end. And this is why I prefer it finely minced- less chance of biting into a large chunk, which some may not find that pleasant.
Right now, the farmers markets are just brimming with yellow squash or zucchini, so it's a natural time to whip this soup up. It has the feeling of a Greek avgolemono, without the use of the egg, or orzo. Although, if you wanted to use orzo instead of rice, that would be yummy as well.
And hey, while you're at it, to make it an avgolemono soup, lightly beat 4 eggs and the juice of 1/2 a lemon in a small bowl, remove 1 cup of the broth, (strain it from any veggies etc) and once it has cooled down a bit, and 1/4 cup to the egg mixture. Temper the eggs slowly, getting them warmed through without curdling them. Once a bit of the broth has warmed the eggs, add more, till all the broth has been used. Then add this tempered egg mixture back into the pot, just before it's ready to serve (do not bring the pot back up to a boil), and you really have created an avgolemono, with the added bonus of zucchini!
When you serve this soup, you will be bound to get some oohs and aaahs- it truly does have the effect of capturing the sun in a bowl. And the taste is fresh, satisfying, and surprisingly filling, despite it being a rather light soup. And you will be happy at how easy it is to pull together. The hardest part of this dish is the dicing of the zucchini. Yep, that's it! Oh, and maybe squeezing your lemon for the juice. So, I think you guys can handle this one! And smile, you've captured the sun- not an easy feat!
Love Jen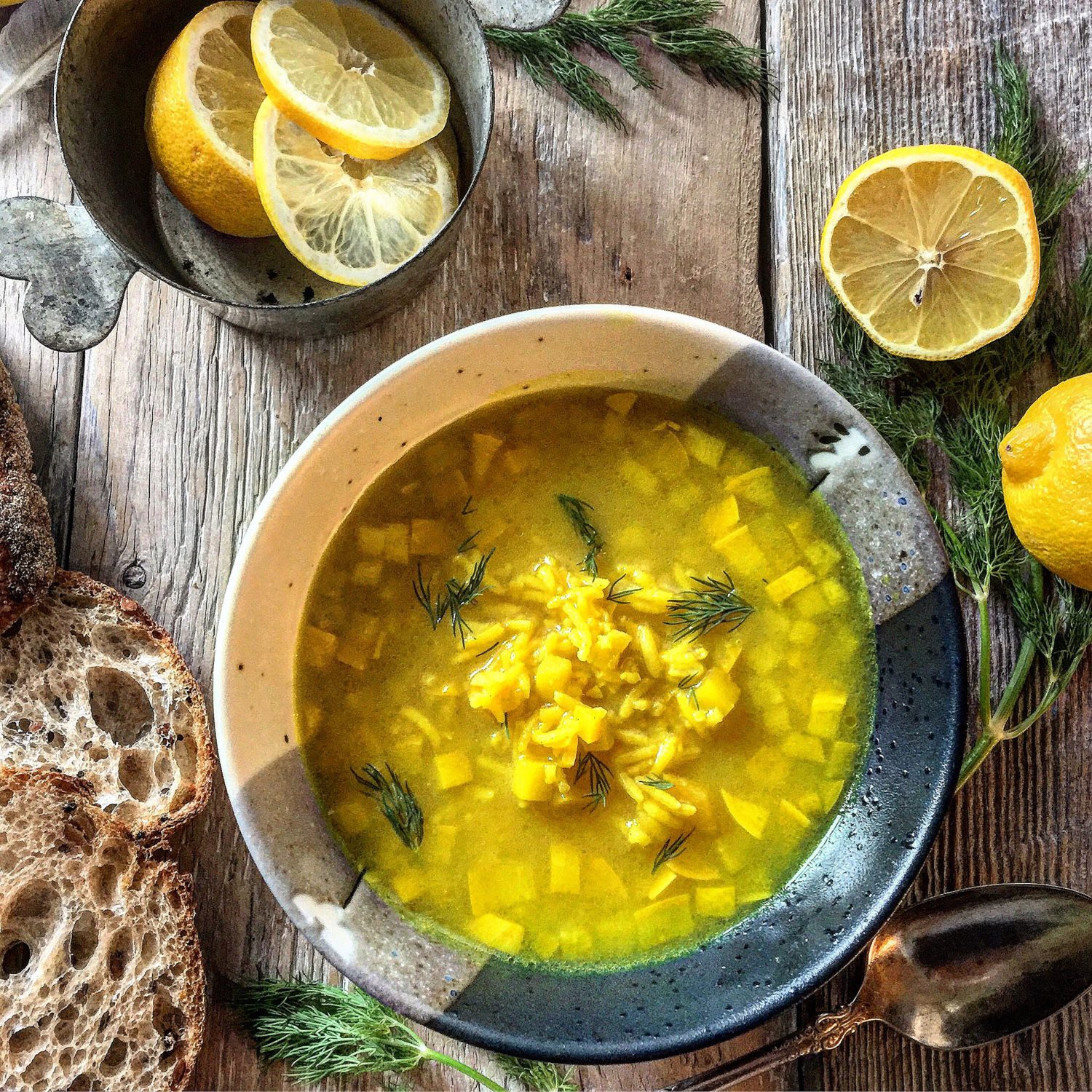 Chicken, Yellow Zucchini and Lemon Soup
It's truly sunshine in a bowl. Fresh lemon juice highlights the turmeric, yellow zucchini and basmati rice in broth. Added garlic for depth and kick.
Ingredients
1

small-medium

onion

minced

2

medium to large garlic cloves

minced

2

medium

yellow squash or zucchini

if large, use 1 1/2 zucchini

1

lemon

zested and juiced

3

tbsp

olive oil

2

tsp

turmeric

4-5

cups

chicken stock

you can use vegetable stock, but the chicken stock adds a certain 'butteriness'

4

oz

(1/2 cup) basmati rice

1

chicken breast

poached, roasted, broiled or even leftovers, shredded

maldon or finishing salt and cracked pepper

2

tbsp

chopped fresh dill

garnish
Instructions
Wash the zucchini. Don't worry about removing the peel.

Slice into rings and then finely dice these- you should end up with little cubes or confetti of yellow zucchini!

Heat 1 tbsp of olive oil in a medium (large enough to hold all the ingredients) pot over medium high heat.

Add the minced onion and garlic. Sauté until just softened.

Add the zucchini (summer squash) to the onions and garlic. Stir.

Add the lemon zest and oil, stir to coat, and then cook on gentle heat for about 5 minutes. Stir occasionally till slightly softened.

Stir in the turmeric, and then pour in 4 cups of the stock and lemon juice.

Finally add in the rice.

Cook uncovered for 10-20 minutes, or just until the zucchini (summer squash) and the rice are tender. About 2 minutes before the rice is finished cooking, add the shredded cooked chicken. If you find the soup too thick for your liking, add the remaining cup of stock.

Taste for seasoning. Use salt, pepper, even dill to season.

This soup is actually even better slightly cooled. So let it cool down to a pleasant warm temperature.

Serve with dill fronds if you'd like.
Recipe Notes
This soup was inspired by Nigella Lawson's Happiness Soup, found in 'Forever Summer'.
SaveSave
SaveSave
SaveSave