We could have chilli once a week, and Jim would be fine with this.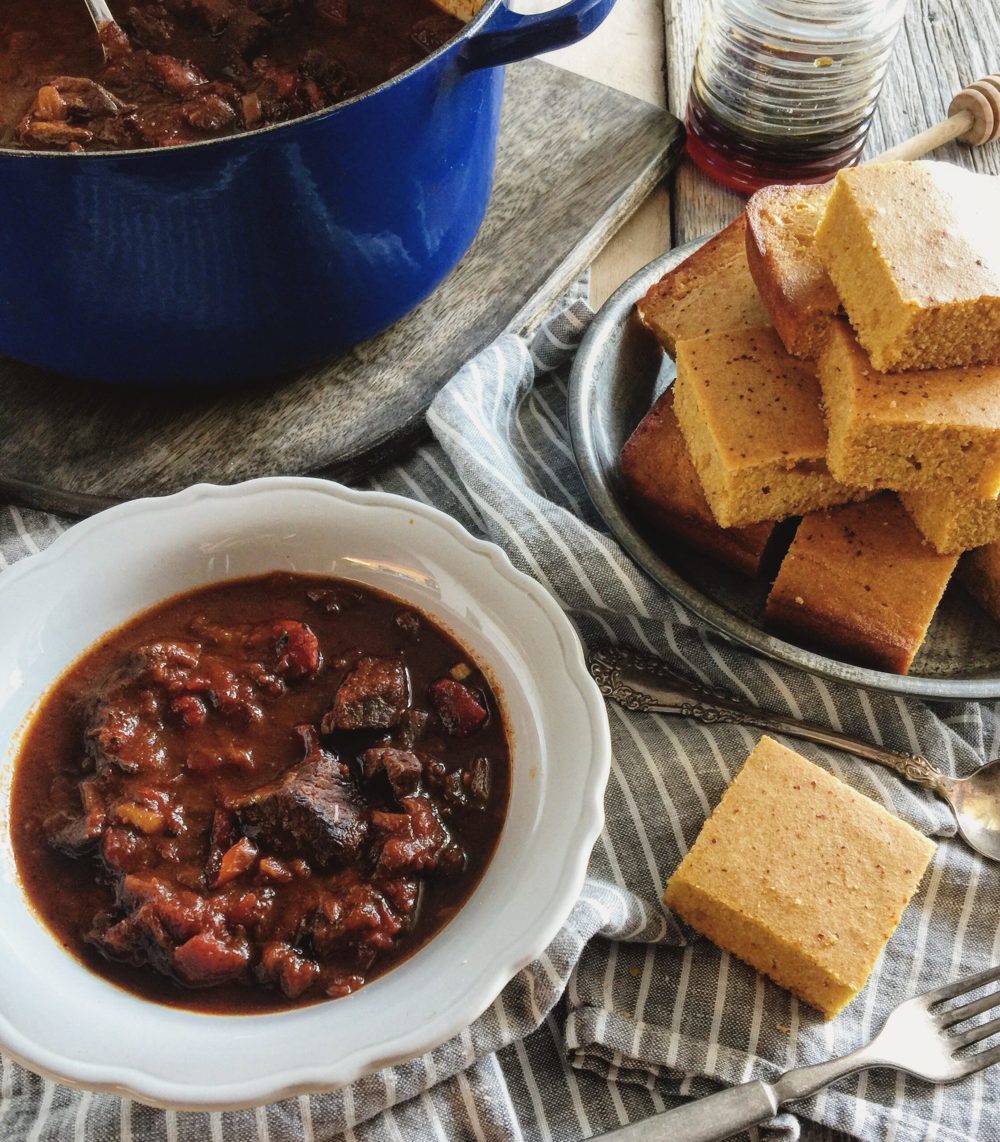 I'm going out on a limb, and saying, that pretty well any guy would be fine with it. For that matter, so would most of us girls. Chilli is comfort food. It is fun, casual, and meant to be enjoyed with friends and family. There's something so reassuring about a pot of chilli simmering away on the stove. It conjures up images of flannel shirts, tailgating, fireplaces, cornbread, chunky crockery bowls or mugs. It can be blizzard-ing outside, but if you have your hands wrapped around a bowl of chilli, all is good.
There are as many versions of chilli, as there are cows in Texas. Some swear by adding beans. Texans refuse to add the bean. Some recipes are made with ground meat, others use cut up chuck or other stewy cut of beef. You can have veggie chilli, white chilli, even soupy chilli.
This recipe is from Sunday Suppers by Karen Mordechai. We're using this book all of November. And November is almost finished. I still have so many recipes to try!! Aaaggh! But this one just made me smile. There are recipes for every season and occasion. Naturally I was focussing on the dishes for the cooler months. Funny enough, it really hasn't been that cold here in Toronto yet. So it almost felt funny to cook this up when I did. It's not like the day cried out for chilli. But we were happy that I made the choice!
It came together easily, and simmered away on the stove, sending a lovely aroma wafting from the kitchen into the living room. I decided to bake up the cornbread recipe that is also in the book. Don't you just love cornbread!? It's one of my weaknesses. I love it fluffy and slightly crumbly (but not too dry) sweet, with a kick of heat lingering on the tongue. This bread came together and baked up just fine. The flavours weren't as pronounced as I would like, and even Jim said that my old recipe is better. So there you are, no matter the book, there are bound to be some recipes that won't set off fireworks. Not that this cornbread was bad- just not what we're accustomed to. I was flattered to hear that Jim likes my original recipe better! So I'll have to share it one day 🙂
But the chilli is a true keeper. In fact, depending on how much you make, it easily freezes for a second meal. I decided to forgo the bean addition this time around. I add beans to chilli regularly, so it's not that I have an issue with them. I just figured, that if it's called Texas style, then I would honour the name and omit the beans like all true Texans do! It turned into a most tender, flavourful and punchy beef stew. The flavour base is made from a dried guajillo chili pepper, and chipotles in adobo sauce. They soak together in water and then get whizzed up to create a wonderful, smokey, intense sauce. This was just amazing- my favourite part of the recipe. And probably one that I will adopt to all my chilli recipes going forward. A large can of roasted tomatoes was added, and instead of the full amount of tomato sauce called for, I replaced half with beef stock- I love how the stock brings the meat back to the focus.
Enjoy this pot of chilli, get some crusty bread for dipping (or some cornbread- the kind that you like!) and get comfy in front of the tv for a good movie. This will keep you warm. Like a sherpa blanket, but without the fuzz in you mouth.
Love Jen.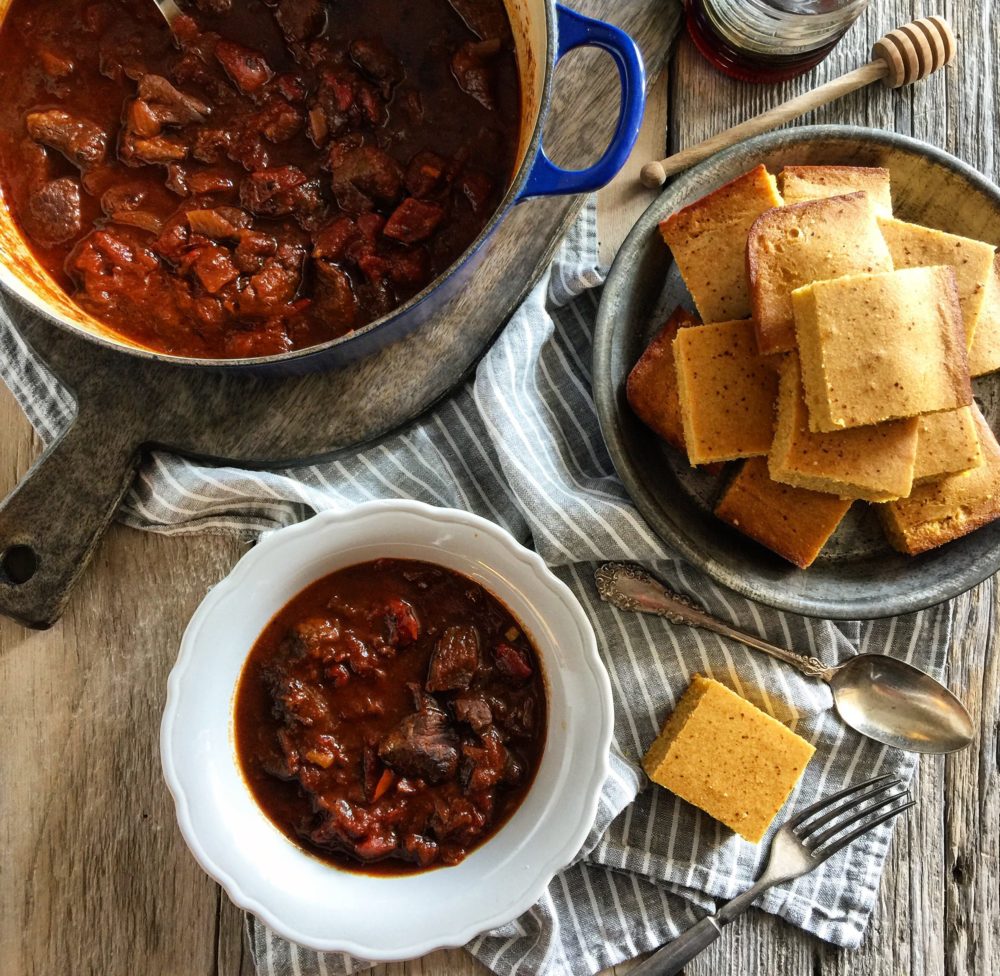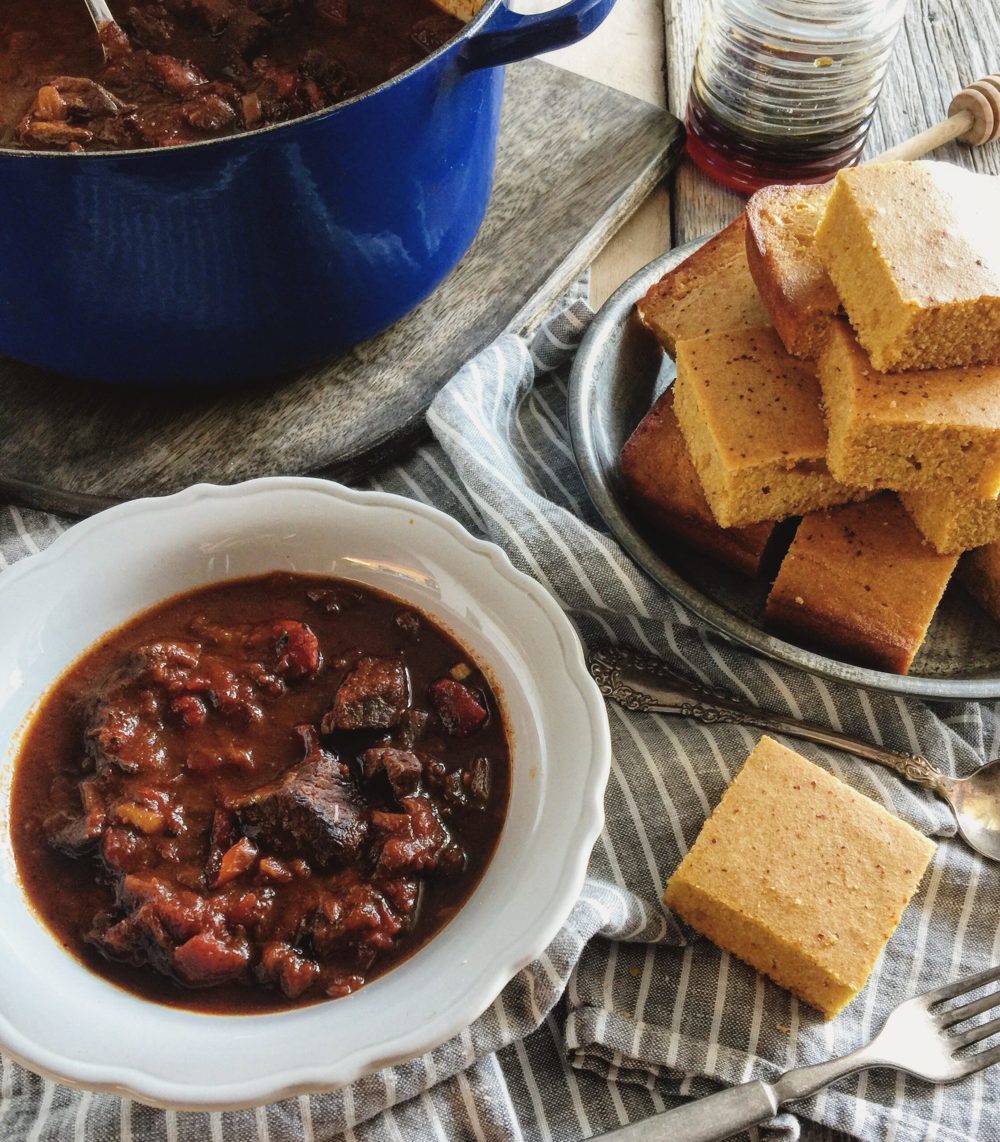 CHILLI, TEXAS STYLE
Slow cooking, and rich chilli peppers create a tender meat, full bodied chilli, perfect for a cold day.
Cook Time
4
hours
20
minutes
Total Time
4
hours
40
minutes
Ingredients
3

dried ancho

, or guajillo chilis, seeds removed

2

tbsp

chipotles in adobo sauce

(about 1/3 of a 7 oz can) chopped, don't get rid of any of the sauce, use it!

Boiling water

1 1/2

lbs

of beef chuck

, cubed

kosher salt and cracked pepper

1

tbsp

canola oil

1

large onion

, diced

6

cloves

of garlic

, minced

1

tbsp

dried oregano

1

tsp

ground cumin

1

tsp

ground coriander

1 32

oz

can chopped tomatoes

(I used Muir Glen fire-roasted tomatoes- for the added oomph of flavour they would bring!)

1 16

oz

can tomato sauce

(I only used a small jar, and added beef stock to make up the difference)

1

tbsp

sugar

1 16

oz

can cranberry beans

, rinsed and drained (I left these out, with no complaints. But this would be just as good if you want to use the beans!)
Instructions
Place the ancho chiles and the chipotles (and accompanying sauce) in a blender and add enough boiling water to cover them completely. Allow them to soften in the water for 15 minutes. Then puree till smooth.

Pat the meat dry. Season the meat with salt and pepper.

In a large pot or dutch oven, heat the canola oil over medium high heat. Add the meat and sear until browned, 3-5 minutes.

Add the onion and garlic to the pot and sauté over medium low heat until tender, about 5 minutes.

Add the oregano, cumin and coriander and sauté for an additional minute.

Stir in the tomatoes, tomato sauce, beef stock (if using) and chili puree, and sugar.

Simmer the chilli, partially covered, over medium heat for 3-4 hours, until the meat is fork tender. Add the beans (if using) and simmer for an additional 20 minutes.
Recipe Notes
Feel free to re-season as you'd like, depending on your heat tolerance. You can always add some chilli powder or even a touch of cayenne pepper. But don't go nuts, there is a roundness to this recipe that will be lost if you take it too far to the hot side!
Adapted from Sunday Suppers by Karen Mordechai
SaveSave