We've been cooking through 'What Katie Ate on the Weekend' by Katie Quinn Davies this July. It's down to earth cooking with a festive spin, by a creative Irish photographer, food stylist and passionate cook who makes Australia her home. Her photography simply grabbed me from the begginning, with her first book, 'What Katie Ate'. Earthy, gritty, textural, honest. This second book contains recipes from her travels, as well as reflecting some of her dinner parties and Sunday brunches.
I've got a list of recipes suitable for summer meals scrawled on the chalkboard staring at me right now (my computer is sitting on the counter against the chalkboard wall, so I'm constantly reminded of what still needs to be baked, cooked or shopped for).
I've already tested several recipes, with great success. It's just sitting down to write down my reflections that seems to be more challenging. You know the dog days of summer?? Well, it appears that they have hit our family. We've have lost that drive to wake up early, go for power bike rides (Jim) clean the kitchen and sit down for a coffee (me) We are in a mid summer slump, and have very little to show for it. So I am a tad behind trying to share my thoughts and reflections of recipes from the CookBook of the Month for said page on this blog! I apologize. I'll try and get better and sitting down to write.
Anyhoo, this recipe from the book: Chipotle, Lime and Jalapeño Ribs. What's not to love?? Heat, ribs, sweet, sour, sticky, exactly what we like in a rib. So it was a given that I would try this one out. No regrets there! Jim absolutely loved the end result. It's a combination of chipotle sauce (I just used a can of chipotle peppers in adobe sauce that I pureed up) agave (I used honey), lime zest and juice as well as jalapeño chiles all combined and poured over parboiled baby back ribs. I love the idea of parboiling the ribs first. It lessens the time in the oven (or on the grill) so that they turn into a doable weekday meal.
They turned out exactly as Katie said they would, sticky and sweet with a heat and tang.
I think the only change I would do, is instead of cutting up all the ribs before adding them to the roasting pan and the sauce, I would keep the ribs intact as a rack. I like the idea of the juices all staying inside more, and then roasting them till the meat starts to fall off the bone. And most importantly, to be able to cut them apart to reveal the white flesh of the cooked meat in contrast to the marvellously burnt umber bark that develops on the outside. It's a visual thing for me. Humour me.
Enjoy this easy and yet flavour packed recipe. That seems to be the theme with this book. The recipes are easy (thus far) but don't skimp on flavour at all.
Love Jen.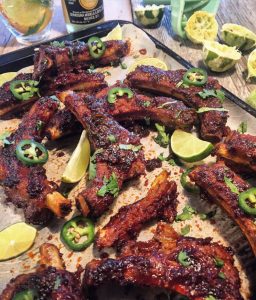 CHIPOTLE, LIME AND JALAPENO RIBS
Sweet, sticky, tangy, with a touch of heat, these ribs come together in no time!
Cook Time
1
hour
30
minutes
Total Time
2
hours
5
minutes
Ingredients
3

lbs

(or so) baby back pork ribs

1

cup

chipotle sauce

(I used a can of chipotle peppers in adobe sauce that I blended up)

1

cup

light agave nectar

(I used runny honey)

finely grated zest of 4 medium limes

1

cup

lime juice

3

jalapeno chiles

, seeded and thinly sliced

kosher salt

lime wedges and cilantro for garnish
Instructions
Preheat oven to 400F

Bring a large heavy bottomed pot of water to a boil and then add the ribs and simmer for 30 minutes. You may need to skim off the fat that rises to the surface from time to time. Drain and cut into individual pieces.

Whisk together the chipotle sauce, the agave, lime zest and juice and a good pinch of salt until just combined.

Place the ribs in a roasting pan (I draped the entire thing in tin foil for clean up) cover them with the sauce and roast for 15 minutes.

Reduce the heat to 325F and roast for a further 1 1/4 hours. Baste every 15 minutes to get the sauce all over the ribs, until it is thick, glossy and caramelized.

Serve with lime wedges and cilantro scattered on top.
Recipe Notes
Next time that I make this, I will keep the rack intact, instead of cutting into individual ribs. It could be just personal preference for the way it will continue to cook, but I think it will keep even more juices inside. Don't get me wrong, they were juicy to begin with!
Adapted from What Katie Ate on the Weekend