Smoothies are more of a experiment than a recipe for me. Sometimes they work, and I try to remember what I did; other times I cringe with the first sip, and try to forget what I did! Usually it's just a matter of using up stuff in the fridge before they go bad. Of course there are classic combos, and often frozen bananas, kale, pineapple, or berries are involved.
This smoothie is more the result of having frozen cherries in the freezer and having just baked a cherry pie. It was amazing- I will definitely get that down on the blog one day soon. I even added some pomegranate molasses to the filling, and I was thrilled with the results. But I digress. This smoothie. So I had cherries. And what goes well with cherries? Chocolate. I love cherries in brownies, and then of course, there is Black Forest Torte, that classic German cherry and chocolate combo.
I had cherries, I had raw cacao powder (so so so good for you if you can source it Raw and organic), and I had cacao nibs. So this could happen. Really all I needed was a vehicle to carry those flavours. Step in frozen banana and almond milk. Oh, and some dates for sweetness, since the cacao powder is really rather bitter on its own. Throw in some flaxseed powder for fabulous fibre, and some kefir for the probiotics. And I am so happy with the result. It tasted like a treat, but yes, it was for breakfast. Or else, I could totally spike this with some whiskey or rum! Now wouldn't that be fun?!
Love Jen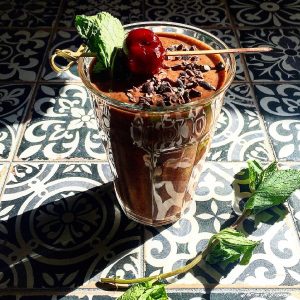 CHOCOLATE CHERRY BOMB SMOOTHIE
Chocolate and Cherries go wonderfully together. Even better in this frothy and healthy smoothie.
Ingredients
1/2

cup

raw or frozen pitted cherries

(I used dark or black cherries, tart ones may be too tart)

1

tbsp

raw cocoa powder

1/2

cup

frozen banana pieces

4

pitted dates

3/4- 1

cup

almond milk

(depending on how thick you like your smoothie)

1

tbsp

ground flaxseed powder

2-3

tbsp

kefir

cocoa nibs for sprinkling
Instructions
Put all ingredients in a blender and whiz until completely smooth and frothy

Start with 3/4 cup of almond milk. You can always add more milk if desired.