Have you guys picked up Alana Taylor-Tobin's fabulous book, Alternative Baker, yet?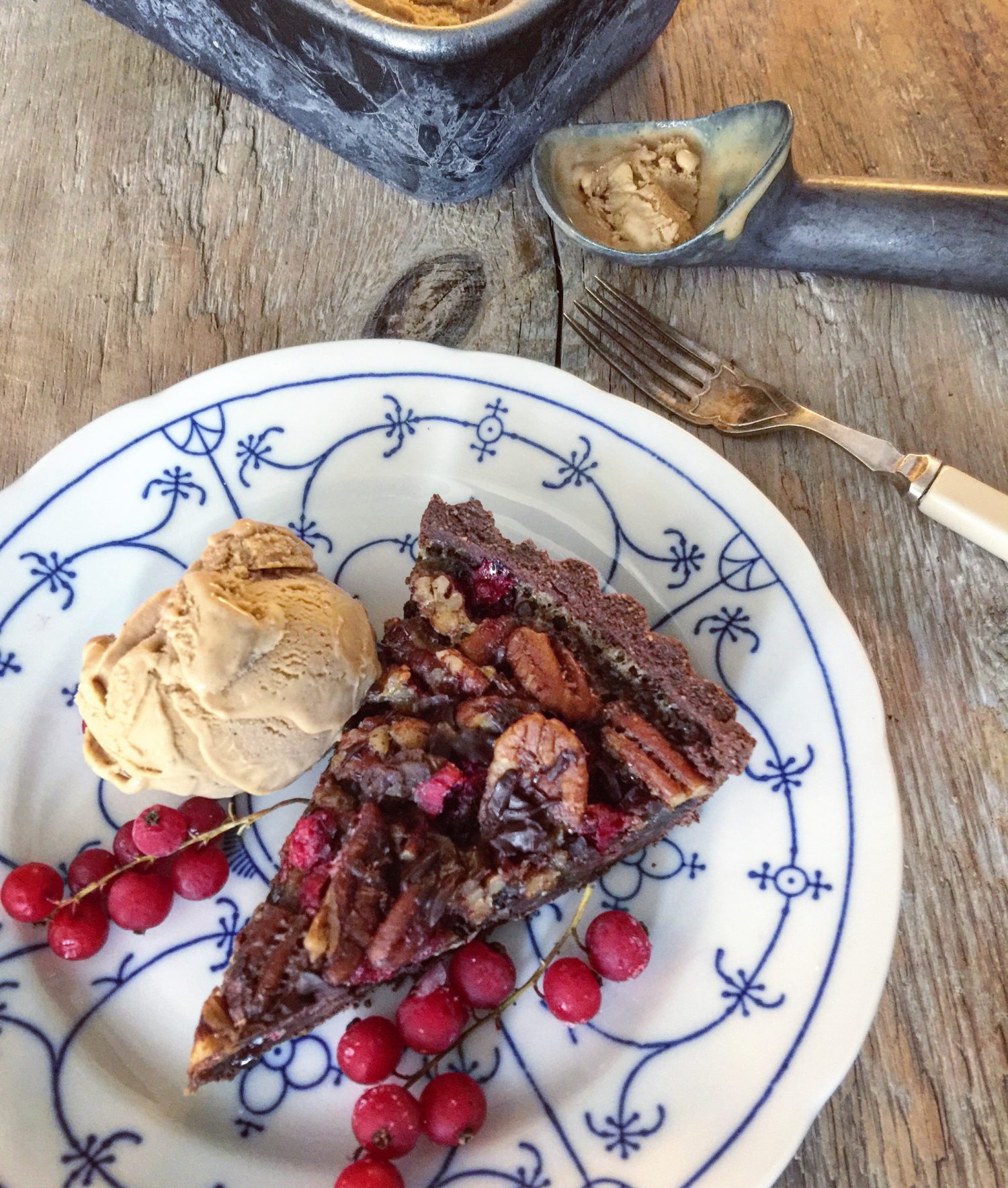 I'm telling you, it's a fantastic book to have in your collection. Everything that I have tried from it has turned out perfectly. If you've been reading along with me for a while now, you know how crazy I am for her Pumpkin Cranberry Nut and Seed Loaf. I make it regularly. It is so versatile, on an charcuterie spread, as breakfast toast, or even a leftover turkey, stuffing and cranberry sauce sammie. I love her Salty Caramel Banana Cream Tart with Mesquite Crust. Her Cherry Chestnut Chocolate Chip Cookies were a hit with everyone, as were the Chestnut Brownies. (you know I have a thing for Chestnut!) While it is a book dedicated to using gluten-free grains and flours, nothing is sacrificed in flavour or texture.
This past weekend we were invited out to friends for dinner. I offered to bring dessert. But what would I bake? I pulled out her book yet again, and honed in on this beauty of a tart. It takes a typical pecan pie filling, and turns it upside down. The pecans and the gooey filling are still there. But now dark chocolate chunks and fresh cranberries (feel free to substitute frozen ones) share the stage. It takes something that could be a tad cloying, and balances it with the sweet bitterness of the chocolate, and the tartness of the cranberries. And it all gets baked in a chocolate almond crust.
It is an easy recipe to pull together. The gluten-free crust is made by blending almond, sweet rice and tapioca flours with cocoa powder, some cane sugar, vanilla, and butter. This mixture then gets pressed into a 9 inch tart pan (the kind with the removable bottom). This is the most laborious part of the recipe. Taking the time to press the mixture evenly and smoothly. Don't rush it. Alana says it takes her about 10 minutes to get a crust that is presentable and ready to get baked off. I didn't check the clock while I was doing my own pressing and smoothing, but I would hazard a guess that 10 minutes was pretty close. Then it gets partially baked.
The filling is even easier. Roasted pecan halves are added to a filling of sweet rice flour, dark brown sugar, salt, eggs, maple syrup and butter. There is just a tad of timing here. You want your pecan halves roasted and cooled, and the cranberries sliced in half, and the dark chocolate chopped before the tart shell comes out of the oven. The reason for this is that as soon as the tart shell comes out of the oven (it is in there for about 20 minutes) you will be spreading the chocolate evenly over the bottom of the base. It will immediately start to melt, and create a lovely coating. Then the cranberries are sprinkled evenly over the chocolate. Finally the filling and pecans are stirred together and poured over everything.
As it bakes, the pecan pieces and the cranberries will float to the top, as the filling sets. All in all, it will only take about a 25 minutes to have your finished tart. I decided to guild the lily, by adding another 2 tbsp of chopped chocolate all over the top once it came out of the oven. The pieces gently started to melt into the warm top, but still remained 'piece-y' if you know what I mean. You will need to let it cool down to room temperature before cutting into it. But once you do, it slices perfectly. Alana suggests serving this with a Maple Bourbon Whipped Cream. This sounds delightful. This time around though, I decided to use that luscious Roasted Chestnut Ice Cream that I had made earlier in the week. Oh my- stellar combination! The ice cream had the perfect nuttiness to work with the tart. I fell in love with this ice cream so much that I'm getting ready to make a second batch. Already!!
This is a wonderful treat and looks so stunning, especially during the winter months, when cranberries are just that perfect touch of colour in a drab and grey world. This would be a lovely final course for when you are entertaining, as you can make this up the day before and have it ready in the fridge. Don't laugh, but winter entertaining means that I have extra places to store dishes I've prepared for a group- the balcony! So if the fridge is full, just stick your pot of stock outside, or this tart, all wrapped up of course- if it's cold enough naturally- as long as it is as least as cold as your fridge, you're good.
hope you like this recipe as much as I do. And if you do, really, go out and find Alana's book!
Love Jen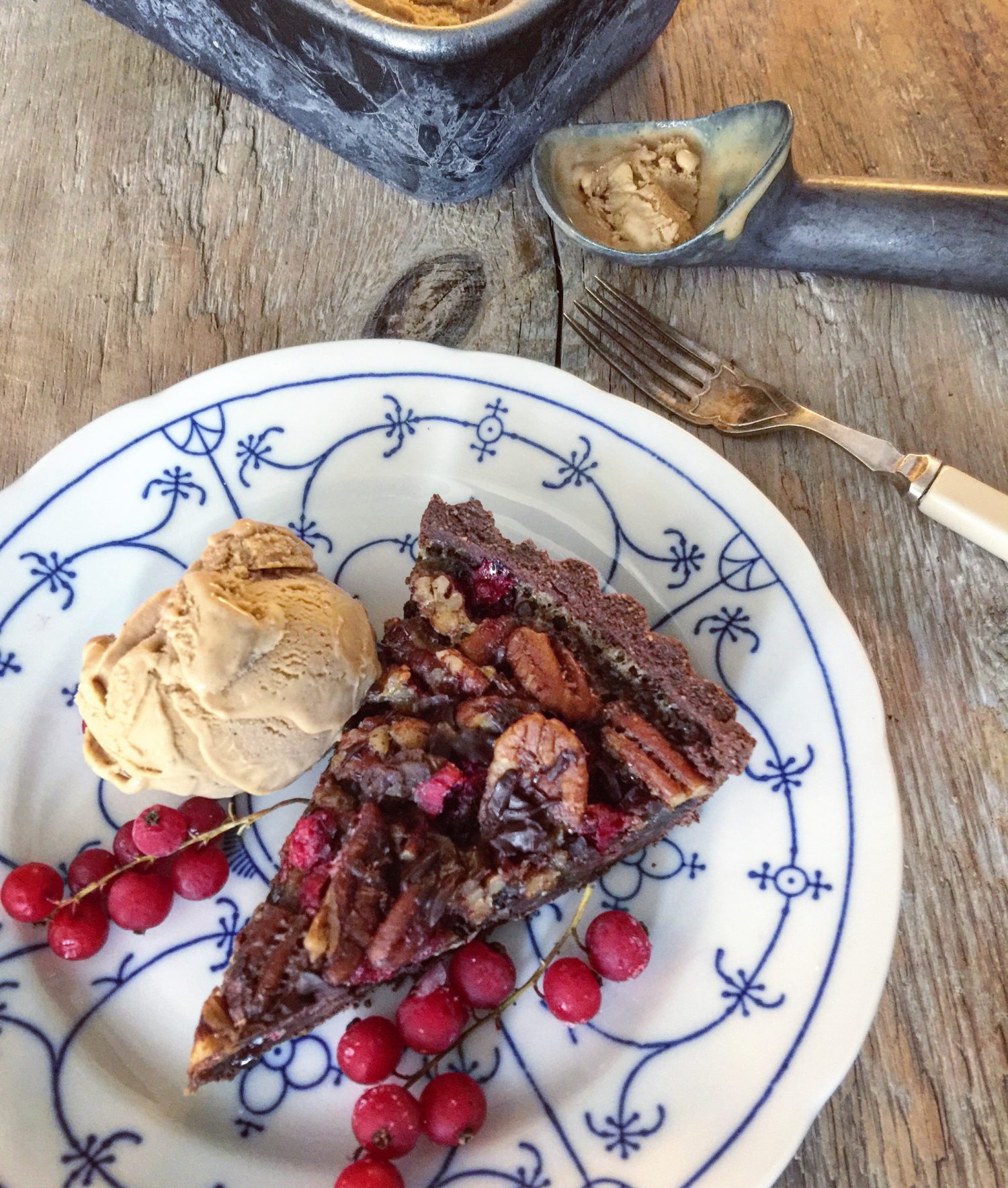 Chocolate Cranberry Pecan Tart
Pecan Pie gets a revamp in this wonderful tart. To cut the pure cloying sweetness of a typical pecan pie, bittersweet chocolate and tart cranberries are added to the mix. It looks as festive as it tastes! Just add some maple bourbon whipped cream!
Ingredients
Cocoa Almond Crust
1/2

cup

(60 grams) blanched almond flour

1/2

cup

(80 grams) sweet rice flour

1/2

cup

(45 grams) cocoa powder (preferable Dutch Process)

2

tbsp

(12 grams) tapioca flour (starch)

1/4

cup

(50 grams) granulated cane sugar

1/4

plus 1/8 tsp fine sea salt

5

tbsp

cold

, unsalted butter, diced into 1/2 inch cubes

1

tsp

vanilla
Chocolate Cranberry Pecan Filling
1

cup

(100 grams) raw pecan halves

1/2

cup

(85 grams) roughly chopped bittersweet chocolate (at least 70%)

1

cup

(90 grams) fresh or frozen cranberries, halved

2

tbsp

(15 grams) sweet rice flour

1/4

cup

plus 2 tbsp

(75 grams) packed dark muscovado sugar or packed dark brown sugar

1/4

tsp

fine sea salt

2

large eggs

1/4

cup

(60 ml) maple syrup

1

tsp

vanilla

4

tbsp

(56 grams) unsalted butter, melted and cooled slightly
Instructions
Crust
Before you bake off the crust, ensure that your pecan halves have been roasted:

Spread the pecan halves on a baking sheet and position a rack in the lower third of the oven. Preheat the oven to 325F (165C) Toast the pecans until darkened slightly and fragrant, 10-12 minutes. Cool completely and then break into halves and quarters with your fingers. Set aside.

Position a rack in the centre of the oven and preheat to 375F (190C)

In the bowl of a stand mixer fitted with the paddle attachment, combine the almond, sweet rice flour and cocoa powder, with the tapioca starch, sugar and salt.

Scatter the butter pieces over the top and then drizzle with the vanilla.

Turn the mixer on to medium low and run it until the dough comes together in clumps and the butter is worked through. This will take between 3 and 5 minutes.

Dump the crumbs into a 9 inch tart pan with a removable bottom. Press the dough evenly into the pan, starting with the sides and then moving to the bottom, keeping the edges as square as possible. This can easily take 10 minutes before the pressing and moving of the crumbs around creates a presentable tart shell!

Prick the bottom of the crust all over with the tines of a fork carefully and gently (you may pull up some of the crumb- just press back down) Freeze until firm (15-20 minutes)

Place the tart pan on a rimmed baking sheet and bake until firm (18-22 minutes). Because the dough is dark, it will be difficult to tell when the crust is down, so set a timer

for 18 minutes, and then look closely for edges that are beginning to darken and pull away from the sides of the pan. If the chocolate begins to smell at all burnt, remove the crust immediately.
Filling
While the crust is baking off, chop the chocolate and slice the cranberries into halves (I left small ones whole)

In a large bowl whisk together the sweet rice flour, muscovado sugar and salt. Whisk in the eggs until smooth and then add the maple syrup and vanilla. Don't over whisk, causing too much air to become incorporated into the custard.

Whisk in the butter and then fold in the cooled pecan pieces.

When you remove the tart shell from the oven, keep it on the baking sheet. Sprinkle the chocolate pieces evenly over the bottom of the crust. Then add the cranberries evenly.

Carefully pour in the filling, distributing the nuts evenly.

Bake the tart until the sides are gently puffed and the centre is wobbly like Jell-O under the nuts and berries, which will float to the top. This should take between 20-30 minutes.

Let cool completely.

Slice and serve with whipped cream (sweetened as you like- maple syrup and a splash of bourbon would be lovely)

Alternatively: Chill the tart before cutting into wedges for the cleanest slices. Just dip your knife into hot water and wipe it clean between slices.

This will keep refrigerated for up to 4 days.
Recipe Notes
Adapted from Alternative Baker by Alana Taylor-Tobin. Her website is The Bojon Gourmet
SaveSave
SaveSave
SaveSave
SaveSave
SaveSave
SaveSave