To braise or not to braise. That is not the question. There is no dispute in this kitchen about braising. Braising is always a good idea. Especially in the winter.
There is nothing like the aroma wafting from a pot of simmering meat, veggies, stock, wine and seasonings. It can sit there gently bubbling away on the stove for hours, inviting occasional glimpses under the lid just to fondly glance at those cuts of meat becoming more tender and juicy as those liquids etc, surround them in all their goodness.
Braising is a cold weather staple over here. You can't over cook or dry out a cut of meat this way. Much like making a stew, the flavours get better the longer they hang out together. In fact, the day after you make a good braise, the dish tastes even more wonderful. To braise properly, ideally you want a large, wider than deeper pan. With a good lid. You can use a dutch oven, but then you run the risk of having to stack the pieces of meat on top of each other (depending on how large the recipe you are making) You really don't want the meat fully submerged in the liquids that will be added. They should be peaking out, submerged between half and three quarters. In fact, before I got a braising pan, if the sauté pan I had wasn't wide enough to feed a large group, I would take a second dutch oven and divide the recipe between the two, so that all the meat I was cooking could sit in one layer between the two vessels. Moroccan tagine cooking is a version of braising. Chicken Cacciatore, Coq au Vin, Jambalaya, etc are all braised dishes. It's really almost a stew, but you're trying to keep the meat from all being fully submerged.
The other day I was at St Lawrence Market and found some beautiful oxtails. I was totally reminded of my mom's oxtail soup. Good memories of that rich, earthy soup with chunks of oxtail meat in the thick broth. But I knew that this time I wasn't going to make soup. I was going to braise them. Serving braised oxtails over buttered parsley noodles or mashed potatoes is just such a cozy, rich and deeply flavourful way to Jim's heart! Oxtails are still pretty reasonably priced, unlike beef short ribs, which used to be economical but have now gotten a touch more expensive due to being trendy. So to get the same effect and related flavour, why not try oxtails?!
The great thing about this recipe, is that everything I am going to describe can equally be applied to lamb shanks, osso bucco (veal shanks cut cross wise, exposing the bone in the middle) beef short ribs etc. The ingredients will work perfectly with all of these cuts of meat. The only thing that may change is the cooking time. But once you've learned this method, feel free to swap out the meat. And then think of the options of what you could serve this with: noodles, mashed potatoes, polenta, rice or even couscous.
So what makes my braise so special, you ask? Cocoa powder. Yep, cocoa powder. Red wine and cocoa powder go fabulously together. I'm not talking sweetened hot chocolate powder. I'm referring to the raw cocoa powder that is unsweetened. It is earthy, deep, slightly bitter, and adds such an amazing depth of flavour to the final dish. Think Mole sauce.
As with all cases, browning the meat briefly is necessary to get a good crust that will then hold up to the lengthy cooking time. After the meat is seared on all sides, it is removed and the aromatics are added: onions, garlic, even carrots and celery. (you could add others like parsnips etc, but for now I'm giving you my classic combo) They get sautéed till just softened, Then the meat is added back, spread out evenly over the veggies. Then herbs are added. Finally wine and stock are added, the whole braise is brought to a boil, and then reduced to a gentle simmer. The lid stays on, and you let the entire pot bubble away for a few hours. Once the meat is tender (practically falling off the bone tender) you can move on to the final step. Remove the meat, and make a paste of butter, flour and cocoa powder. This gets added to the simmering liquid, and everything is brought up to a boil. Then you cook it down slightly until wonderfully thickened.
Now you've got tender meat, some lovely veggies, and a thick flavour packed gravy. All you need is a bed of carbs to soak up all that gravy! The German in me leans toward potato dumplings or spaetzle. But my Canadian hubby insists on mashed potatoes. He's so predictable. Add a salad and its fit for a party!
These dishes are perfect for winter. The kitchen is a place of coziness, and the meal is truly a rich, stick to your ribs kind of meal. Make this before it warms up!! And what's even better, depending on how much you make, there will be leftovers.
Love Jen.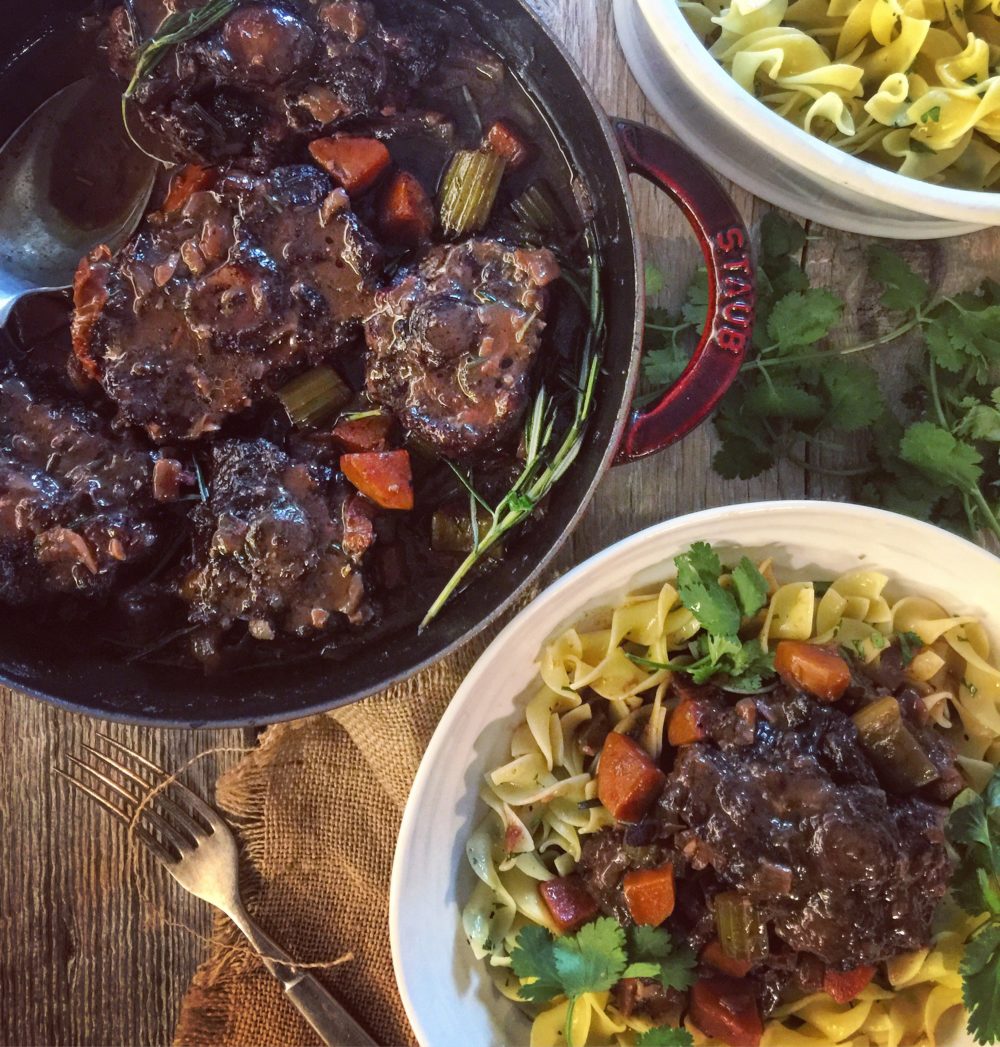 Cocoa and Wine Braised Oxtails
A rich, intoxicating braise of tender oxtails, veggies, wine and cocoa powder for an added layer of flavour. Your family and friends will catch this aroma down the street, beckoning them home!
Total Time
3
hours
25
minutes
Ingredients
2

tbsp

olive oil

4

lb

(2 kg) oxtails

about 8-10 pieces

1

large

onion

diced

6

medium

garlic cloves

minced

2

large

carrots

diced

2

celery ribs

diced

3-4

fresh rosemary sprigs, chopped to give you 2 tbsp worth

or 2 tsp dried

1/2

cup

sun dried tomatoes in oil

chopped

2

cups

dry red wine

3/4

cup

(200 ml) beef stock or broth

2

tbsp

softened butter

2

tbsp

AP flour

2

tbsp

raw cocoa powder
Instructions
Heat the oil in a large wide pan or braiser over medium high.

Add the oxtails in one layer (work in batches if necessary, although, in the end they should all fit at the same time) and sear on each side till well browned (about 5 minutes per side) Remove to a plate. Adjust heat if searing too quickly or starting to char.

Reduce the heat to medium and add the onions and garlic to the pan. Stir to coat in any remaining fat and cook for about 1 minute.

Add the carrots and celery. Stir and cook till just starting to soften, about 4-5 minutes.

Nestle the meat back into the vegetables, so that they all fit in one layer.

Sprinkle with the rosemary and sun dried tomatoes.

Add the wine and beef stock and bring up to a boil.

Cover with a lid and reduce the heat to low. You want a gentle bubble, a low simmer, but with regular bubbling going on.

Cook for about 3 hours or until the meat is very tender.

Remove the meat from the sauce to a plate.

Combine the butter, flour and cocoa powder in a small bowl. Mash with a fork until you have formed a paste.

Add this paste to the liquid and bring up to a boil.

Cook until starting to thicken nicely. Season with kosher salt and cracked pepper.

Return the meat to the pot and let the sauce coat the meat.

To serve: Serve the meat and some of the gravy and veggies over a plate or bowl of creamy carbs!
Recipe Notes
You can totally substitute the oxtails with osso bucco veal shanks, or beef short ribs, or lamb shanks. Follow every step. The only change will be the timing needed to cook the meat through. For instance, the veal may only require 2 hours. But you can easily check this after the 2 hour mark for any of the above. Since you are cooking at such a low temperature, there is no way any cut of meat will be done in less than the two hours. You really want TENDER. Ready to fall of the bone tender. You really can't overcook these cuts, since they are surrounded by the best liquids- they won't dry out.
SaveSave
SaveSave
SaveSave