This is one of those dishes that came about because I desperately wanted to make my favourite dishes, but Jim wasn't cooperating.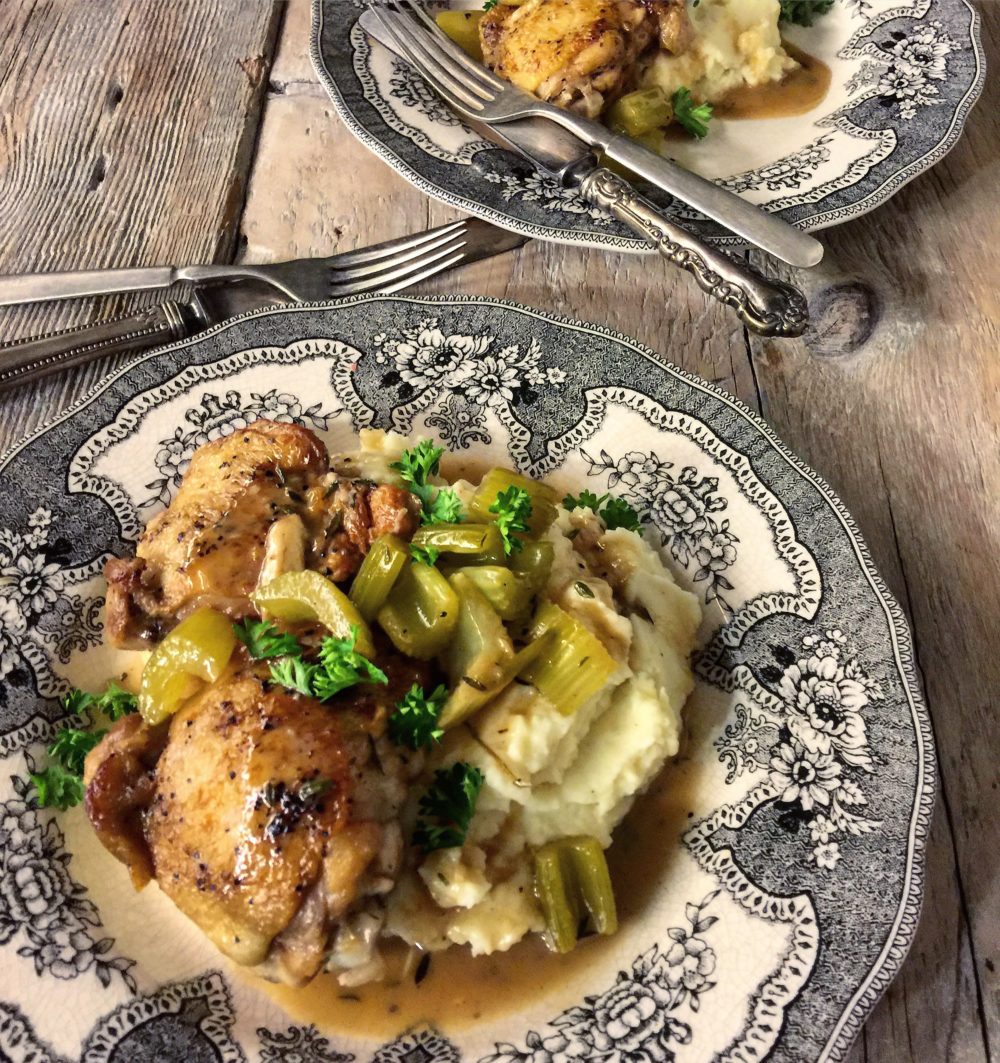 You see, Jim doesn't like mushrooms. Sure, he has a 'convenient' allergy. But like so many other guys, he detests the texture.
He first sprung his abhorrence for them on me while we were dating. I was a tad taken aback, as I had been putting 'shrooms in so many dishes, and he had never said anything. I asked him what his reaction would be. At first he insisted he could keel over and die (well that never happened) but then he reduced it to headaches. Fine. But then he found out that I had been serving him mushrooms, usually chopped and cooked down in bolognese sauces or goulash type dishes (obviously in complete innocence not realizing his death inducing allergy). From that point on he developed this conspiracy theory that I was regularly sneaking them into dishes. I wasn't.
Jim went so far as to vocally malign the poor mushroom to my innocent, food loving toddler of a nephew. Sammy loved to try all the new dishes and ingredients that my sister creates and finds. He was maybe three years old, with the palate of a 25 year old at the time. And he was such an adventurous soul. But when Uncle Jim used the line that 'cool guys don't eat mushrooms'… well you can guess what happened. My poor sister now had a son who insisted that mushrooms must never grace his plate again. The funny thing is, Jim jokingly is proud of creating an ally in his poor, unsuspecting nephew!
So, how was I to make wild mushroom and barley soup? Beef Stroganoff? Coq au Vin? I racked my brain trying to think if there were substitutes for the 'shroom in any of these dishes. The first one that I conquered was Coq au Vin. Such a classic chicken braise with wine and onions and mushrooms. Served over mashed potatoes or egg noodles.
Mushrooms are earthy, meaty, and can hold up under cooking. What vegetable would step in with these same qualities? For me the decision was to try celery. Yep, the lowly celery. Celery is earthy, not sweet, ever. Most vegetables when roasted etc develop a sweetness to them. Celery doesn't. This long green, often forgotten, usually ignored vegetable, would be my understudy. I cut the stalks into good one inch pieces (to maintain their structure during the braising in wine with the chicken thighs. They became the perfect foil for the rich wine reduction that followed. Traditionally this French fricassee uses an old coq (rooster) which is cooked down slowly in red wine, veggies and mushrooms. But there is also Coq au Reisling, a version which uses white wine. I have always leaned this way. And the white wine compliments the celery better. This recipe is truly a breeze to bring together: quick sear to brown the skin side of the thighs, then the addition of shallots, garlic, thyme, celery and wine. Bring to a boil and then drop to a simmer. In a half hour or so it's done! Then the best part: remove the chicken and celery, and then reduce the remaining liquid into the richest, most flavourful sauce to pour over everything.
I loved so much how it turned out. And so did Jim. Mind you, he had no idea that Coc au Vin is supposed to have mushrooms. So as far as he is concerned, this is the only way to make this dish. That was early on in our marriage. And I still make it exactly the same. Being German, I would love this over noodles, but to make Jim totally happy, I make heaps of mashed potatoes. Creamy, garlicky, and with a touch of freshly grated nutmeg. We are both very happy with this for dinner. Comfort food.
Speaking of comfort food, it has finally gotten cold here in Toronto. We enjoyed a breathtaking Autumn. Unusually warm temps, sunny skies, a kaleidoscope of colours with the Fall foliage and blooms, very little rain. And it all stayed with us deep into November, bonus. But that all changed yesterday. With a vengeance, the weather reminded us that we were being delusional if we thought that Winter wasn't an eventuality. The winds picked up, temperature dropped dramatically, and there were even snow sightings elsewhere in the city and further north (I don't count the few measly little flakes getting whipped about down in the west end of the city as "It's snowing!") And so another cold season is upon us, and it is time for true comfort food.
I dedicate this recipe to all the cooks who have friends or family who complain about the mushroom. Who are vocal in their detestation of that poor little fungi, and all its cousins. And I hope that Jim never gets near any of your young, impressionable children or relatives.
Love Jen.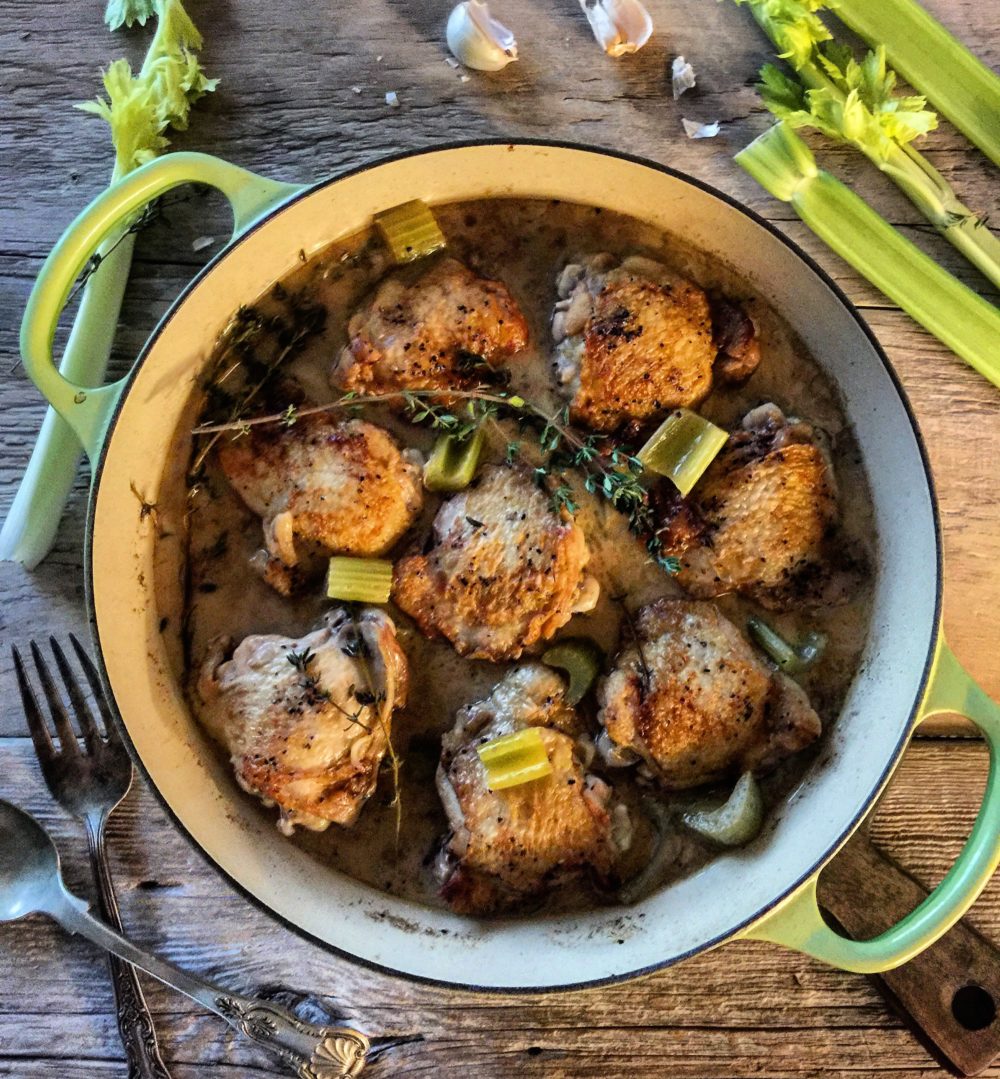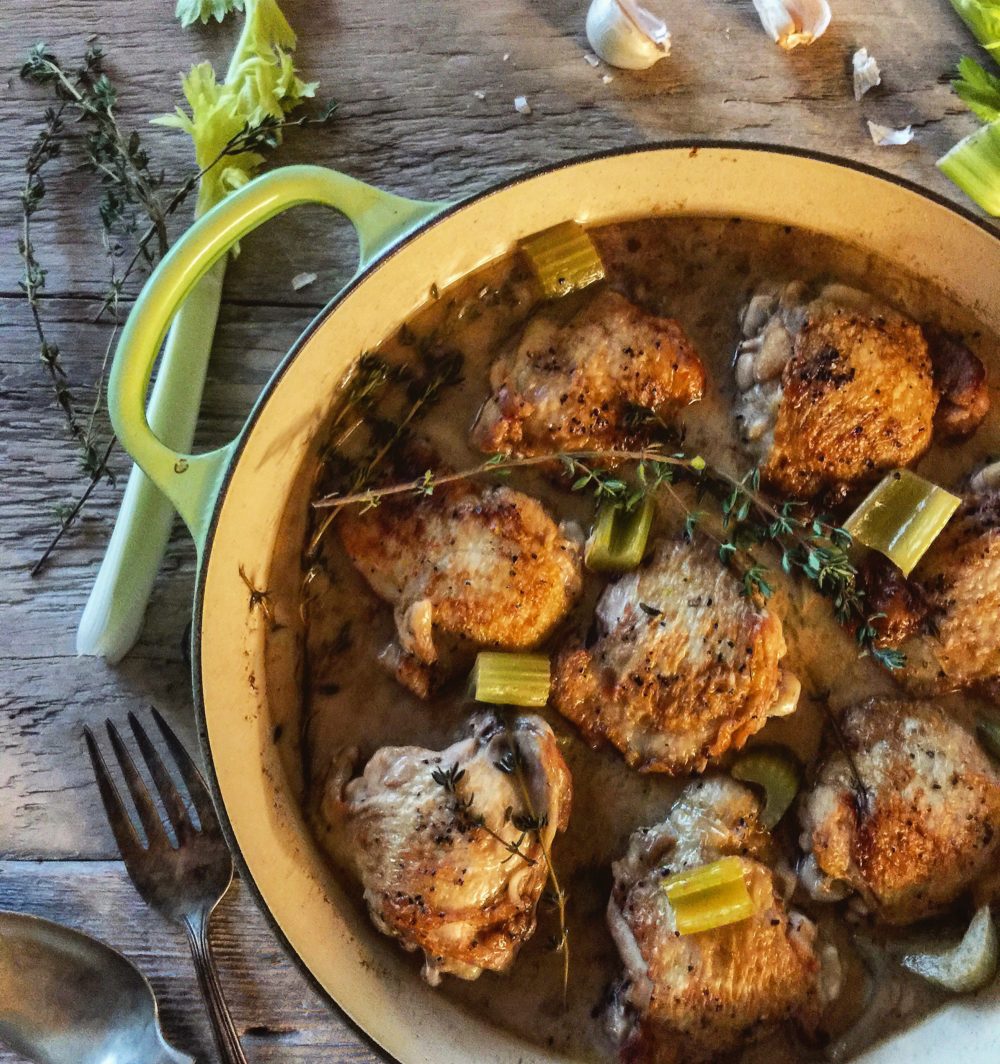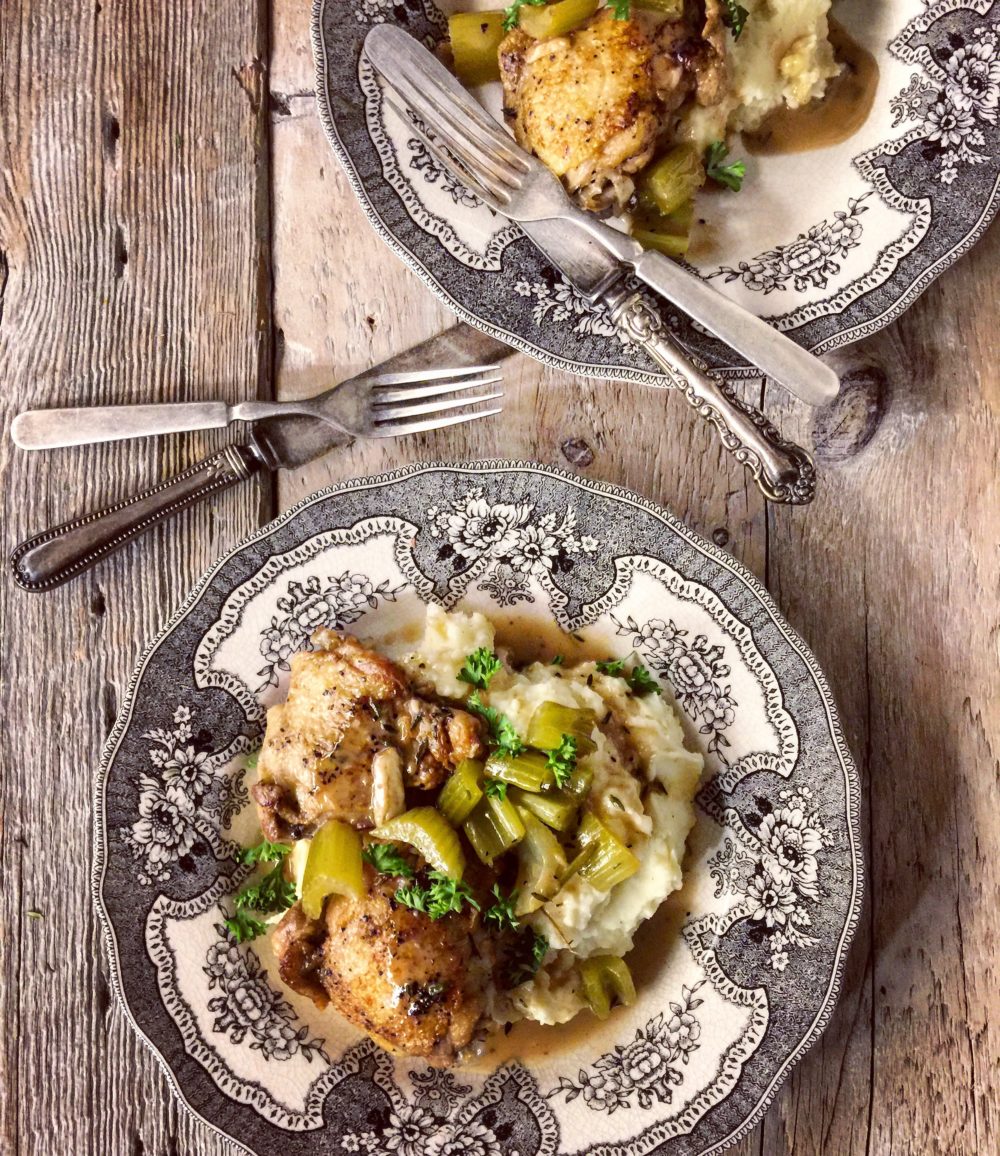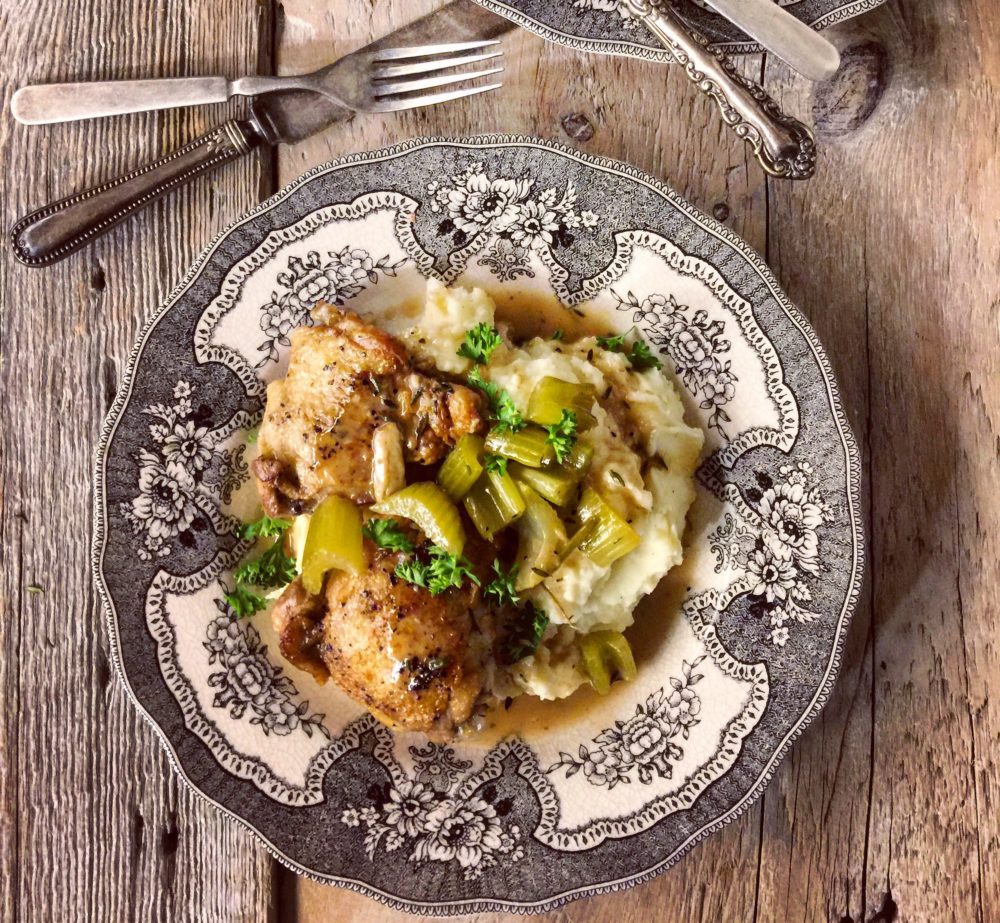 COQ AU VIN WITH A TWIST
Ingredients
6-8

chicken thighs with skin and bone

(one large thigh may be enough for one person, but if smaller, you may want 2 per person)

kosher salt

cracked pepper

2

tablespoons

olive oil

5

celery ribs

, cut crosswise into 1-inch pieces

15

garlic cloves

, halved

4

shallots

, sliced top to tail

1.5

cup

dry white wine

(Reisling is traditional in the Alsatian dish, but Chardonnay is also great)

1.5

cup

chicken stock

5

sprigs of fresh thyme

, plus 2 tbsp of chopped thyme

1/4

cup

finely chopped flat-leaf parsley
Instructions
Pat chicken pieces dry and season liberally with salt and pepper on both sides

Heat oil in a 12-inch heavy skillet or casserole (either should have a lid) over medium-high heat.

Cooking in two batches, place 4 chicken pieces, skin side down, into the oil and sear until golden brown (but do not turn), 3 to 5 minutes, then transfer these to a plate.

Pour off all but 2 Tbsp fat from skillet. Cook garlic, shallots and celery in skillet over medium heat, stirring frequently, until golden and just beginning to soften, about 5 minutes. Add wine and boil, uncovered, until reduced by about half. .

Return chicken, this time with the skin side up, to skillet. Place the thyme sprigs around the chicken. Add the water and bring to a quick boil. Then reduce the heat to a simmer.

Braise, covered partially with the lid, until cooked through, 25 minutes.

Remove the chicken pieces and celery to a platter and cover loosely with foil to keep warm.

Bring the remaining liquid back up to a boil and cook, reducing the liquid to about 1/2 to 3/4 cup.

Plate the chicken and celery with your carb of choice (mashed potatoes, egg noodles, roast potatoes etc) and pour some of the sauce over everything.

Sprinkle with extra thyme and parsley.
Recipe Notes
Thighs are one of those cuts that can run large or small, depending on the chicken they came from. If they are on the smaller side, you may want to serve two person. Larger ones should suffice at one person. I say, fill the skillet or casserole with as many thighs as will fit in one layer, Better to have leftovers!!
SaveSave