Don't you find that celery gets a back row seat to all the other veggies? At best, it shows up on crudite platters, and even then it is usually the last veggie chosen to be dipped.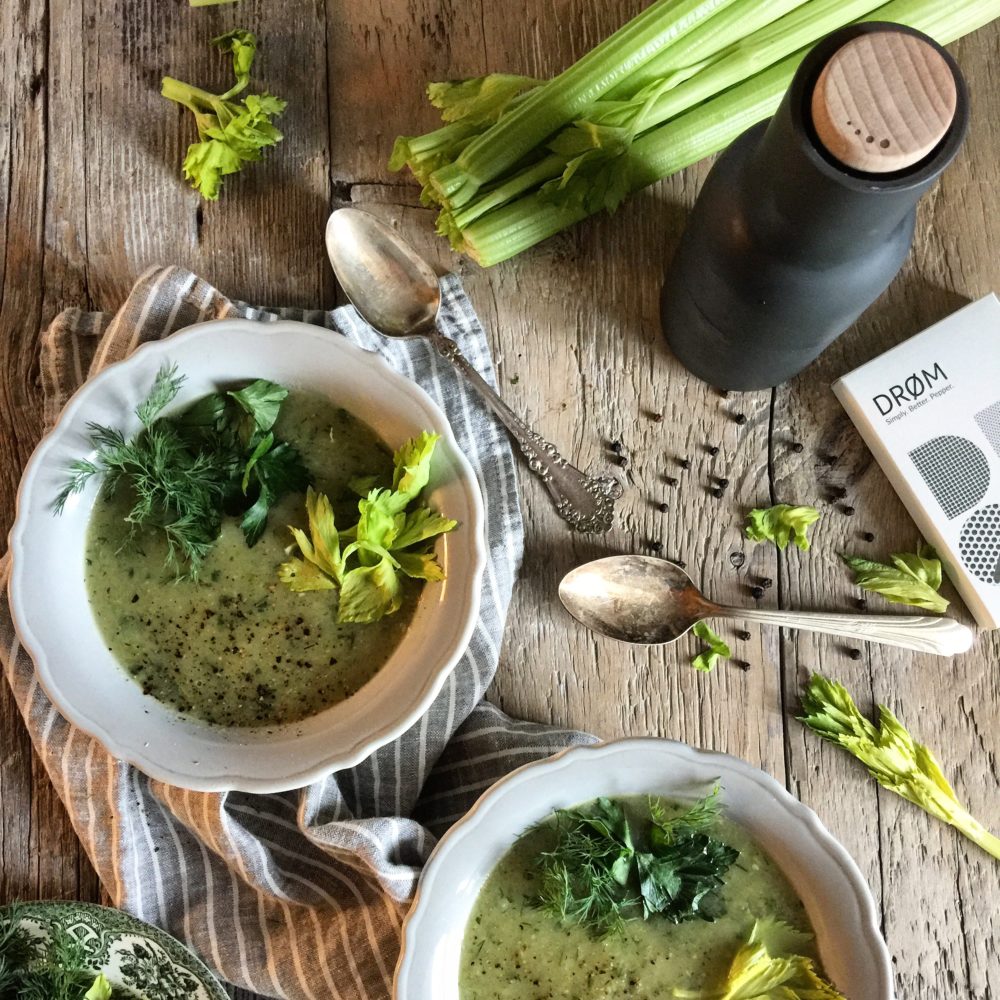 But usually it is just an ingredient to show up in stock or as an aromatic flavour addition to soups and stews etc.
So to correct this, I give you 'Cream' of Celery soup. There's no cream. But there's plenty of celery. It truly is the star of this soup. And talk about a soup that has year round accessibility. It's not like we're usually anticipating celery season! Celery is ubiquitous, a staple in the veggie aisle of every grocery store. And it's rare that there are price wars over celery. Remember the cauliflower fiasco of a year and a half ago? Here in North America, there was about a month or two where the price of cauliflower had suddenly jumped to a good $8.00 a head. From the typical $4.00 or so. We were all in shock. And many of us just couldn't justify the purchase of this lovely cruciferous globe of tightly packed florets. Thankfully the price wars were soon over.
But this has never happened with celery. Or at least to my knowledge. So this is the perfect soup to prepare if you are on a budget. And it's yummy and healthy to boot!! This soup has a lightness and delicateness to it, without losing any substance or oomph! Instead of any cream or massive amounts of butter, the velvety texture comes from a potato added to the simmering vegetables.
Now, usually I roast off my veggies before turning them into a soup. I find that this adds such a depth of flavour and intensity. This time around, I didn't want to lose any of the 'greenness' of the celery by roasting it off. Roasting the potato and onion would introduce caramelization, which could totally detract from the delicate nature of the celery. So this time around, just a simple simmer would do the trick. But there is flavour! I use a simple seasoning of kosher salt and white pepper. Yes, white pepper. White pepper has a different flavour from our typical black pepper. It has a presence and works beautifully with vegetables. In European kitchens, white pepper often comes out when the cook doesn't want flecks of black disturbing the look of the final creation (think vichyssoises or mashed potatoes) There is a final kick thanks to half a fresh jalapeño pepper, some parsley and some dill. And everything is finished with some freshly cracked black peppercorns. As a finishing pepper, it works perfectly. It isn't meant to flavour the entire soup- the white pepper did this. The black is there for some contrast (not just visually, but flavour wise as well) You could also use black sesame seeds or nigella seeds. I love the black against the green!
As for the texture, this one is up to you. Some soups just seem to suit a totally velvety smooth texture. I get it. But for this one, I decided to leave it just a touch on the chunky side. This can be achieved several ways. You can remove some of the pieces of cooked vegetables before you puree the rest in a blender. Then you can add the veggies back in. Or you can use an immersion blender, and just blend till you are happy with the texture, stopping when there are still some chunks visible.
So think about it: celery, onion, garlic, potato, dill, parsley, and jalapeño pepper. Pretty inexpensive grocery list if you ask me! Not hard to stay on budget with this one. And perfect if you're feeding a crowd. Doubling it is a breeze. Oh, and do add a loaf of fresh sourdough to accompany the soup. Or else some gluten free Mary's seed crackers for crunch.
This soup makes a fabulous first course for a larger meal, or can be the star for a simple Meatless Monday meal for the family. Celery, not be maligned any further!
Love Jen.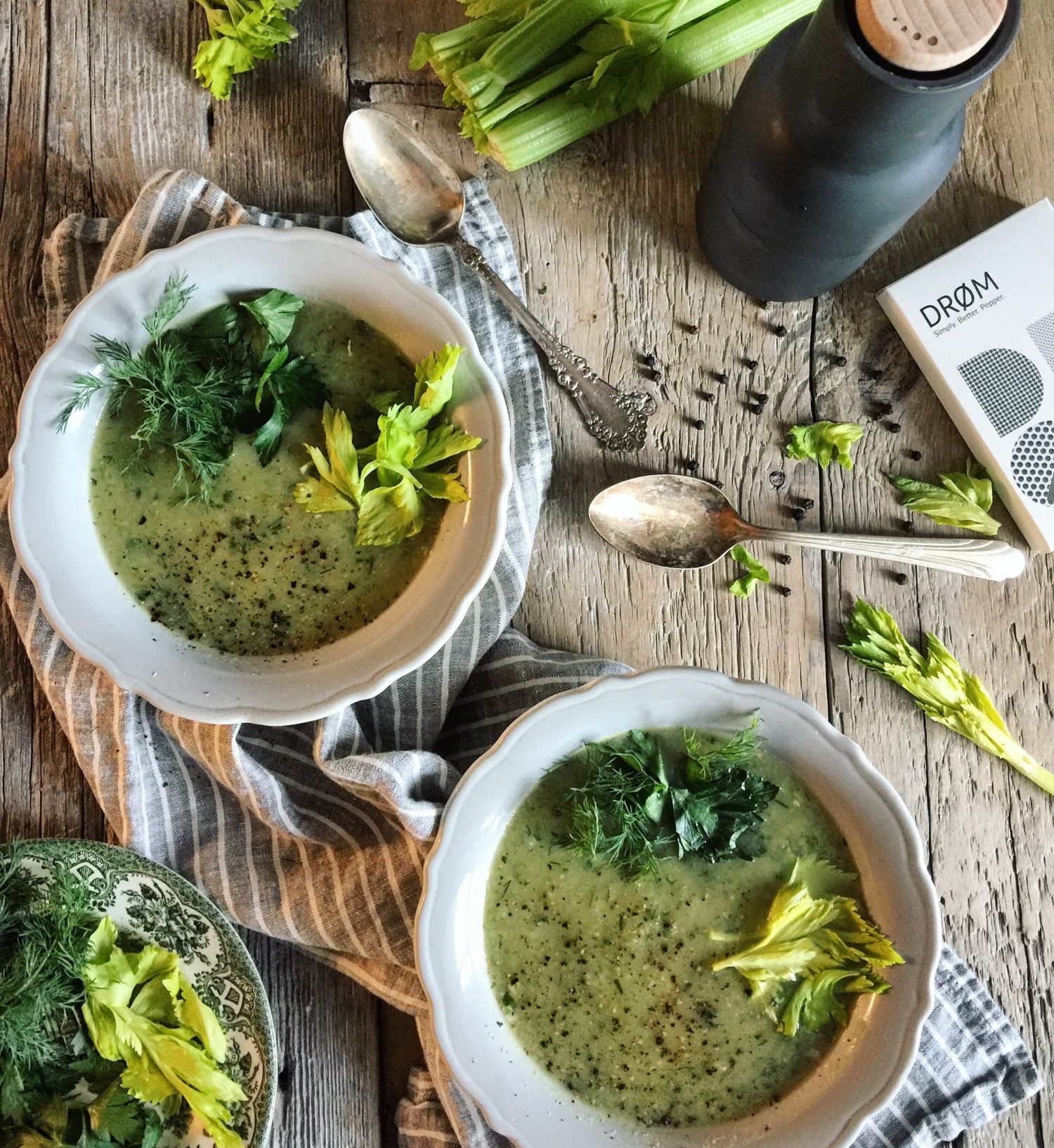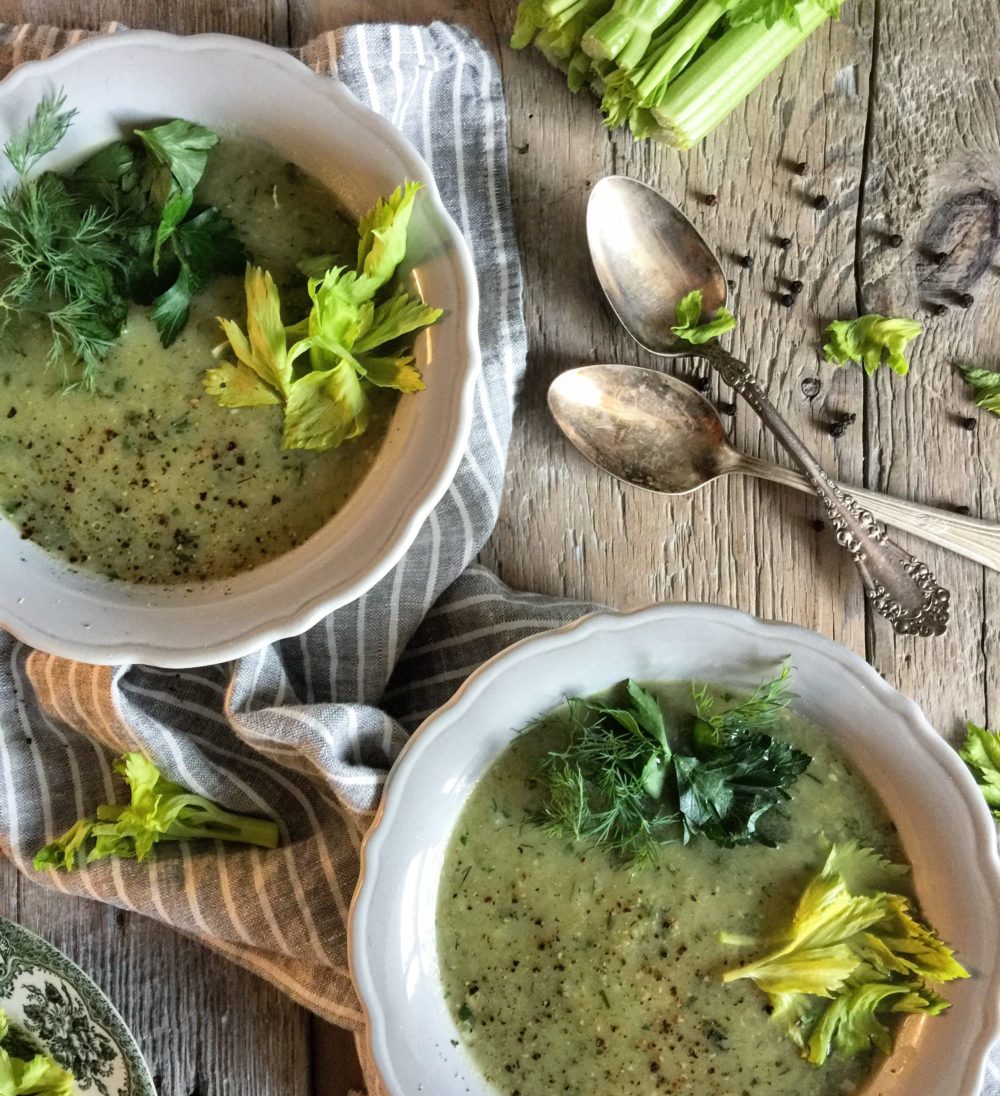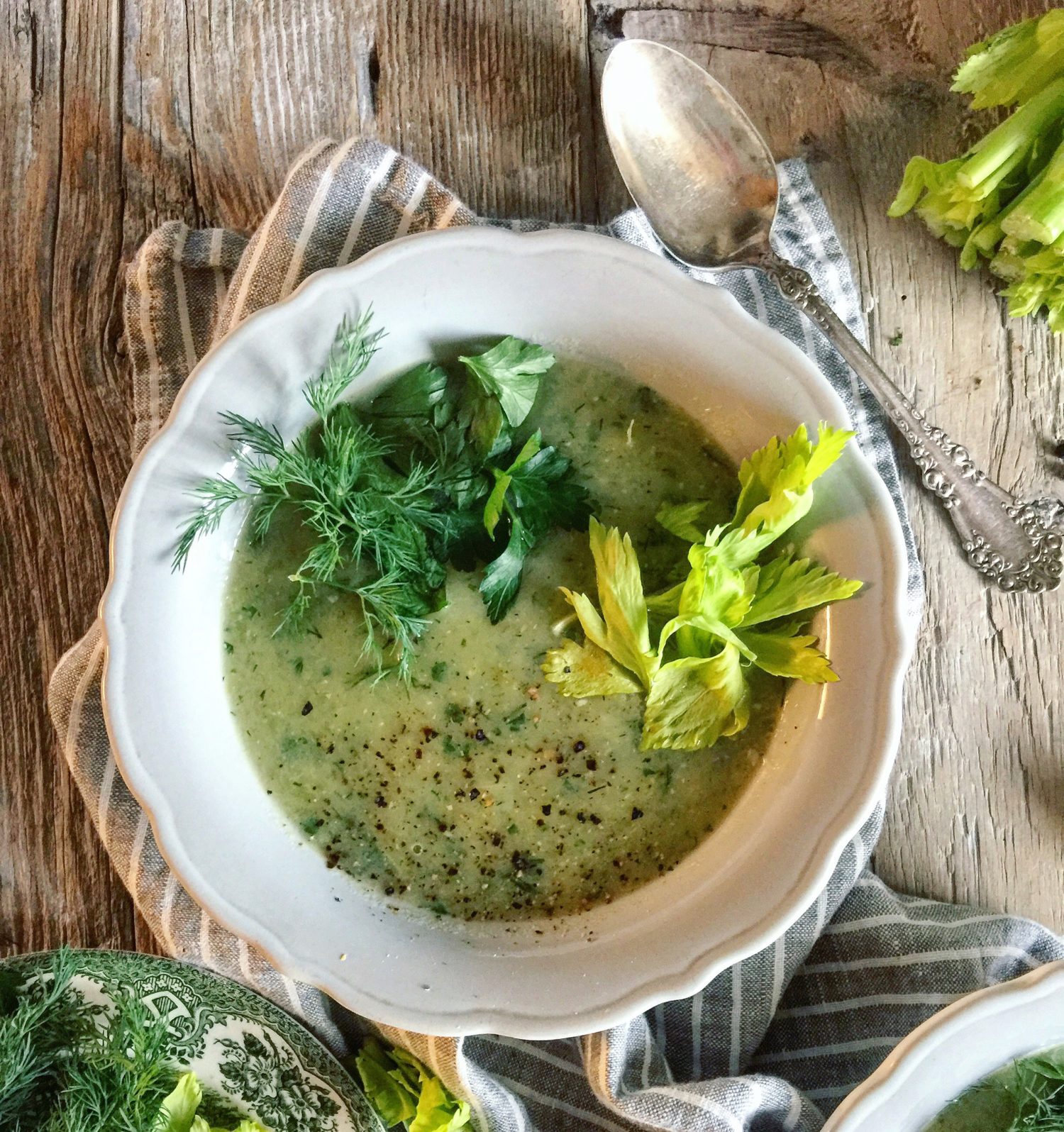 'Cream' of Celery Soup
Fresh, green, with a creaminess added by Yukon Gold potatoes. A wonderful, zesty soup, whether for a family dinner, or a light, first course for a dinner party.
Ingredients
2

tbsp

olive oil

1

large white or yellow onion,

chopped

3

garlic cloves,

minced

1

lb

celery ribs, cut into small pieces, leaves chopped and set aside for garnish

you should have about 4 packed cups of celery ribs

2

medium Yukon Gold or other yellow fleshed potato

peeled and cut into 1 inch cubes

4

cups

vegetable or chicken stock

1

cup

fresh dill

roughly chopped

1

cup

fresh parsley

roughly chopped

1

tsp

kosher salt

1

tsp

white pepper

1/2-1

jalapeno pepper

seeded and finely chopped

4-6

tbsp

fresh parsley

chopped

4-6

tbsp

fresh dill

chopped

fresh cracked pepper
Instructions
In a large stock pot, heat the oil over medium heat.

Add the onion and sauté for 2 minutes, stirring. Add the garlic and sauté for another minute.

Add the celery and potato chunks. Stir around to warm through.

Add the stock. Bring to a boil and then reduce to a simmer. Let simmer for about 15-20 minutes or until the potatoes are just soft, but not getting to the point of getting mushy. You don't want them ready to melt away! (if you want a soup with some texture)

Add the larger amounts of dill and parsley and stir them through. Remove from the heat.

Blend: If you want to use a blender or food processor, but still want it somewhat chunky, remove some of the veggies with a slotted spoon and set aside. Going in batches if necessary, blend till completely smooth (Cover the lid with a tea towel as protection against any steam that may push up as you start the blender)

Return the soup to the pot as well as the strained veggies you had removed.

Immersion Blender: Carefully use the wand to blend up the soup to the desired texture.

In either case, season with salt and white pepper. Taste and adjust.

This soup can sit on the burner set on low for a little while before serving. If there are leftovers, or you must wait a while before serving, do not bring up to a high heat to re-heat. This can turn the soup grey in colour (it will still taste fine though) Always use a low setting.

Garnish: Sprinkle the extra parsley, dill and reserved celery leaves on to each bowl . Sprinkle with a bit of the jalapeño confetti! Freshly cracked pepper is great as a finishing pepper as well. Use a good one!
SaveSave