This is an unapologetic tribute to an amazing salad we enjoyed in February at a very special dinner party here in Toronto.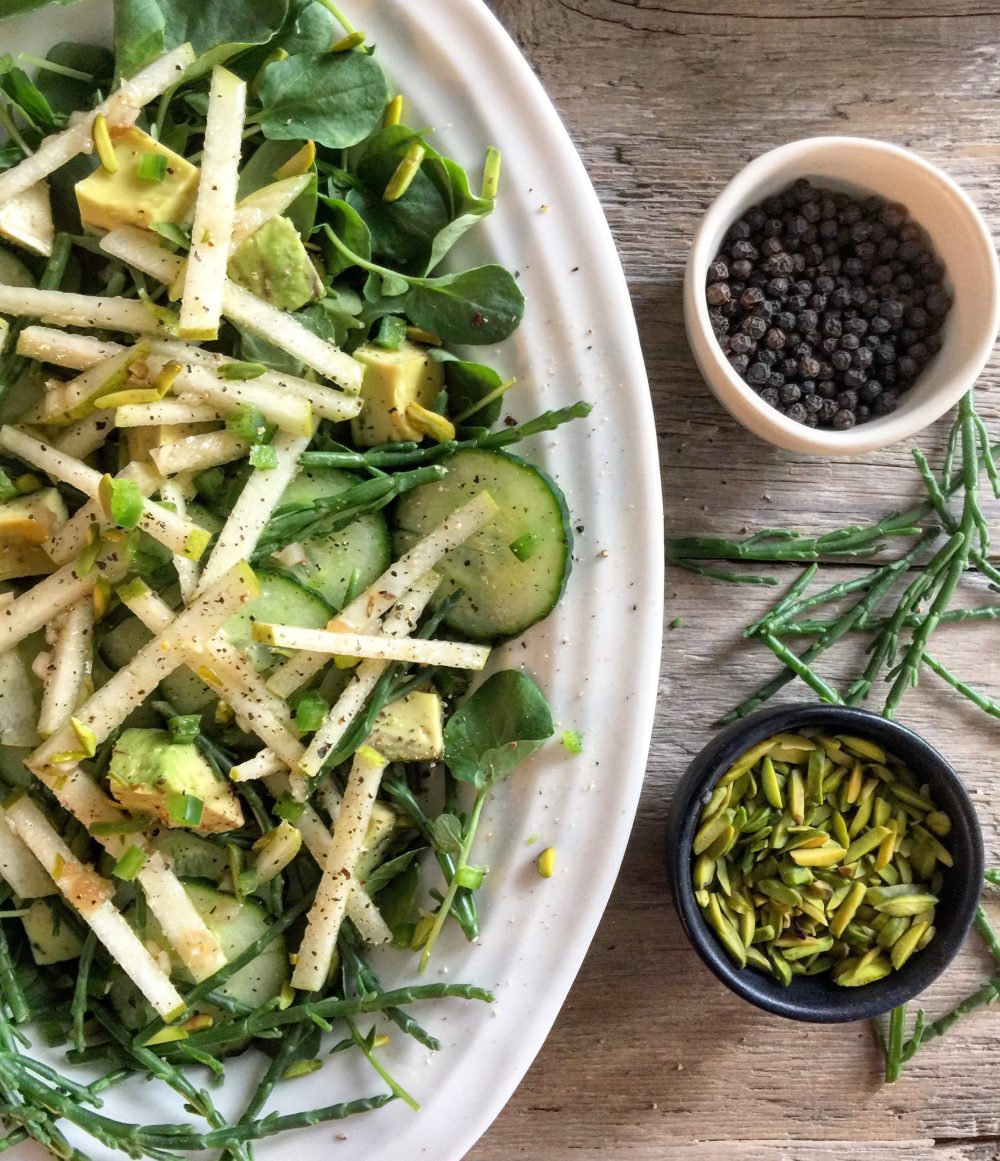 Toronto Life Magazine was co-hosting a 'The Coolest Dinner Party Ever' with Sonos, the home sound system company, at the home of Ken Hunt, publisher and gracious host, along with his wife. It was going to be a stellar evening of music, lovely Beach setting, and stimulating company with fellow foodie and music lovers. The evening would be in the good hands of Franco Stalteri, founder of CB Wine Program and dinner experiences via Charlie's Burgers, and his team; Patrick Kriss of renowned Alo Restaurant in downtown Toronto, and Afrim Pristine, of one of my favourite spots in Toronto, The Cheese Boutique. Together they would feed a curated crowd a most memorable 13 course meal.
Toronto Life put out the call to see who would want cherished seats at that dinner. They received hundreds of emails from across the GTA. And guess what… Jim and I were among those invited!
I can't do as good a job of recapping such a memorable evening as the writers of Toronto Life did, so I'm including the link to the evening's festivities right here!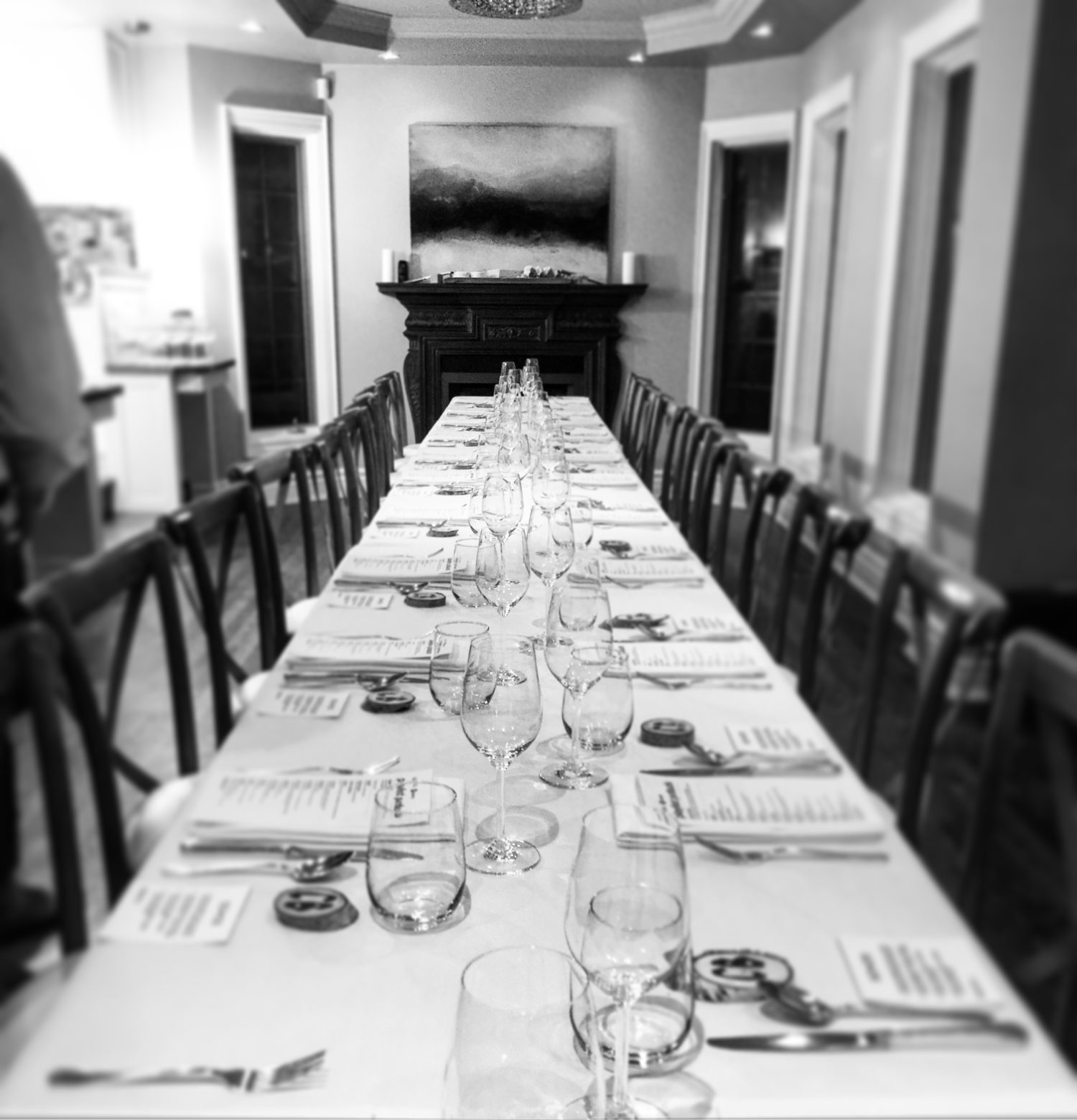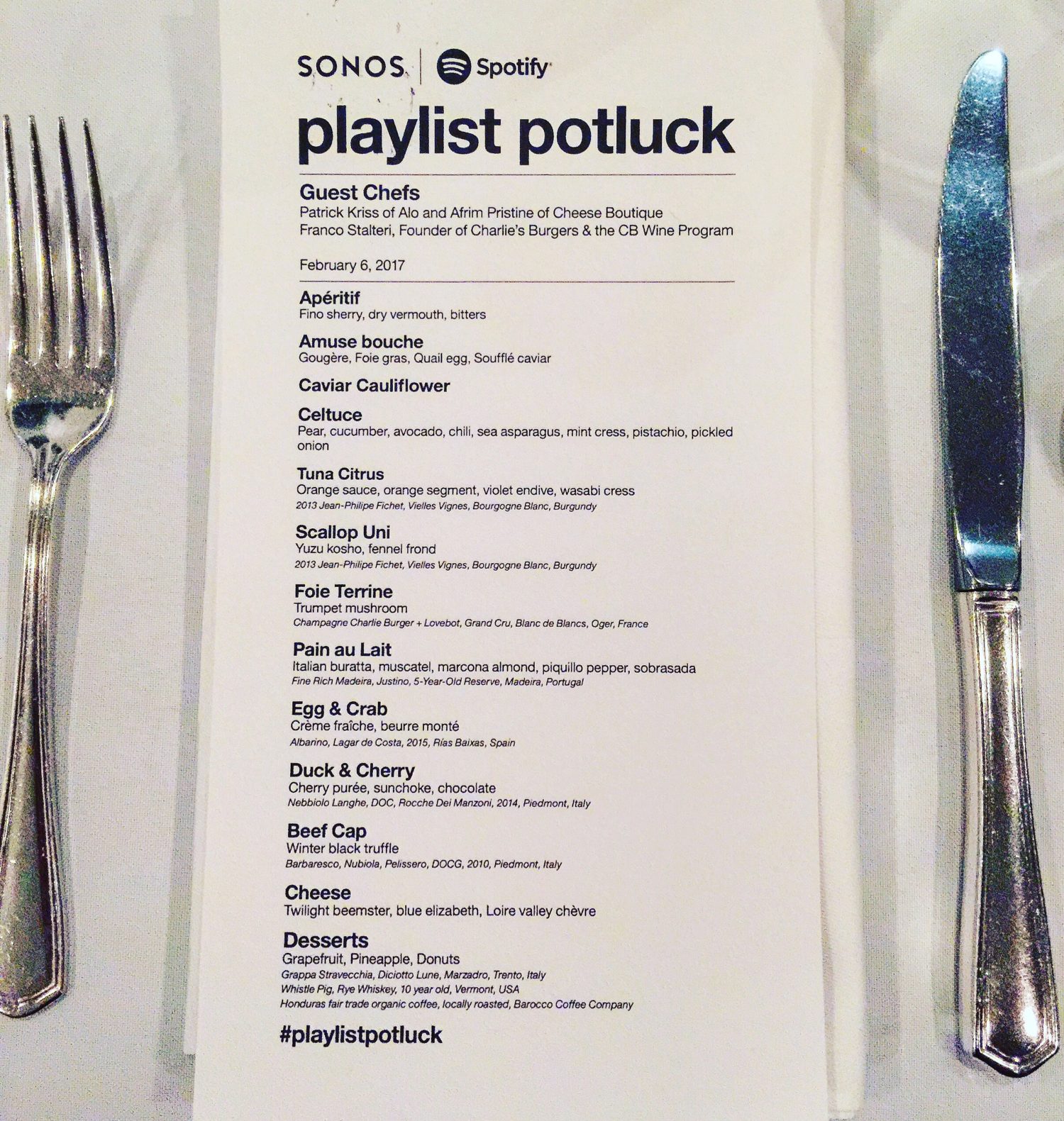 Every course was outstanding in its own way. Each unique course was curated with well chosen wines or ports. It was a true party for our tastebuds, and even Jim ate with gusto (we know that he's not the most adventurous eater out there!)
For me, when the Celtuce Salad appeared before me, I was enthralled. We know how much I love sea asparagus. Well, Patrick Kriss had managed to include it in the most delicate combination of pears, cucumbers, avocado, mint cress and pickled onion. A light but most flavourful salad. I savoured every bite. And I vowed to attempt to recreate the flavours at home. This is that salad. This is more of an inspiration than an actual attempt to recreate. I hope Patrick Kriss approves of the liberties I've taken.
I did take some liberties. While Patrick used pickled onions, I omitted these, and instead decided to use shallots in my vinaigrette. Because the ingredients are all pretty delicate, nothing too robust about any of them, I decided that a champagne vinegar would be the best way to highlight them all.
It was the sea asparagus that made me smile. One of my favourite ingredients to create with. I do hope you can find it wherever you find yourself living. It is definitely worth searching out. That briny little branch packs flavour, crunch and is jam packed with nutrients. It is sustainable, and can be sourced globally. But it won't be found in most common grocery stores. Here in Toronto, I can be guaranteed to find it at Urban Fresh Produce at our St Lawrence Market. If sadly, you can't source it, quickly steamed asparagus would do the trick. However they are not related! However, just steam it to crisp tender, not limp please!!
This salad is a joy to make. It really is more about assembling the components in the portions that you desire. Do you like more avocado, then feel free to add more. Are you more of a cucumber lover, then highlight this. The pear can easily be replaced with a Granny Smith apple. But the sea asparagus and the cress are totally needed- they provide the balance to any of the sweetness going on. The 'recipe' below is more of a guideline. Depending on how many you are feeding, and whether you want it to be a side or a main, add more of all your favourites. And of course, this is the perfect time for a good finishing pepper, like Drom!
This is a light, crunchy, complex salad when it comes to a play of flavours. But it is a year round winner as first, main or even brunch course. Hope you enjoy it as much as I do 🙂
Love Jen.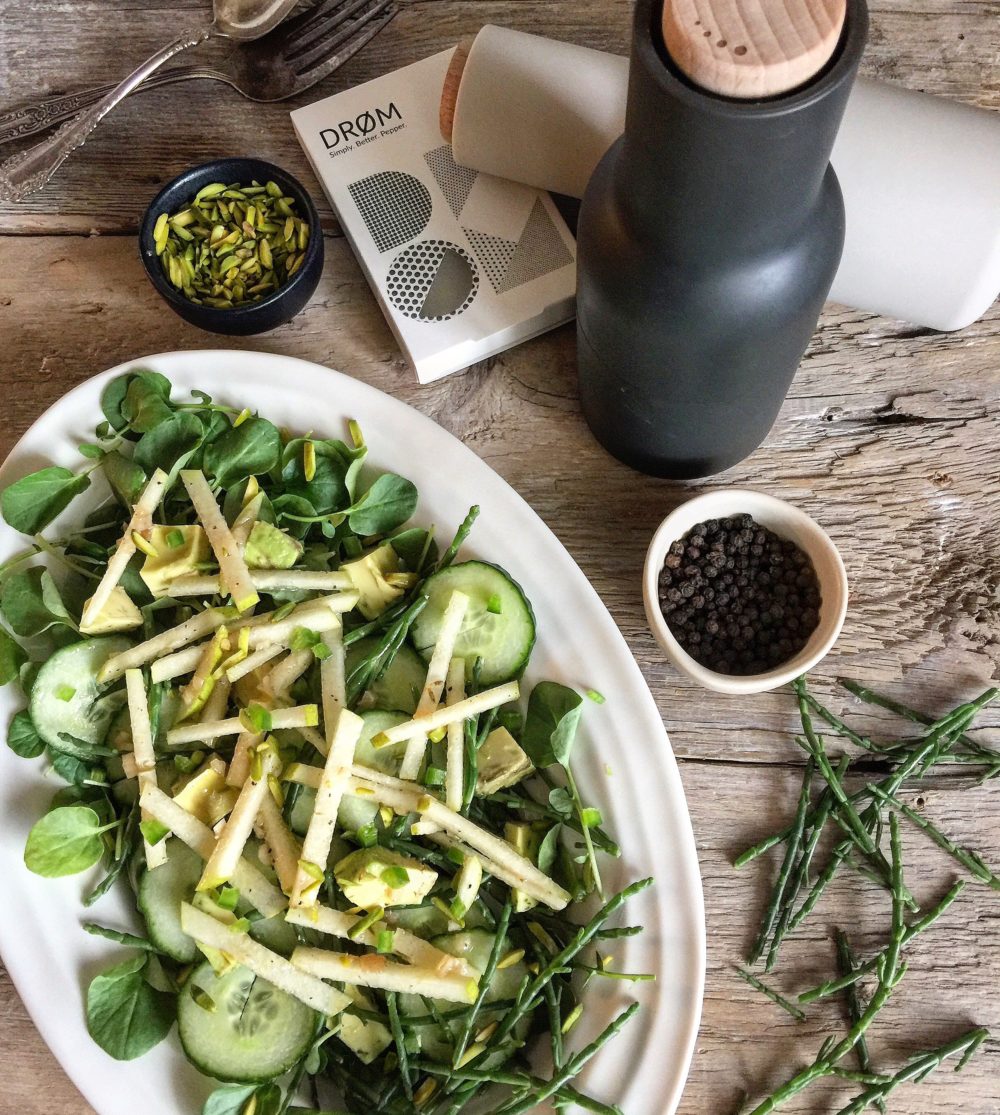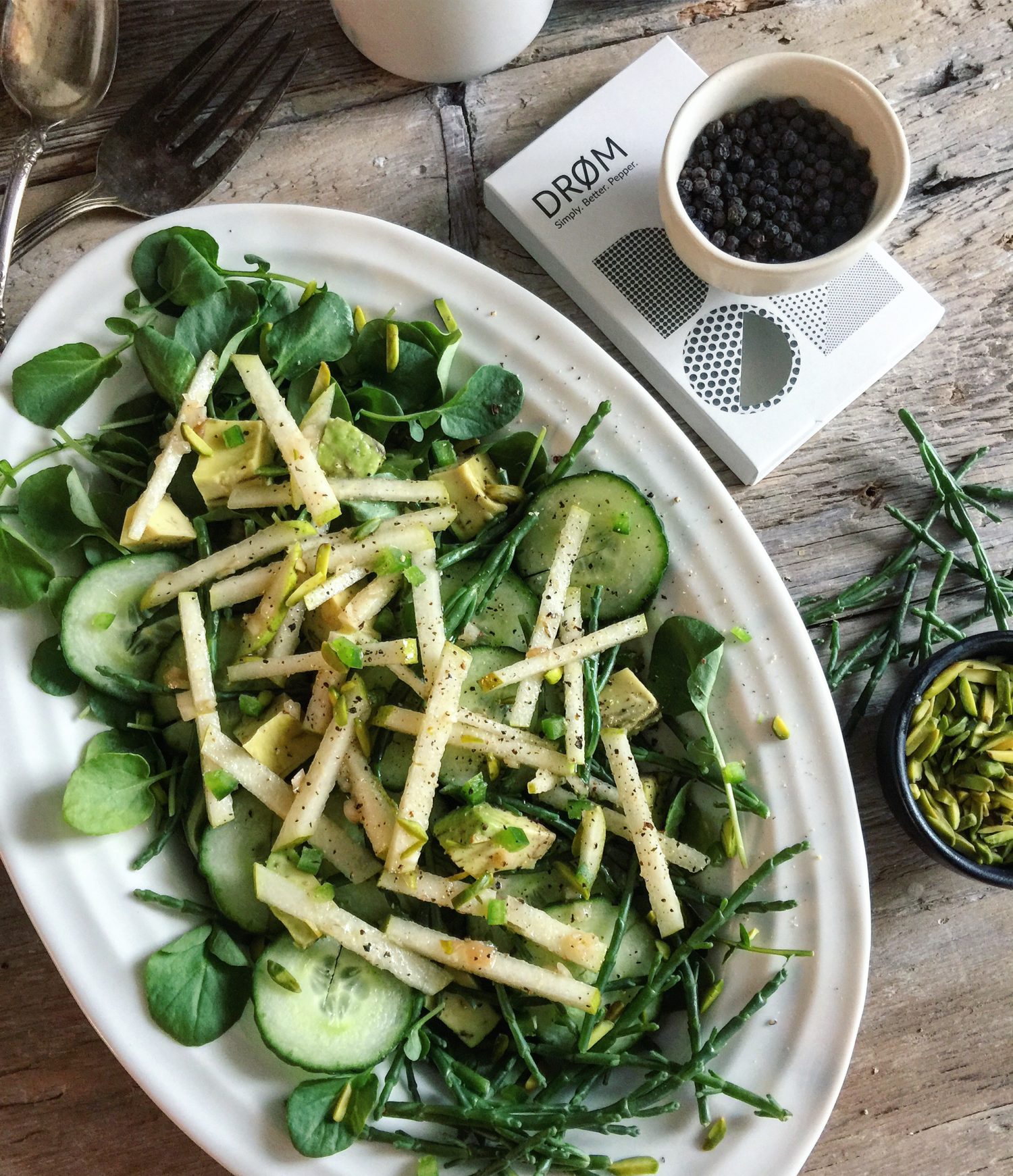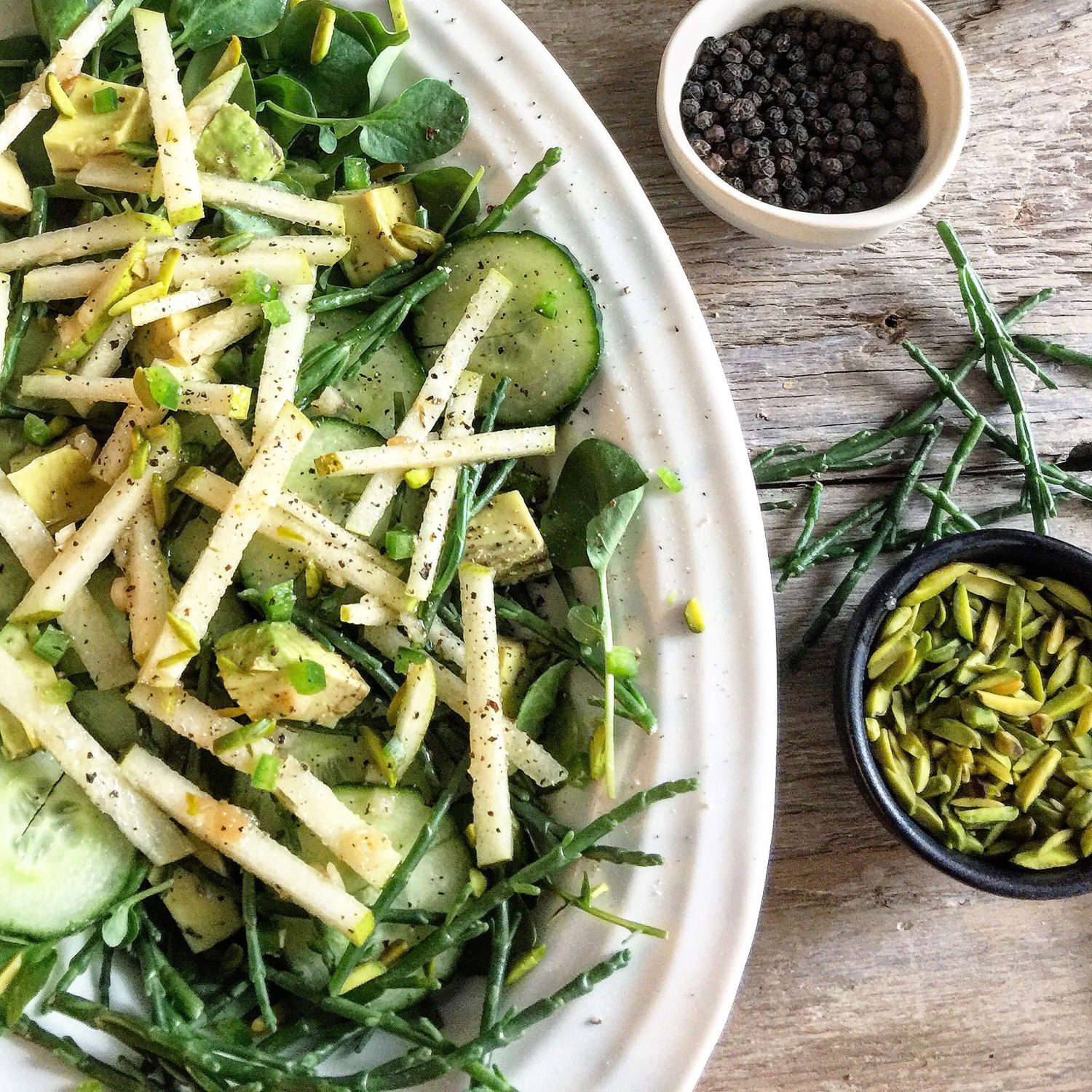 Cress, Sea Asparagus and Cucumber Salad with Pear and Shallot Vinaigrette
A wonderful blend of greens, crunchy sea asparagus, fresh cucumber, creamy avocado and sweet pear batons in a shallot and champagne vinaigrette. Perfect for any occasion
Ingredients
1

tbsp

shallots (or 1/2 of one shallot)

rinsed and strained to remove any sharpness.

3

parts

(approx 6 tbsp) extra virgin olive oil

use the good stuff!

1

part

(approx 2 tbsp) champagne vinegar

if you can't find this, then use white wine vinegar

1/4=1/2

tsp

dijon mustard

to taste

kosher salt and cracked pepper

1/2-1

Bartlett pear

1/2-1

avocado

juice form one or more lime, as needed

2

cups

water cress

or any version of cress you can find

1

cup

maiche or any other light young leaf lettuce

1

cup

sea asparagus

soaked and rinsed in cold water for about 10 minutes to remove any unwanted briny flavour

1/2

English cucumber

sliced

1/2

jalapeno pepper

minced

3

tbsp

pistachios

slivered or sliced
Instructions
Combine the shallots, olive oil, champagne vinegar and dijon mustard in a small jar with a lid. Season with salt and pepper. Put the lid on and give a good shake. Taste and re-season to your liking. Set aside.

Cut your pear into matchsticks about 2 1/2 inches long or so. Toss these with some of the dressing to keep them from turning brown. Set aside.

Cut the avocado into bite sized chunks. Drizzle these with lime juice to keep them from turning brown. Set aside.

Create your base of cress, macho, sea asparagus, and cucumbers in a serving dish or bowl. This is not a tossed salad. Feel free to compose it the way you would like for serving. I like to have everything evenly distributed, so that you can see a bit of everything.

Scatter the avocado over everything. Scatter the pear matchsticks next.

Pour the rest of the dressing evenly over everything. Garnish with the diced jalapeño and pistachio slivers.

Serve immediately.
Recipe Notes
This is more of a guideline than an actual recipe.
Feel free to add more or less of each ingredient as desired. Or as dictated by how many you are feeding. The basic description I gave above should serve 4 as a side.
This is a pretty delicate salad, so be prepared to serve it as soon as you have made it. In other words, prepare the rest of your meal first, and then finish assembling this just before everyone is sitting down.
If you are unable to source the sea asparagus, substitute with quickly steamed asparagus. They are not related, but regular asparagus will work wonderfully in this salad. Just make sure to only steam to crisp tender, not limp!
If you can't find a Bartlett pear, feel free to substitute with a Granny Smith apple.
SaveSave
SaveSave