When I was younger, I thought chicken salad was such an elegant dish.
I think it was all the novels I devoured as a teenager. Some Victorian lady of the manor was always having afternoon tea and somehow chicken salad was on the menu. I thought it must have been terribly chi chi!! I could picture the silver stands of tea sandwiches which the butlers would wheel in on trays, while the characters chatted, or solved murders, in all those books!
Chicken salad isn't something we grew up eating. It wasn't on my German mum's radar. And yet, she made us tuna salad or egg salad sandwiches for school lunches all the time. Just not chicken salad. So when I began cooking for myself, I would hazard a guess that chicken salad was right up there in the top 10 of things to try first.
I quickly discovered that chicken salad is more about assembling than actual cooking. It's not often that I make chicken salad from scratch. Usually it is a go-to with leftover chicken. Especially if I have roasted an entire chicken. I spent good money on that bird, so it's going to earn it's keep. Of course there is soup, quesadillas, even enchiladas, that all those lovely pieces of leftover chicken get turned into. But if I have just a little bit more, even if it is just for me, I will turn it into chicken salad.
This is a salad that is as much about the textures as it is about the flavours. There has to be some crunch to balance the relative smoothness of the chicken and the dressing. Usually that translates into apples or celery (or both) in my salad. Then there is some tang from red onions and perhaps pomegranate seeds. Some sweetness from grapes, if they happen to be on hand. And loads of greenery. This is a trick that my sister taught me a few years back: Instead of laying several leaves of lettuce on your bread as you are preparing your sandwich, chop the lettuce up and add it to the salad. This will keep the chicken salad from sliding around under your bread as you hold it. Love it! Oh, you guys have been doing that for years as well? Well, I'm just surrounded by geniuses!! And then, if you don't feel like eating this lovely salad on bread, but rather with a fork, the lettuce is already distributed lovingly throughout.
I like to add a touch of curry to my dressing. There is something about curry and chicken- it's a natural flavour combo. So curry paste, some Avocado mayo and a touch of kefir to thin it out is all I need. Oh, and some salt and pepper.
And while I said that I rarely make this salad from scratch, it would totally be an amazing appetizer or finger sandwich at a bridal or baby shower etc. Instead of trying to hold the salad between two slices of bread or slider bun though, why not stuff mini pita breads which have been cut in half? Having just written this down, I wish I had a reason to prepare just that- I can already see a patter with a pyramid of dainty, little pita breads stuffed gently with a lovely, curried chicken salad. The kind that would be served at high tea, on a silver plate, in one of the many books my nose was usually found in, as a teenager.
Love Jen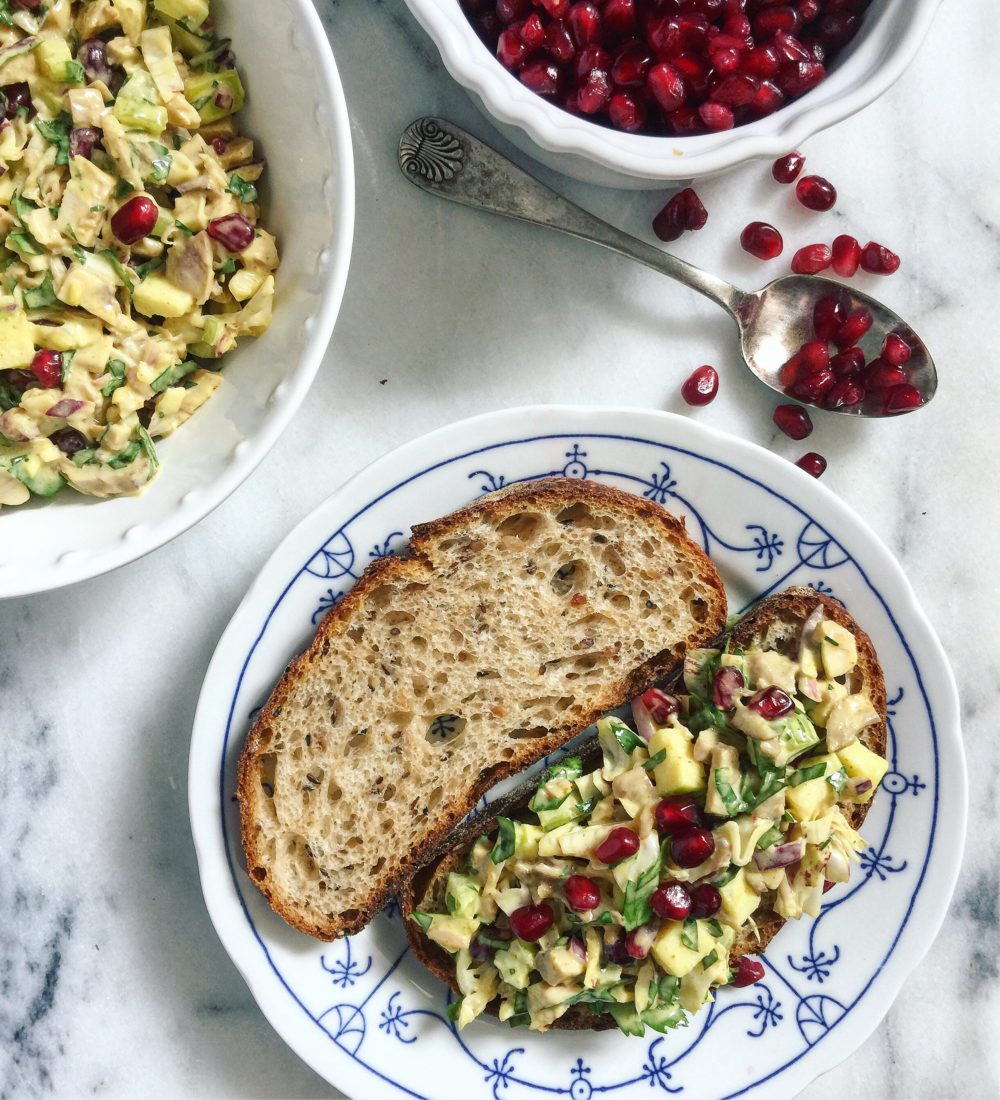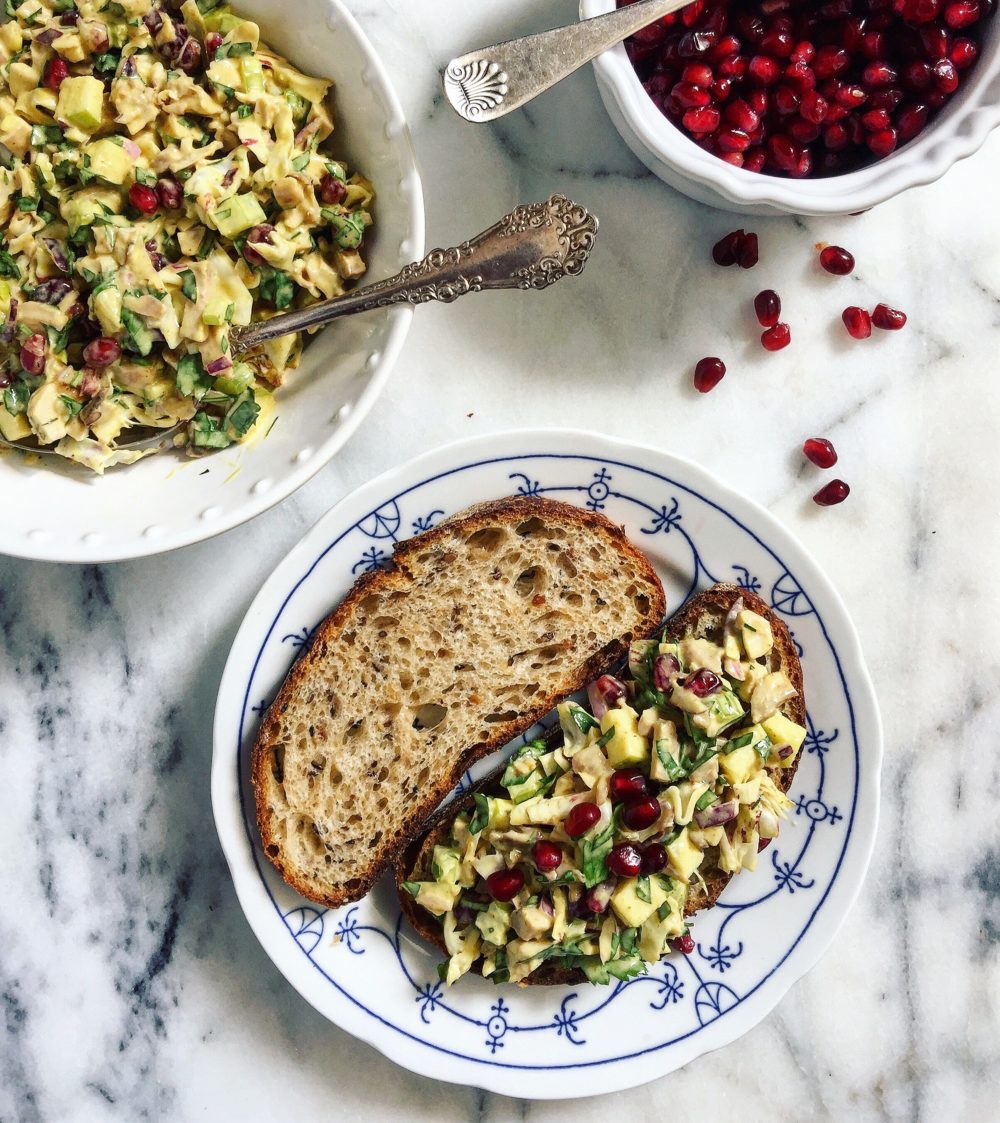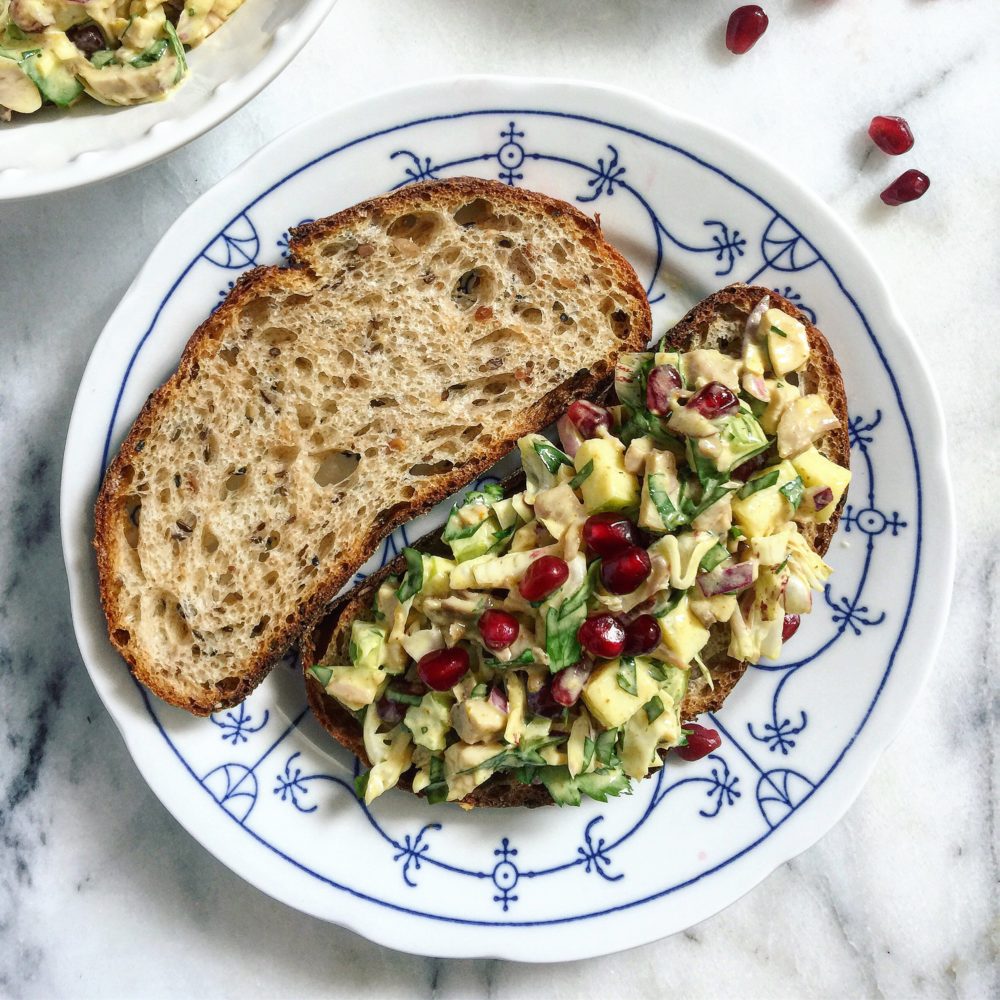 Curried Chicken Salad
Just a classic salad that works as a meal for two, or as the perfect stuffing for mini pita breads for a tea party or shower. Sweet, curry, crunchy, everything you want in a chicken salad
Ingredients
1

cup

cooked chicken thigh or breast meat

skins removed, chopped into 1/2 inch or slightly smaller chunks

1/2

celery rib

diced small

1/2

small to medium Granny Smith apple

chopped into small pieces

1/3

cup

grapes (about 10)

cut in half, or thirds if larger

2

tbsp

red onion

small dice

1/4

cup

parsley

chopped

1/3

cup

romaine lettuce or arugula

chopped

1

tsp

fresh tarragon

chopped

1/2

cup

avocado mayonnaise

or any organic mayonnaise

1 to 1 1/2

tbsp

Entube Curry paste

to your taste

1+

tbsp

kefir

or more, to your liking, or you can substitute buttermilk or yogurt

kosher salt and cracked pepper

2

tbsp

pomegranate seeds
Instructions
Place the chicken through tarragon into a medium bowl. Toss lightly.

In a small bowl, mix the mayonnaise, curry paste and kefir. Check for consistency. Thin with more kefir or thicken with a touch more yogurt, to your liking. Season with salt and pepper to taste. Don't skimp on the pepper! The salt may be affected if the chicken was well salted. So start with less (say 1/2 tsp) and work up from there.

Mix the dressing into the chicken mixture. Garnish with the pomegranate seeds I like using them for tang and colour.

This can be served immediately or chilled and served cold.

Serve on sourdough or soft buns, whatever strikes your fancy.
Recipe Notes
This recipe makes approximately 2 1/4 cups of salad. This should serve two generously. Or even 3.
If you would like to make this as an appetizer or dish for a shower etc., this amount will ill about 24 mini pita bread halves. Or in other words, 12 mini pita breads. You would most likely want to make double. To double the recipe from scratch. See next note.
To make this from scratch: Start with 2 medium sized chicken breasts. You can grill or poach these till cooked. You can also use boneless thighs, (I would use 4-6 depending on their size. Ideally, a combo of both meats makes for a more flavourful and moist result. In the end you want at least 2 cups of meat. Double the rest of the recipe for the finished filling.
To poach chicken: Using a skillet or sauce pan (either should have a lid) where all the meat can lay in one layer, add chicken stock (or a combo of 1/2 white wine and chicken stock and season with salt and pepper. The liquid should fill at least 2 inches up the pot. Bring to a boil. Add the meat, cover with a lid, and reduce to medium low and simmer for about 20-25 minutes till done (timing will depend on the type of meat you are using, how thick etc) Just start checking at the 20 minute mark for breasts.
Let cool. This can be done in advance and refridgerated. When ready, cut up the meat and proceed with the rest of the recipe.
SaveSave
SaveSave