Kabocha, Delicata, Butternut, Acorn, Hubbard, the list of tasty gourds can go on and on.
It's squash season. That cozy, sweater wearing, fireplace crackling, wind howling time of year has made it's arrival once again. And I'm not complaining one bit. Sure, the wind is more biting, so tracking down all the gloves and scarves has to be attended to. And the days are dark so early, that I want to hit the hay at 7pm just because it 'looks' like I should!
But this is the time of year that we get to justify the existence of our ovens. It gets put into overdrive as we start baking, roasting, braising, broiling, and all the other fun things our ovens can do for us. And because of this, we get to surround ourselves with the intoxicating aromas of curry, gingerbread, molasses, turkey, mint, etc. I just love it!!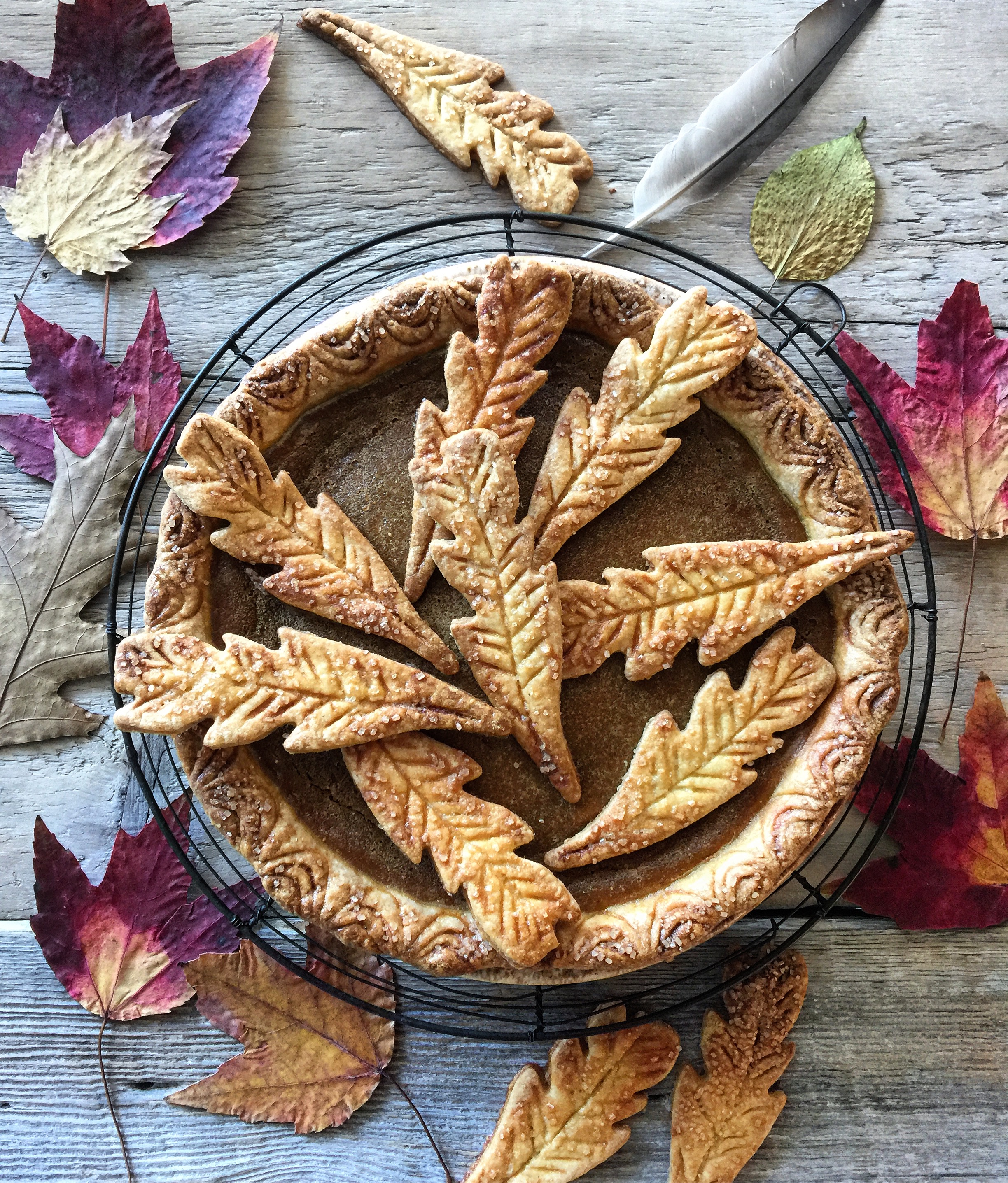 The other week I came home with a good sized kabocha squash. It has the colour of an acorn squash, but is squatter and rounder. I knew for sure I would be baking up another one of Aimee's Winter Squash Pies, it was such a hit with Jim the last time I baked it up. And the recipe is a joy to make up. A one bowl and whisk type of filling, and using my no fail Perfect Pie Crust recipe. But I realized that there would be enough squash to create another dish with. I decided that I would make soup. It IS soup season, after all.
So I decided that I would do a curried soup. Jim and I are not lovers of too many sweet versions of squash recipes, especially if they are supposed to be savoury dishes. So instead of roasting up squash using maple syrup and brown sugar, we would rather have curry spices and a touch of heat. I knew that this is the way that I would go with this soup as well.
First things first. Roasting off the squash. You see, the pie recipe calls for roasted puréed squash. So instead of trying to figure out how much of the squash I would need for the pie and only roast off that bit, I decided to roast it all off, and then used the leftover purée for the soup. Usually I would not purée the squash for soup in advance, but I figured it would be easier to purée it all off and then store it in the fridge till needed. I could even freeze any that didn't get used right away. But no worries, the whole squash got used!
To roast it off, just cut it into large pieces, scoop out the seeds and fibres and place them, skin side down on a parchment lined baking sheet. Drizzle with a little olive oil, and then pop into a 400F oven. Roast until the flesh is softened. Depending on how thick the pieces, this can take anywhere from 30-50 minutes. Just test with a fork. If it can pierce the flesh easily, the squash is ready to come out. Let it cool, and then scoop out the flesh. In batches, and using just enough water to aid the blades, purée the squash meat into a smooth consistency. Try not to add any more water than necessary. If you need to, use a tamper or wooden spoon to periodically push the meat down into the blades. I was able to get about 4 cups of purée, the consistency of canned pumpkin.
For the pie, I ended up using 1 1/2 cups. That left me 2 1/2 cups for the soup. Perfect for soup for four. Now it was just a matter of sautéing onions, garlic and all the best curry spices. I used a mortar and pestle to grind down the cumin seeds, fennel and coriander seeds, and added ground ginger, turmeric and kashmiri pepper to it. These all got added to the softened onion mixture. Then I added my squash purée and some stock. Whisked it all together and warmed it through. Tested for salt and pepper, and finished it off with some whipped cream.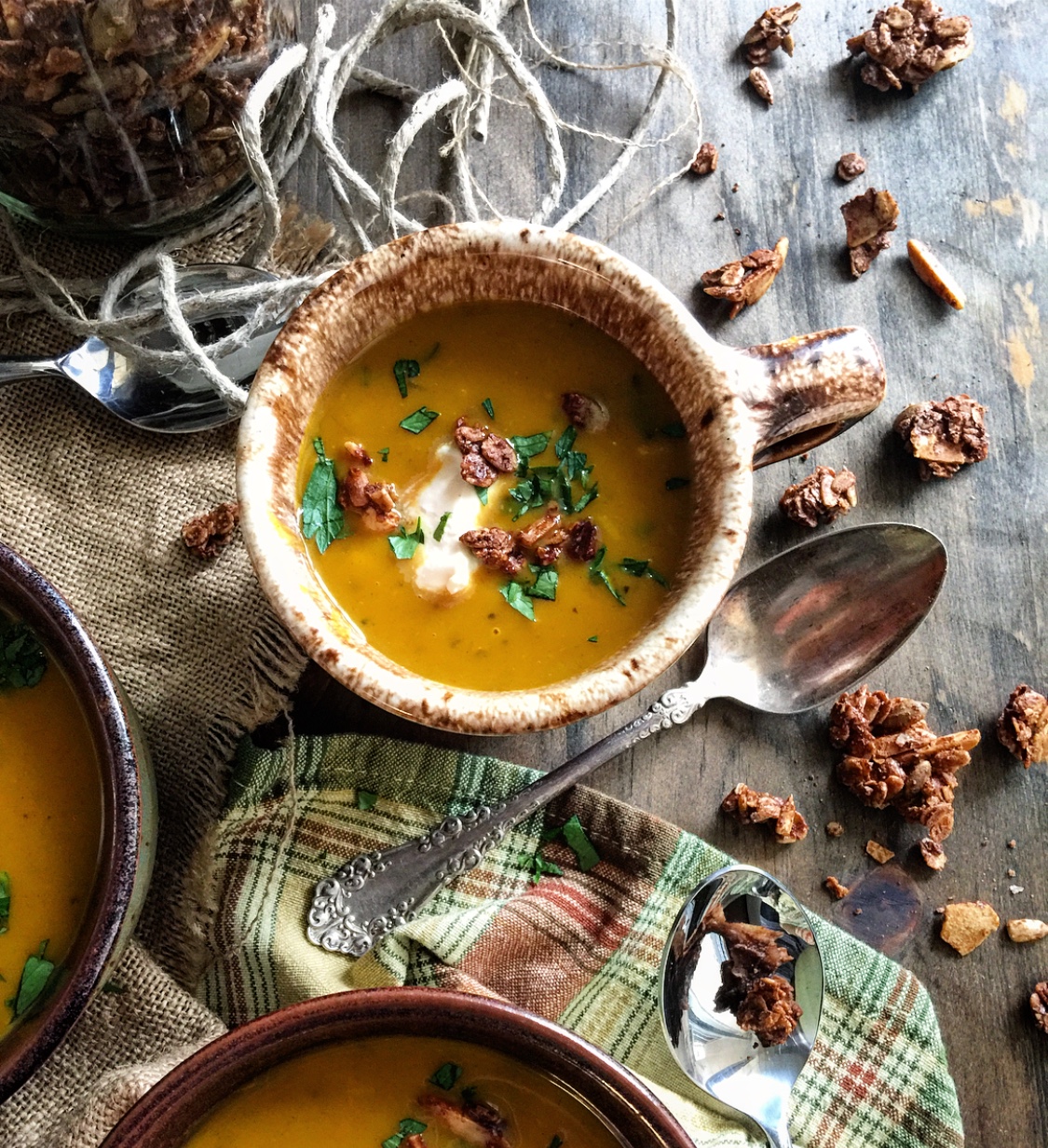 What made this soup fun to serve, was garnishing it with homemade creme fraiche and spicy savoury granola. The granola gave it such a fabulous crunch and extra kick. Do you want the granola recipe? I'll try and get it added lickety split!
The soup can easily be made with any other squash you can get your hands on. And don't worry, if you are only using it for the soup, you don't even have to purée it in advance. You can actually cube it, add it to the onions, garlic, spices and stock. Let it all cook together and then purée with a hand held wand or immersion blender or your stand blender. This will get the onions and garlic also blended up. Either way works wonderfully.
I hope you guys like the idea of taking one gourd, and making dinner and dessert out of it- how handy, and cozy! Only one more question: bowl or mug!?
Love Jen.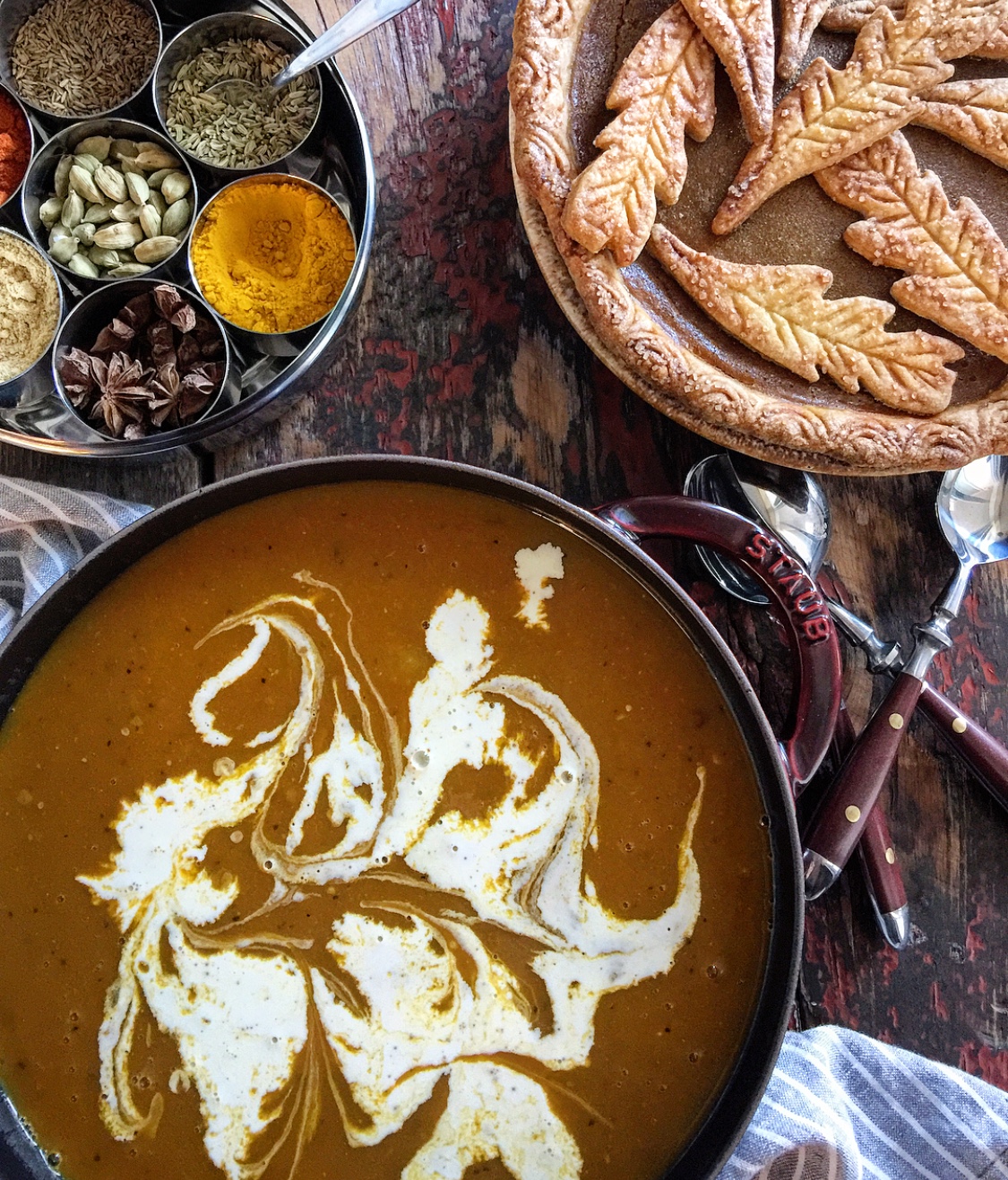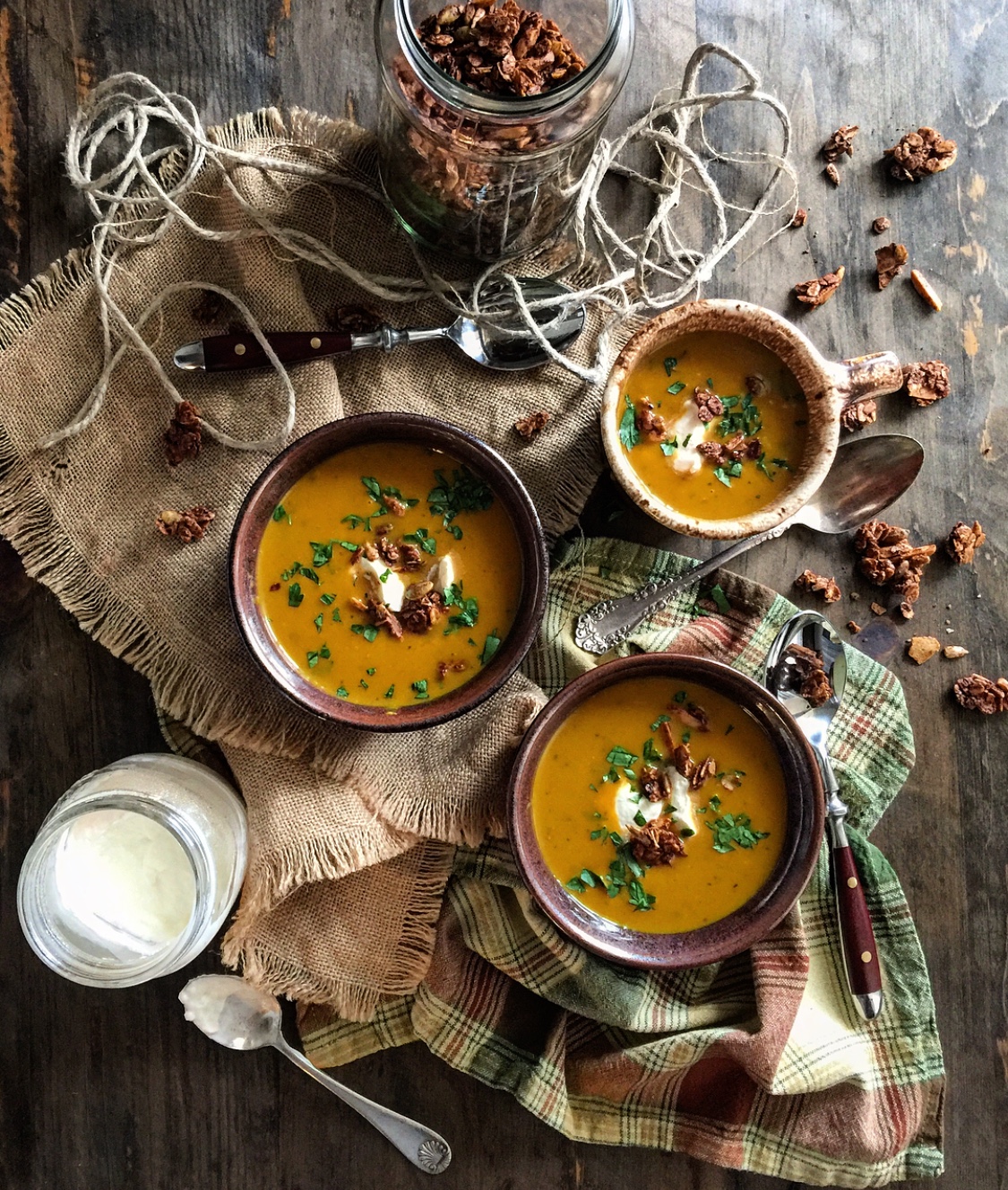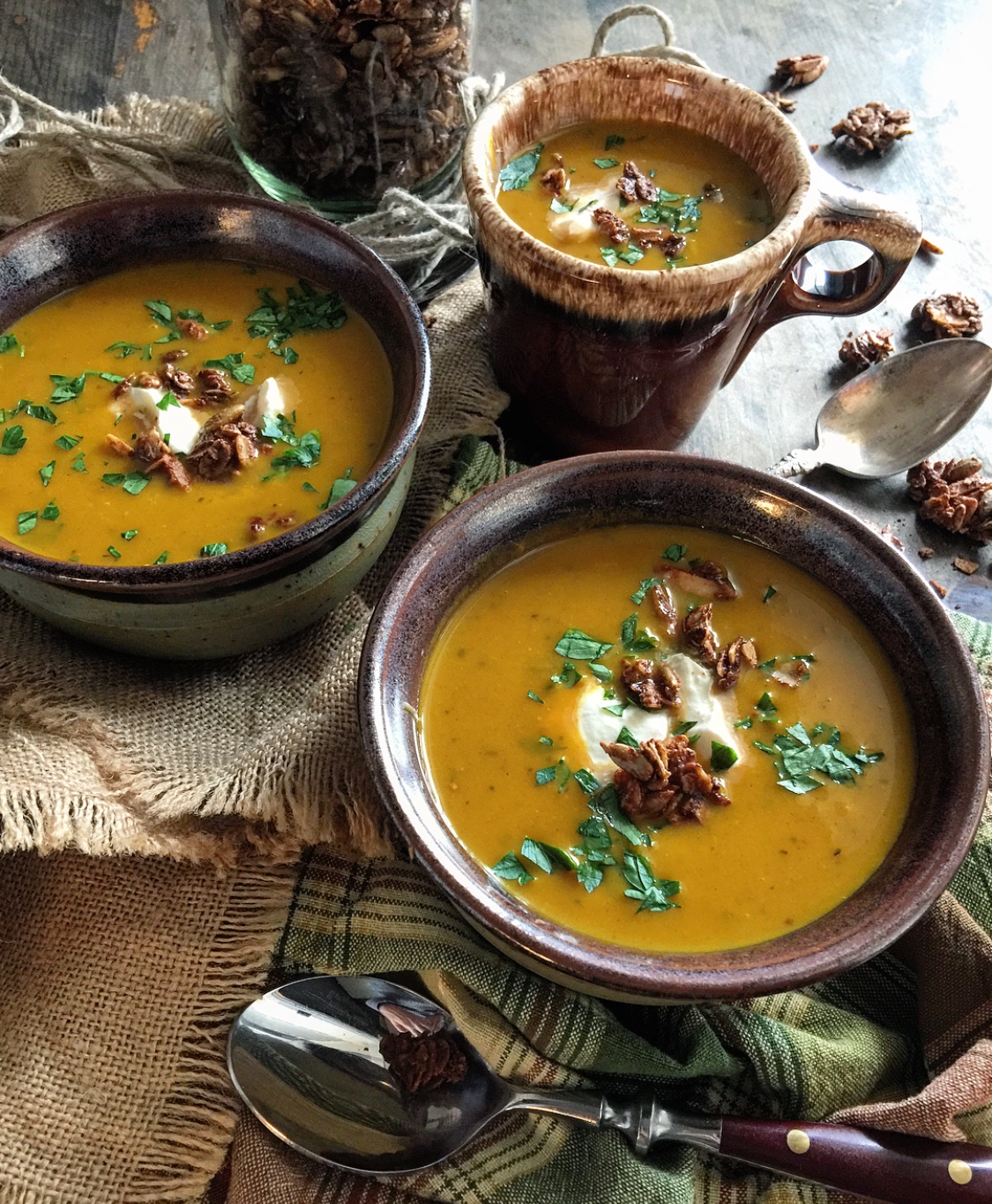 Curried Kabocha Squash Soup
Cozy curry spices, velvety texture, all the warmth you need for the cooler weather in this perfect squash soup
Total Time
1
hour
5
minutes
Ingredients
2 1/2

cups

of kabocha squash puree

(see Instructions) Feel free to sub out for any comparable squash (hubbard, acorn, delicata etc)

1

tsp

cumin seeds

1/4

tsp

fennel seeds

1/4

tsp

coriander seeds

2

tsp

ground ginger

1/2

tsp

ground turmeric

1/4

tsp

ground cinnamon

1/8-1/4

kashmiri pepper

(can be substituted with cayenne pepper) Start with less and then taste later on to see if you can handle more!

1

tbsp

olive oil

1

medium onion

, finely diced

3

garlic cloves

, finely minced

4

cups

(1 litre) vegetable or chicken stock

1

tsp

kosher salt

1

tsp

fresh cracked black pepper

1/4

cup

whipping or heavy cream
Instructions
Prepare Squash
You will need approximately 3 cups of cubed kabocha squash. Just cut and remove the seeds, fibres, outside skin, and cut into small 1 inch cubes.

Or,

I used puréed squash (since I had puréed it for a pie already) But you won't need to purée in advance. If you did, you would want to have 2 1/2 cups finished purée. Do this by cutting the squash into pieces, scooping out the seeds and fibres, and drizzling the flesh sides with a bit of olive oil. Roast in a 400F oven till fork tender. Then purée in a blender, using only enough water to help it break down.
Soup
In a mortar and pestle (or spice grinder of some sort) place the cumin, fennel and coriander seeds, the ginger, turmeric, cinnamon and kashmiri pepper. Grind down to get the seeds to a medium coarse grind. Set aside.

In a medium sized stock pot or sauce pan, heat the olive oil over medium heat.

Add the onion and sauté for about 2 minutes till starting to soften. Add the garlic and stir for 1 minute.

Add the spice blend to the onions and stir throughout well and cook till just starting to let off an aroma, about 45 seconds.

Add the squash cubes (or purée) and stock. Stir well to combine and let simmer.

If using the purée, it will really only need about 10 minutes to warm through over medium low heat.

*If using the cubes, cook until softened (about 20-25 minutes) At this point you will use an immersion blender or stand blender to purée the soup into a velvety goodness. Return to the pot.

Season with salt and pepper. Check for heat. Add the whipping cream and stir through till well blended.

Garnish with chopped cilantro, parsley etc. You can also top this with creme fraiche or sour cream, and even a savoury granola, or spiced candied nuts for crunch!
SaveSave
SaveSave