Years back there was a saying when getting dressed: "Blue and Green should never be Seen". Yep, there was a time when it was a fashion faux pas to wear those two colours together!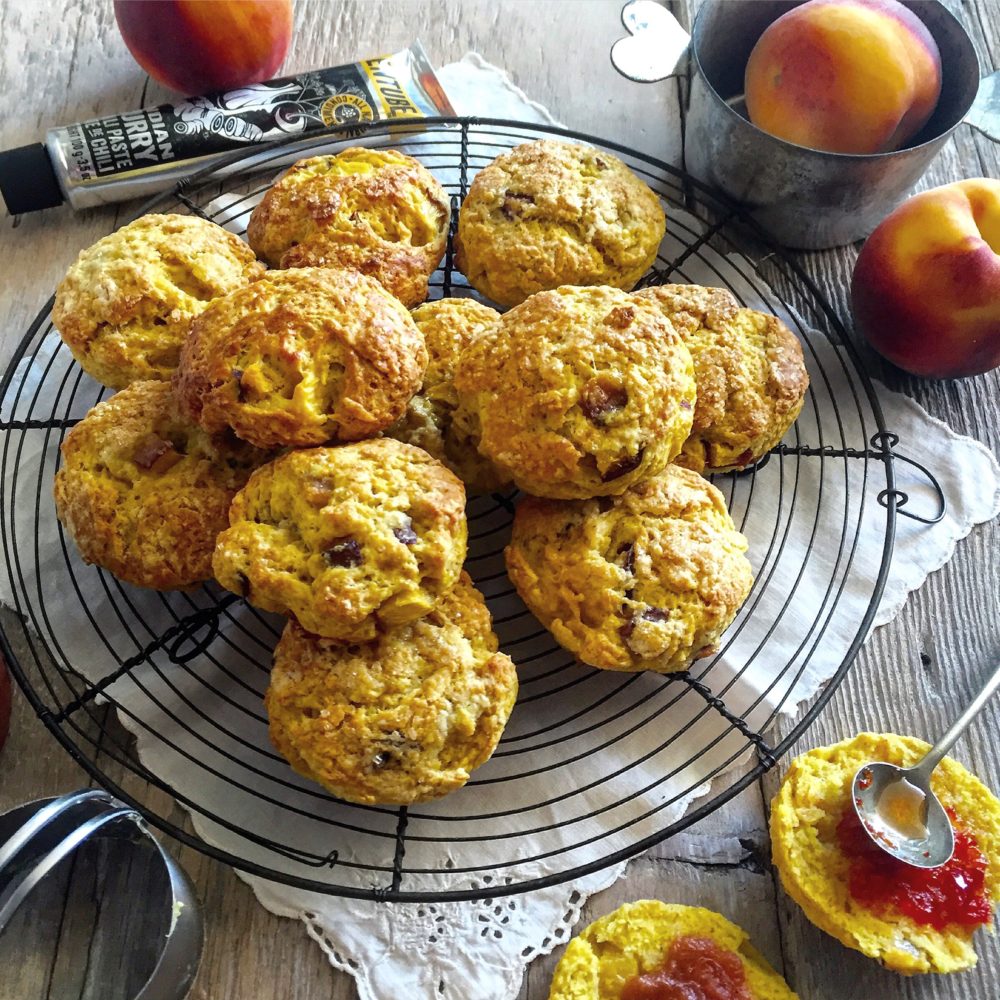 Can you believe it? Redheads were never supposed to wear pink. And black and blue together? Only a bruise was allowed to be black and blue. Well, these days, those rules have been thrown out the window. And how liberating!
Cooking is a little like fashion. It's a way to express our personal style. And creativity. Sometimes what we put together become masterpieces. Other times, we wonder, 'What was I thinking?' But we live at a time when the freedom to at least try new looks together isn't going to get us thrown into 'Fashion Jail'. And cooking is the same. We are combining sweet and savoury like never before. Part of the boost to this new-found freedom is our being able to tap into global cuisines and ingredients. Fusion cooking is now totally mainstream. And we're finding out that some of these new combinations are totally Oscar worthy.
These scones are just such a flavour win. Mind you, peach or mango chutney isn't new. Combining fruit with savoury herbs and seasonings is a classic. But I think in this case, it's the venue. Who would have thought that curry belonged in a sweet scone? Well, it does!
Taking a classic scone recipe and turning it upside down with the addition of a savoury condiment was playing in the back of my mind for a little while now. Mind you, my mind can be a tad scary. Even questionable, by the 'Inside-the-Boxers' out there. But that hasn't stopped me thus far 😉
When I added the Entube Curry Paste to the liquid portion of this recipe, I was a tad worried. What would happen when I added it to the flour, butter and sugar etc? Would I like it? Would it even be tolerable? I'll admit, I stuck my finger in once I had combined the two bowls, and licked a touch of the batter. OOOOhh! I loved it. Adding the chopped peaches would only make the batter even better. I was giddy 🙂
And then, as those scones were baking up, the aroma coming out of that oven where intoxicating. The whole kitchen had a cozy, warm, slightly exotic fragrance to it. If the baked scones tasted anything like the perfume hitting my nose, I would have to hold back from eating them all in one fell swoop.
Yep, once cooled, with a slather of hot pepper jelly on one side, and rhubarb preserves on the other, I was totally enjoying every morsel. I wish I could have shared these with someone right then and there. These would taste amazing with that peach or mango chutney I mentioned earlier!
So, bake this up, and enjoy the aroma from your oven. And be proud to wear peach and curry together. Actually, even as a colour combo, wouldn't those two colours work awesomely together?! Salmon-y peachy pink/orange with a deep mustard yellow- I'd wear that combo any day. But then again, I broke all sorts of fashion faux pas even when it wasn't cool to do so. Read: socks with chunky mid heel sandals or shoes!
Love Jen.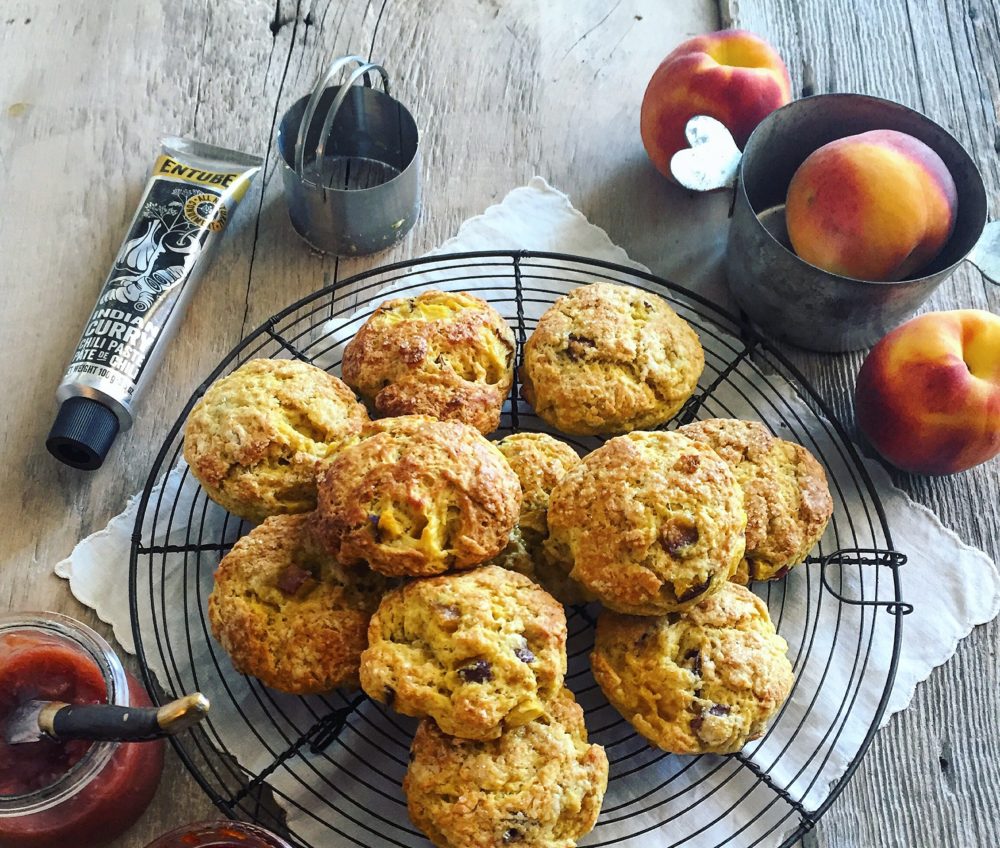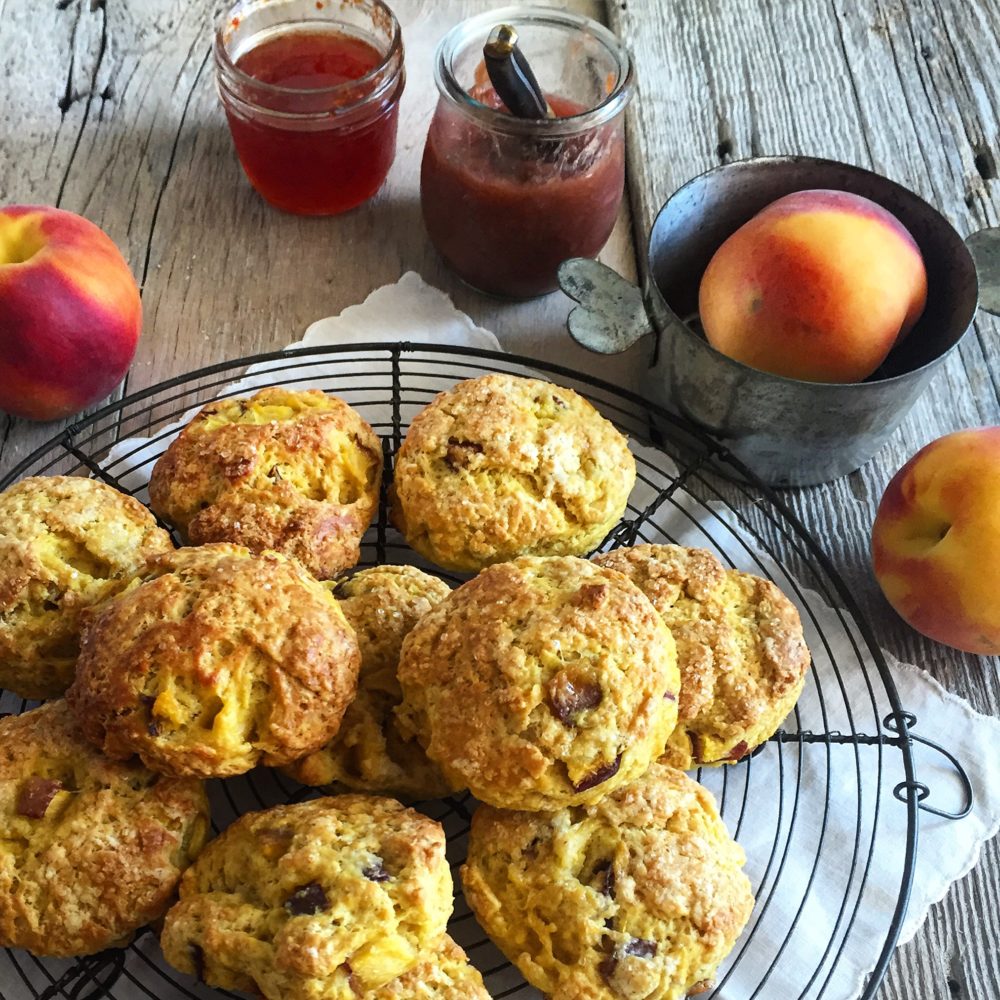 Curry Peach Scones
Warm and spicy curry combines with sweet peaches for a fabulous scone. Just add some chutney
Ingredients
2

cups

unbleached AP flour

1/2

tsp

kosher salt

1/4

cup

granulated sugar

1

tbsp

baking powder

6

tbsp

(3/4 of a stick) of unsalted butter

chilled

2

large

eggs

1/3

cup

full fat yogurt

or sour cream

1 1/2

tsp

Entube Curry paste

1

cup

diced peaches

1/2" or slightly smaller. Don't need peeling. Frozen works fine as well

2

tbsp

milk

for brushing the tops of the scones

turbinado or demerara sugar

for sprinkling on the tops
Instructions
Preheat the oven to 375°F. Line a baking sheet with parchment.

In a large bowl, whisk together the flour, salt, sugar, and baking powder.

Using the large holes of your grater, grate the butter into the flour mixture

Using your fingers or a fork, lightly combine, getting the flour and butter to stick together is small bits.

In a separate bowl, whisk together the eggs, yogurt or sour cream, and the curry paste.

Stir the wet ingredients into the dry ingredients.

Add the peaches, stirring just until everything is combined. The dough will be wet and sticky.

Turn dough onto a floured counter, and form into a disk 1" thick. Use a floured biscuit cutter (I use a 2" size) to cut scones. Transfer to the parchment lined baking sheet. Leave a one inch gap between each.

Brush a little milk over the top of each scone, and sprinkle with sugar.

Bake the scones for 20 to 25 minutes, until they're light golden brown. Remove them from the oven, and let them cool on the pan for a few minutes before transferring to a cooling rack.

Serve warm, or at room temperature. Store at room temperature in an airtight container for several days.
Recipe Notes
These can be frozen for future munching.
SaveSave
SaveSave