This is one of those recipes that I could make every week, and Jim wouldn't mind at all. Like most guys,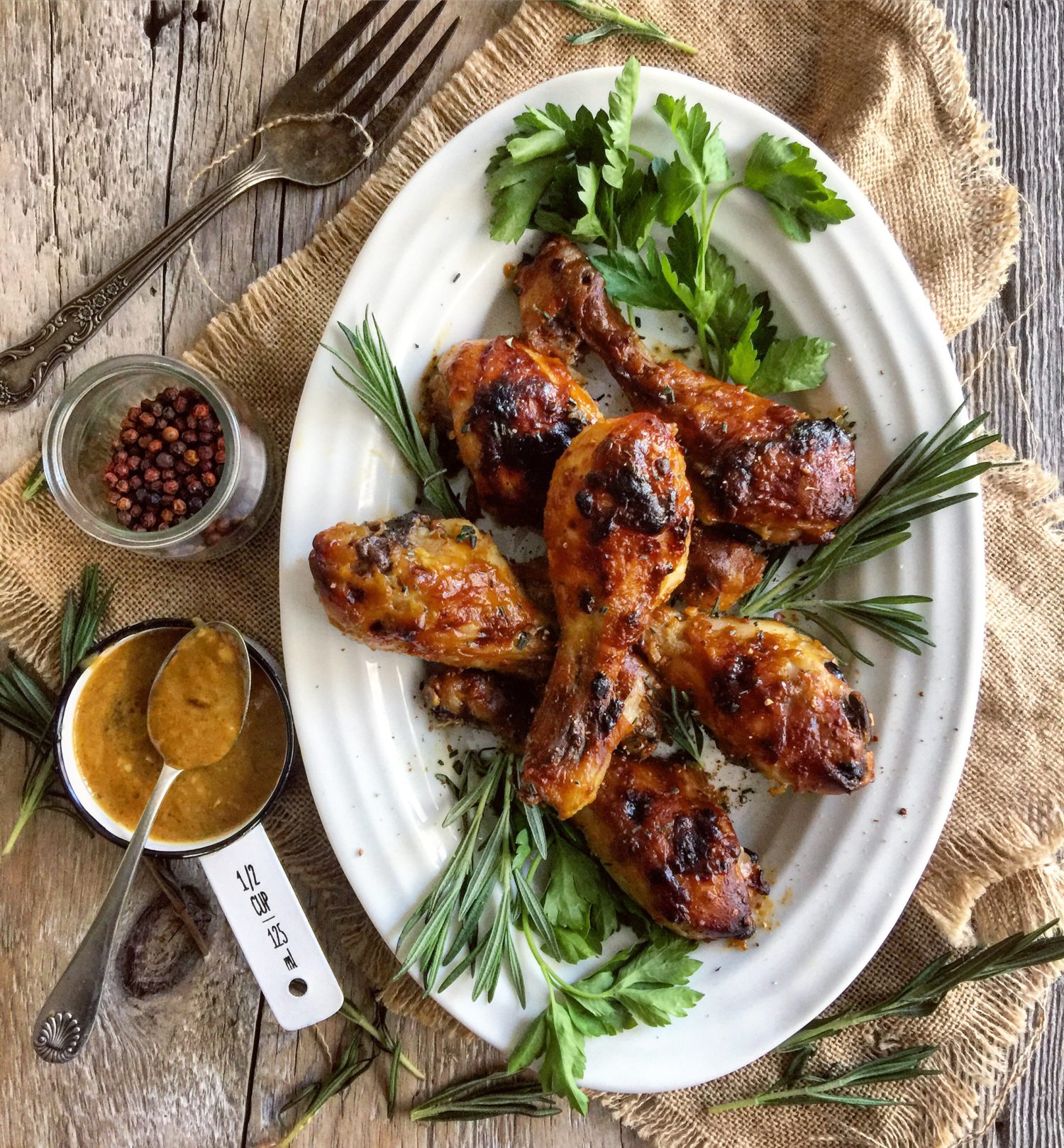 whether it's chicken drumsticks, thighs or breasts, as long as they are coated with a sticky, sweet-salty and spicy glaze, Jim is so content with this type of dish. Add potatoes of some sort, and he is in his glory.
I happen to agree with him as regards a good chicken dish. I mean, chicken is a staple at our place. And while we always seem to stick to the same old, same old, having recipes like this one, make chicken a little bit more fun. Is it the sticky fingers that happen when you grab a drumstick in your hands? I'm not sure, but I am confident that it doesn't hurt.
What's even better about a recipe like this, is how quickly it comes together. The marinade can be made up in the morning before you leave for work, and the chicken is soaking up all that goodness while you are filing, or typing, or balancing columns of numbers, or conquering the craziness of city traffic.
The marinade is the perfect balance of sweet, spicy, salty and tangy. Dijon mustard, maple syrup, tamari and cracked red peppercorns get blended into white wine vinegar and olive oil. I use DRØM Red Peppercorns here. Any good quality peppercorn will work though. Freshly cracked, they exclude a slight sweet heat to the recipe. And then after the chicken pieces have finished roasting in the oven, another fresh crack of the red peppercorns makes for a visually appealing garnish.
I will say, use either aluminum foil or parchment paper to cover your roasting dish. If not, you will have a sticky MESS to contend with afterwards. The kind that will make you want to just throw out the baking pan. Please, do yourself a favour, as well as your scrubbing hand, and protect that pan. It's all the caramel stickiness from the heated maple syrup and tamari that turn into a thick glaze- wonderful on the chicken, not so much on the baking dish.
This dish works perfectly with steamed broccoli, broccolini, rapini, bok choy etc. And of course rice. But Jim likes it equally with roasted potatoes and a side of asparagus. Or wouldn't these be amazing with potato salad on the side!
And here's a trick that I learned from Emilie Raffa, of 'The Clever Carrot' website: make the marinade, add the meat to it, and place all of it into a freezer bag. Freeze for future use. Then on that day when you realize you don't have anything in the house, or company is due on the weekend, just pull out the bag and let it all thaw. As it thaws, the marinade will seep into every nook and cranny of all those chicken pieces.
You could use a whole cut up chicken, or even boneless chicken breasts here, you will just adjust your cooking time. This is an easy recipe to cut in half if you are just feeding two or three people.
Love Jen.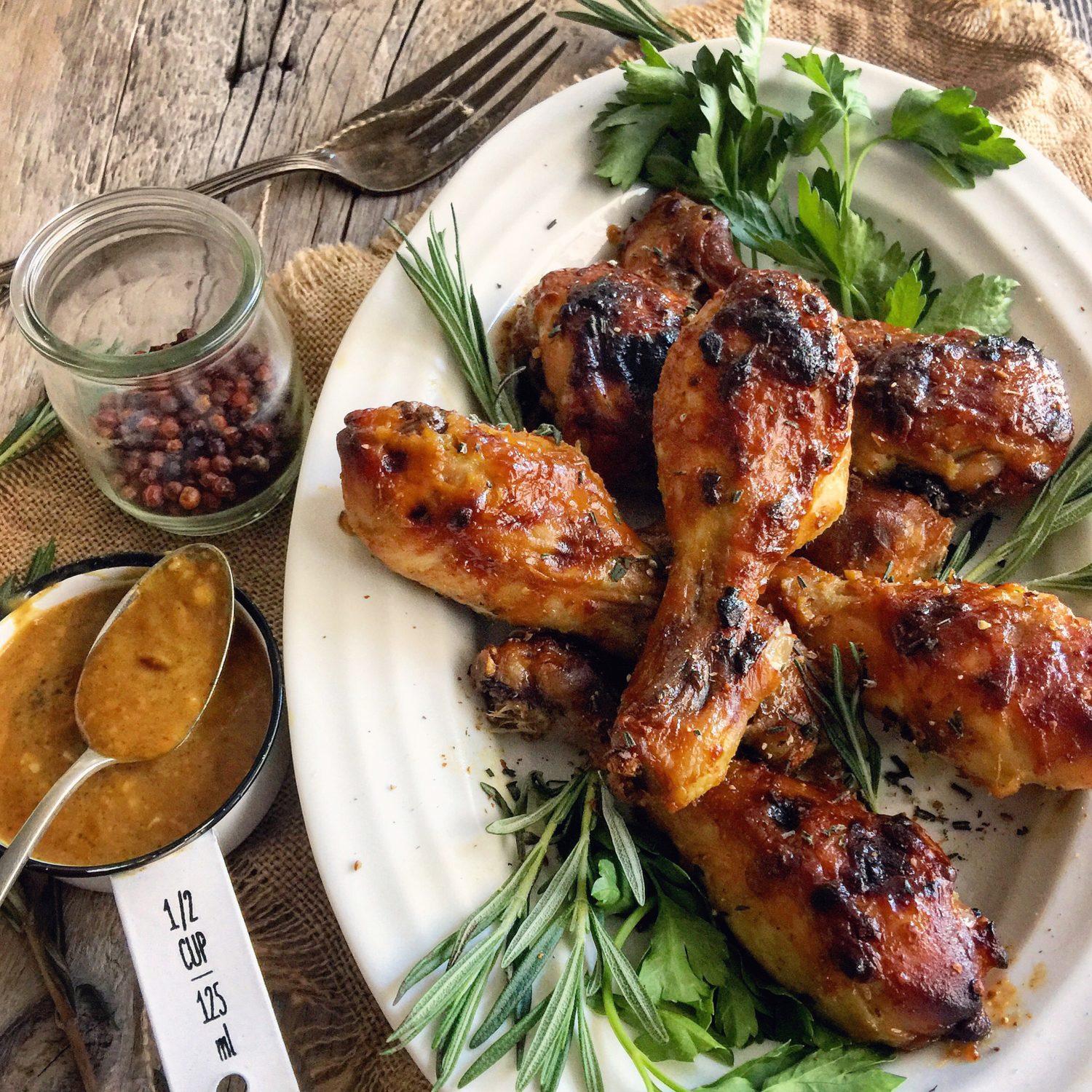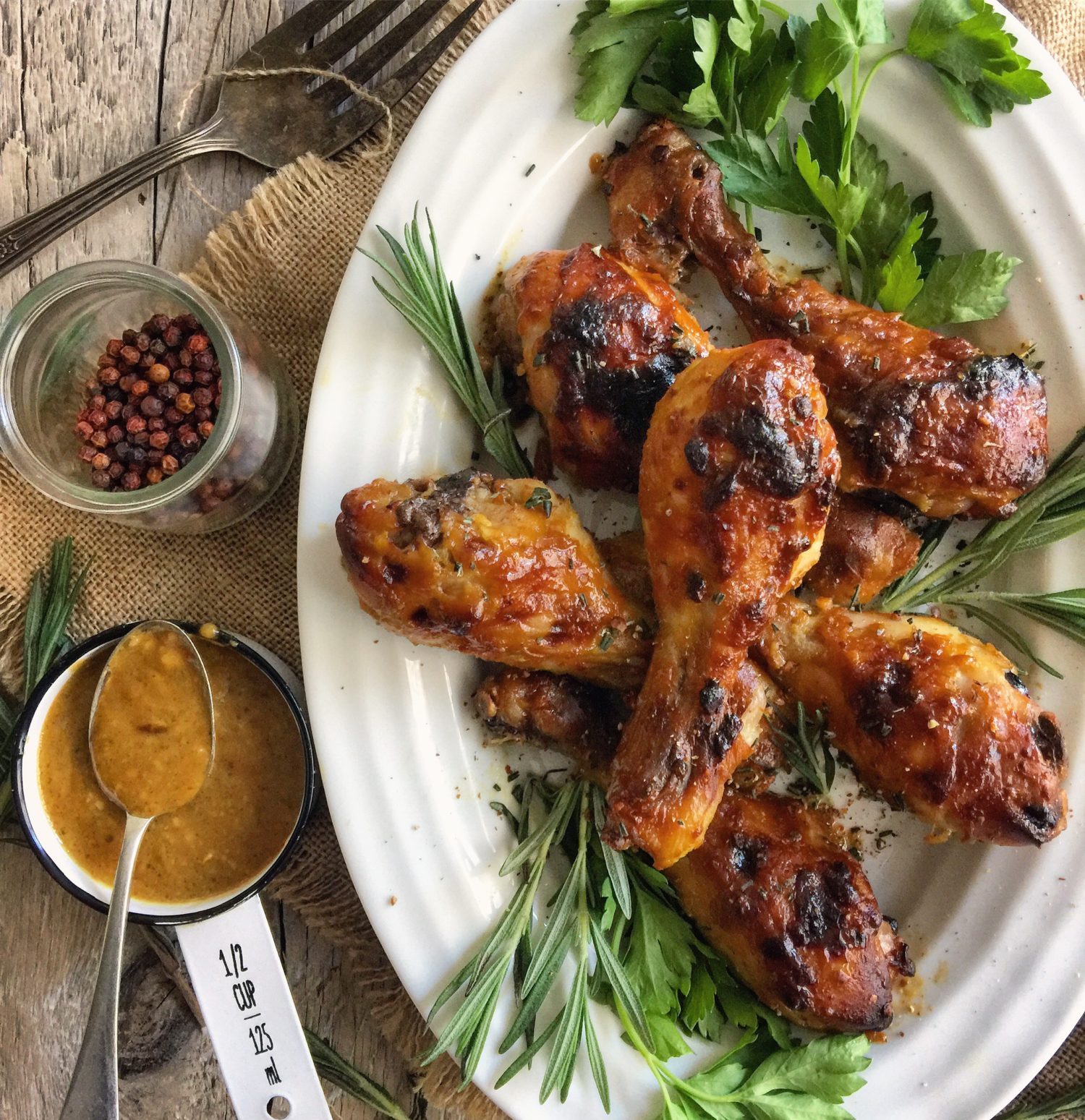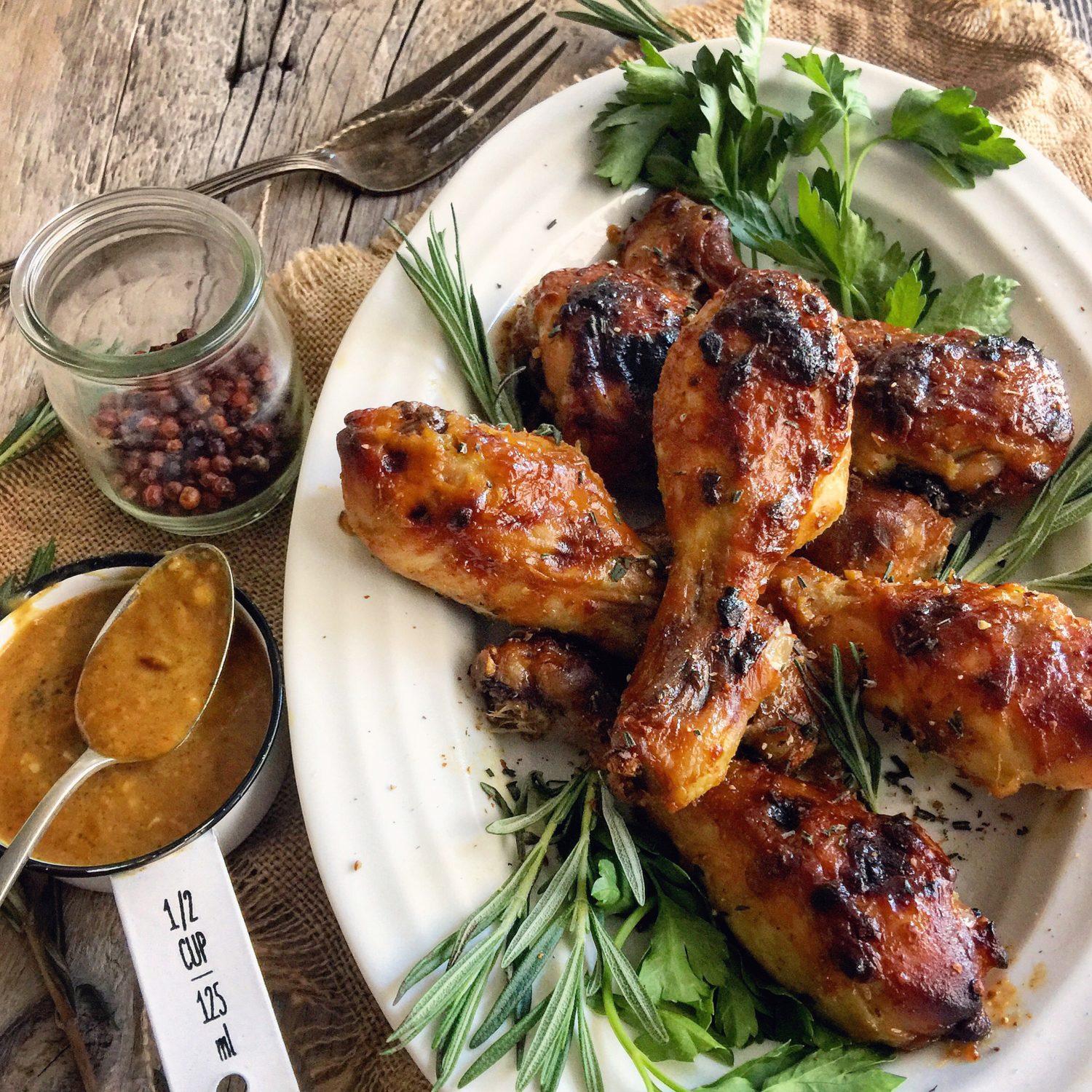 Dijon, Maple and Red Peppercorn Marinated Drummies
This tangy, sweet, spicy, umami marinade turns into a wonderful glaze as the chicken pieces roast away in the oven. This will make everyone happy!
Prep Time
1
hour
10
minutes
Total Time
1
hour
50
minutes
Ingredients
1/2

cup

dijon mustard

1/2

cup

maple syrup

4

tbsp

white wine vinegar

2

tbsp

olive oil

2

tbsp

tamari or coconut aminos

2

garlic cloves

minced

1 1/2

tsp

DRØM red peppercorns

freshly cracked

3 1/2 to 4

lb

chicken drumsticks

or you can purchase thighs, breast pieces- go for bone in, skin on. If you aren't sure in lbs or grams how much to purchase, if average size, assume 2-3 drumsticks per person, or 1-2 large thighs or breasts per person.

2

tbsp

fresh parsley or rosemary

chopped
Instructions
Marinade:

Combine all the marinade ingredients in a bowl and whisk well.

Pat dry all the chicken pieces with a paper towel.

Take a baking dish that will accommodate the chicken in one layer and cover the entire dish with aluminum foil. Don't skimp! The marinade will really get baking on, so you want to minimize clean up as best you can.

Place the chicken in the dish.

Cover with the marinade. Turn to coat. These can sit in the marinade, covered, in the fridge from one hour up to the day while you are at work etc. Alternatively, you can place all of the ingredients into a large freezer bag, coat well, seal and freeze. Then just pull out in the morning before you are ready to cook them.

Preheat the oven to 425F. Remove the chicken from the fridge to come to room temperature.

Place the baking dish on the centre rack and roast for 40 to 45 minutes, until cooked through. Check with an instant read thermometer- you want to hit 170F.

Move a rack to the top third of the oven. Place the dish on this rack and turn on the broiler.

Broil for 1-2 minutes, until the skin is crisped and a lovely ebony colour in spots. Don't let it burn though!!

Transfer the pieces to a cutting board to rest. Take the marinade and place in pitcher or gravy boat. Unless you feel it is too runny. In this case, put the marinade into a small pot, and over medium high heat, cook down till thickened slightly.

To serve:

Place the chicken on a serving platter and drizzle the sauce over it. Grind another good cracking of the red pepper over everything. Sprinkle with parsley or rosemary as a garnish.
Recipe Notes
Obviously, if it is just two of you, you can cut the marinade recipe in half. I will do this and prepare 6 or so drumsticks if it is just Jim and myself. I am generous with the amount of chicken in the recipe- better to make too much than too little!
Or else make up the whole marinade, get 12 drumsticks or so, and place half the chicken and half the marinade into a freezer bag and freeze. There, dinner is ready for another day, another week.
SaveSave