I hope I'm not the only one who remembers taking their allowance money and heading down to the corner store in the summer to buy a popsicle or ice cream on a stick of some sort. Or there was the classic sound of the bells coming down the street, heralding the approach of the ice cream truck, Good Humor or Dicky Dee! And we'd run out, hoping that he hadn't run out of our favourite flavour. There was the Drumstick: the cone filled with vanilla ice cream, covered in chocolate and nuts. There was the neon, pyschedelic Rocket Pop: the popsicle in those distinct shades of red, white and blue. There was the Strawberry Shortcake: Creamy vanilla popsicle, a sweet strawberry centre and an irresistible strawberry shortcake crumb coating. And my personal favourite: the Creamsicle: a luscious vanilla bar coated in orange sherbet.
In the Eighties, the Creamsicle became a trendy drink in a lot of bars and restaurants. Those same insane flavours of orange and vanilla were now in a drink. I think bartenders were trying desperately to come up with ways to use Vanilla Vodka. But still, it was pretty good, for a girlie drink!! And on a hot day, I can totally look forward to drinking one. It's really not that different from a pina colada. It's a fun drink, because of the ice cream vibe to it. Definitely not a serious drink like a Martini, or even more serious like a peaty Single Malt. The Scotch is for Winter, the Creamsicle is for Summer!
But I love having a Creamsicle for breakfast. Without the vodka. Or the stick. It's really a blend of all the things that are regularly in our kitchens, but used in a fresh way. And I do add a little something extra: Orange Blossom Water. Why not? And while I'll outline the basic recipe, I do usually add, in no specific order: ground flaxseed, maca powder, hemp seeds, chia seeds, bee pollen etc. So while it is yummy to begin with, make it your own and even healthier with the additions of your choice.
And if I wanted to make this an 'afternoon' shake, I would omit the healthy bits and bobs, and go straight for the vodka, and some Triple Sec. Spike as you see fit 🙂
Love Jen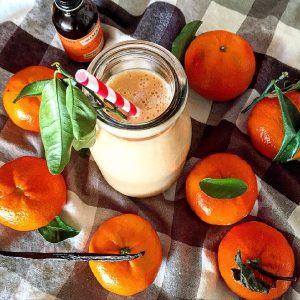 DREAMSICLE CREAMSICLE SMOOTHIE
A creamy, healthy start to the day that tastes like the popsicle treat we all enjoyed as kids
Ingredients
1

orange

, peeled and cut into large pieces

1

banana

, frozen, chopped in pieces

1/2

cup

almond milk

1/4

kefir

1/4

tsp

pure vanilla extract

1/8

tsp

orange blossom water
Instructions
Blend all in a Vitamix or other good blender until smooth and creamy.
Recipe Notes
For a healthy breakfast, I will add flaxseed powder, maca powder, bee pollen, hemp seeds or chia seeds. Not always all at the same time, of course!
If you want to turn this into a fun drink, omit the kefir; add 1 ounce of vodka and 1/2 ounce of Triple Sec. Fill the blender with 1/2 cup of ice.Blend well.