What's the difference between a muffin and a cupcake? Icing.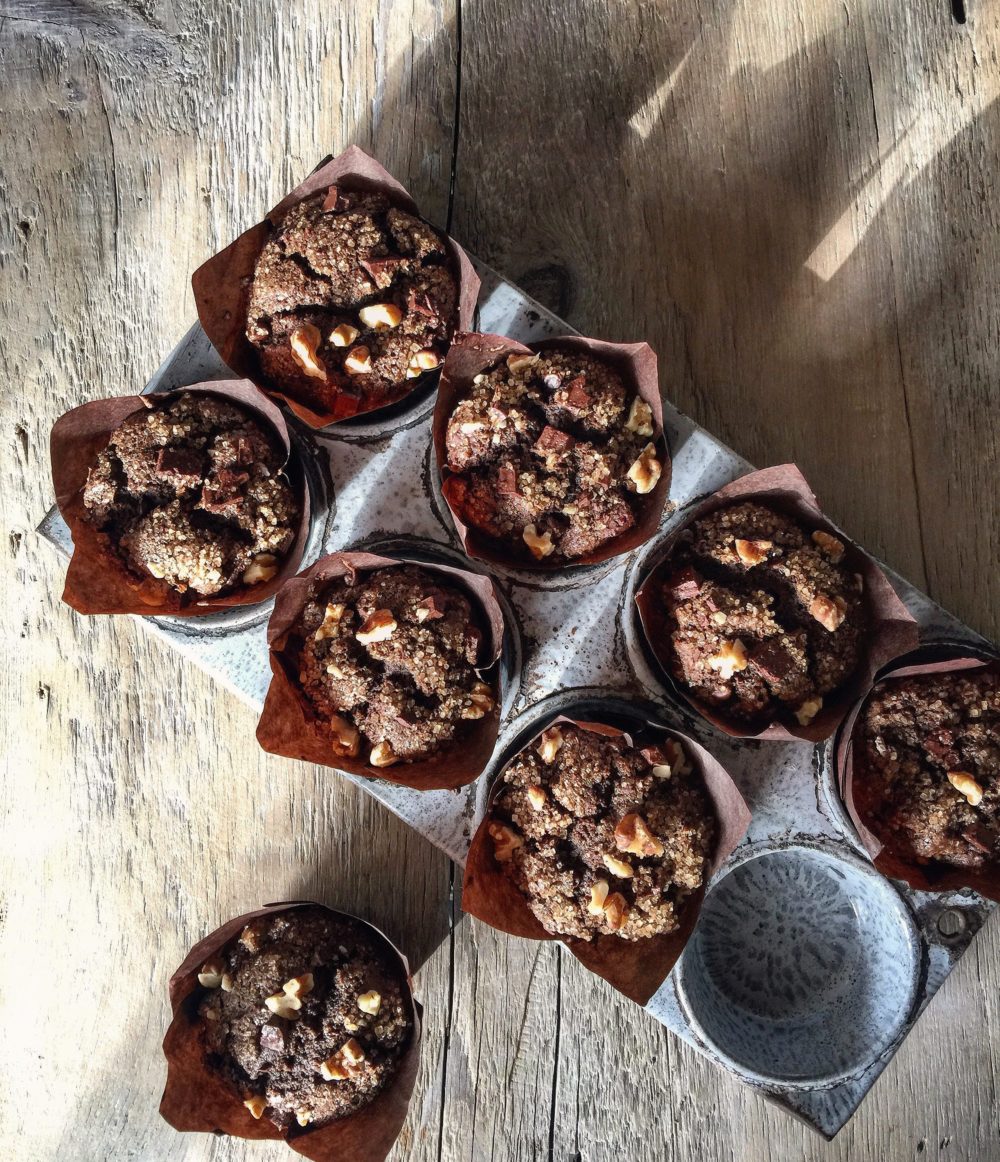 This muffin is a truly a cupcake, just without the fancy duds. Chocolate and Coffee. Is there are more sublime combination? Well, I guess there may be, especially if you're not into chocolate…or coffee… But then, who ARE you?! Any chance I get, these two will be combined somehow. Espresso poured over chocolate ice cream (long live the affogatto!), moka latte, espresso added to chocolate truffles, chocolate covered coffee beans… and on and on…
Even as a kid, I liked dark bittersweet chocolate more than milk chocolate. (except for my favourite chocolate bar: Coffee Crisp. My dad would often come home with chocolate bars for me and my sister- she got the Kit Kat, and I got the Coffee Crisp. So even though it used milk chocolate, it had that slight bitter coffee flavour, that I appreciated even at 8 years old!) So when I was old enough to be allowed a cup of coffee (yes, in our house, that didn't happen till I was about 15 years old!) the flavour was easy to accept- just a touch more bitter than the chocolate I loved. My mom would let us add coffee to our hot chocolate or chocolate milk, and then eventually I was allowed to graduate to the full on caffeine.
Baking with espresso is not new. Often you will find recipes for cakes or muffins that include a tablespoon of espresso. It is done to accentuate the chocolate- intensify it beyond just something 'sweet'. The roasted, slightly bitterness that happens is a beautiful thing. It is more of an adult flavour. But it works.
Chocolate muffins are perfect for this time of year. It's dreary outside, and we all crave warmth, to feel cozy. Baking usually supplies this need! And well, it's chocolate!! Bake these as mini muffins, and they make a perfect gift to bring to a potluck or gathering. And I dare you to have these around your hubby or workmates- they will be inhaled before you get off the phone with your boss! Who will be ticked off that he didn't get one. So bring one for your boss as well.
In this recipe, the addition of the espresso is not just to make the chocolate better. It stands on its own as a flavour accent. So this is truly a Moka Muffin! I add it twice: once as instant coffee powder with the dry ingredients; and a second time as espresso in with the wet ingredients.
Walnuts and chocolate chunks round out the flavours. So is this a healthy muffin? Sure, if you accept the health benefits of raw cocoa powder, almond milk, walnuts, granulated cane sugar, and even coffee! This is perfect as a snack, and yes, even as breakfast. For when you want to chew your caffeine. As a friend suggested, just add whipped cream, and you have a cappucino!! You're welcome!
By the way, I have successfully baked this up in a 9×5 loaf pan. Just adjust the heat to 350F and be patient, it will take around 50-60 minutes. Just check after 50 minutes with a skewer.
Love Jen.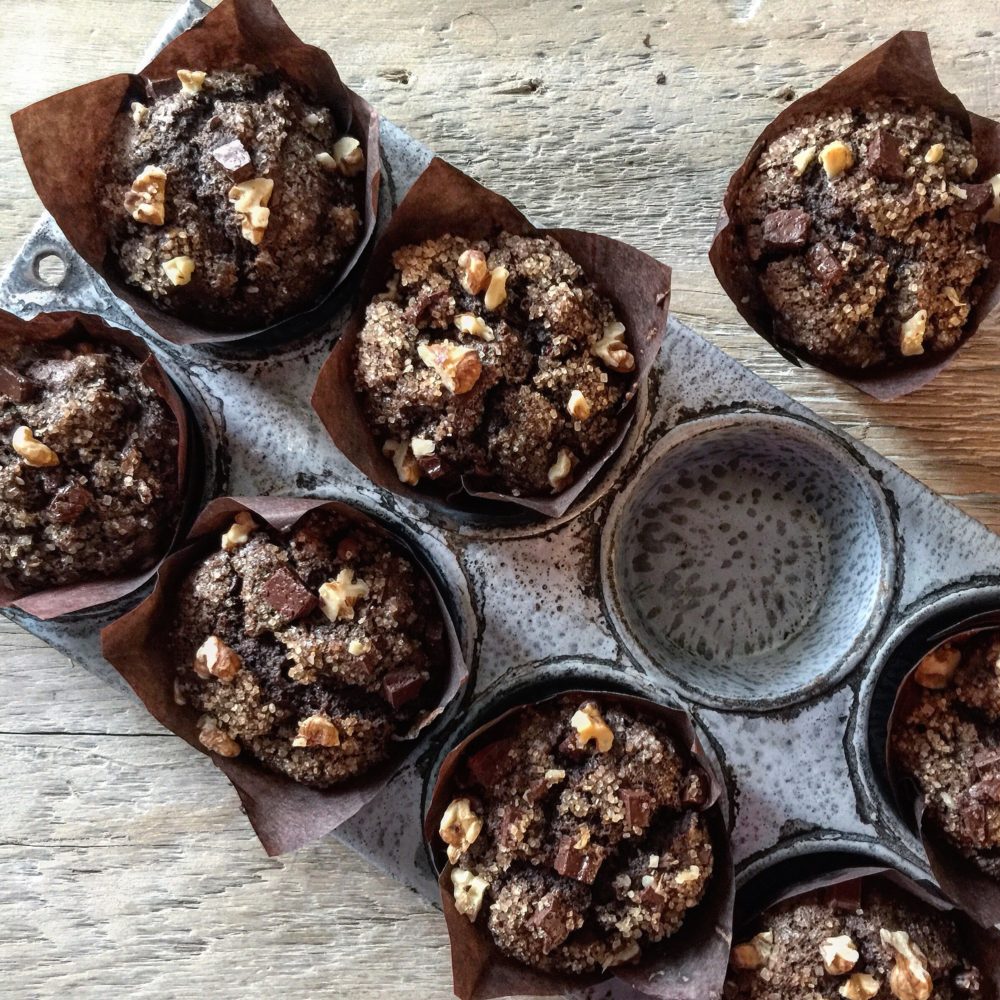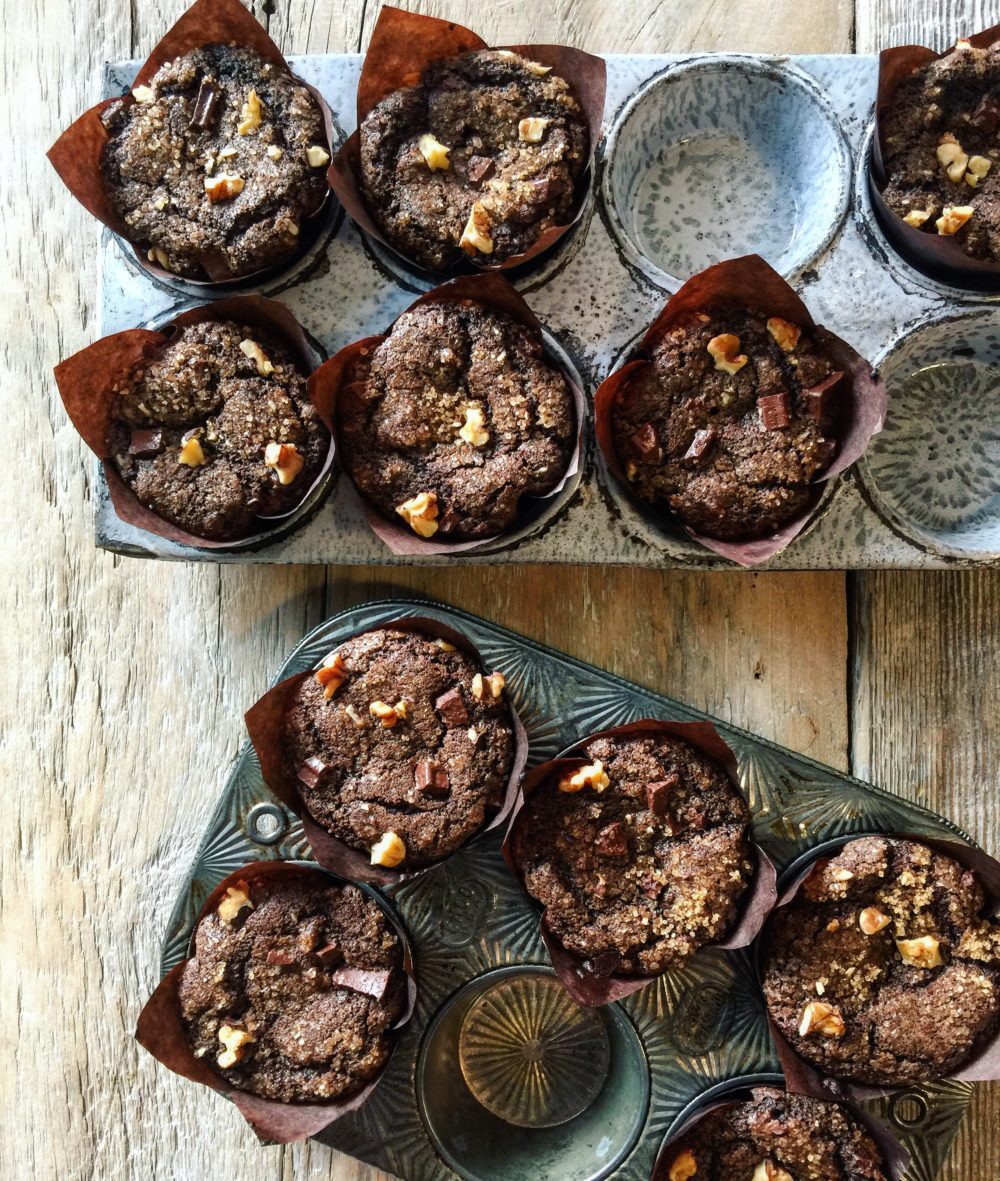 ESPRESSO CHOCOLATE MUFFINS WITH WALNUTS AND WALNUT BITTERS
A rich, moist muffin, with the distinct combo of coffee and chocolate, and the added crunch of walnuts. The perfectly decadent muffin!
Ingredients
2

cups

(10 ounces) all-purpose flour

1/2

cup

(1 1/2 ounces) cocoa powder

2

tbsp

instant coffee granules

2

teaspoons

baking powder

1/2

teaspoon

baking soda

1/2

teaspoon

salt

3/4

cup

(5 1/4 ounces) granulated sugar

2

large eggs

1/3

cup

vegetable oil

1

cup

minus 2 tablespoons milk

(I have used almond milk with equally good results)

1/4

cup

brewed espresso or strong coffee

, cooled

1

teaspoon

pure vanilla extract

5-6

good dashes of Black Walnut Bitters

(I use Fee Brothers bitters, but use what you can find. If you can't find Black Walnut, Chocolate Bitters would work equally well) See Notes below.

1/2

cup

dark chocolate chips or chocolate chunks

1/2

walnuts

, chopped
TOPPING
2

tbsp

chocolate chunks

2

tbsp

chopped walnuts

2

tbsp

raw or demerara sugar
Instructions
Adjust oven rack to middle position and preheat oven to 375°F. Spray standard muffin tin with non-stick pan spray or use muffin liners.

Sift flour, cocoa, instant coffee granules, baking powder, baking soda, and salt into large bowl; set aside.

In a medium bowl, whisk sugar with eggs until light, about 30 seconds. Whisk in oil, milk, espresso or coffee, vanilla, and bitters until combined.

Whisk wet mixture into dry mixture until just combined, do not overtax. Stir in chocolate chips or chunks and the walnuts.

Evenly divide batter between muffin cups.

Combine the topping ingredients in a small bowl and sprinkle evenly over the muffins.

Bake until set, 18 to 20 minutes. Let muffins cool in pan 15 minutes, then remove muffins from tin and place on wire rack to cool.
Recipe Notes
The bitters really bring out the flavours in this recipe. As will all recipes, I use bitters as the 'herbs' of baking. They add depth, an added intensity or layer of flavour. Obviously, if you can't find bitters in your neighbourhood, this recipe will work just fine without them. But I truly encourage you to add them to your repertoire and pantry! I was inspired by a recipe found on the Serious Eats website. I decided to amp up the opportunity for coffee flavour, hence there are two places you will find coffee added in my recipe. I also added the walnuts, as well as the topping- for looks and crunch!!
Adapted from Serious Eats
SaveSave
SaveSave
SaveSave