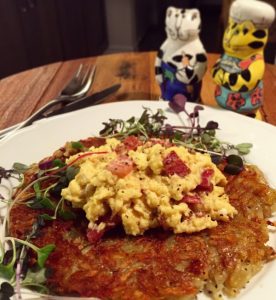 My mother loved potatoes. She loved preparing them in all their different ways. Mashed, roasted, boiled, fried, schnee (the German word for snow is what she called the potatoes she would put through the ricer, and serve as is. And they did look like a mound of snow!) And one of my favourite ways was roesti. Here in North America we would call them hash browns. The shredded potatoes are formed into a thick pancake and slowly cooked in a skillet. The perfect roesti would be crispy on the outside and soft, almost creamy on the inside.
I think this is why I love diners that serve shredded hashbrowns on their breakfast plates. Those crispy little slivers of potato just waiting for a bit of egg yolk to come and visit. We will favour certain spots for breakfast just so that we can get shredded hashbrowns. Why is it that so many restaurants these days don't serve these hashbrowns, serving 'home fries' instead?? They don't come close to my beloved shredded version. I get it, cut up cubes of potato probably is closer to what is traditionally used in the meal of breakfast 'hash'. But so many places serve it as an afterthought. The potatoes have no seasoning, are barely browned, no crunchy crust, an insipid pile of filler on the plate. At that point just give me a tater tot, it at least has some life to it!!
Back to roesti. Kind of like some potato latkes. Crispy exterior, flavour throughout, and hopefully a bit of shredded texture. Potato pancakes are totally different. There are as many recipes as there are European mums and grandmas. My mom has a very specific way of preparing potato pancakes- almost more of a batter is created. Others, employ some raw potato that may at times resemble a roesti, but not.
These days roesti are becoming more popular, even on restaurant dinner menus. Do the Swiss lay claim to them? I'm not really sure. Like I said, I grew up eating them, but my German mum lived in Switzerland for a time, so maybe she was influenced by her time there for this recipe. Either way, it's a fabulous way to prepare potatoes, that can be used for both breakfast and dinner settings. Serve it with an egg and bacon, and you have breakfast. Or serve it with smoked salmon and sour cream and you have dinner. Or vice versa depending if you want breakfast for dinner!!
You could make these in a large 12″ skillet, but the challenge of removing them comes in then. So I use a smaller 8-10″ enameled skillet. But if you only have a larger one, no worries. Just don't try to fill the entire bottom of the skillet, leave yourself a good couple of inches around to be able to get your spatula under etc. To get this right, it's all about the heat. You don't want it too hot. Medium to med-high is as high as you want. You want a good crust that will form on the bottom and pull away from the skillet. Once you've loosened the bottom when it comes flipping time, slide the 'pancake' onto a plate. Then flip this onto another plate. Now you'll have the cooked side facing you on the plate. You can then slide the roesti as is back into the skillet to finish cooking. And it's all about the amount of butter you are using. Don't skimp!!
I love serving this with the best scrambled eggs in the world. My mom taught us how to make the creamiest eggs, with lovely crispy bacon strewn throughout. I'm going to share that recipe here as well. I know, scrambled eggs, a recipe? Like we don't know how to scramble eggs Jen?! But I can't tell you how many times we've been out for breakfast and I've ordered soft, creamy scrambled eggs, only to receive the hardest, rubbery eggs imaginable. Do I have to go into the kitchen and show them how to cook my eggs? I thought that was Cooking School 101. So, I'm sharing, for all of you who not only adore eggs, and who adore bacon, but who would adore them together in the same bite!
Love Jen.
Starting this blog has really made me reflect on, and pull out a lot of the recipes that I grew up with. My mom was an amazing cook. And now, with her recent passing, I realize that many of those recipes could have been lost forever. But I have spent the last few years cooking with her and writing down exactly what she does. She doesn't have written recipes to hand down. They're all in her head. Whenever I would ask 'how much of this spice, or how much of that seasoning' she would look at me and say, 'enough so that it tastes like this', and make me taste it. It was imprinting those tastes on my tongue and mind that has been crucial. So I have a good collection of recipes that I'm tapping in to, as a way to honour her. I hope you like these recipes.
Love Jen.
Euro Potato Roesti and Bacon Scrambled Eggs
The creamiest scramble of eggs and bacon topping the crispy exterior and creamy interior of a classic potato roesti, or latke.
Ingredients
3-4

medium Yukon Gold or other yellow fleshed or starchy potato

this is enough for 2 light eaters or 1 ravenous one!

4-5

tbsp

butter

large pinch of salt

pinch of nutmeg

pinch of cracked pepper

2

extra large eggs

per person (if they are smaller eggs, go for 3 per person)

2

strips

of bacon

per person

butter

1

tbsp

cream or creme fraiche

per person

kosher salt and cracked pepper
Instructions
ROESTI

Peel potatoes. Using the large holes of your box grater, grate all the potatoes into a bowl. If you notice any excess liquid, squeeze out in a tea towel. Return to the bowl and sprinkle with salt to taste, as well as a pinch of nutmeg.

Using an 8-10" saute pan, heat 4 tbsp butter at med-high heat.

When bubbling, add the potato mixture and toss about in the butter until evenly coated. Press down into a pancake. Try not to go up the edges of the pan, as the edges are where you may find it more challenging to release.

Drop the heat to medium and cook for 5 minutes. Cover and cook for another 10 minutes.

Check by minute 8 to see if the bottom is turning golden. When so, loosen with a spatula all around, till completely loosened.

Slide onto a plate. Using a second plate to cover the roesti, flip the roesti onto the second plate.

Add another tbsp of butter to the pan and swirl around. Slide the pancake back into the pan. Cover and cook for another 10 minutes or until second side is golden. Slide onto a plate and sprinkle more salt and pepper to taste.

FOR THE SCRAMBLED EGGS

Scramble the eggs in a bowl. Add 1 tbsp of cream per person, as well as salt and pepper to taste.

Take your bacon and slice into 1/2" pieces. Add to a medium to medium-high heat (the closer to medium the better- bacon cooks more evenly at a lower temperature) saute pan.

Saute until cooked but not overly crispy. If the finished bacon resulted in black bits throughout the pan, use a paper towel to wipe these away. Also remove most of the bacon fat, if a lot was rendered. Add 2 tbsp butter to the pan, separating the cooked bacon evenly throughout the bottom of the pan.

Add the eggs. Ensure that the heat is no more than medium.

Let set for 10-15 seconds, depending on how full the pan is. Slowly, use a spoon to stir the eggs and bacon up, pushing from the outside in, and swirling the uncooked portion to the outside.

When everything is just starting to cook into firm curds, get ready to remove from the heat. Now this is for those of us who love their eggs creamy. Eggs continue to cook even when off the heat. That's why I don't mind removing my portion now. For those who need to cook their eggs longer, keep up the swirling for another 30 seconds or so. You'll know.

But don't cook much longer, or else the dreaded rubberiness may be your result!
Recipe Notes
This recipe is more about method than actual portions. I leave it up to you to decide how much to use for each section. You don't want your pancake to be thicker than 1" or else you run the risk of scorching the outside before the inside is cooked through.
You can use the method of preparing these eggs for a brilliant herbed egg dish. Finely chopped fresh herbs, such as chives, tarragon, parsley, dill and thyme can be added to the mixture before cooking. Again, it is the cooking of them at a low temp that will result in the creaminess that is so divine!