First the tomatoes hit the markets. Right about the same time, the plums show up. And then figs start popping up everywhere.
Those late summer treats, that tell us, enjoy this time, because 'You know what' is coming next. Yep, Autumn. Which is fine, because I actually quite like Autumn! Really, I adore it, if one can adore a season.
But that does't mean that we can't revel in all the bounty of late summer fruits and veggies, before we accept the fact that these will be replaced with apples, pears, root veggies, broccoli, squashes etc soon enough.
So, this tart. To me, figs have a slightly regal, majestic quality. Maybe because I always seem to picture some ancient Persian princess (Jasmine from Aladdin!) delicately eating them while sitting on a pile of silk pillows!! Just so Sheherezade or Arabian Nights, wouldn't you say? know, I'm rather weird! Since figs are ripe and in the markets at the moment, I couldn't resist picking up a couple of pints. Now, I could easily eat them by hand, both pints. But I didn't.
This time around, they would be used for a dessert. And it would be a dessert that would have to travel, since I was bringing it to a going away party for dear friends. So, I would make a tart. And I was totally relying on my Strawberry Rhubarb Jalousie recipe to help me design this tart. I love the idea of being able to see a dessert (or any recipe, for that fact) come together in a flash. Using ready made puff pastry is often a go-to for me, for just this reason. One less thing to make from scratch. The filling would be my 'from scratch' addition. I would prepare the frangipani filling, but instead of the almond extract, I would replace it with rosewater. Because rosewater goes right back to that whole Persian princess image in my head. And since I was going there, I might as well totally commit, and add the pistachios and honey, to complete the Middle Eastern trifecta!!
Instead of doing a free-form jalousie, I would prepare the pastry and place it in a tart pan. Add the filling, then place fig halves on top, and bake! Easy as that. Once out of the oven, I drizzled honey over the warm tart, and sprinkled lovely green pistachio slivers all over, to land in the honey, and thus stick to the top.
I was so happy with the result. If anything, I would add even more figs to the top. I used about 14 medium figs per tart. It was great to see the frangipani filling puffing up around the figs, so no one else would probably have an issue with the tart. I just want it to be even more decadent, by having it completely busting with figs! But bottom line, this is a fabulous way to celebrate these sultry, exotic summer days that will soon fade into the coolness of Autumn. Which is just fine…
Love Jen.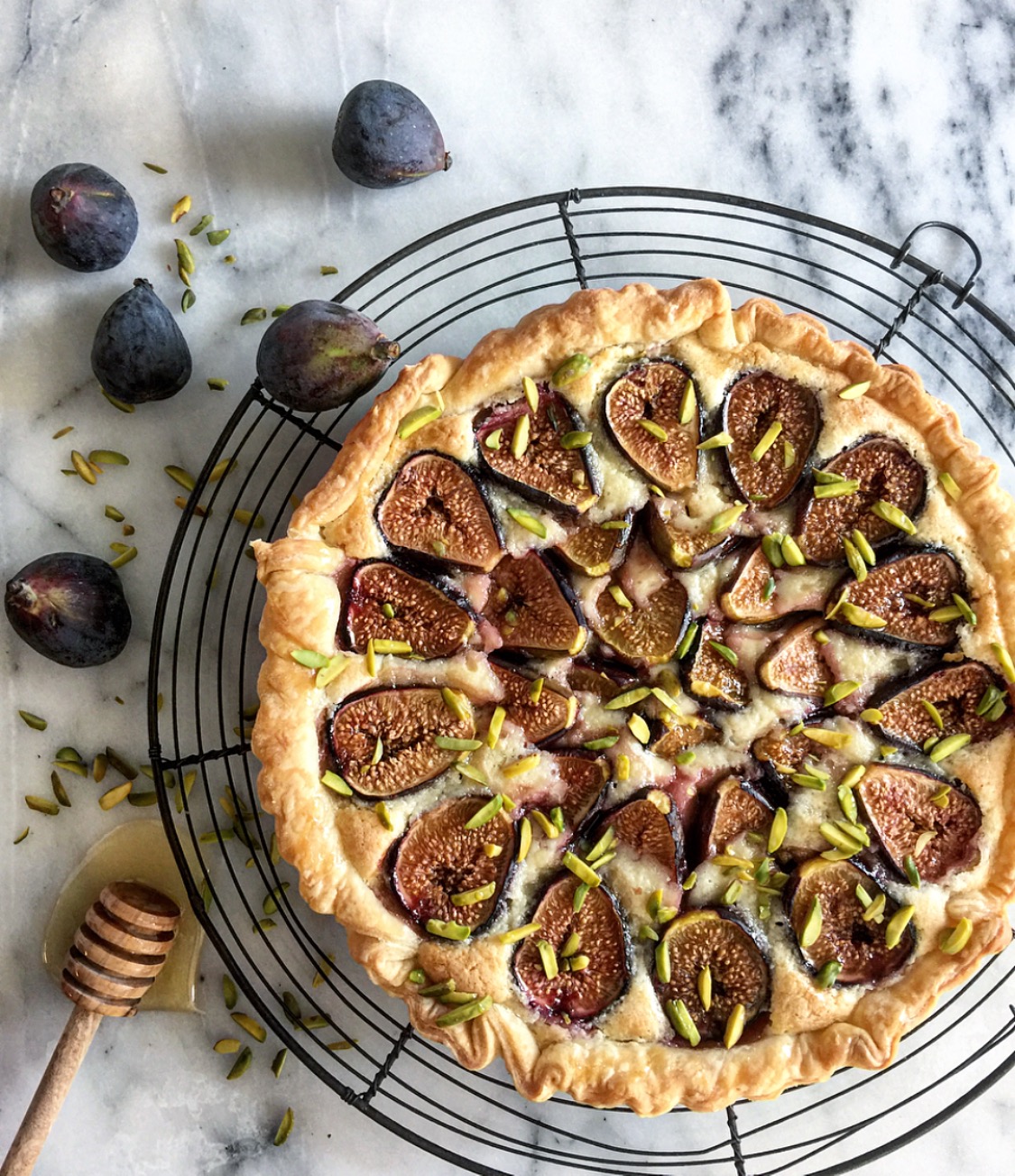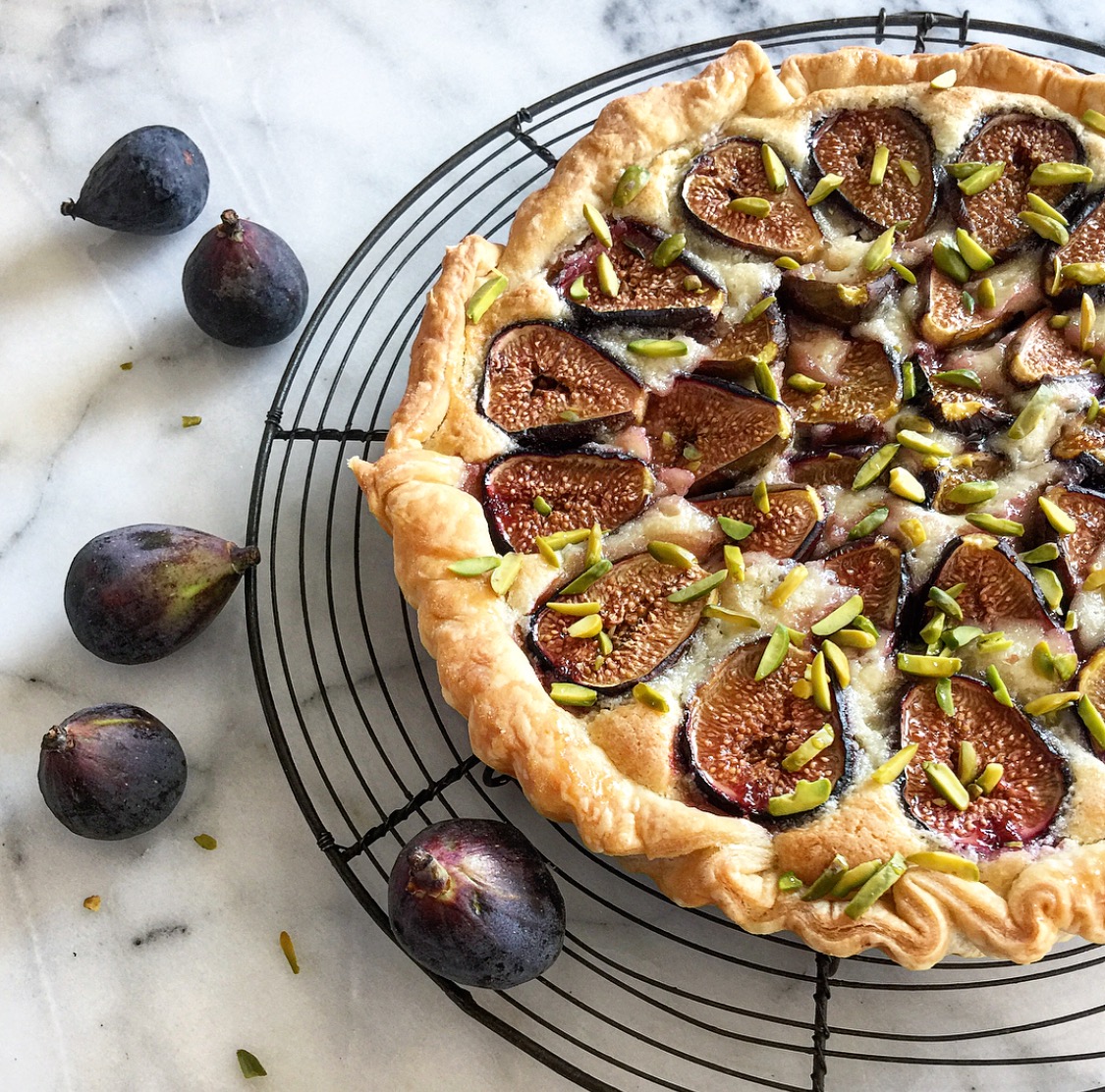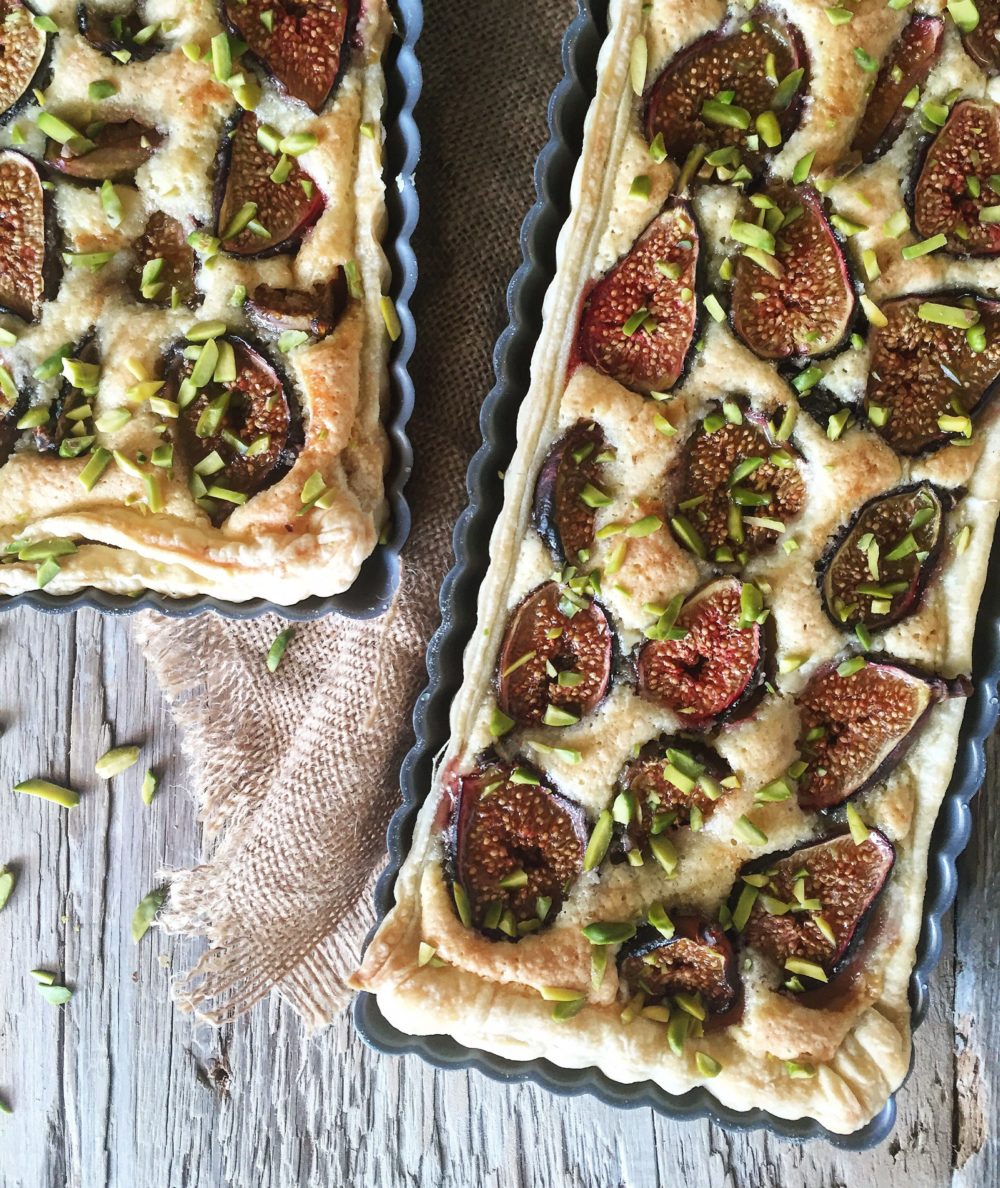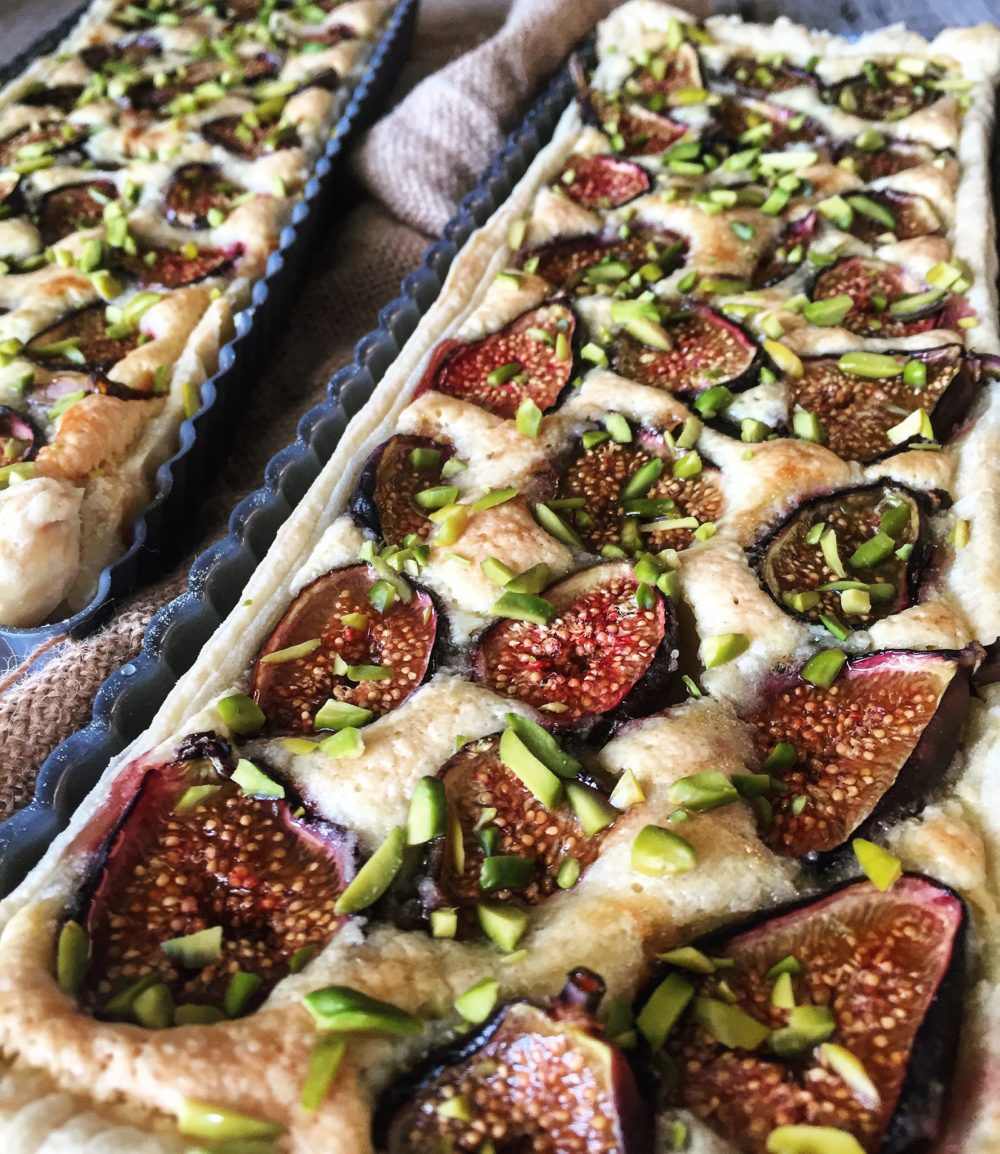 Fig and Rosewater Frangipani Tart with Honey and Pistachios
An exotic pairing of figs and rosewater in an almond frangipani filling, with honey and pistachios drizzled on top. In a puff pastry crust.
Ingredients
1/2

lb

(200 g) frozen puff pastry (sheet or brick)

thawed

2

tbsp

softened butter

1/2

cup

granulated sugar

1

extra large egg

6

tbsp

AP flour

2/3

cup

ground almonds

1/4

tsp

rosewater

14-16

medium mission figs

cleaned and halved

2-3

tbsp

runny honey

2

tbsp

slivered pistachios
Instructions
Preheat the oven to 375F. Place rack in the bottom third of the oven. (but not the bottom, just below the middle!)

Roll out the puff pastry to fit your removable bottom tart pan (I used an 4x14" oblong removable tart pan, so I rolled it out to 6x16" (adjust for the size of tart pan you are using). If using a puff pastry sheet, and using the oblong tart pan, fold in half and then roll out. Prick holes in the bottom with a fork. Set aside.

MAKE FILLING

With a hand mixer, blend the butter and sugar till smooth and fluffy, about 4 minutes.

Add the egg and beat till smooth.

Add the flour and ground almonds and beat till very smooth.

Add the rosewater and mix to combine.

Spread the frangipani filling into the prepared tart shell.

Place the fig halves evenly over the filling, pressing ever so gently down into the filling. Place the tart pan on a baking sheet and put in the oven.

Bake for 40-45 minutes, or until the frangipani filling is puffed up, golden brown, and the figs are slightly shrivelled.

Remove to cool on a baking rack. Let cool slightly. Drizzle the honey evenly over the tart. Follow by sprinkling the pistachios evenly over the honey. Let cool further.
Recipe Notes
This would be amazing with creme fraiche or whipped cream.
This recipe is easily doubled if you want to make 2 at once. Which you might as well, since you'll want more than one piece!!