We had been married only a couple of months. It was the last few days of 1996.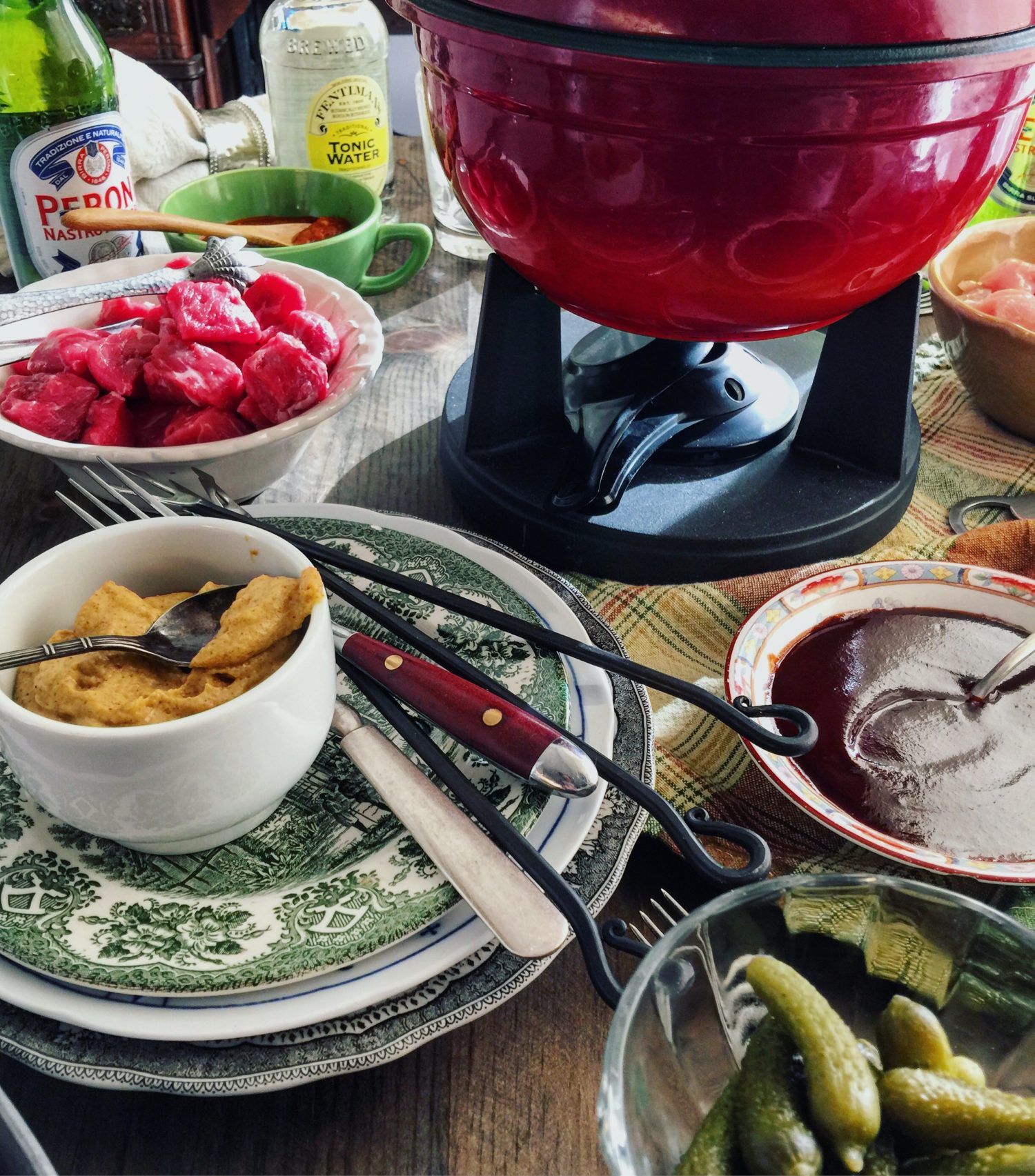 So we decided to have our best friends over for dinner. Since we could all sleep in the next morning, seeing that it would be January 1st, we decided to have some fun with the dinner planning. So I pulled out a dinner that my mom would treat us to periodically as kids: fondue bourguignon (meat cooked in oil) It was a popular meal in Switzerland back in the 1950's when she was a governess in Lausanne. Apparently it was a great 'Date Night' meal offered at many restaurants. There was plenty time for chit chat and getting to know one another while waiting for your meat to cook. And tradition has it that if you were enjoying this meal in a group, and someone's meat fell off the fork and stayed in the oil, then the gentlemen had to buy a round of drinks, or the lady had to give the gentlemen a kiss on the cheek. How cheeky for the '50's! Fondue had become almost ubiquitous by the '70's with an orange and brown enamel fondue pot in almost every kitchen's cupboard. But I contend that my mom was ahead of the trend!
We had often enjoyed this meal around the table with just our parents. The fun part was helping my mom to create the different sauces that the cooked meat could be dipped into. Being the resourceful and economic mother that she was, our mom made one sauce out of equal parts ketchup and mustard! And you know what, it was my favourite!
This time around though, as a newly married couple, I decided to consult my 'Joy of Cooking' tome to see what sauces I could come up with. I settled on a horseradish sauce, a garlic aioli, a mustard sauce and a bbq sauce. I was crazy to tackle making all the sauces from scratch in my oh so little Toronto apartment kitchen, when it would have been so much easier to purchase prepared dips and sauces. One less thing to worry about. I had all the meat (I was only using beef sirloin and chicken breast that first time as a married couple) cubed and ready to go.
And then, on the morning of, Jim came down with the flu. Honest to goodness flu. Could barely sit up flu. All that meat and preparation would be for naught. And on our tight, newly married budget, we felt sick to our stomachs about the waste. So Jim suggested that we just go ahead with it. He would hide out in the bedroom. Well, that felt weird. But we did it. And we had a great time!!! By the time evening had rolled around, Jim felt good enough to lay on the couch and visit with us as we cooked our meat in the simmering and sputtering oil.
From that moment on, the Fondue Party became our yearly tradition. And thankfully Jim has never come down with the flu on game day again. Whether we've been in Toronto, living in the country, living out in Calgary, or visiting with friends at their places, the annual fondue party has come with us!
Sauces: These days I have a much more relaxed approach to the whole evening. Gone are the days of making all my sauces from scratch and then having to find room in the fridge to store them. These days I will go into one of our favourite gourmet grocery stores and pick up three or four bottles of something fun: Garlic Aioli, Sriracha Sauce, Chipotle Sauce, Thai Peanut Sauce, an Asian type Miso Dressing, or even an Indian Curry Sauce. Or if you like, how about a great smokey BBQ Sauce? Any of the above are great with most choices of meats. Just keep the assortment to about four. Too many, and people won't remember which sauce is which, or how they complimented the various meats they are cooking up. Plus, you don't want the table cluttered with too many options.
Table: Speaking of tables, for a lovely evening, where everyone has an enjoyable time, try to keep the group around a fondue pot on the smaller side. I suggest six people as maximum. For two reasons: To seat eight people around a table will probably mean that there will be ones who will have to reach too far to use the pot. This can be dangerous and messy. Secondly, the more forks of meat in the oil at the same time, the more the temperature of the oil will drop. This will affect cooking times for everyone. Now, if you have more than one table, and more than one pot, go ahead and invite eight to twelve people over. The more the merrier then!! On one occasion, back when we were still living at home, my sister and I planned a full out Fondue Party. We got hold of five different pots, and had stations set up throughout the kitchen, dining room and living room. We had a tempura station, an oil station, a broth station, a cheese fondue station, and a chocolate dessert station. It was fun watching everyone move around sampling the different options, and seeing where everyone ended up hovering over. There were ones who absolutely loved the tempura, while others couldn't get enough of the cheese fondue. That was me and my mom! We love the gooey cheese and bread meal most of all.
Also, this is not the time for your fancy table cloths or place mats. There will be oil splattering or dripping off your forks. I have been known to cover the table with newspaper or cut up magazines (makes for great reading while your waiting for your meat, and hopefully you'll have something to share with the group!) I do the same thing for lobster and crab leg meals- just spread out the paper and forget the plates- let everyone make a mess! Less pretentious, and makes for a relaxed, fun filled eve. 🙂
Meat: Back in the day, the only option was usually beef of some sort. And we were fine with that. But these days, the sky is the limit. Of course, I will always include a ribeye cut for the traditionalist (read: the one person in the group who invariably refuses to be adventurous) I also include a chicken breast, for those guests who want a somewhat leaner, healthier option. Although I contend that the following options are equally if not more healthy than the chicken. See if your butcher can source ostrich, wild boar, elk, venison, camel, or even kangaroo. We've had all cuts at fondue parties over the years. My favourite is the ostrich, since it is so lean and tender, you would think it was a cut of filet mignon. But venison or elk also have the same effect, depending on the cut. The others have more unique flavours, and they have all been hits with ones who had never tried them before.
If we are just having the Fondue Bourguignon, I'll usually prepare a light green salad (no need for a heavy or creamy dressing, since there is enough rich food going on with the meat and sauces) to complement and contrast the richness of the meal. A salad and perhaps a basket of freshly cut up baguette or focaccia is all you need.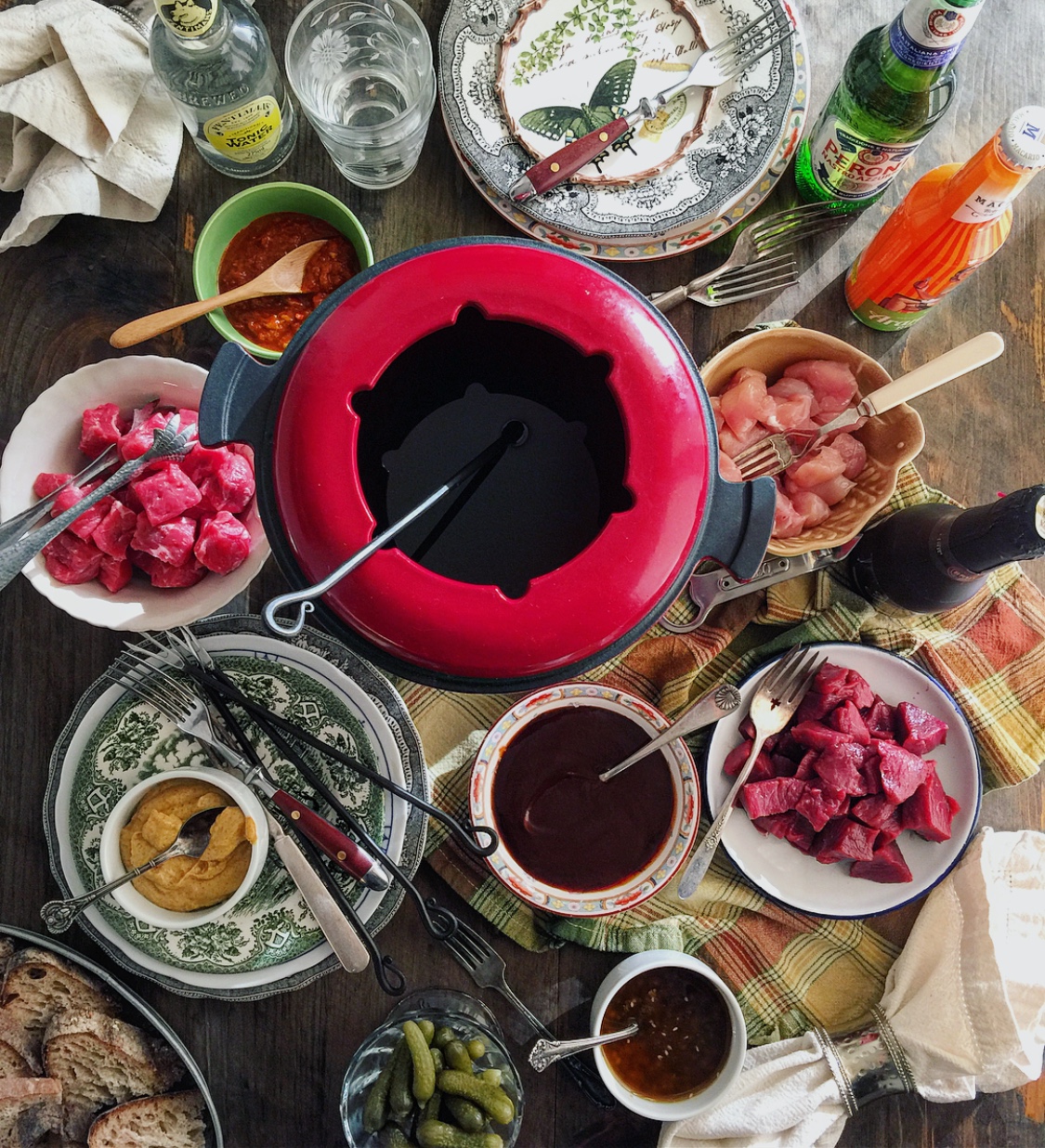 These days, we often have charcuterie of some sort to snack on while we are waiting for the oil to heat up on the stove. So, I will usually include a cheese fondue with the cheese board. You don't need to prepare a huge amount, since you want to leave room for the main meal to come. In the recipe below, I'll give you the proportions of the cheese fondue to feed 6 comfortably. Comfortable is subjective, as it will also be affected by how much else you assemble on your cheese/charcuterie board. So try not to go overboard, unless you don't mind eating bits and bobs for the weeks to follow!! But you could easily make cheese fondue the main meal, if you were to serve a great green salad and perhaps something like chicken wings on the side!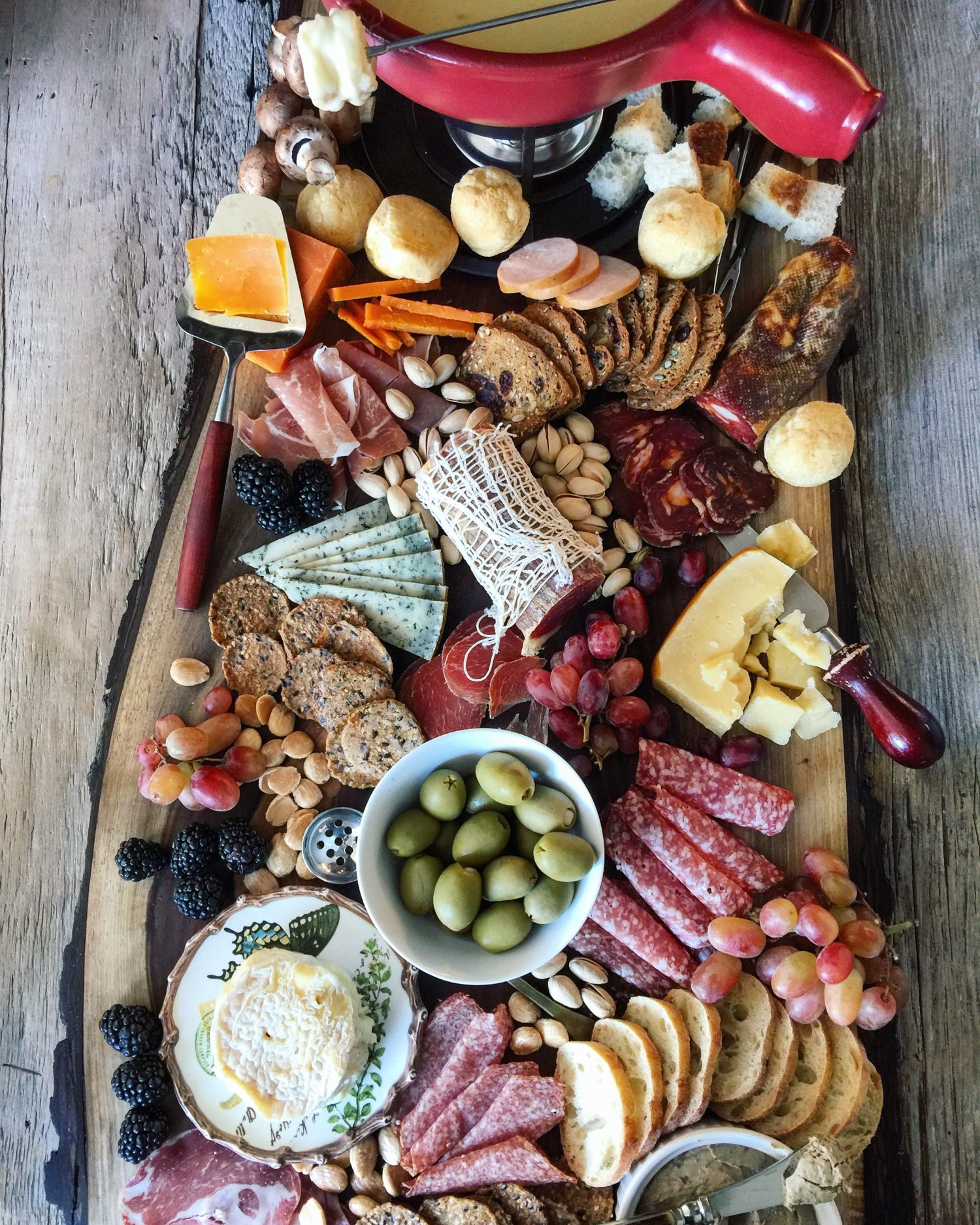 So, here's to a great Date Night meal for two, a game day meal for six, or to a full out Fondue Party for a dozen! Let your imagination take flight!
Love Jen.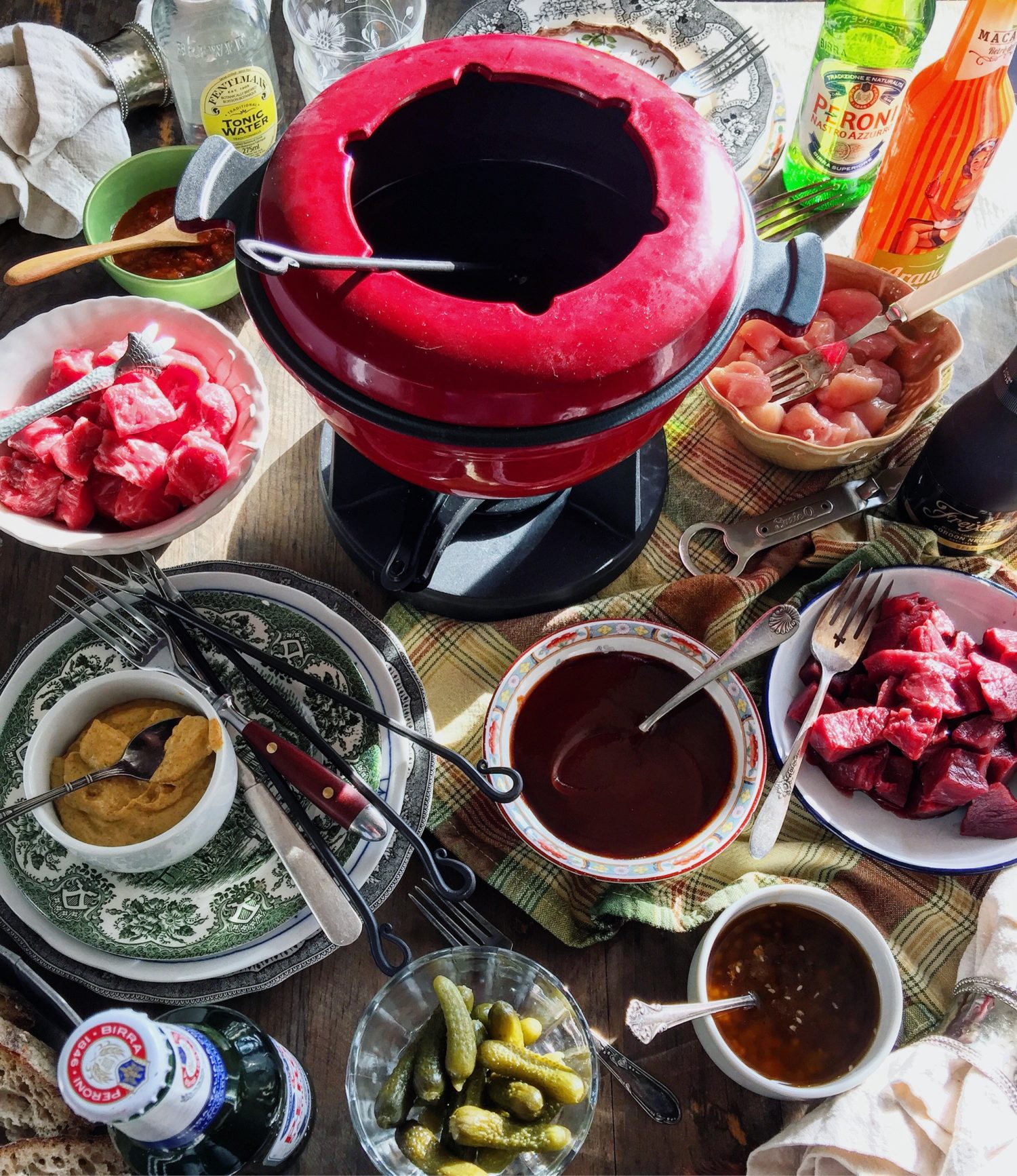 Fondue Party
How to throw a memorable fondue party without all the unnecessary work. Some prep work ahead of time, and relax as your guests cook their own dinner!
Ingredients
Fondue Bourguignon
4

cups

(1 litre) neutral cooking oil

, like canola or sunflower

2-3

lb

(900-1350 grams) meat, or 1/3-1/2 lb of meat per person

, this can be straight sirloin or ribeye beef, or try something new like ostrich, venison, elk, camel, boar etc. Even chicken

3-4

sauces

, such as BBQ, garlic aioli, Thai peanut sauce, mustard sauce, Asian miso ginger dressing, etc. Whatever you would like.
Cheese Fondue
1

clove

garlic

, peeled and sliced in half

1 1/4

cup

Dry White wine

, such as a Chardonnay, Pinot Grigio etc

1/2

lb

(450 gr) Gruyere Cheese, shredded

1/2

lb

(450) Emmental Cheese, shredded

1

pinch of freshly grated or ground nutmeg

1 1/2

tbsp

cornstarch

2

tbsp

Kirsch

(cherry liqueur)

Salt and pepper

5-6

cups

of day old french bread

, cubed, and left outside to dry out a touch.
Instructions
Meat Fondue
Take each cut of meat that you have decided on, equalling about 2-3 lbs in total, and pat dry. You want to ensure that there is no excess liquids surrounding the meat, as it can cause splattering when it hits the hot oil. Cube into bite sized pieces. Aim for 3/4 inch cubes- 1 inch cubes. You want them easy to handle and guide onto your fondue forks, and not so small that they will slip off into the oil, or overcook too quickly.

Also, when cubing, cut off any excess fat, as this will cause burning in the oil.

Place each type of meat into a separate container, seal and refrigerate till ready to use.

Spoon or pour the various sauces you are using into small containers and cover with plastic wrap. Store in the fridge till needed. You really only need about 3-4 tbsp of each sauce, to go around. Don't use too many sauces. Four is ideal.

About a half hour before you want to eat, measure out your oil in the fondue pot you are using. Try to ensure that it is solid pot, and has a lip at the top, to prevent hot oil from splattering. You want to leave a good 1.5 to 2 inches at the top free, so don't over fill. Most oil fondue pots are designed to sit on glass burners of ranges, as well as gas ranges these days. They are usually made from heavy steel or enamel coated cast iron.

Using medium heat (no hotter) slowly bring the oil to a gentle simmer. You should eventually start to see it 'shimmer'. You can test it by taking a small piece of bread on a spear and placing it into the oil. If it starts to sizzle (without going crazy!) then the oil is ready to go.

When the oil is almost ready, bring out your meat and sauce containers. Spread them out around the fondue stand in the middle of your table. Each meat bowl should have forks for serving, and each sauce should have its own spoon.

Plates: Instruct everyone that they can take a variety of raw meat and place it on one corner of their plate. But once cooked, they should keep another section free for this. And in the bottom part of the plate they can spoon out some of the sauces for dipping.

Set up the flame of your fondue burner sitting on the bottom of your fondue stand according to the directions it came with. You can adjust the heat with the cover of the fondue flame holder.


Using oven mitts, carefully bring the oil over to the stand, and place it over the flame, ensuring that the pot is stable and secure.

As your guests start to cook each piece of meat, watch the flame and oil. If there is too much sputtering etc, drop the flame somewhat.

You will find that each person will like their meat differently. So pay attention to how long it takes to cook your cubes. I find for red meat, I only need a few seconds (truly, I like it blue rare!) Others will want it in there longer.

You may find that if the pot is filled with speared meat, the oil will take longer to heat up. Just be patient and have some salad!

Or you may find that your flame will die out. If this is the case, have someone remove the hot oil pot (using oven mitts) and place it on a cutting board. Then remove the fondue flame holder and refill with fuel. (I do this in the kitchen to keep the fuel away from the meat and other food) Light with a match and return it to the stand. Replace the pot and continue eating!
Cheese Fondue
Have a bread bowl or basket ready with the cubed bread.

Take the garlic slices and rub the inside of your cheese fondue pot. This pot is different from an oil pot. It is usually wider and flatter, and either baked clay or enamel. This pot cannot sit directly on the stove. Discard the garlic.

In a bowl, combine the cheeses, nutmeg and cornstarch.

In a separate medium sized cooking pot, bring the wine to a rolling simmer over medium heat on the stove.

Once the wine is heated through and simmering, slowly add one handful of the cheese mixture. Using a spoon, stir in a figure eight motion until it is completely melted. Add another handful of cheese and repeat. Continue until all the cheese has been incorporated and has become a smooth mixture. It should be pleasantly bubbling. Add the kirsch and stir for another five minutes or so. Season with salt and pepper.

If you find it too thick, you can thin it out with a touch more wine.

Set up your fondue stand and the fuel container according to the directions. When the flame is ready, transfer the cheese from the stovetop pot to the garlic infused fondue pot. Set it up on the stand.

Spear a cube of bread and insert into the cheese. Using a figure eight motion, get some cheese to cover the bread and carefully plop it into your mouth! I say carefully because the fork and the cheese may be hot!! The figure eight motion ensures that the cheeses keep well mixed and will not separate or stick to the bottom of the pot.

Adjust the flame if you find the cheese is starting the scorch at the bottom of the pan.
Recipe Notes
Meat Fondue
Feel free to use any variety of meats you'd like. Keep the pieces a good bite size. Serve a light garden salad and sliced focaccia on the side.
The sauces can also be any variety you would like. Often, if I have some made up, I will serve my Miso Ginger Dressing as one option. Here is the recipe.
Cheese Fondue
Traditionally white wine is the liquid of choice. But these day a hearty beer is also an option. You can substitute equal measure for measure.
Kirsch is also traditional. I would not use it if using beer. I have left it out, and only noticed minimal difference.
While bread is also the traditional conduit for the cheese, these days veggies such as cauliflower florets would make a great option.
These days the fondue fuel is a lot easier to use. We use the fondue gel that gets squeezed into the fuel holder. Keep extra on hand, for if the fuel runs out before the meat has!!
SaveSave
SaveSave