It's March here in Toronto. Spring should be getting ready to make her grand entrance. Instead, we have been dealing with blustery, frigid temps (fine, to me they're frigid!) and even the threats of a good whack of snow.
How to combat all this miserable weather? Stay inside and bake. Over the weekend I baked up a little mini strawberry rhubarb pie. I had to: our weekly visit to St Lawrence Market scored me the first of the hot house rhubarb. Oh, you beautiful beacon of Spring time!! And it was a great little pie, served us each with a slice, with a side of vanilla ice cream. Classics never grow old!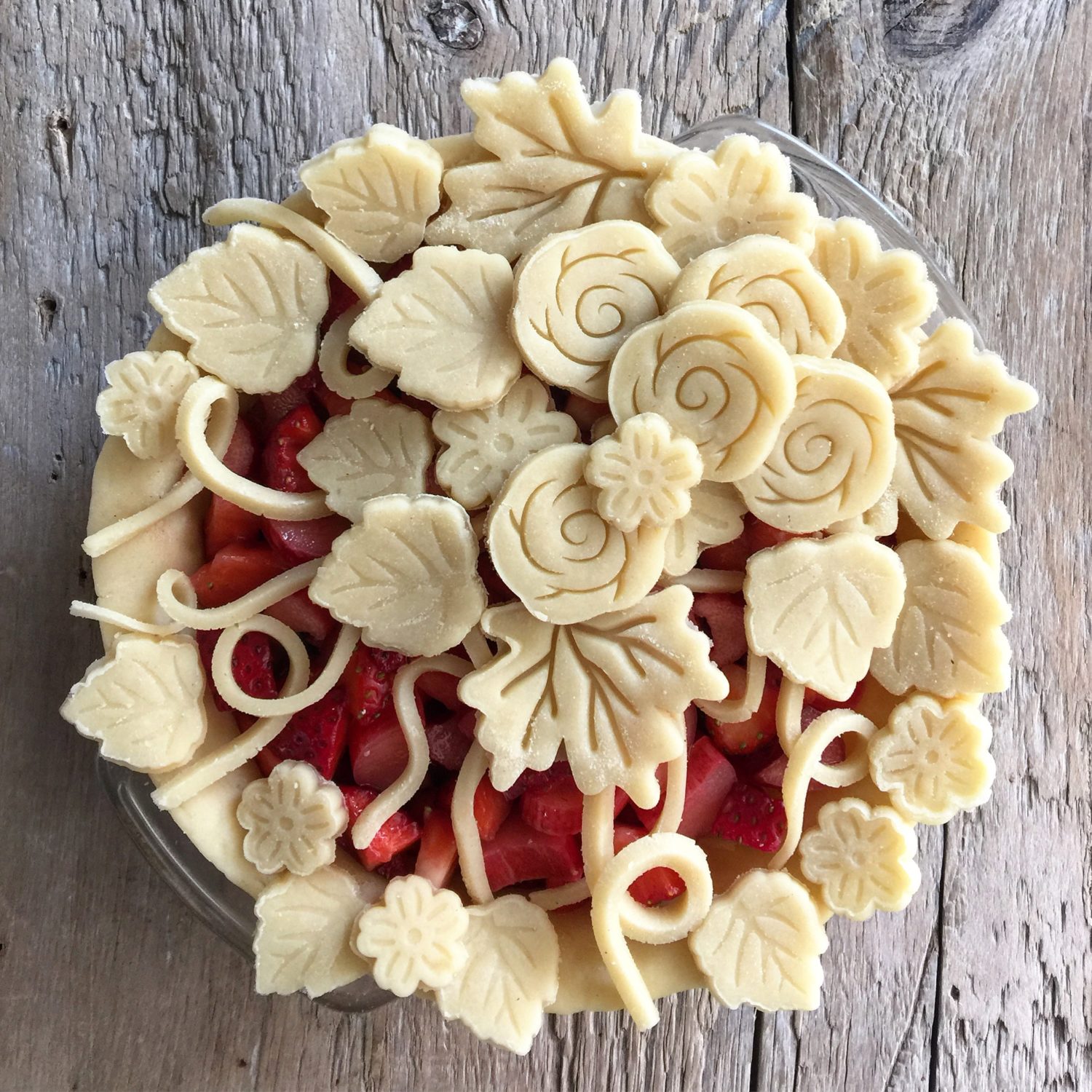 But that would not be the only pie I would bake this week. It's March 14th today. Yep, it's 3.14 day, or Pi Day to all us baking nuts! The Superbowl of Pie Baking. And well, you know me by now. I can't let an opportunity to bake up a pie go to waste. That's just wrong. So I had mulled over what to bake. Yes, of course I could bake up another fruit pie. The apples and pears are still with us. Or a custard pie, like a lemon or honey. But I thought harder (it hurt) and decided I would go down the savoury route. Without a bunch of kids in the house, and no expectation of company, baking up a dessert pie isn't always so practical. We try hard to finish it, between breakfast and snacking. But it always seems like there is that one piece that ends up being neglected. But with a savoury pie, we seem to get through it faster. A couple of dinners, and lunches for me (or midnight snacking) and the pie is polished off.
Naturally I thought of chicken pot pie. But then I realized, I hadn't made a tourtière in forever (just about 3.14 years to be exact!) and it was long overdue. Tourtière is a French Canadian savoury pie, using pork and spices, often served around the holidays in December. Sometimes wild game meat is used as well. The meat and spices, as well as potatoes and water are cooked down in a pot until thickened. This is then spooned into a pie crust and baked off. Now, I have had some pretty sad tourtières through the years. I love meat pie, and so when I am handed a slice of bland, grey meat encased in a forgettable crust, it really lets the air out of my balloon. There is no reason for it. And yet, it seems to be too often the case. Why? Is there a shortage of spices and seasonings? When some cooks use just beef, it ends up being too dry, which doesn't help either.
So through the years I went on a mission to revive tourtière. There was no reason for it to be bland and dismal. I agree- there does need to be some pork in the dish- pork carries flavour as well as some needed fat. Ideally pork and beef of some sort should be combined if you want to have something healthier than straight ground pork. If you are going to replace the pork with say, chicken or turkey mince, then ensure that the beef you use is not lean. The fat has to come from somewhere. And I don't hold back with the spices. Just like making gingerbread, I want to know that each bite with result in a party in your mouth! So cinnamon, cloves, allspice, and nutmeg are prominent. As are garlic, thyme, sage, pepper and for me, cayenne pepper. Yep, I like a touch of heat. Not so much that it is the first thing you taste, but a kicky warmth that rounds out the end of a bite.
And unlike most traditional tourtière, I add some carrots and celery to the onions. I know that Quebec residents are screaming at the screen right now! There shouldn't be carrots or celery!! But I find that their texture and flavours enhance the pie, not detract from it. And they keep the mixture from ending up too dry. Plus, it's some fibre and nutrients 😀 These ingredients all get together in a saucepan and slowly cook down into a wonderful filling. And instead of adding cubed potatoes or mashed potatoes, I cook my potatoes separately and then rice them with a potato ricer (really big garlic press! hehe). I save some of the potato water for the cooking of the meat (as opposed to plain water- why not use water that has some flavour!?) The ricing makes the potato easy to incorporate into the filling.
The crust I use is just a variation of my Perfect Pie Crust pastry. I omit the sugar. I increase the salt by 1/2 teaspoon. And I add a good tablespoon of chopped fresh thyme. And several grinding of fresh cracked pepper. Enough so that you can see it dotting the pastry.
And to top it all off, when I serve it, I serve with with a side of Branston Pickle. Oh the horror!!! Every Quebecer is rolling their eyes at me right now! Others are rolling in their graves. But when I was visiting Cornwall, England, I tried Cornish pasties (their version of a hand held meat and veggie pie) for the first time. And it was traditional to have a side of Branston Pickle to 'dip' each bite into (or to spoon onto the pie) I adored that contrast of spicy, tangy, cold chutney against the creaminess of the meat filling and the flakiness of the pastry. It just seemed right to have it with tourtière as well. Please, try it, you'll be hooked!!
So, I think I have done this year's Pi Day proud. I made a pie that Jim loves (and historically he avoided tourtiere, for the same reasons I did), a pie that satisfies dinner for a few nights, and that brings a traditional Canadian holiday dish into the land of the everyday or even special occasions throughout the year. It's the perfect snow day dinner. I hope you try this, and fall in love with a festive and flavourful meat pie!
Love Jen.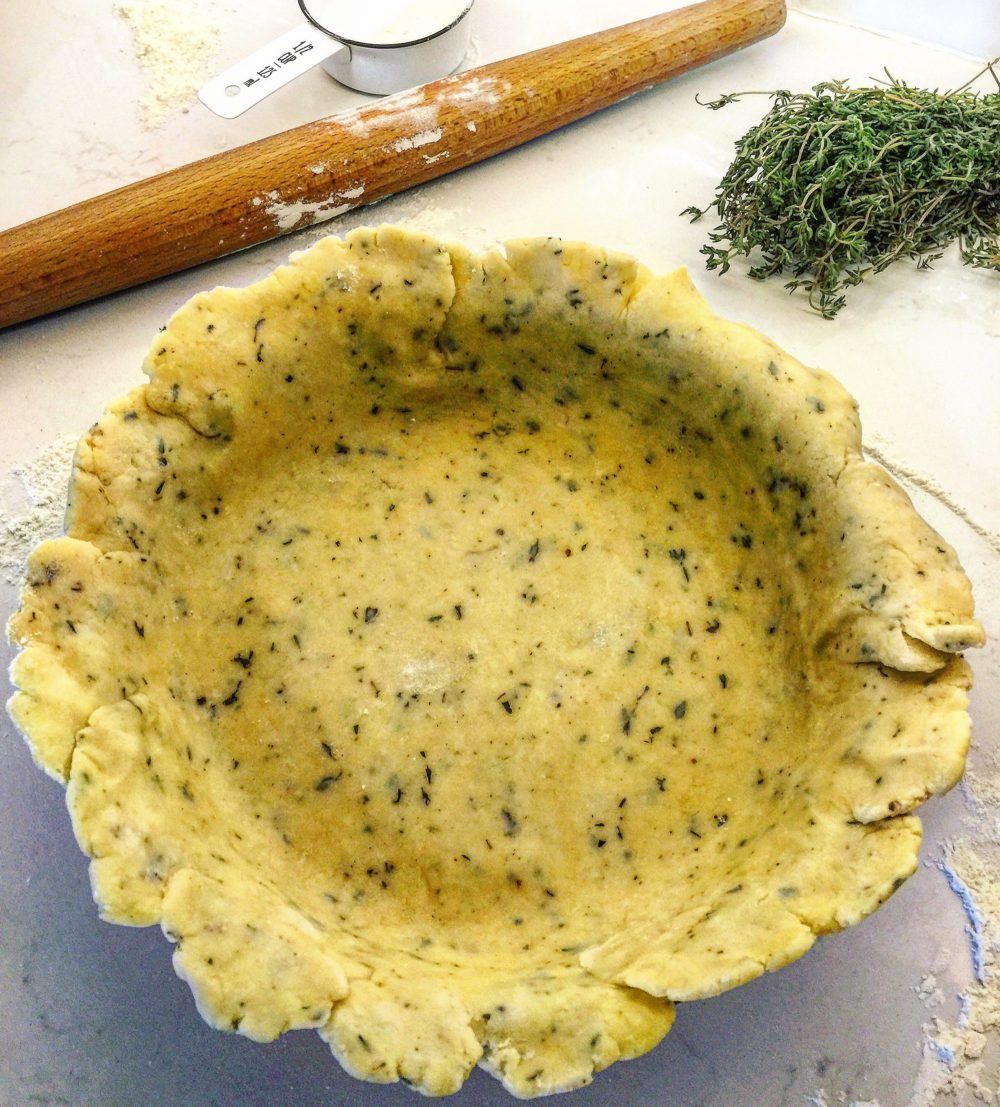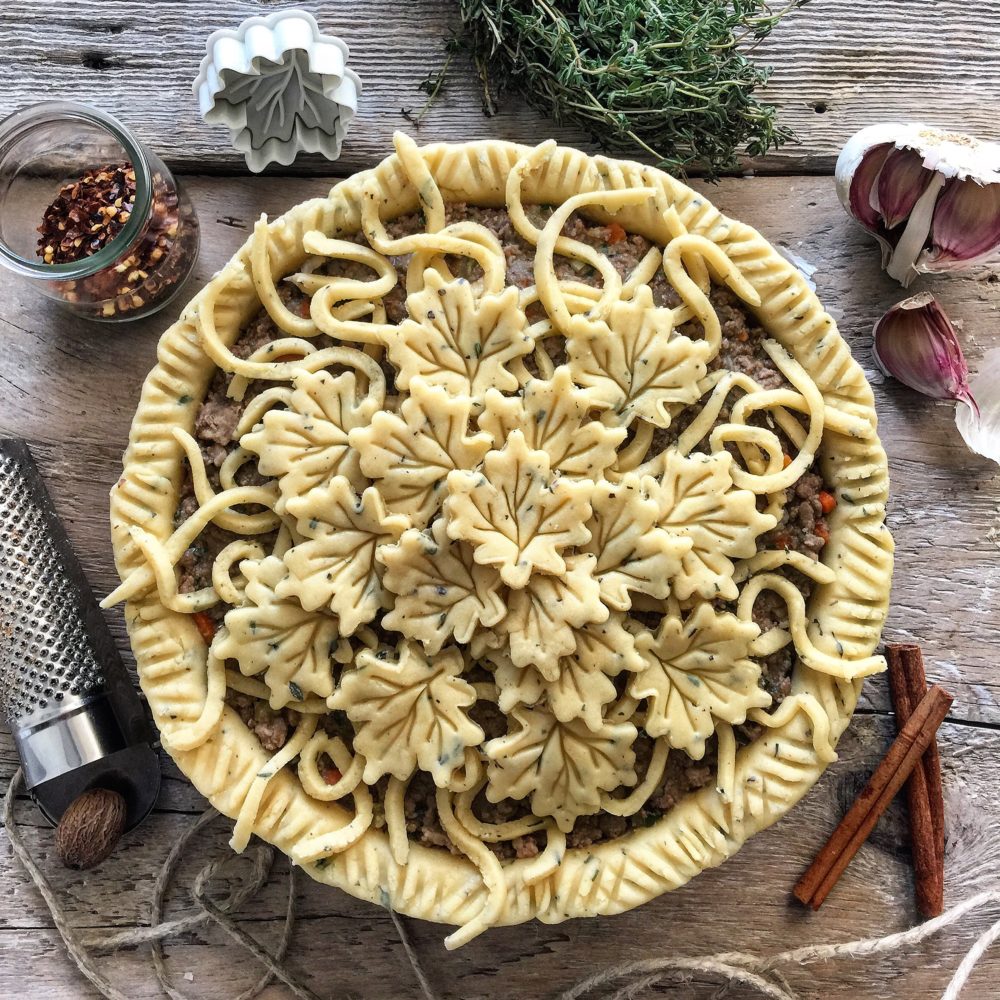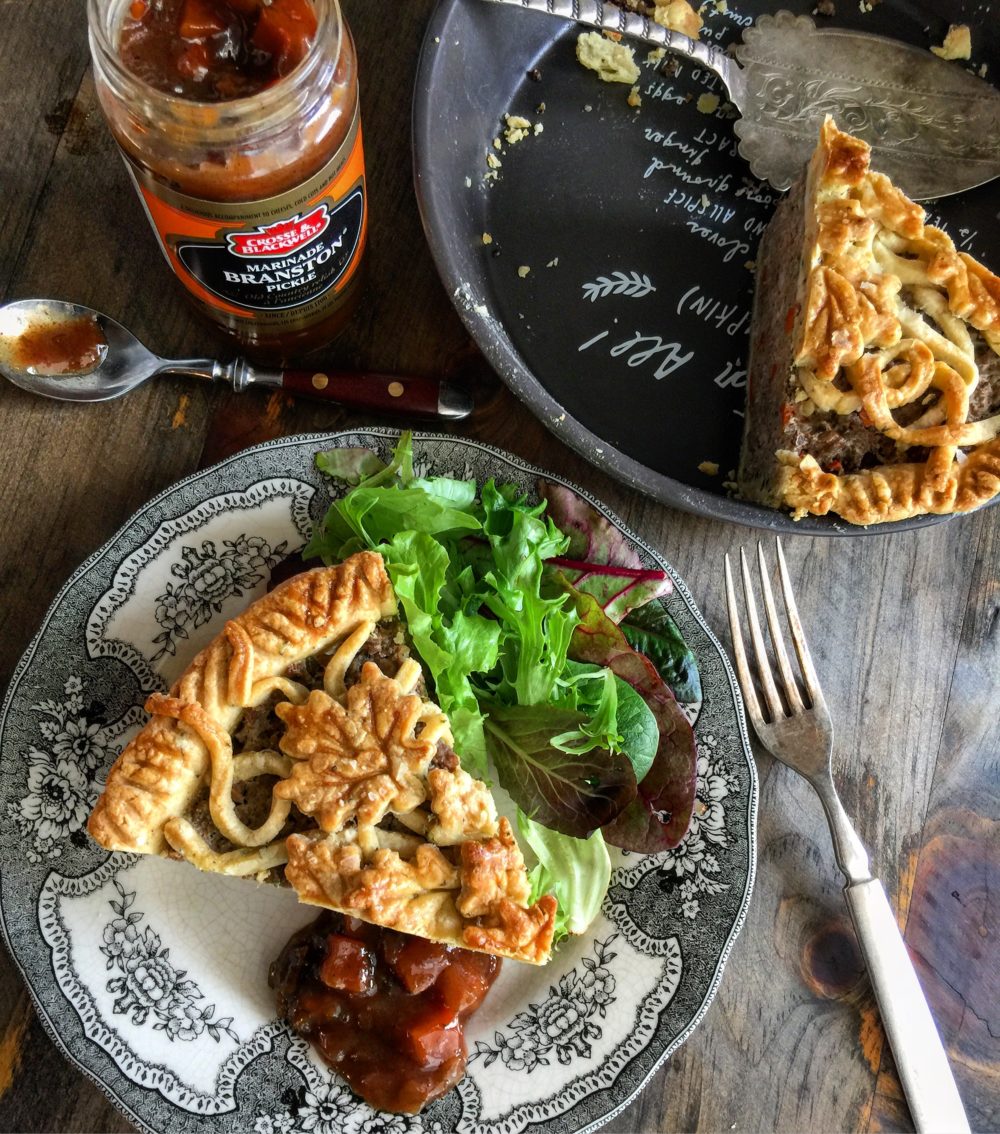 French Canadian Tourtière
A French Canadian classic meat pie showcasing aromatic spices, and perfect for a Winter's day. Cinnamon, cloves, nutmeg, garlic, thyme and veggies keep a combination of pork and beef company inside a savoury thyme and pepper pastry.
Total Time
1
hour
25
minutes
Ingredients
1

double crust pie pastry

see archives for Perfect Pie Crust

2

medium Yukon Gold potatoes

peeled

kosher salt and cracked pepper

1

lb

lean ground pork

1/2

lb

lean ground beef

1

medium onion

diced small

1/2

medium carrot

diced small

1/2

celery rib

diced small

3

medium garlic cloves

minced

1/2

tsp

dried sage

1/2

tsp

dried thyme

1/2

tsp

ground white pepper

1/4

tsp

ground cloves

1/4

tsp

ground allspice

1/4

tsp

ground cinnamon

1/4-1/2

tsp

cayenne pepper

or to taste

1/4

cup

fresh parsley

chopped

1

egg

mixed with 1 tsp water,

for egg wash of crust

1/4

tsp

finishing salt,

like Maldon
Instructions
Have a 9-10 inch deep dish pie plate ready. Or variation thereof.

Prepare the pastry making the savoury version found in my Perfect Pie Crust recipe. Divide the dough into 1/3 and 2/3 sized disks.

Fit the pie plate with 2/3 of the pastry. Flute or crimp the edges. Set into the fridge until needed.

Preheat the oven to 425F and set two racks: one in the lower third and one in the middle.

Cut the potato into eighths. Put into a pot and cover with water, salt to season.

Bring to a boil. Reduce to medium and let cook till just tender (about 12 minutes)

Before draining, remove 1/2 cup of the potato water and set aside.

Drain the potatoes. Then, using a ricer, turn them into a fluffy mound of feathery potatoes and set aside. Alternatively you can use a masher, but the result will be a more chunky potato.

In a medium large pot, combine the pork, beef, veggies, all the seasonings (but not the fresh parsley) and the potato water.

Cook over medium heat until the mixture has come to a boil. Stir to ensure that nothing sticks to the bottom of the pot. Break up the meat, cook till it has become evenly small in size and is cooked through and the veggies are just tender, about 20 minutes in total. Much of the liquid should have evaporated etc.

Add the riced potato, salt and pepper to taste, and the fresh parsley. Stir. The potato should soak up any remaining liquids.

Spoon the meat mixture into the pie plate prepared with the pastry. Press down firmly to let any air escape from the filling. There is enough filling for a 9-10 inch deep dish pie.

Cover with the remaining pastry. Crimp or finish your edges as desired. Cut vent holes to allow steam to escape. Brush with a little egg wash (egg some water mixed together) Sprinkle with some finishing salt like Maldon.

Place the pie plate on a baking sheet.

Bake in the lower third of the oven for 20 minutes.

Move the sheet and pie to the middle rack and continue baking of another 20-25 minutes, or until golden brown. If you find that parts of the crust are starting to turn brown before the pie is ready, cover with tin foil or a pie crust protector.

Allow to cool for at least 15 minutes before serving.
Recipe Notes
My 'Perfect Pie Crust' recipe will work perfectly with this recipe. Use the savoury version, omitting any sugar and increasing the salt slightly. You can add fresh chopped herbs (I used thyme, but rosemary would work equally well)
You can use any pastry crust topping you'd like. Lattices and cut out work perfectly here, eliminating the need for venting. Just make sure that you don't leave too much of the surface of the meat exposed. You don't want to run the risk of it drying out.
Serve this with a hearty salad or coleslae, or even roasted broccoli or asparagus. You could make a lovely pot and demi glace reduction as a sauce. Or even a mustard and wine sauce would work. I'm totally old school and go for chutney. But that's because it brings me back to time spend in England. And it is the perfect contrast to this rich meat pie.
SaveSave
SaveSave
SaveSave
SaveSave
SaveSave
SaveSave