When we were first married, I discovered a most dismaying aspect about Jim.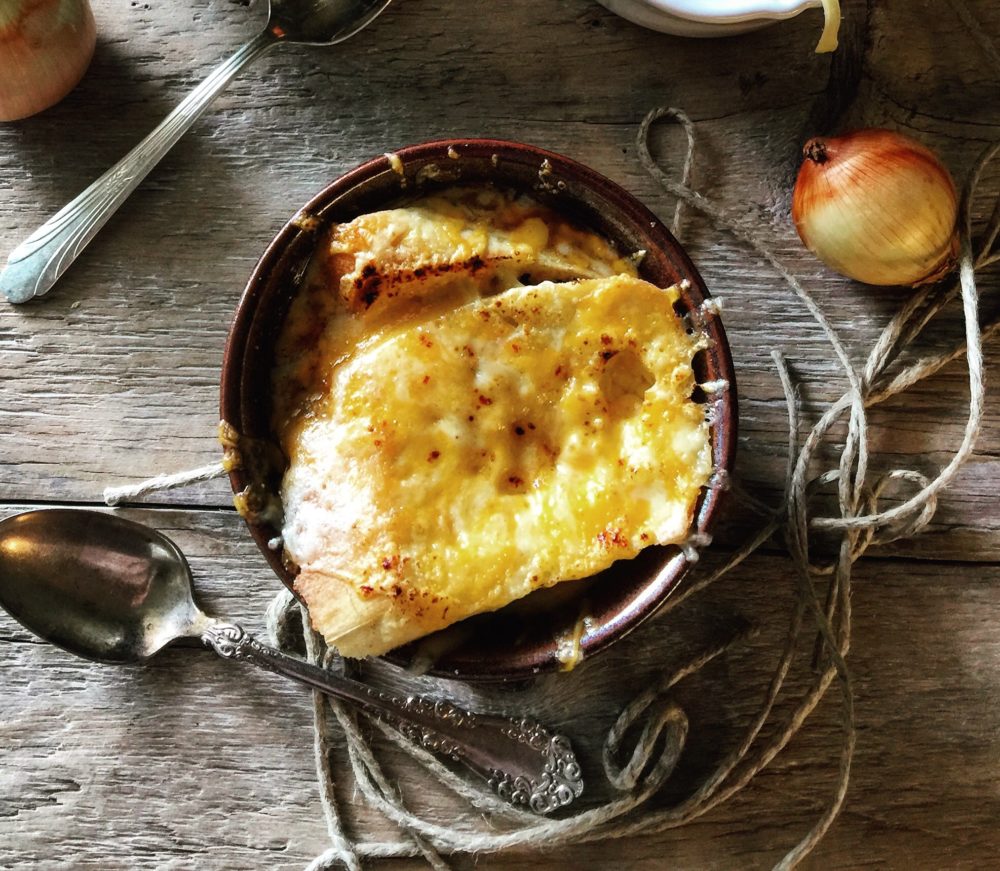 He didn't like French Onion Soup!! How can you not like French Onion Soup? One word: melted cheese. Okay, that was two words, but you get my point.
We were at a favourite getaway spot in New York's Finger Lake District: the Sherwood Inn, in Skaneateles, NY. That evening we were in the dining room, perusing the menu. Naturally, when I saw French Onion Soup listed, it was a no-brainer. I looked at Jim. "Why don't you order it, you may be surprised how much you like it." "Fine, I'll order it. But if I don't like it, you'll have to eat mine as well." Well, at last those two steaming bowls of goodness arrived, covered in a melange of cheeses, dripping and crusted over the sides of the bowls. Jim took his spoon and cracked through the cheese crust and grabbed some of the perfectly seasoned broth soaked bread and ate it. If faces can light up, his did. He looked at me and said, "This is now my new favourite soup." And he has never looked back. We may be driving through or near Skaneateles, and a pit stop to grab some French Onion Soup usually wins out. My job is done.
When I first started waiting on tables, this soup was my go-to break meal at one of the restaurants I worked at. It was such a treat to have that broth thickly laden with caramelized onions and herbs, with a lid consisting of a fancy, rustic grilled cheese sandwich! All that gooey cheese! With every spoonful the strings of cheese would grow longer and longer, till I had no choice but to use my finger to break the stronghold to the bowl. One of the hazards of this soup, but so worth it.
It is also a soup that can be made very BADLY in restaurants. Often overl salted, after one spoonful, the flavour just takes all the fun of finishing the bowl. Or there were those times I would see some restaurants actually use store bought croutons (the kind in the box!!) to replace the perfectly toasted piece of baguette that should be used. Those insipid little cubes floating in a thin watery broth, with barely any onions (but way too much salt) covered in a mediocre amount of cheese. How can you pass that off as French Onion Soup??? We have been known to ask the wait staff what they think of the soup, is it too salty, and some reluctantly acknowledge that it is. Decided, we don't even bother ordering it.
So I give you the recipe for French Onion Soup (FOS) that I make here at home. It has all the components that won Jim over: a copious amount of cheeses (a good blend of three different cheeses to be exact: Ementhal, Gruyère and Cheddar are my faves, but feel free to play with this part- just make sure they are all melty cheeses); the perfectly caramelized onions (don't skimp- you want plenty of onions with each spoonful); and the correct amount of seasonings (salt is there, but not the star!)
I do use my homemade stock, found here at New You Bone Broth, but you can totally use ready made beef stock. It just may not have the same depth. Also, if you are making homemade stock, say from short ribs, that still have some of the meat on the bones, why not salvage some of the meat once it has cooked through, but before it has been overcooked to tasteless. The meat would be a lovely addition to the final soup. I know, this goes against everything about traditional FOS, but why not?!!
Another great trick for the time-crunched among us. Since the onions take a good hour to caramelize, why not make them in advance, perhaps on a leisurely evening, and then set them aside to cool and store. Then when you actually want to make the soup, pull them out, rewarm them and continue with the recipe. Cuts down heaps of time! 😉 In fact, you can make the entire soup, store it in the fridge, and then warm it up when ready to actually serve. All you need to do is top it with bread and cheese and broil! I have even been known to make a double batch and freeze the completed soup- broth and onions. Then, on an evening when we want soup, but don't have the time or inclination to start from scratch, the hardest part will be shredding or shaving the cheese!
One day I made it for really good friends of ours. He looked at me after finishing his bowl and said, it was the best FOS he'd ever had. Not too long ago we were out for dinner with these same dear friends, and he told me that when they go out and order FOS, he compares each one to mine. His benchmark! I was so flattered. And I still am 🙂
Love Jen.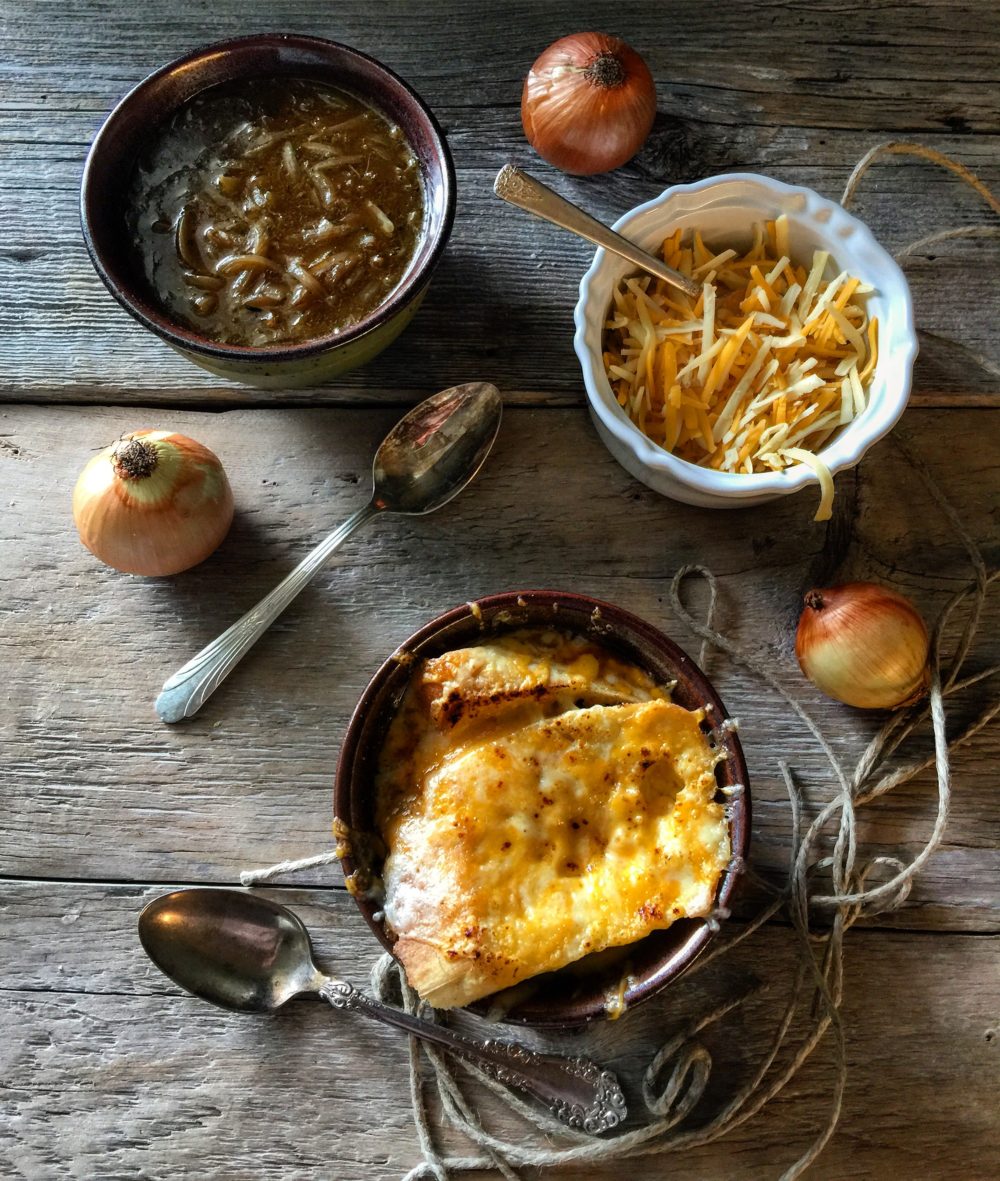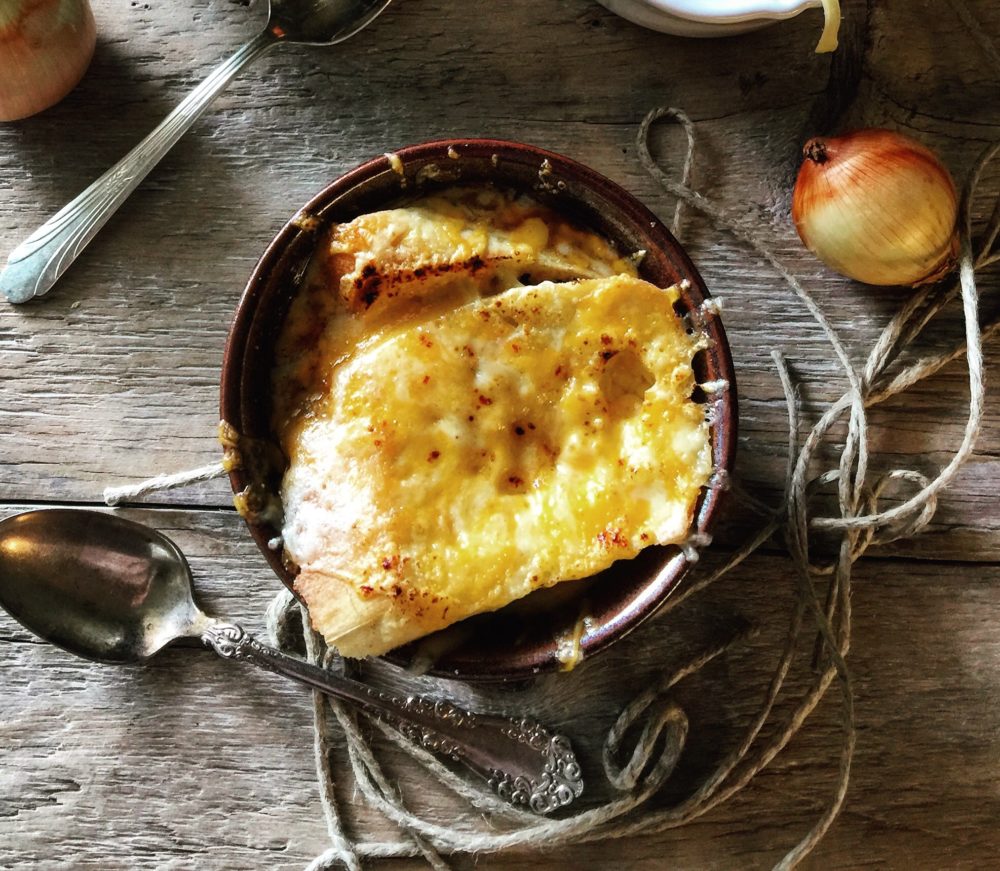 FRENCH ONION SOUP
A rich, hearty, onion filled broth with a copious amount of cheeses. Need I say more?
Total Time
1
hour
45
minutes
Ingredients
4

tbsp

unsalted butter

2 1/2 -3

lbs

of yellow onions

, peeled and sliced from top to tail in thin slices (don't skimp on the onions. If you think you have closer to 3lbs, the better!

2

tsp

cane sugar

1 1/2

tbsp

AP flour

(can be replaced with whole wheat, or even gluten free)

1/2

cup

of dry sherry

, can also use Madiera or Marsala or even Port

6

cups

of good quality beef stock

, unsalted preferably. Homemade would be wonderful here. See Notes below

1 1/2

tbsp

fresh thyme

, chopped (can substitute with 1tsp of dried if necessary)

1- 1 1/2 tsp

Maggi liquid seasoning or Worcestershire sauce

kosher salt and cracked black pepper

1

French baguette

, sliced on steep angle, to create a length that should cross the mouth of the bowl you are using

10-12

oz

of grated or shaved cheeses

(use a combination of gruyere, emmental, cheddar, swiss etc) so that you have at least 1/2-2/3 cup of grated cheese per bowl. You can even up the amount if you are feeling especially cheesy!
Instructions
Melt the butter at medium low heat in a large dutch oven or heavy bottom pot.

Add all the sliced onions, spreading them out evenly. Sprinkle the sugar over the onions and cook at medium heat. Stir regularly to move all onions to get the heat, and to avoid any sticking to the bottom of the pot. Keep cooking until the are melting into a golden brown caramel colour. This should take about 1 hour. Watch the heat, to avoid any scorching of the onions.

Sprinkle the flour over the onions and stir to coat them all.

Add the sherry, the stock and the chopped thyme.

Add the Maggi or Worcestershire sauce. Start with 1/2 tsp and taste. Increase to 1 tsp if you feel it needs it.

Bring to a rolling simmer and then drop to a medium or low simmer.

Cover partially, and cook for about 30 minutes, allowing the ingredients to combine into the best flavour. In fact, if you start this early enough, let it simmer on low for a good 45 min to an hour. Season with salt and pepper. Start with the pepper, and taste. Then adjust the salt, but do not let it become the dominant flavour.

Set a baking rack onto the upper third of the oven and turn on the broiler.

When soup is almost ready, take your baguette slices and toast them under the broiler till just golden. Set these aside.

Set 6 ovenproof bowls onto a rimmed baking sheet. Don't use too large of bowl, or the bread will end up falling in, and the cheese won't make a fabulous crust.

Ladle the soup evenly into each bowl, making sure that each gets an amazing amount of onions! The higher the soup goes in the bowl, the higher the bread will sit, and therefore the cheese. Half the fun of this soup is watching the cheese drip and melt onto the sides of the bowls. But this won't happen if there isn't enough soup in the bowls.

Place one or two slices of the bread on top of each soup bowl. You ideally want most of the soup covered. Cover each bowl with 2/3 cup of cheese (or more!!)

Place the baking sheet in the upper third of the oven under the broiler. Broil until the cheese is melted, bubbling and crusting up all over. Just make sure the bread doesn't burn.
Recipe Notes
Like I mentioned above, the more cheese the better. So feel free to grate or shave much more than I state. I'm being conservative, and erring on the side of health (if you consider this soup HEALTHY!)
Test the broth to ensure that it isn't too salty. The Maggi or Worcestershire sauce contain salt, so really, you won't need a lot extra. I use either of these, as they truly bring out the savouriness of the beef broth. You can omit this, but then you will be adding more salt. Play it by ear. Or tongue, more correctly.
To make it even more special, why not make a great bone broth? See my recipe here. It can be made with a great combo of bones including shanks, marrow, turkey and chicken all in one pot. It makes for a really well rounded broth.
To make this soup without feeling chained to the stove, why not caramelize your onions in advance? You can store them in the fridge till you are ready to make the soup. I have been even known to make the soup in advance and store this in the fridge till the next evening when I am having company. All you need to do is reheat the soup and top with the bread and cheese! Voila- one less thing to worry on game day!
SaveSave
SaveSave
SaveSave
SaveSave