I can't go too long without baking a pie. It's in my DNA! And this summer has provided
the most amazing array of fruit to bake with. I've made several strawberry rhubarb, a cherry, two types of peach, a couple of bumble berry, and now I made a blueberry pie. This is one of Jim's favourites of the berry pies. And I think it will be one of yours soon too!
I love that this is basically a no-bake pie. Fine, you do have to blind bake the crust first. But in the big scheme of things, that's pretty simple.
The rest is done on the stovetop. I learned about this recipe about eight years ago from a friend with whom I volunteer. She brought in the most amazing pie that just sang of fresh blueberries, but wasn't overly goopy or runny. I just had to get the recipe from her. So she came in the next week with a little scrap of paper with the recipe handwritten on it. I was so happy!
And then just over a year ago, I was cooking out of Food52's 'Genius Recipes'. What do you think I found in the dessert section?? Rose Levy Beranbaum's 'Fresh Blueberry Pie'! I read through the ingredient list, and then the directions, and realized that I was baking HER pie! It's a brilliant recipe.
The hardest part, after cooking part of the filling on the stove, and then adding the rest of the fresh berries and pouring them into the baked off crust, is waiting a good three hours, until it is set enough to cut into!!
I still use my Pie Crust recipe, since it just works for me so well. Genius Recipes includes her pastry recipe, and it is good, but quite involved, and I'm just not that worried about taking on another pastry recipe (you do remember my rant on homemade puff pastry, right??) I do add lavender to my recipe for this pie, since lavender and blueberries were just meant to be best friends! Just remember, if you ever want to find my pie crust recipe, it's in the Pantry section of the blog.
Instead of leaving the top naked, and adding some whipped cream when serving, as Genius Recipes suggests, I make a double crust recipe, and turn part of the dough into 'cookies' to add on top of the blueberries. As the berry filling sets, the cookies become one with the filling, and make a lovely top crust. It's a visual thing with me, but that's all right, right?!
Once you've made this recipe once, you will surely add this to your pie repertoire. It's so easy to whip up. And while blueberries are just busting up all over Ontario markets at the moment, blueberries can be found year round, so this pie truly knows no season.
Hope you like this pie as much as Jim does. And as much as I do too!
Love Jen.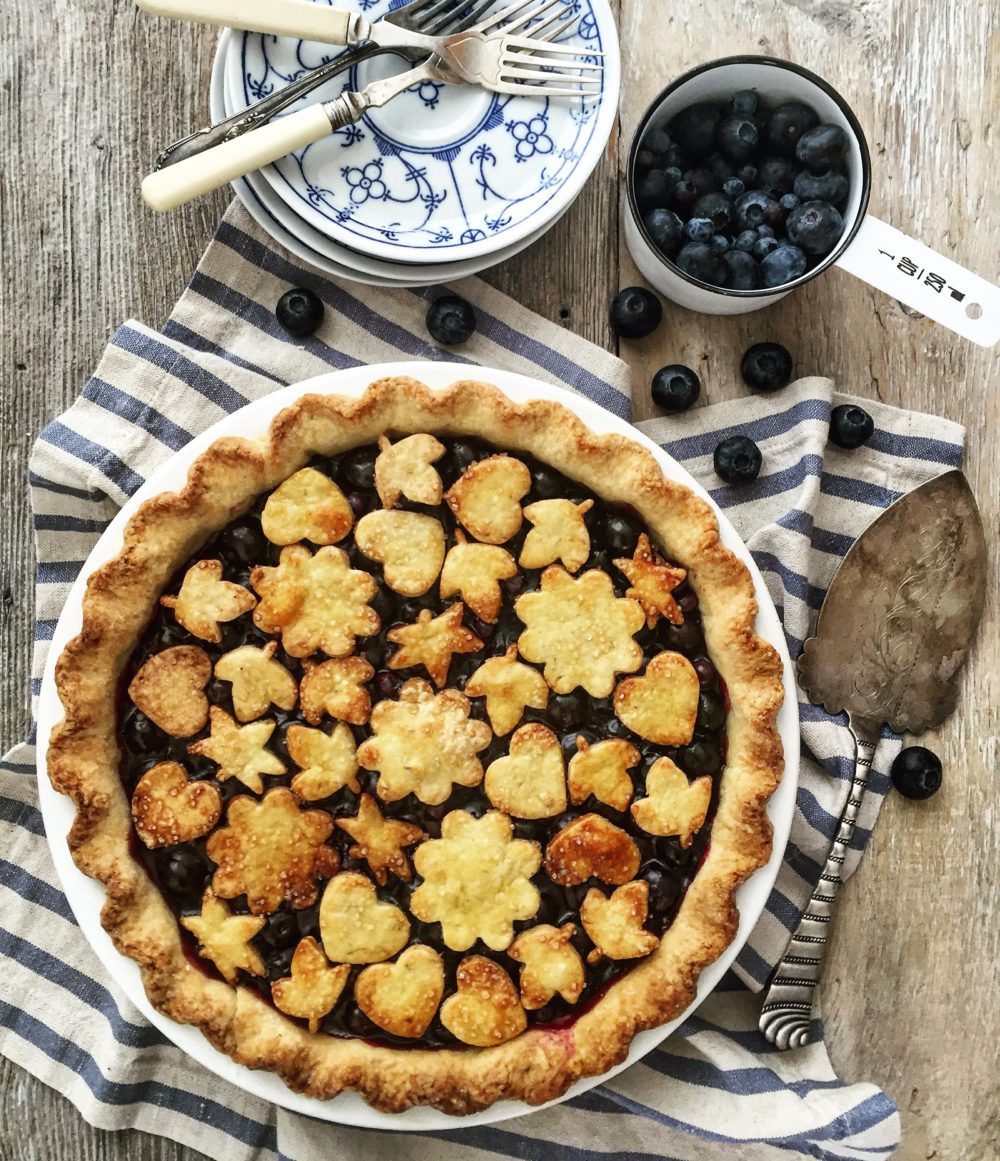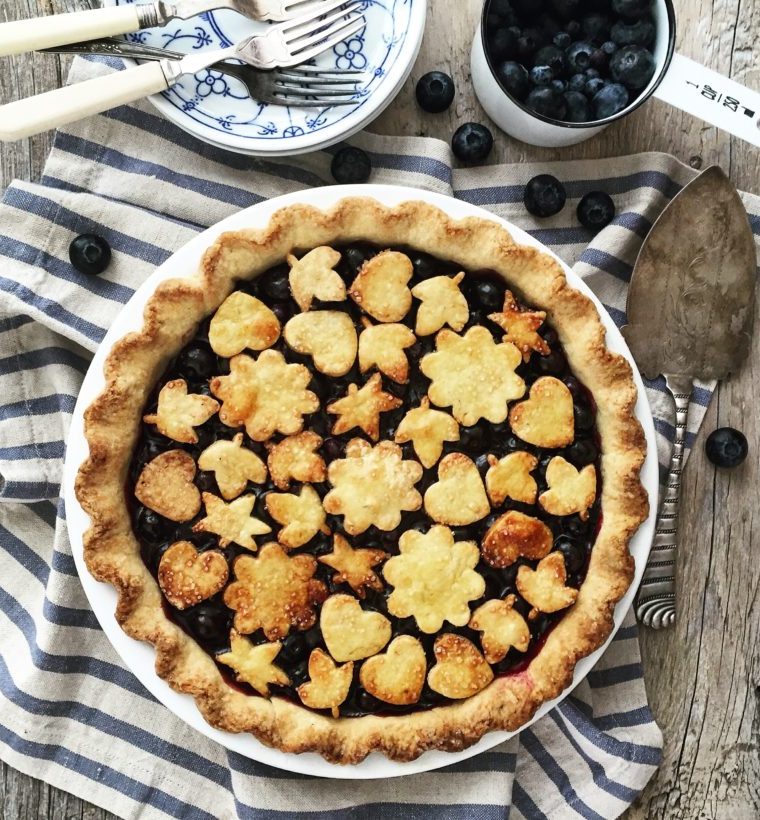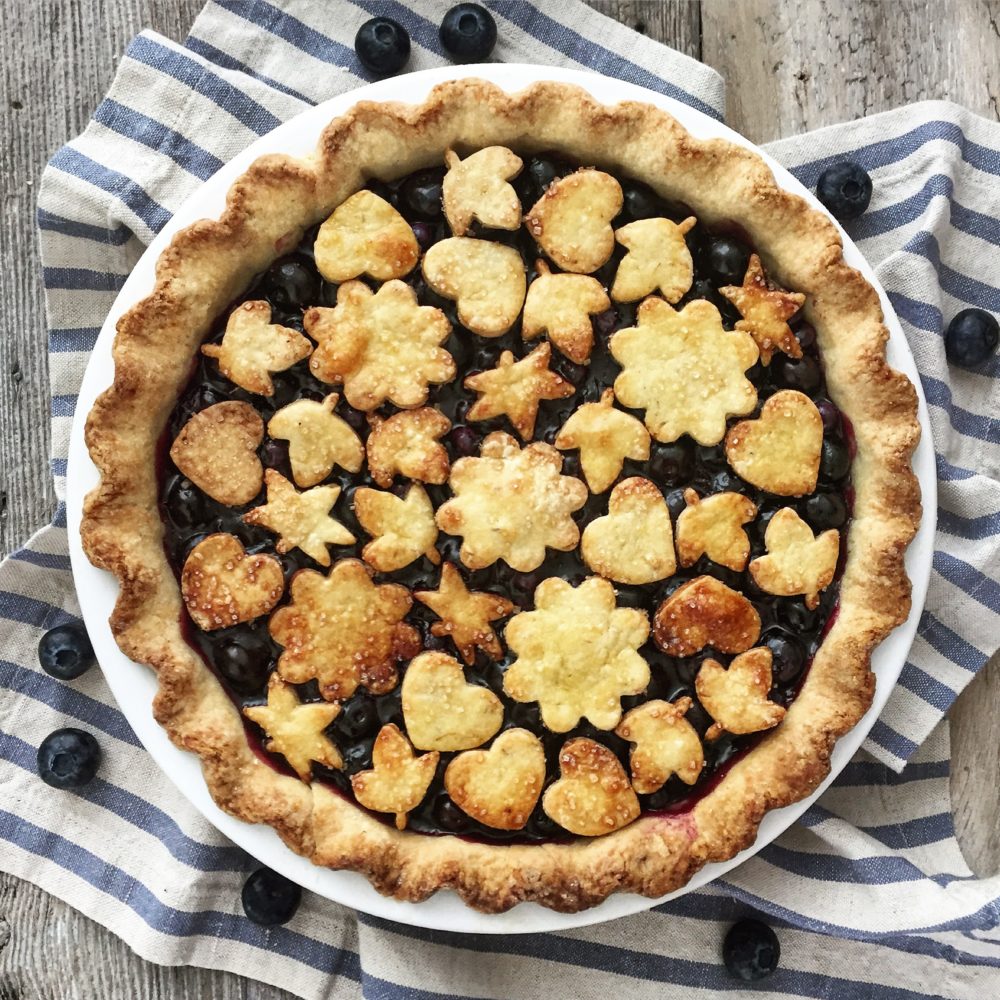 Fresh Blueberry Pie with a Lavender Crust
A light, bright. fresh blueberry pie with a lavender scented crust.
Total Time
1
hour
5
minutes
Ingredients
1

double crust of my Perfect Pie Pastry

see the Pantry section for the recipe

1/5

tsp

dried lavender

crushed or chopped

1

egg

for egg wash

1

tbsp

turbinado or demerara sugar

for dusting

1

tbsp

egg white

lightly beaten

4

cups

(590 g) blueberries

rinsed and dried

1/2

cup

water, plus another 2 tbsp water

divided

2

tbsp

cornstarch or arrowroot starch

1/2

cup

sugar

1

tsp

fresh lemon juice

pinch of kosher salt
Instructions
Prepare the crust as per my Perfect Pie Pastry recipe, adding the crushed lavender into the flour before adding the butter and shortening.

Divide into twol disks, one slightly larger than the other. (I divide it into 1/3 and 2/3 sizes) Wrap both in cling wrap and chill for at least 30 minutes.

Preheat the oven to 425F.

Remove the larger disk from the fridge and let return to room temperature for rolling out.

Roll on well floured counter to fit into a 9 inch pie plate. Crimp as you desire. Place it in the freezer for 10 minutes. Remove the smaller disk from the fridge at this time.

Remove the chilled pie shell from the freezer and line it with parchment paper and fill it with beans or pie weights. Place it on a baking sheet and bake in the lower third of the oven for 20 minutes.

Remove it from the oven, and carefully remove the parchment and beans. Prick the shell with a fork along the bottom and sides. Return it the oven and bake it for another 5-10 minutes, this time in the centre of the oven, until golden brown. Check after 3 minutes to see if any bubbles are developing. If so, prick these gently with a fork or push down with a tea towel.

Remove to cool.

In the meantime, during the initial 20 minutes of baking, roll out the smaller disk on a well floured surface to the same thickness of your pie shell. I'm guessing around 3/8 of an inch or so- not too thick or thin. Using your favourite cookie cutters, cut out shapes, enough to cover the top of a pie comfortably. Place all of them onto a parchment lined baking sheet and put into the freezer for 5 minutes. Remove, lightly brush with an egg wash (egg beaten with a touch of water) Sprinkle with the turbinado sugar.

Once the shell is out of the oven, drop the heat to 375F. Bake the 'cookies' in the middle of the oven for 20 minutes, or until golden brown. Remove and cool on a rack.

Brush the bottom and the sides of the baked pie shell with the beaten egg white to form a barrier for when you add the filling. The egg whites will keep the pie shell from getting soggy.

Filling:

Measure out 1 cup of the blueberries, choosing any that are soft or slightly bruised. Put them into a sauce pan along with 1/2 cup (120 ml) of water. Cover and bring to a boil.

Meanwhile, in a small bowl, mix the cornstarch with the remaining 2 tbsp of water to create a smooth slurry.

When the blueberries and water have come to a boil, reduce the heat and simmer, stirring constantly for 3-4 minutes, until the berries have started to burst and the juices are starting to thicken. Stirring constantly, add the cornstarch slurry, the sugar, lemon juice and salt. Simmer for a minute or two until the filling becomes translucent.

Immediately remove from the heat and add the remaining 3 cups of berries.

Pour this filling carefully into the cooled pie shell. Smooth out the top. Place your baked 'cookies' all over the filling to create a 'crust'. Allow to sit at room temperature fro at least 3 hours.

When set, the berries will remain juicy, but will not flow out of the crust when you slice it.

Serve with whipped cream or ice cream!
Recipe Notes
This pie will keep at room temperature for 2 days. Or refrigerated for up to 5 days. As if you need 5 days.
Adapted from Fresh Blueberry Pie by Rose Levy Beranbaum
SaveSave
SaveSave
SaveSave
SaveSave