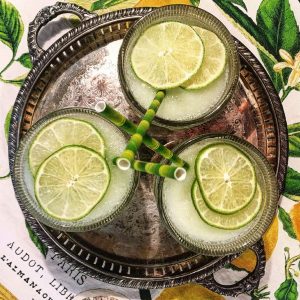 This is my way of sharing because I care about your time. This is all about time well spent.
When it's warm out, we Margarita! These days, even if it isn't warm out we Margarita! We have had the most schizophrenic Spring so far up here in Toronto. We get a few sunny days that convince us that the warm weather is here to stay, and then the forecast for the weekend is 13 degrees C (56 F) like this weekend, and we are left high and dry, yet again. And so then we need a margarita to help us just remember what summer is supposed to taste like! Even the name Margarita is a party. And how many of us instantly hear Jimmy Buffet in the background!? There is something so festive about a pitcher of the frozen concoction, the ice crushed perfectly, the water dripping down the outside of the pictcher and glasses, straws and lime wedges, and sunglasses.
I think those of us up here in Canada especially embrace these moments. There are too few of them. We get thrilled when the temperatures soar above parka weather, and we get antsy to pull out the shorts and sandals and grilling equipment. The restaurant patios get filled, even if people are still bundled up because the weather suddenly took a turn during the early evening. It's just so thrilling to be outside. It must be a case of collective cabin fever that we are all desperate to shake.
So summer time is taken very seriously up here!! We have to: it will be gone in a blink. Out comes all the patio furniture, the sound of lawn mowers starts mingling with the birds and motorcycles (here in most of Ontario even the motorcycles need to go into hibernation over the coldest months) and we get to put away our tights and pull out maxi dresses covered with floral prints.
I've been making this recipe for about 10 years now. I think it came out of an old Chatelaine or Canadian Living magazine (our national women's and lifestyle magazines up here in Canada) or maybe a Real Simple issue. When I cut it out, I didn't save the pertinent sourcing info. Sorry. But that doesn't change how great this recipe is. Genius really. Classic margaritas are made with limes, right? To make a pitcher would require a lot of lime juicing, right? You have better things to do than cut and squeeze a boat load of limes, right? So step in this fabulous recipe. The 'Fake a Margarita' recipe.
Instead of relying on elbow grease and a zester, you are going to pull out of your freezer…frozen limeade concentrate. You heard me, frozen juice!! (Well, probably a lot of sugar. But this isn't supposed to be a 'good for you' recipe, it's Margaritas!) Along with a blender full of ice, tequila and triple sec, and the concentrate, this will become the frothiest concoction you'll ever want to whip up when its time to entertain with a pitcher of something something!! In a fraction of the time! Keep a few of these little containers in your freezer, you'll be ready at a moment's notice.
You are most welcome 🙂
Frozen Faux Lime Margaritas
A faster way to a pitcher of the best margaritas this side of Jimmy Buffet's backyard!
Ingredients
lime wedges

for rimming the glasses

1/3

cup

kosher salt or finishing salt

for rimming the glasses

ice

2/3

cup

tequila

a good quality white tequila

1/3

cup

Triple Sec

1 @ 6

oz

can of frozen limeade concentrate

lime slices for garnishing
Instructions
Place salt in a flat plate.

Run the lime wedge around the rim of a glass. Tip and dip into the salt. Repeat with other glasses

Fill the blender container with ice.

Add the tequila, Triple Sec, and limeade concentrate.

Blend on high until completely slushy.

Pour into the glasses and serve with lime slices.
Recipe Notes
Some days I'm in the mood for a salted rim, other days I'm not. I think years ago, it was always cheap table salt that was used, so that left a lousy taste in my mouth. These days the salt options are fantastic, so I'm much happier to order or make my drinks with a salted rim. But there is something so yin and yang about the salt and then the rush of sweet liquid!