Isn't the name adorable? Morning Glory muffins. It makes you believe that if you have one, you will have a stellar day.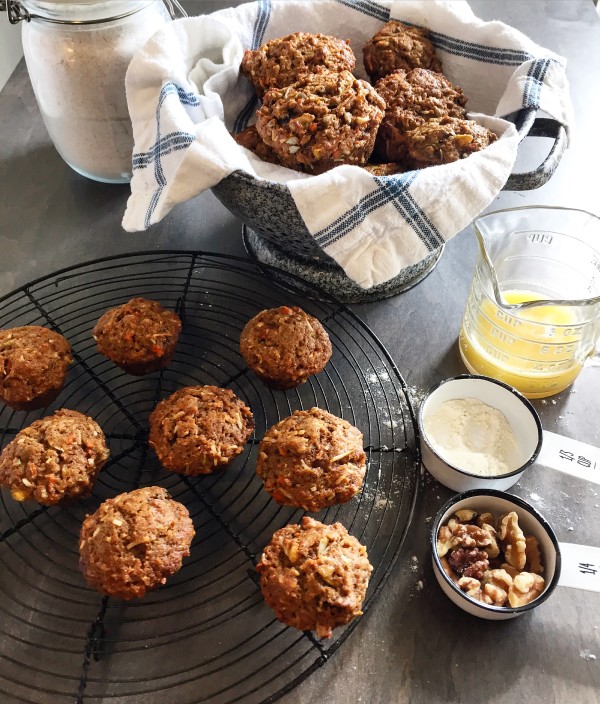 That's a lot of pressure for a muffin. But pressure aside, they are amazingly delicious! When I'm running out the door and need to grab something to munch on, this pretty well is as healthy as I'd want, and it tastes wonderful. So even if my morning isn't truly, by definition 'glorious', it is pretty close. At least if you ask my taste buds.
But wouldn't it be lovely if a simple muffin could hold that kind of power? That by mere mention of the name, a smile starts on our faces, and then with the first bite, the smile spreads, and the tummy joins in. And when our insides are that happy, won't it translate into an improved outlook on the day?! I think so.
According to Earthbound Farm Organic, Chef Pam McKinstry, created these muffins in 1978 for her restaurant on Nantucket Island. Her recipe was first published in Gourmet Magazine in 1981, and in 1991 it was chosen as one of the magazine's 25 favorite recipes from the past 50 years. Of course, there have been dozens, nay, dozens of dozens of recipes since that original one. It really is a major riff on a carrot cake or a hummingbird cake, filled with all the goodies of your choosing. So, I guess my recipe is just another in the long line of morning glory muffins, meaning that there have been oodles of glorious mornings since 1981! And mine is just a riff on a King Arthur Flour's recipe. I had been using an old recipe from a local 'school mother's cookbook' and confirmed from KAF that the changes I made through the years are perfectly acceptable.
What I love about this recipe, is that it is moist to begin with, but with a day of resting, these muffins taste even better! And of course they freeze well and can be rewarmed to glorify the mornings of your choosing. And if you want to change it up from the traditional carrot, why not grate parsnip or zucchini? And since I first started making these, I've been sprinkling granola and hemp seeds on top. My Gingerbread Buckwheat Granola is perfect with these flavours
It has been so sunny here in Toronto for a few days now, that I think we are all itching for Spring. We were teased a little with some warm enough days, that I even witnessed a few joggers wearing shorts! Along the lakeshore! Brrr- I don't think it was that warm, but I admire those who made the most of the 10 degree Celsius (50 degree Farenheit) days. Sadly, we are hearing rumblings of that word 'snow' or at least the words 'freezing rain' on the weather channel. We already know I love snow. But not when the calendar has officially declared it Spring. Now the only snow I want to see is snowdrops! I want to sit on my sunny condo balcony, with a cup of coffee, and a morning glory muffin!
Love Jen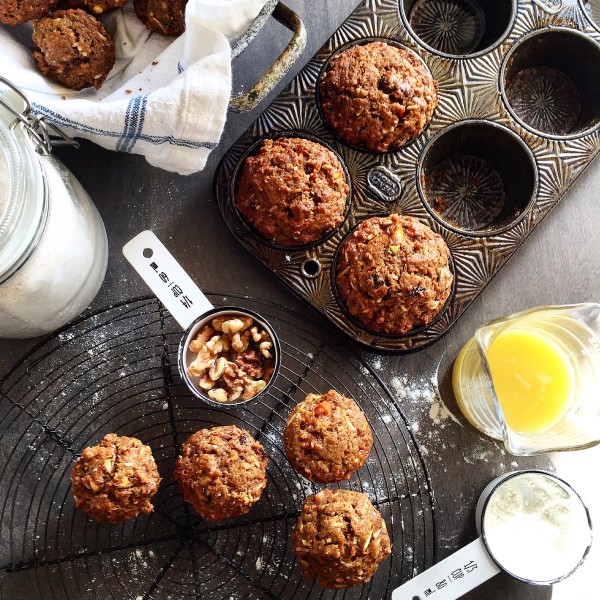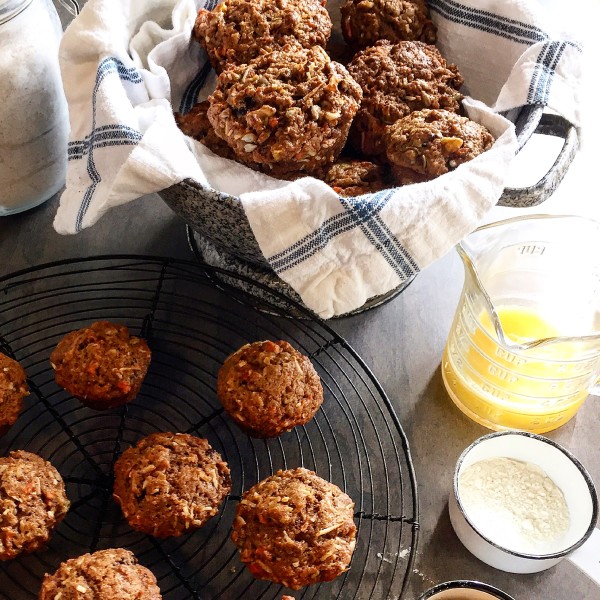 GLORIOUS MORNING GLORY MUFFINS
All the goodness of fruit, veggies, nuts and sweetness trapped in a moist, tender muffin. Perfect or 'on the go' mornings.
Ingredients
1/2

cup

raisins or cranberries

, or sultanas

2

cups

whole wheat flour

, traditional or white whole wheat

3/4

cup

granulated sugar

1/2

cup

brown sugar

2

teaspoons

baking soda

2

teaspoons

cinnamon

1/2

teaspoon

ground ginger

1/2

teaspoon

salt

1 1/2

cups

carrots

, peeled and grated

1

large tart apple

, peeled, cored, and grated

1/2

cup

crushed pineapple

, drained well

1/2

cup

sweetened shredded coconut

1/2

cup

chopped walnuts or pecans

1/3

cup

sunflower seeds or pepitas

, optional

3

large eggs

2/3

cup

canola oil

2

teaspoons

vanilla extract

1/4

cup

(2 ounces) orange juice
Instructions
Preheat the oven to 375°F. Lightly grease a 12-cup muffin tin, or line it with papers and spray the insides of the papers. You will need a second muffin tin to use up all the batter. I opt for a mini muffin tin, because mini muffins are just too adorable.

In a small bowl, cover the raisins with hot water, and set them aside to soak.

In a large bowl, whisk together the flour, sugar, baking soda, spices, and salt. Stir in the carrots, apple, pineapple, coconut, nuts, and sunflower seeds or pepitas, if using.

In a separate bowl, beat together the eggs, oil, vanilla, and orange juice. Add to the flour mixture, and stir until just mixed together (do not overmix!). Drain the raisins and stir them in. Divide the batter among the wells of the prepared pans (aim for between 3/4 full and full).

Bake for 25 to 28 minutes, until nicely domed and a cake tester inserted in the centre comes out clean. Remove from the oven, let cool for 5 minutes in their pan on a rack, then turn out of pans to finish cooling.
Recipe Notes
This is one of those recipes where the final yield will depend on your muffin tins. I like to bake both larger and smaller ones. Traditionally it should yield between 12 and 16 muffins depending on how full you fill the tins. You can go almost to the top without fear of overflowing batter. I always seem to fill a 12 muffin tin, with enough left over to use a mini muffin tin.
Wouldn't it be pretty to sprinkle hemp seeds on the tops of the batter before baking? I also now sprinkle some of my Gingerbread Buckwheat Granola on top before baking.
I have played with this recipe to include Einkorn or Emmer Flours. Their density differs from modern wheat flour, usually requiring more flour or else the batter will be too wet. I used 1 cup whole wheat, and then 1 1/4 cup of the Einkorn flour
SaveSave
SaveSave