A week without pasta… is a very sad week. Who doesn't like spaghetti and meatballs, lasagna, mac 'n cheese, ravioli, stuffed manicotti, and on and on?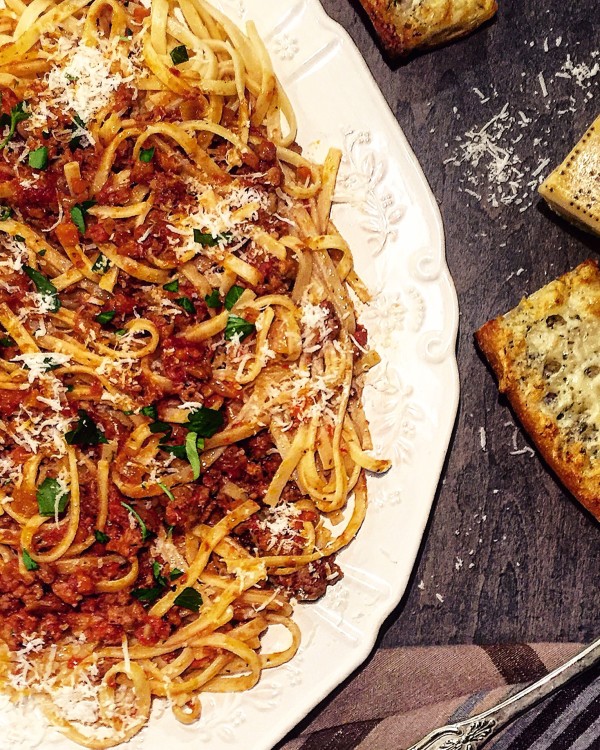 Comfort food epitomized. We all have our personal favourites. But for me, a great tagliatelle or spaghetti tossed in a rich bolognese sauce is simply joyous. Add a crunchy salad and cheesy, toasty garlic bread, and I'm done. 🙂
There are as many bolognese recipes as there are Nonnas around the globe. Some swear carrots should be in there, others would smack you with the dish towel for even suggesting a carrot; some stir in milk towards the end, others stare at you blankly if you mention dairy. And on and on…
We already know, I'm not Italian. Not even close. So I can't say that the recipe I rely on was lovingly passed down to me by my Nonna, sharing her secret after I had earned it by years of obediently standing on a stool and stirring her big pot of sauce with a wooden spoon. No. Now, we did grow up in a town that was 65% Italian, in southern Ontario. We had gracious and hospitable neighbours who invited us over to enjoy the rowdy, energetic meals served around long tables. It was as a child growing up here that I first learned that there were cultures who kept two kitchens. We had never heard of this phenomenon. Apparently, the basement is typically turned into a second kitchen, for canning, preserving, hanging proscuittos, and shelves of sugo, And where the family ate. We learned later that it stemmed from the summer heat of the southern European countries they had immigrated from. They historically transferred all summer living to the basement, where it was cooler to work, cook, and socialize. I now understood! And this tradition was carried on here in Canada.
It was in these cool, cozy, informal settings that our appreciation for Italian cuisine took shape. The dark crusty bread that could break a tooth from the crust, but was a treasure of soft, fluffy, chewy insides; the brothy soups filled with unusual vegetables like kale, rapini, and tiny pearl like pastas; the roasted eggplant parmesan; the fall apart roasted chicken or veal served with with sides of risotto or polenta. And the pasta. And the sauces. So many different sauces. Often it was the most simple of ingredients that carried the biggest punch. I learned that it all relied on the freshest, best produce, not disguised by too many superfluous ingredients. And this is truly the key. Buy the best of everything you are using. Especially if there are only 3 or 4 ingredients in a recipe- then you know that what you are preparing is going to be of optimum flavour. Don't cheap out, it's just not worth it. Especially if like me, relying on homemade canned tomatoes that have love as well as a basil leaf packed into each jar, just isn't always possible. If you can't cajole a couple of jars from an Italian friend, or invite yourself over to an Italian family's garage during sugo season, then you will be forced to use a store-bought can of tomatoes. Go for the best, please. True whole San Marzano tomatoes with no spices, herbs etc added is the best we can do. Do it.
The recipe I use is a recent finding. And I replaced my old recipe with this one, because it is just that good! Back in the autumn the Instagram cookbook club I belong to used 'My Kitchen Year' by Ruth Reichl. A fantastic read, filled with poignant musings, humour, and best of all, some fabulous recipes. Her 'Easy Bolognese' is one of them. Very simple ingredients. Very simple method. But not a simple result. It's a rich, flavourful meal that truly satisfies. I've found that if I'm going to take the time to make it, I double the recipe and freeze the rest. Trust me, you'll want this around when you know that cooking a meal from scratch just isn't going to happen on some days. I've included my tips for making a garlic bread makes you happy everyone else is eating a slice as well! It's that cheesy… and garlicky!!
Love Jen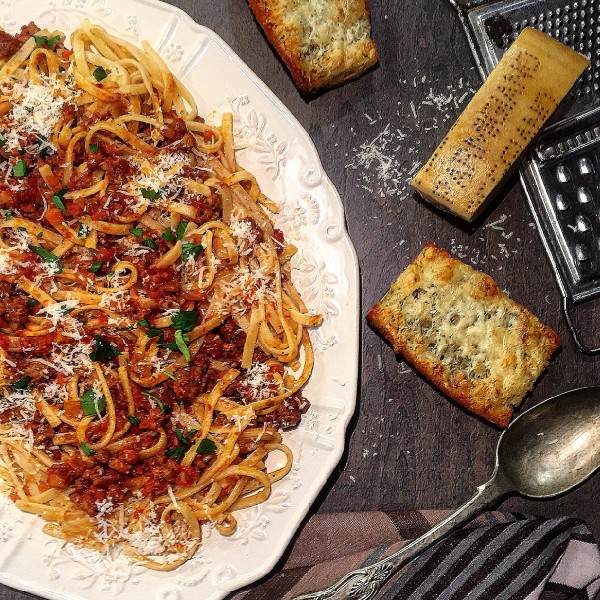 GO-TO BOLOGNESE SAUCE
A rich, flavourful bolognese sauce that comes together with a few simple ingredients, making the most of superior Italian Sausage.
Ingredients
1

pound

Spicy Italian Sausage

1

can San Marzano tomatoes

(please get the real deal, will make all the difference)

olive oil

1

large yellow onion

, coarsely diced

kosher salt

cracked pepper

crushed red pepper flakes

3

cloves

of garlic

, smashed or minced

1

pound

dry spaghetti or other long pasta

butter

Parmesan cheese for grating

chopped parsley for garnish

1-2

carrots

, finely diced (optional)

2-4

fresh basil leaves

, shredded
Instructions
Pour some olive oil into a deep skillet or dutch oven, and saute the onions over med-high heat, until translucent and fragrant.

Add some of the salt, pepper and hot pepper flakes. It's great to season as you go, so a little at this point will help layer the flavours, giving the final sauce depth. Add the garlic. If you want to add small diced carrots, do so at this point. They do add a lovely sweetness. But restrain yourself from adding too much. 3/4 or 1 cup should be good. Toss around for 1 minute.

Drop the heat to medium.

Squeeze the sausage out of its casings into the pan and toss around until it loses its raw colour.

Open the can of tomatoes and using your fingers to crush the tomatoes into small pieces. It really is the best feeling! Set aside the remaining liquid, you'll be adding it later on.

Bring heat back up to med-high and cook, stirring, until most of the liquid has evaporated.

Slowly add the rest of the liquid from the can, a bit at a time. (kind of like cooking a risotto)

When all the tomato liquid has been used up, turn the heat down to med-low, and add 1/2 cup of water. Cook for another hour or up to 2 hours, checking to see if you need to add more water.

You don't want it to be too watery, and you want to see the pieces of tomato starting to caramelize at the bottom of the skillet. The final thickness will depend on how much water you chose to add, for your liking. At this point check for seasonings and add more salt, pepper and hot pepper flakes as desired.
PASTA
Cook the pound of pasta, drain it in a colander and toss it in a bowl with enough butter so that you can smell it melting as you toss it about! Add some of the sauce to the pasta and stir around.

Serve on a platter, with remaining sauce on top, and freshly grated parmesan, chopped parsley and shredded basil.
Recipe Notes
Ruth is quite clear that this sauce demands good, spicy Italian sausage. Go to a local source or butcher. It will make all the difference. If you can't find one in your neighbourhood, and need to go out of your way to purchase good sausage, it is worth it to purchase extra and store it in the freezer for when the mood strikes.
This recipes also requires patience.The secret is to cook the sauce a long time, so that it caramelizes into something that's more than the sum of its parts.
FOR MY GARLIC BREAD Mix softened butter (start with 8 tbsp for 4 people, but you know how many you will be serving, so just use this as a starting point) with 1 garlic clove per person, 1 tbsp shredded parmesan per person, and dried italian herbs like thyme, basil, oregano etc (about 1 tbsp total) Spread this mix over a demi baguette sliced in half, spreading on both halves. Add shredded cheese (go for mozzarella, or something different like cheddar if you feel like it!) Broil until the cheese is bubbling.
Adapted from My Kitchen Year by Ruth Reichl