Comfort food. A cozy hug. A warm wool blanket. Fleece. A steaming cup of hot cocoa. Sitting in front of a roaring fire.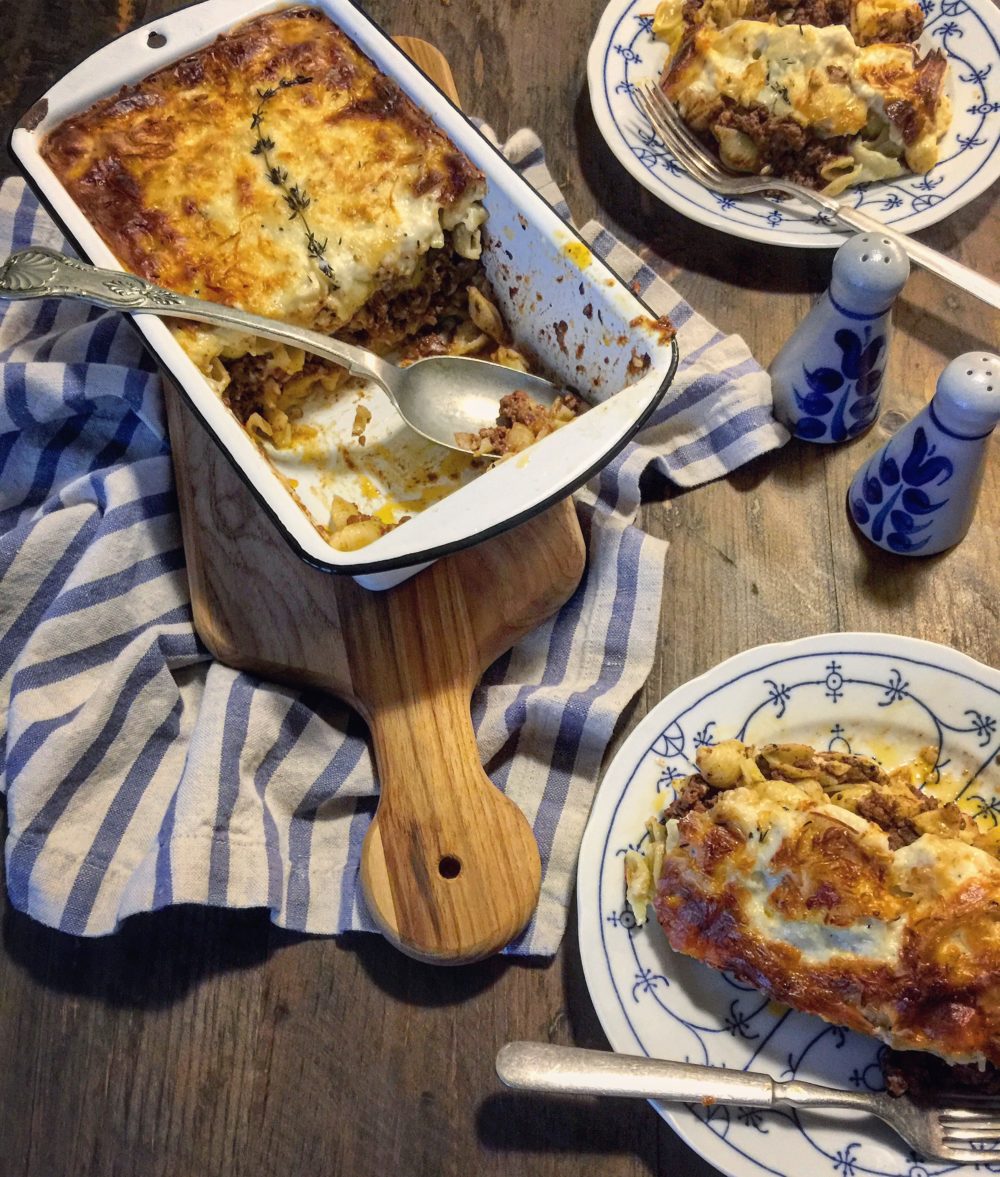 There are so many ways we find comfort. And yes, food ranks pretty darn high. We all want to feel cozy, warm, wanted, loved, cared for, at peace. And it is amazing that our favourite meals can produce those feelings in us, even if rather temporarily. A short time is better than no time, right?
It seems that for most of us, comfort food involves pasta of some sort. Or cheese. Ultimately a combination of the two! Spaghetti and meatballs, mac 'n cheese, lasagna, etc. And yes, some will also say that chilli, roast chicken, tomato soup and grilled cheese, and pizza are also classics. And I agree. Yay to all the pizza!! But I mentioned lasagna. And I contend that pastitsio, it's Greek cousin, belongs in the same sentence.
Pastitsio is an aromatic baked dish of layered pasta (read: lasagna), meat ragu, cheeses and ultimately, a decadent béchamel sauce. What sets it apart is the seasonings. Instead of the traditional more typical Italian seasonings though, rosemary, oregano, cinnamon and nutmeg are the stars in this dish. Some feel strongly that the cinnamon and/or nutmeg should only be in the bechamel sauce. I disagree. I'm not Greek. Please don't send the Pastitsio police on me. But I love the flavours of this Greek dish so much, that I want the meat sauce to reflect it. Why? Because for some reason, I always seem to have some of the meat sauce left over after assembling the pastitsio in the baking dish. So I save this ragu of sorts and use it for a simple pasta night. Toss it over cooked pasta, add some crumbled feta cheese, and its a whole new meal. But if the warmth of the aromatic cinnamon and nutmeg were missing, what would it be, but just another meat sauce? What good is that? Well, it would still be good. But this way it's even better!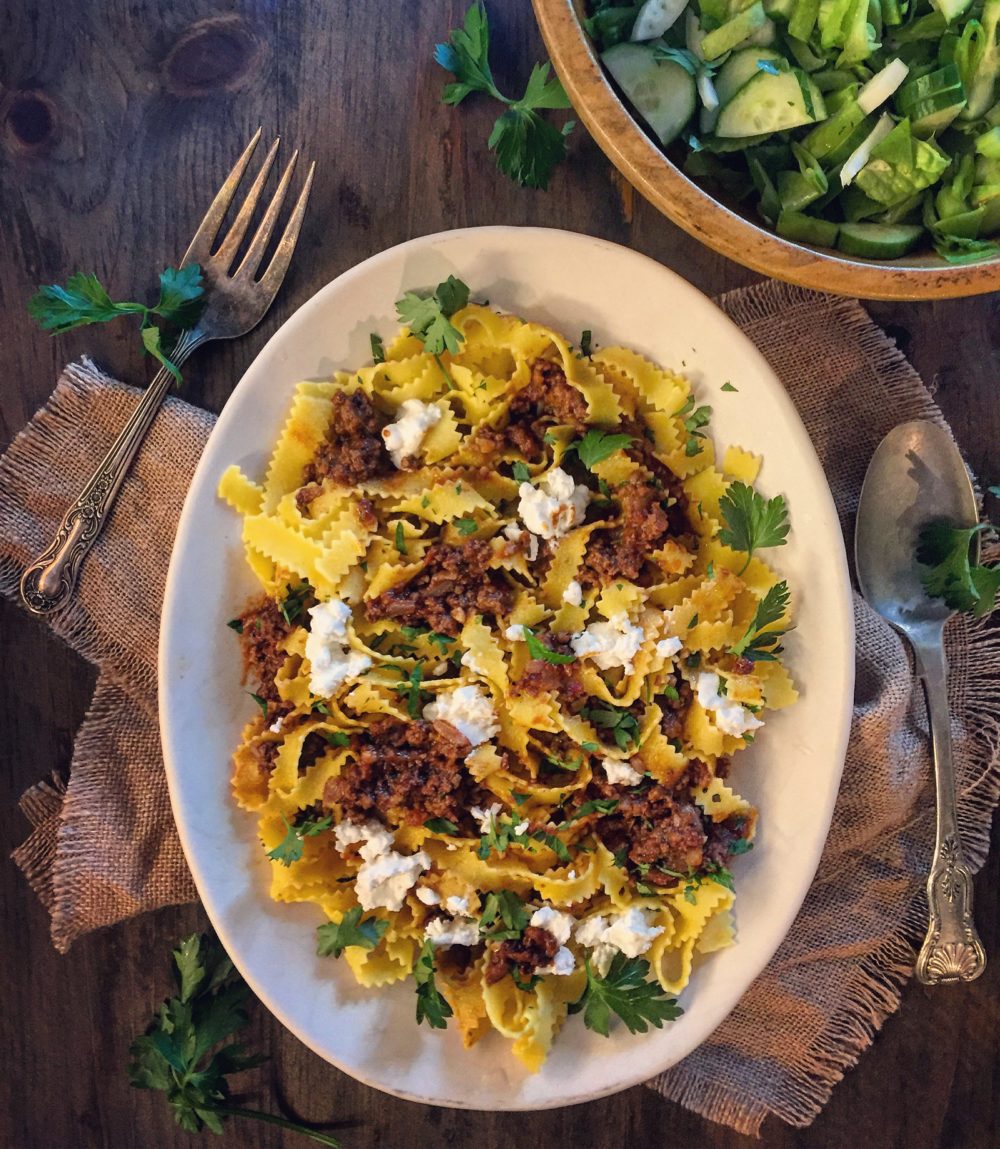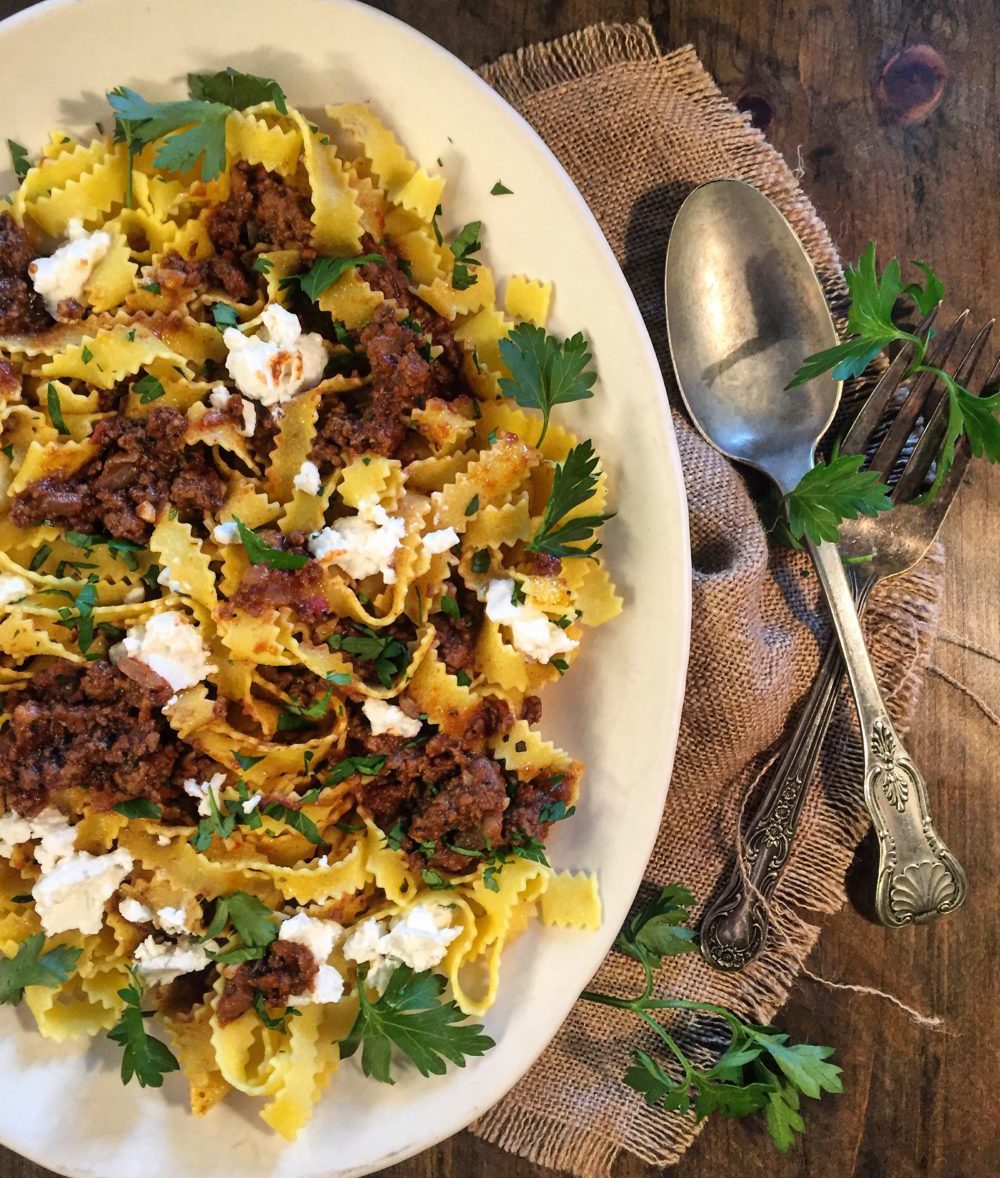 So yes, this dish requires some assembly work. You need to prepare your meat sauce. You need to prepare your pasta. And you need to prepare the béchamel. But once all of these are set, the rest is easy. Easier in fact than an Italian lasagna (unless you are going the no-bake noodle method) So I say, double the recipe and make two. It's the same amount of work, with twice the result. Eat one, freeze the other. Or, if it's just two of you at home (like me and Jim) then take the original sized recipe and divide it into smaller baking dishes. As it stands, you'll easily get two full meals out of half a recipe. So if another one is waiting for you in the freezer, then you have dinner in the dead of winter for a couple of days covered.
This meal is best prepared the day before you want it. Because, like any good lasagna, the next day is always better than the first. So if you can, make it on a lazy Saturday or Sunday, and you'll be ready for the week. The flavours meld together, becoming bestie and hugging each other. And it cuts for serving better the next day as well.
If any of you out there reading this are Greek, this post is meant to honour your amazing cuisine! Obviously I needed help with this one, it's not something I learned at the apron of my mom. So through the years I sought out some stellar recipes, and this is the culmination of all my gleanings. First of all I went to the source: Sam Sotiropoulos, the Greek Gourmand. Excellent explanation for the dish. Years later Ina Garten had a version in her book, Make It Ahead. This version is a nod to both recipes. I hope you don't mind my little 'alterations'. For instance, for the time I made it below, I didn't have the traditional No 2 macaroni, or bucatini on hand. I used the WRONG shape for a traditional Pastitsio, I know. But Jim didn't know any better, and as long as his taste buds were happy campers, then I think it was a success. And if you will allow us to use penne (or shells, shudder!) etc, then you are a big hearted folk! 🙂 Yes, the traditional layers of long hollow noodles makes for a most impressive dish visually. But I contend, if we are allowed to use alternative pastas, we will make this even more often, thus making this dish even more accessible to the masses. I promise that my heart is in the right place. And after I finish making it, I always wipe the counters down with Windex.
Love Jen.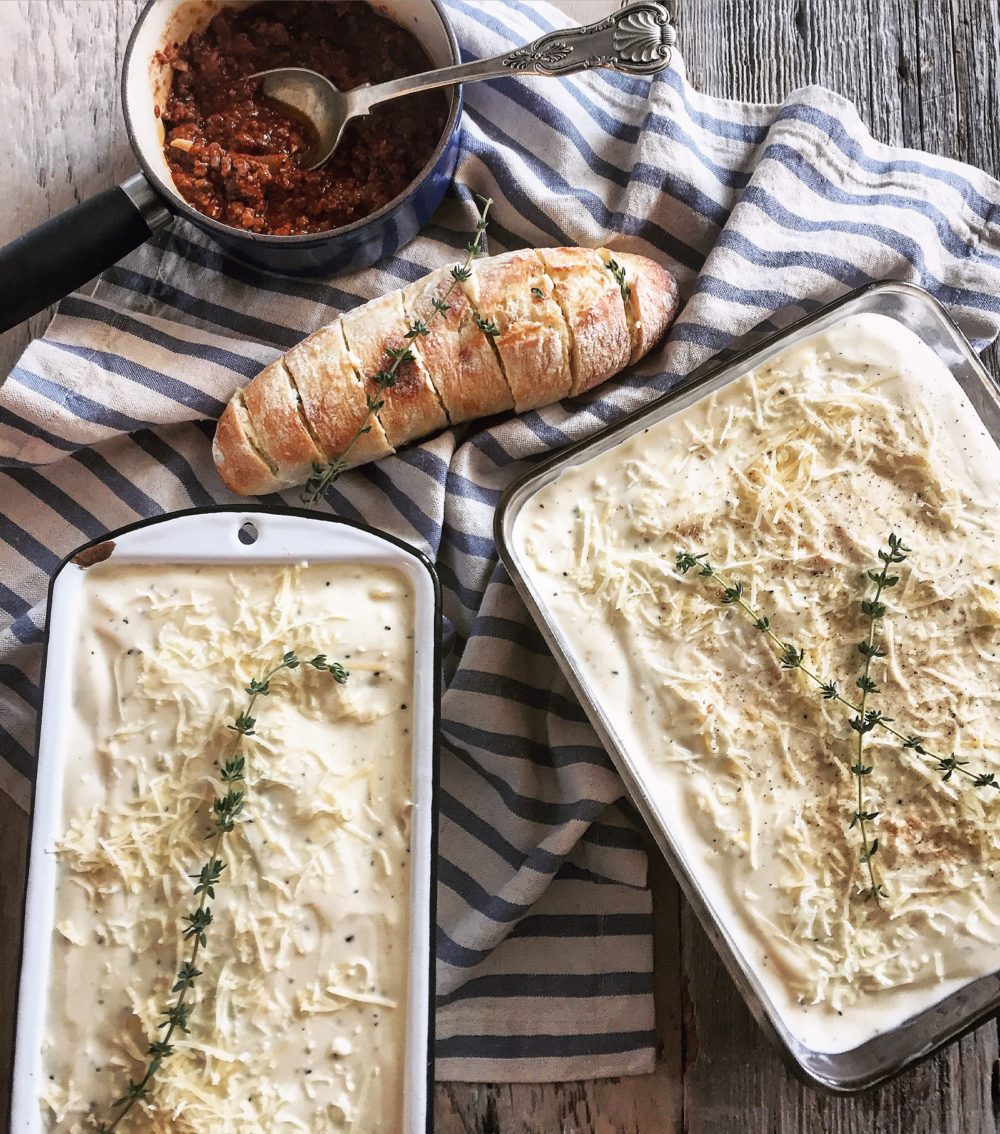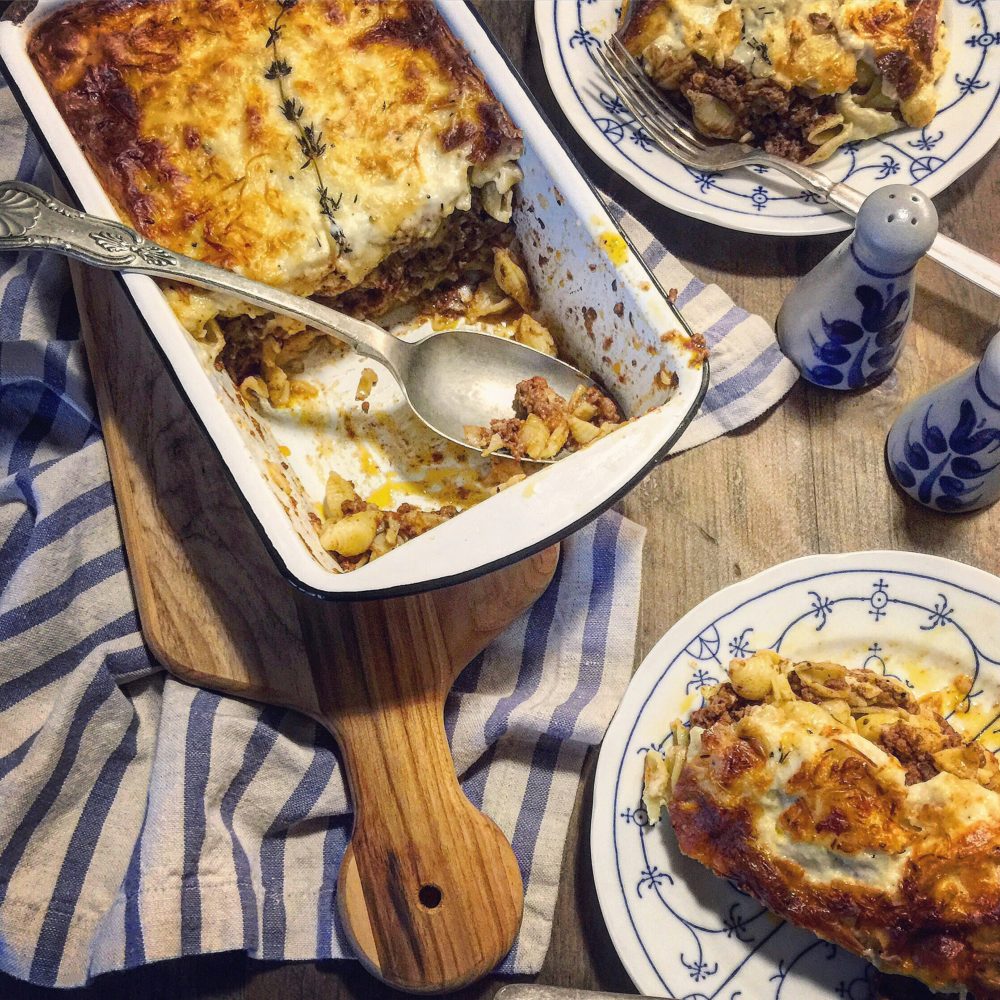 GREEK PASTITSIO
Classic Greek pasta bake with aromatic lamb and cinnamon lending a hand to a decadent béchamel sauce.
Total Time
1
hour
20
minutes
Ingredients
Olive Oil

1

large onion

, chopped (about 1 1/2 cups)

1

lb

lean ground beef

1

lb

ground lamb

1/2

cup

dry white wine

3

medium cloves of garlic

, minced

1

tbsp

ground cinnamon

1

tsp

dried oregano

1

tsp

dried rosemary

1

tsp

fresh chopped thyme

pinch of cayenne pepper

1 28

oz

can of crushed tomatoes

, including any liquids

kosher salt and cracked pepper

2

bay leaves

1

lb

(454 g) Greek No 2 pasta (or bucatini, or ziti, or penne)

1 1/2

cups

whole milk

1

cup

heavy cream

4

tbsp

(1/2 stick) butter

1/4

cup

AP flour

1/4

tsp

grated nutmeg

1 1/2

cups

freshly grated Kefalotyri or parmesan cheese

2/3

cup

thick Greek yogurt
Instructions
MEAT SAUCE
Heat about 3 tbsp of olive oil in a large sauce pan over medium heat. Add the onions and saute for 5 minutes.

Add the beef and lamb and stir, crumbling and breaking them up with a wooden spoon till no longer pink. This may take up to 10 minutes.

Add the wine, stir, and let it cook off for about 2 minutes.

Add the garlic, cinnamon, oregano, rosemary, thyme and cayenne pepper. Stir, cooking for another 5 minutes.

Add the tomatoes and any juices, the bay leaves as well as 2 tsp of salt and 1 1/2 tsp of pepper. Lower the heat to low and simmer, uncovered, for about 40 minutes, stirring occasionally. Taste to see if you want to add more salt or pepper. Set aside. Remove the bay leaves.

Set the oven to 350F.
PASTA
In a large pot of boiling, salted water, cook the pasta until al dente. Do not overcook, as the pasta will continue to cook in the oven. Start on the béchamel sauce.
BECHAMEL
Heat the milk and cream together in a small sauce pan over medium-low heat, until it begins to simmer.

In another medium saucepan, melt the butter over low heat, then add the flour. Whisk these two together and cook for 2 minutes, until all the 'rawness' has been cooked out of the flour.

Slowly add the milk mixture, whisking constantly. Continue whisking for another 7 minutes or so, until thickened and smooth.

Stir in 1 cup of parmesan cheese and remove from the heat. Then stir in 1 1/2 tsp pepper and nutmeg. Cool for 10 minutes or so. Add the yogurt and stir till well combined.

Drain the water completely from the pasta pot and return the pasta in the pot back to the heat, adding 2 tbsp of olive oil, stirring to coat well.

ASSEMBLY

Prepare a large baking dish (at least 11x15x2) or a 16 cup casserole dish with olive oil or non-stick spray.

Add 2/3 of the pasta to form the bottom layer. Be sure not to leave any empty spots- press firmly down.

Spread all of the meat sauce over the pasta. Again, get all the edges, and leave no gaps. Press firmly.

Add the remaining pasta over the meat layer. Spread evenly.

Stir up to smooth any lumps that may have happened as the béchamel was sitting and then pour the béchamel sauce over the final pasta layer.

Cover with remaining shredded parmesan cheese.

Bake uncovered in the preheated oven for approximately 30-40 minutes, or until the béchamel is golden brown and starting to bubble.

Remove casserole from oven and set aside to cool before serving. This dish is better served the next day, reheated. However, if you must eat it on the same day, make sure it has a chance to cool for at least 15 minutes before cutting it into pieces. Do not make the mistake of cutting it before it has had a chance to cool, you will end up with messy servings. I know!
Recipe Notes
Cut it only when it has cooled, (ideally overnight in the refrigerator) and warm the pieces before serving. It freezes well. Freeze before adding the final amount of parmesan cheese for baking.
If I am not making this to feed a crowd, then I will automatically divide everything into two dishes. One for freezing and one for eating!
If baking from fridge or freezer (after thawing), cover in tin foil, and bake at 350F this way for the first 20 minutes or so. Then remove the foil and bake for another 10-15 minutes until golden and bubbling.
Adapted from The Greek Gourmand
SaveSave
SaveSave
SaveSave