There is something so relaxing and in-the-moment about making risotto. I've probably waxed poetically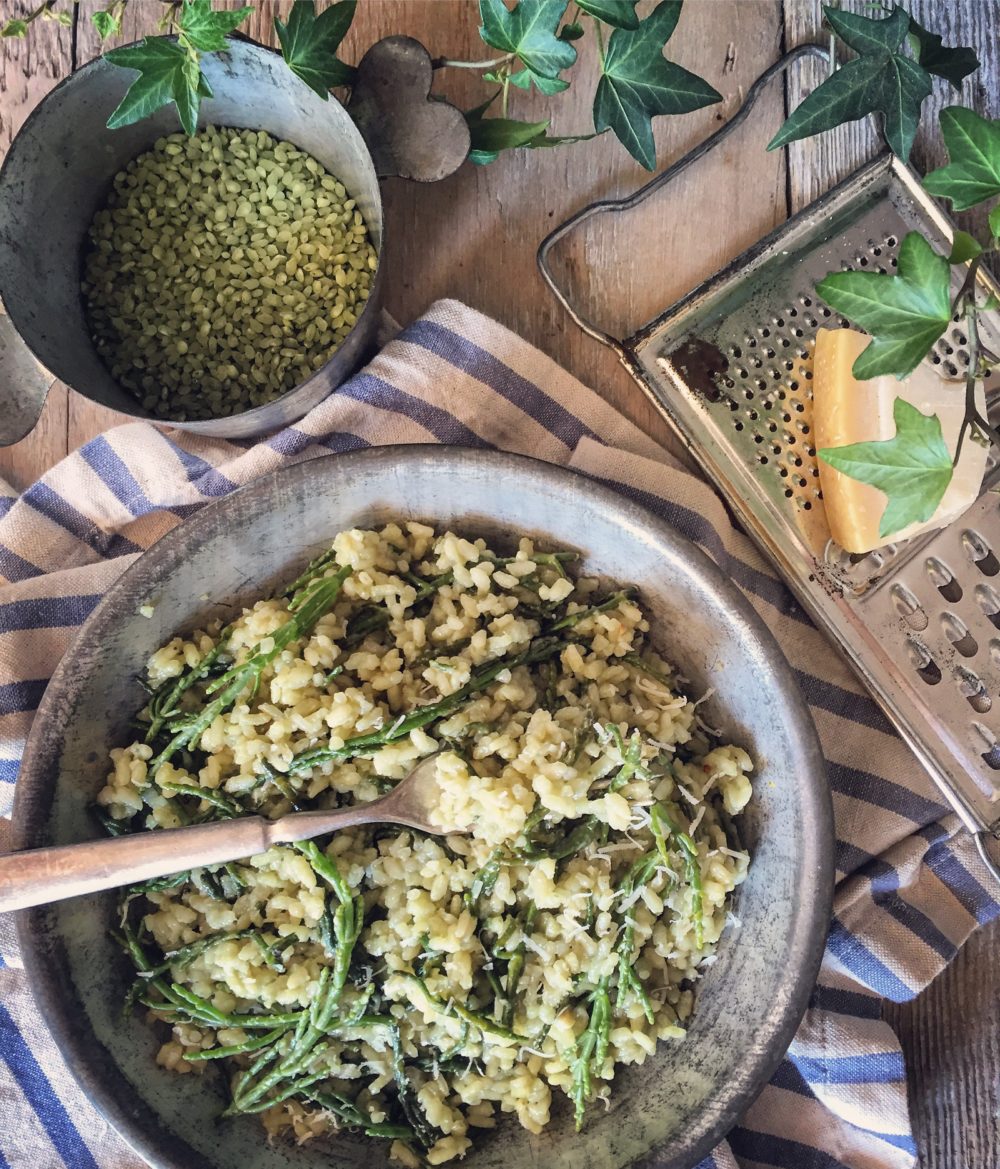 (or not poetically to the true poets out there) ad nauseam about how much I love making a risotto. Standing there at the stove, stirring a pot, slowly helping the rice go from raw to a creamy pot of goodness. Focus must remain on the pot, no multi-tasking with a good risotto.
This risotto is made extra special with the use of bamboo rice. Have you guys tried bamboo rice yet?
Bamboo rice is not a unique type of rice. Instead, it is a short-grained white rice that has been "treated with the juice of young bamboo plants. While milling the rice, the chlorophyll from the bamboo is added. This process causes the rice to be high in vitamin B's, and gives it a flavor and aroma much like that of a jasmine green tea." according to Wisegeek . I came across this lovely little grain when wandering St Lawrence Market one Saturday. Downstairs there is a rice and legume vendor that carries every dried grain/legume imaginable. A cornucopia of options! I was taken with the colour of this rice, I knew I had to try it. I didn't know what I'd make, but give it time and something would hit me.
And it did. This weekend I picked up sea asparagus again (hadn't had it in a little while) but wasn't sure what I'd do with it. Then I remembered that bag of bamboo rice waiting patiently in the pantry. They are both the loveliest shades of green. So why not make a 'green' risotto? Green is my favourite colour, after all!
So I went about making this risotto the same way that all classic risottos start out: sautéed shallots and garlic in butter and olive oil. Then I deglazed with some white wine. And then I added my rice. And I had a pot of simmering chicken stock ready to go. Obviously you could totally use a vegetable stock to keep this vegetarian. Slowly I would add a bit of stock, until the rice had soaked it all up. Then the next quarter cup full. And then the next. Finally it all came together and the rice was tender and creamy. This was the time to add the sea asparagus. I had it soaking in a bowl of cold water, to remove some of the brine. It wouldn't take any time to warm through in the cooked rice. I folded in the little twigs and added some freshly grated grana padano and finished it all with a crank of cracked pepper and fresh mint leaves. I know the mint may sound weird, but it did add a freshness to the dish that I quite liked.
Oh it was so yummy! A lovely dish to serve guests- the green rice is definitely a conversation piece. But the flavour will totally win everyone over. And no worries, if you can't find sea asparagus where you are, (but I hope you can- so so so good for you!) easily switch it up with steamed asparagus, or fresh chopped zucchini, or even steamed broccoli. Just add any steamed veggies at the end, they won't need further cooking, just folding in to the rice and cheese.
This recipe will easily feed two or even three as a main meal. Or four for sure, as a side dish.
What's your favourite colour!?
Love Jen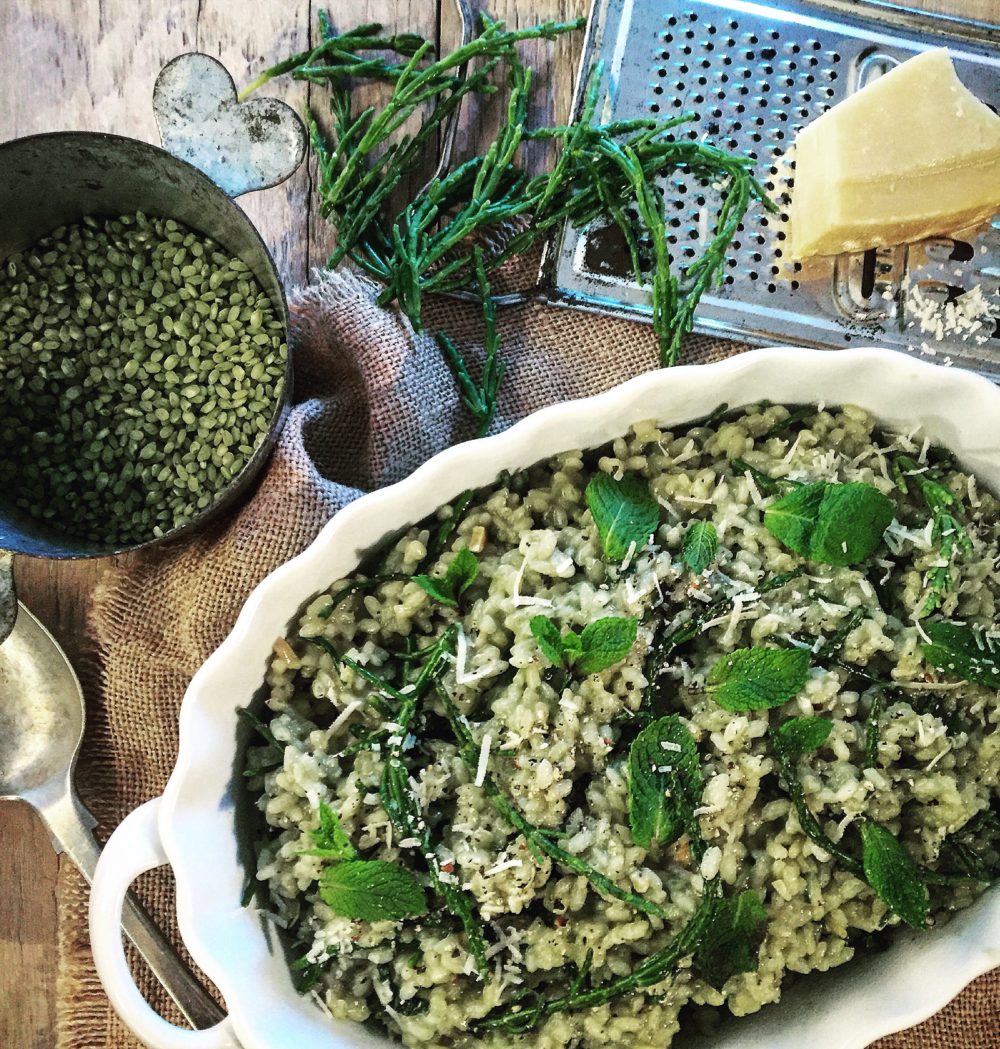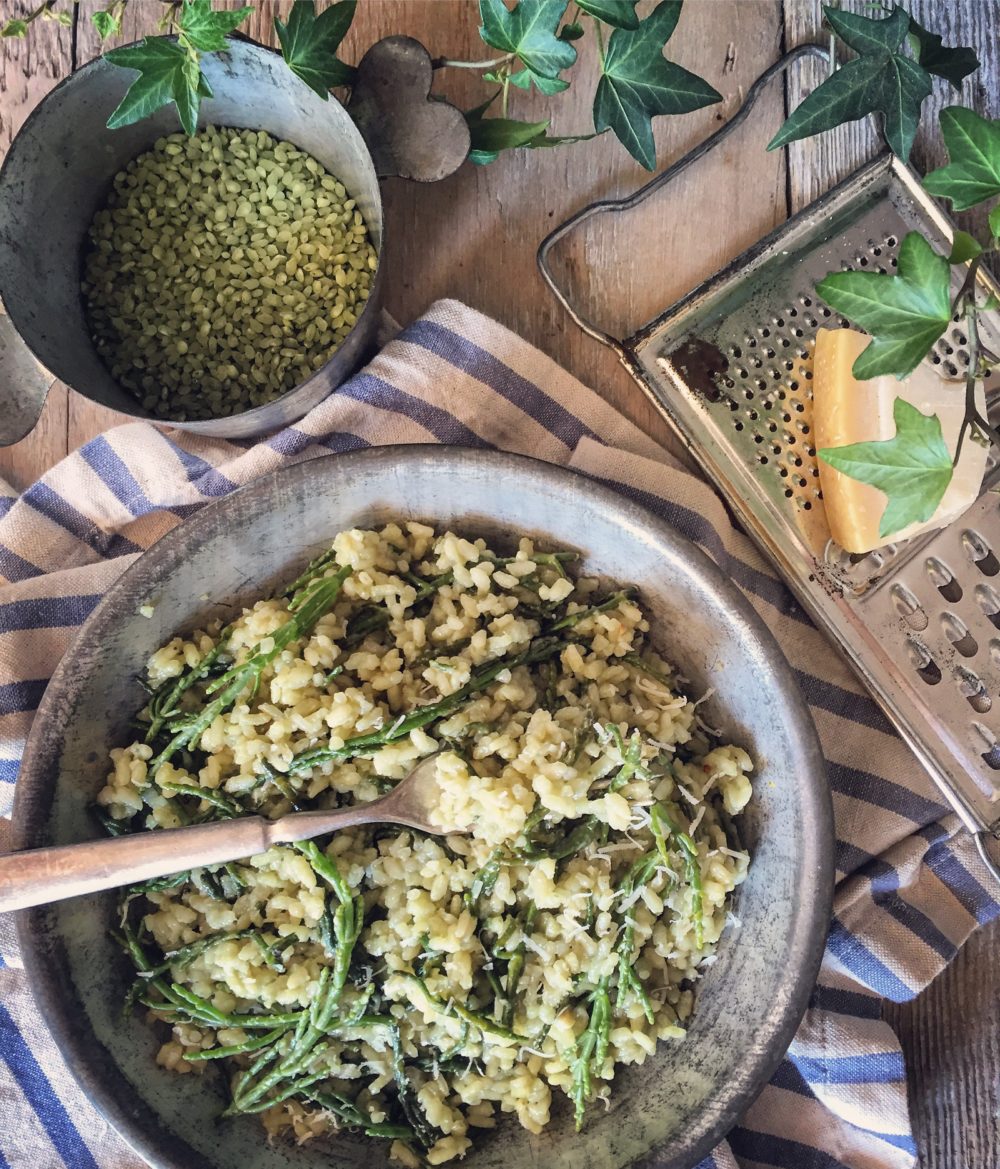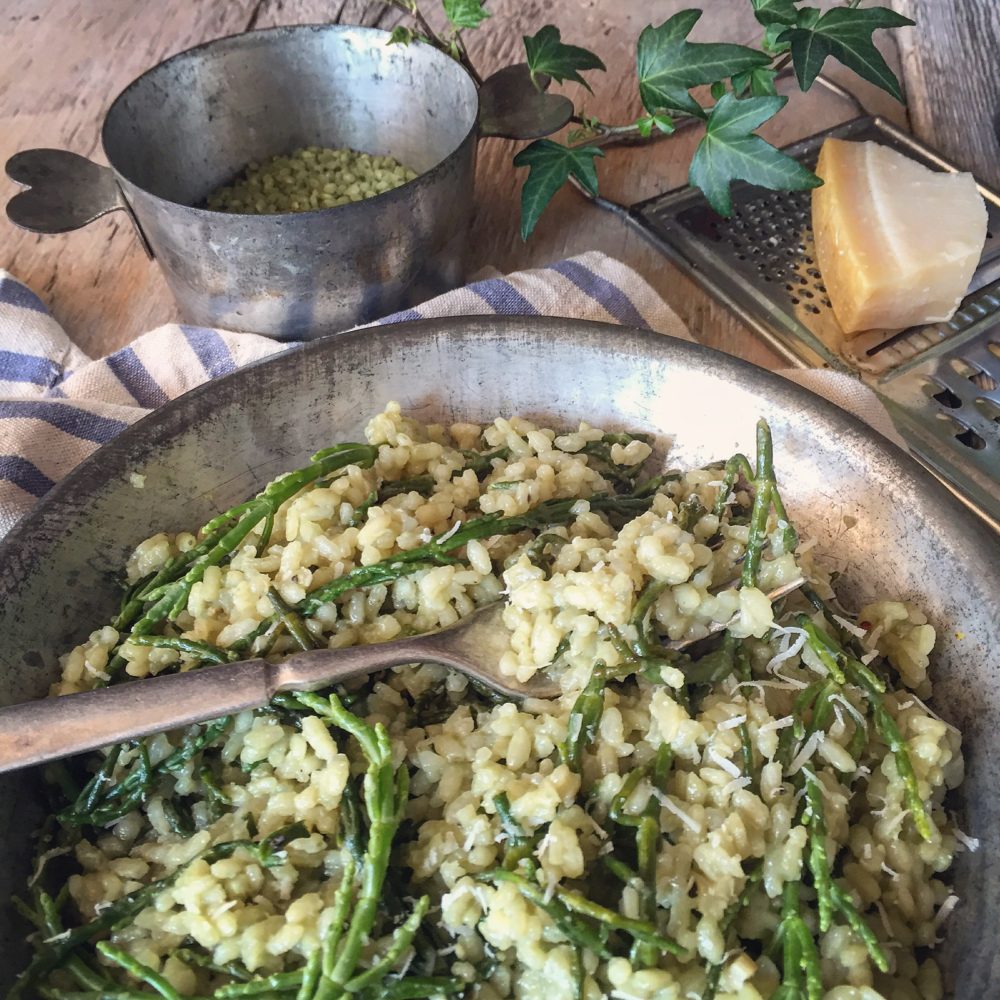 GREEN RISOTTO WITH BAMBOO RICE AND SEA ASPARAGUS
Rich, creamy risotto with a hint of green tea thanks to bamboo rice, and crunch from sea asparagus.
Ingredients
2 1/2- 3

cups

of chicken

(or vegetable) stock

1

cup

bamboo rice

1

tbsp

butter

2

tbsp

olive oil

2-3

shallots

, minced

2

cloves

garlic

, minced

1/4

cup

dry white wine

1

cup

rinsed and drained sea asparagus

1/3

to 1/2 cup grated Grana Padano or Parmigiano Reggiano plus more for serving

2

tbsp

roughly chopped fresh mint leaves

cracked pepper
Instructions
Take the stock and heat in a small pot. Reduce heat to simmer and keep ready to use.

Over medium high heat, heat 1 tbsp butter and 1 tbsp oil in a deep sauté pan.

Add shallots and stir for 3 minutes till just softened. Add the garlic and sauté another 2 minutes.

Add the rice and stir to coat well with the flavoured oil. Add more oil if needed. Stir for 1 minute.

Add the white wine and cook down till almost evaporated. Reduce heat to medium low.

Using a 1/4 cup measuring cup, take some of the simmering stock and add it to the rice. Stir regularly until the liquid is almost evaporated. Add another 1/4 cupful of stock and repeat. Keep doing this with the simmering stock until the rice is tender. You should have enough stock, but depending on your rice, you may need to supplement with a little hot water. You want the consistency to be of thick porridge.

When the rice is tender and there is still just enough stock in to keep it from being dry, add the rinsed sea asparagus and stir to warm through.

Add as much of the cheese as you like, and stir to a creamy consistency. If needed, add some stock so that it stays just loose enough to not be stiff.

Serve with mint and pepper sprinkled on top. You may also garnish with a little of the extra cheese.
Recipe Notes
You will notice that no salt is called for in this dish. The sea asparagus has a natural briny saltiness to it, and the cheese will also add some, so you don't need to add any of your own. Instead of sea asparagus (in case you can't find any) feel free to use steamed asparagus, steamed broccoli or chopped zucchini. If using asparagus or broccoli, steam to just tender, no more.
If using zucchini, you can add raw, just add it so that it can warm through a 2 minutes or so. In which case, you may want to add it before the rice is thoroughly cooked, as you will still need to add broth. If you add the zucchini too late, in order to cook it through, you will dry out the rice. So be prepared with stock.
This serves 2-3 people as a main, or 4 comfortably as a side dish
SaveSave