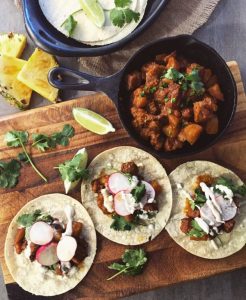 Of course I vividly remember the first time we visited Mexico. It was on our honeymoon. It was October. We were happy for the warm weather, the water that looked like glass, the beaches, the palm trees, and the food. We were at a resort, so we had picked up tacos from one of the buffet tables. They looked strange. Not what we were expecting at all. Later on we went into town and ordered tacos from a little Taqueria. When we received them, again, we just stared down at our take-out plates. They didn't look anything like Old El Paso tacos!! What were these little guys?? They sure did taste good though. Much more simple than the way North Americans tend to have them: all loaded up with everything but the kitchen sink. Mind you, this was back in the mid-90's. Boy have we come a long way since then. Now pretty well any city has authentic taquerias serving up traditional or trendy tacos, sopes, arepas, etc. Our appreciation of Mexican cuisine has come a long way from a box of dry taco shells and taco sauce in a plastic pouch.
Going out for tacos is so easy (now) here in Toronto. There are some fantastic joints and restaurants that have popped up in the last few years: Seven Lives in Kensington, La Carnita, Grand Electric in Parkdale, Playa Cabana, Milagro Cantina, El Catrin etc.. (And I'm sure I will be questioned as to my selection of taco destinations by fellow Torontonians- we love these places for their tacos as much as for a great time. Some places are nondescript, others are more of an experience. And if you know of some place we should be visiting not mentioned here, I'm happy to accept suggestions!) So, we can often be found popping in to one of these for our taco fix. I can honestly say I don't make them at home too often. Up until now.
The last time I attempted true homemade tacos, was last summer. I was on a detox, and was off of all gluten and other hard to digest 'grains' like corn. I was going crazy trying to come up with alternatives. I got me some amaranth, millet, even chestnut flour to bake with. I got the bright idea of making tortillas from scratch using amaranth. The recipe was easy enough. And they didn't turn out (too) bad. I was pretty content with them. So because we love going out for fish tacos, I though, how hard would it be to make them at home? Well, harder than I thought. I don't have a deep fryer, so I shallow fried my fish in a skillet. I made a topping of shredded cabbage and red onions, but it hadn't marinated long enough before it was time to eat. Watching Jim put his taco together, and practically fainting because of holding my breath till he had taken a bite, was killer for me. He chewed. And chewed. And chewed. Finally he looked at me and said, "These aren't fit to be called fish tacos." Well, there you have it! I get it, the texture of the tortilla would totally make him question what he was eating. And the rest, it was just not what he was used to. I dropped the ball. Back to the taquerias!
But this month we are cooking out of 'Mexico One Plate at a Time' by Rick Bayless. I know that tacos should not be beyond my ability. Others make them at home, all the time! At least one a week (Taco Tuesday is a thing) I was not going to admit defeat to the taco. So, I would try and redeem myself by choosing a taco recipe that didn't resemble one that Jim usually orders. This way he would have nothing to compare it to. And I didn't make the tortillas (I'm no fool, leave it to the ones who do it so well- La Tortilleria here in Toronto for example.
This recipe is basically a slow braise stew of pork shoulder and potatoes. Here in Toronto, amazing quality pork can be found at The Healthy Butcher on Queen St W. And the stewing liquid is made up of a flavourful paste of charred and reconstituted Guajillo chili peppers and tomato and seasonings. I picked up the dried Guajillo chilis at a Latin grocery store in Kensington, here in Toronto. I'm sure you have a great Latin shop you can explore. It isn't a super hot chilli pepper. There is a slight sweetness to it. At least that's how I found it. So if you can't find Guajillos, Ancho or Pasilla Negro chilis would work fine. And seasonings- pretty normal. By the time it's done, the pork is so tender, and the potatoes are just creamy enough. I did need to adjust the heat- we like more! I made an avocado crema (really a whipped blend of avocado and creme fraiche), and chopped up radishes for crunch, and some fresh cilantro for contrast. This time I also watched with baited breath as Jim took his first bites. And this time he said, "These are good!"
This week, I've been limping on one foot- I brilliantly got a stress fracture on my left foot. Not because of anything athletic or glamourous. I was just wearing the wrong shoes to walk all through downtown Toronto the other week. The shoes themselves are super comfy. See below, cute, eh? But they're new, and I guess the leather was just stiff enough that by the end of a really long day the top of my foot was killing me. The next day it was worse. I thought it was just from breaking in new shoes. So I continued to walk and work and even wear those shoes again! But by this past weekend, my foot was swollen and the pain wasn't the bruise kind of pain. It was more of a shooting pain. So finally got a diagnosis: stress fracture. How dumb. So now I'm hobbling around the kitchen despite the admonishment to elevate the foot and rest. Yeah, yeah. I will. Tomorrow. So these tacos deserve a medal for 'Valour in Spite of Pain'!
This filling could also be served on its own with a side of Mexican rice and a salad. The recipe suggests making the filling in advance, as it gets better the next day. Totally agree- like any good stew, the flavours meld and become deeper. There is enough filling for 4 people, but if it's just two of you, the next day's tacos will taste even yummier.
I'm so glad that I have redeemed myself. Me and homemade tacos are good again. We will be good friends now- and I'm ready to tackle even more recipes. And hopefully one day Jim will erase from his memory the debacle that was the 'amaranth fish taco'. Thankfully no picture exists!!
Guajillo-Spiked Pork and Potato Tacos
A rich braised stew of pork and potatoes in a chilli paste that becomes deeper and more mellow the next day.
Ingredients
8

medium dried guajillo chillies

obout 2 oz totla, stemmed, seeded and torn into flat pieces

1

cup

water

I used the water that the chills are reconstituting in, say any remaining water for the stewing step

4-6

ripe plum tomatoes

about 12 oz total, roughly chopped

3

large garlic cloves

roughly chopped

1 1/2

tbsp

vegetable oil

1 1/2

lb

lean boneless pork

preferably shoulder, cut into 1/2 inch cubes

2 1/2

cups

water

1

tsp

salt

plus more to taste

3

medium boiling potatoes

such as red skinned, cut into 1/2 inch cubes

3

tbsp

chopped fresh cilantro

12-16

corn tortillas

warmed through
Instructions
To make the Chilli Sauce:

In a dry heavy skillet over medium heat, toast the chillies a few pieces at at time, pressing them flat against the hot surface with a metal spatula, until they are aromatic, about 10 seconds per side. If the heat is right, you'll hear a slight crackle when you press them down, but you shouldn't see more than the slightest wisp of smoke. The inside surface of the chilli should look noticeably lighter.

Transfer toa bowl and add hot water to cover. Place a small pate on top to keep the chillies submerged and let stand for 20 minutes.

Using tongs, transfer the chillies to a food processor or blender. Add enough water from eh bowl to make one cup. Add the tomatoes and garlic, and process to form a smooth puree. Set aside.

To make the Filling:

In a 4 quart sauce pan set over medium high heat, warm the oil. When the oil is hot, add the pork in a single layer (in batches if necessary) and cook, turning, until richly browned all over, about 10 minutes.

As the pork is browned, transfer it to a plate. When all of the pork is browned, return it to the saucepan.

Push the chilli tomato puree through a mesh sieve directly into the pan and cook, stirring frequently, until the saucy mixture is as thick as tomato paste, 6-8 minutes.

Stir in the reserved water from making the chilli paste, as well as enough water to make 2.5 cups in total. Add 1 tsp salt, pepper to taste, and cover partially. Bring to a rolling simmer. Reduce to the heat to medium low and simmer, stirring frequently, for 20 minutes.

Add the potatoes, cover partially and cook, stirring frequently until the potatoes and meat are tender but not falling apart, and the sauce has thickened to the consistency of canned tomato sauce, 20-30 minutes more.

If the sauce is too thin, continue cooking, uncovered, until the liquid has reduced a bit more. Taste and adjust the seasonings with more salt and pepper if needed.

Scoop the hot pork and potato mixture into a serving bowl and garnish with cilantro. Serve with warm tortillas. Ole!
Recipe Notes
Adapted from Mexico One Plate at a Time by Rick Bayless